Northside Achievement Zone aims to break the poverty cycle through education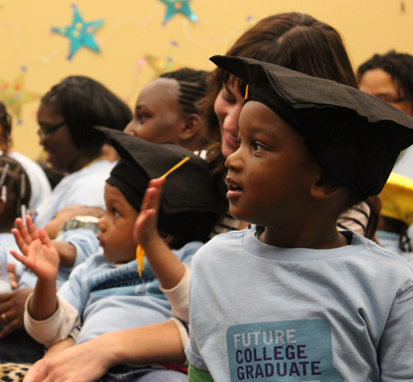 The stretch of Minneapolis that lies north of downtown and west of the Mississippi River, commonly known as North Minneapolis, contains some of the poorest neighborhoods in Minnesota. Since its formation in 2010, the Northside Achievement Zone (NAZ) has sought to eliminate poverty there by implementing a solution that will take decades to fully realize: ensuring that the area's children receive a high-quality education and graduate high school on time and ready for college. Moreover, as NAZ helps these children seek high academic marks, it also helps their parents access a suite of supports that contribute to a stable home environment—something that will go a long way toward breaking the cycle of multigenerational poverty.
"With NAZ, we want to create a tightly woven net of supports so that the most vulnerable families and children can stay afloat and succeed," says Sondra Samuels, the organization's executive director.
NAZ is a publicly and privately funded nonprofit organization that formed after residents and leaders from a cross-section of neighborhood and service organizations in North Minneapolis held discussions about ways to end the cycle of poverty afflicting families in their area. NAZ focuses its efforts within a 255-block geography that nearly 2,200 families—and 5,500 kids—call home. In 2013, 73 percent of the families enrolled in NAZ earned less than $20,000, compared to the $67,000 median income for families in the broader, 13-county Minneapolis-St. Paul metropolitan region.*/ The need for the educational support that NAZ provides is reflected in substantial academic achievement gaps between the children living within the NAZ geography and their metro-wide peers, as shown in the table below.
"Minnesota is the land of 10,000 lakes and 10,000 gaps," says Samuels. "In North Minneapolis, specifically in the NAZ, the gaps are especially egregious—unemployment, housing, incarceration, education. But with our work, over time, we believe we can narrow many of them."
Connectors and Navigators
NAZ shares some features with the well-known Harlem Children's Zone (HCZ), a long-term initiative to provide comprehensive educational and social services to families in a designated area of New York City. For example, both NAZ and HCZ emphasize education as the primary way to propel children to success. But there are differences in size—HCZ has a $100 million annual budget and approximately 2,000 employees, while NAZ has an $8.9 million annual budget and 65 employees—and structure. While HCZ runs its own programs, NAZ is the backbone of a collaboration of more than 40 service organizations and schools already working in the area.
NAZ pairs participating families with a personal envoy (and NAZ employee) called a Connector. NAZ Connectors, who live in North Minneapolis and reflect the demographics of the area, coach families and collaborate with them to establish "achievement plans" that spell out specific goals for both parents and children. The NAZ Connectors support families with resources from partner organizations and schools that provide services in one of six areas: housing, career and finance, behavioral health, early childhood education, K-12 education support, and out-of-school programming. NAZ employees called Navigators are stationed at each of the service organizations and ensure that participating families are successfully accessing the resources they need to meet the goals established in their achievement plans. The NAZ Navigators can access the achievement plans—which are web-based and stored in a centralized, real-time database—from a computer wherever they work.
NAZ Navigators also work at each of the participating schools, ensuring that children are prepared to learn and are meeting various academic benchmarks, including kindergarten readiness, third grade reading proficiency, eighth grade mathematics proficiency, and on-time high school graduation. NAZ Navigators play a prominent role in ensuring that students are staying on track and, according to Samuels, on a college trajectory.
NAZ has data-tracking agreements with the University of Minnesota and Wilder Research to determine if its strategies are working. The university tracks the initiative's implementation goals and short-term impacts; Wilder Research measures whether NAZ is meeting its stated academic benchmarks, such as increasing kindergarten readiness.
"We're highly evidence-based in our approach to helping kids and families succeed," says Samuels. "If the data is telling us that we're not reaching our benchmarks, we'll change our approach until we get it right."
A promising start
To date, NAZ has enrolled just over 600 families and more than 1,500 kids. By the end of 2015, it hopes to reach an enrollment goal of about half of the families and kids living in the zone—approximately 1,000 families and 2,500 children. To participate, a parent or caretaker must have children and live inside of NAZ's geographic boundaries.
NAZ set academic achievement figures for the 2011–2012 school year as its baseline, after it received a five-year, $28 million grant from the U.S. Department of Education. The funding has enabled NAZ to implement and ramp up its efforts. Since the four-year-old initiative will stretch for decades, a full assessment of the effectiveness of its efforts is years away. Nevertheless, preliminary numbers on its work to prepare children for kindergarten show promising progress: As of the 2013–2014 school year, 59 percent of NAZ-enrolled kids were ready for kindergarten, compared to 35 percent for all children living within NAZ's boundaries. In 2011–2012, the baseline year, just 28 percent of all children within NAZ's boundaries were ready.
"We're just getting started with our work," says Samuels, adding that, when fully operational, NAZ will need about $8 million a year to maintain its programming. "You could say that we're riding the bike and building it at the same time."
For more information on NAZ and its partners, visit northsideachievement.org.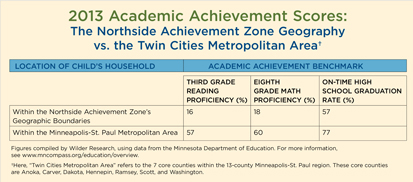 ---
*/ Participants' family incomes are from self-reported figures submitted during NAZ enrollment. The regional median income is an inflation-adjusted figure based on 2012 data from Wilder Research.