Personal income buys more in district states
Income earned in one part of the country goes further than in another based on differences in the cost of living. A job in New York City, or in the oilfield city of Williston, N.D., will have to pay more to purchase a similar value of housing, goods and services than a job in Missoula, Mont.
Last week the Bureau of Economic Analysis released data that adjust personal income across states and metropolitan areas to account for cost of living differences. Data on regional price parities (see chart) show state price levels relative to the U.S. average. South Dakota's value of 88.2 means that the state's price level is 11.8 percent lower than the U.S. average. Minnesota has the highest value among district states, but is still 2.5 percent lower than the national average. The data series also adjusts for U.S. inflation from 2008 to 2012.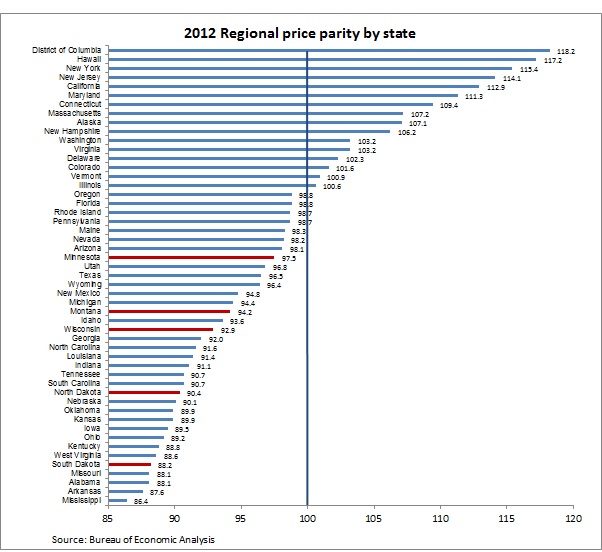 Since district states have lower price levels than the nation, once per capita income is adjusted for regional price differences, district states move up across the board in per capita income rankings (see table below). In 2012, North Dakota moved from the fifth to the second highest per capita income level after adjusting for price differences, behind the District of Columbia. Meanwhile, South Dakota jumped from 18th to sixth after a price level adjustment.