Planting intentions: What's cropping up this year?
One of the major stories in agriculture over the past year was a big reduction in crop prices from the records they hit in 2012 toward more historically normal levels. In particular, corn prices dropped from over $7 per bushel in late 2012 to just over $4 more recently. Wheat and soybean prices fell over that period, too, but not as dramatically.
As expected, farmers reacted to these market conditions by moving away from corn and toward other crops, especially in the Ninth District. Nationwide, farmers intend to plant 4 percent fewer acres of corn in 2014 compared to last year, according to the U.S. Department of Agriculture. Meanwhile, soybean acreage is projected to increase 6 percent to an all-time record, while the forecast for wheat is nearly flat, with a 1 percent decrease in planted acres.
Farmers in the district are taking a harder turn away from corn, whose acreage is projected to decrease by 6 percent, while both soybean and wheat plantings are expected to increase by 12 percent and 11 percent, respectively (see chart below).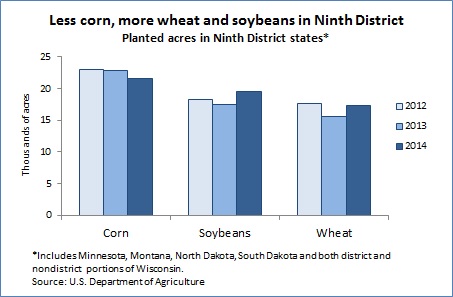 Most of the decline in corn is accounted for by a big drop in North Dakota—23 percent—and a 6 percent drop in South Dakota; Minnesota and Wisconsin acreage is unchanged from last year. Likewise, while soybean acres are going up in all states, they're surging 22 percent in North Dakota. Wheat acreage is also way up in North Dakota, at 28 percent, including a 38 percent jump in durum wheat, a specialty variety used for making pasta. Minnesota and Montana are increasing wheat acreage slightly, while South Dakota and Wisconsin both expect 8 percent decreases.
The USDA's survey also covers some other important niche crops in the district. After a tough year for sugarbeets, acreage will be down 4 percent in North Dakota and 6 percent in Minnesota. Dry bean acreage will increase 36 percent in Minnesota and jump a whopping 41 percent in North Dakota, the nation's leading producer (though acreage will remain below the 2012 level). And the nutrition conscious who closely watch their intake of omega-3s can also rejoice—North Dakota flaxseed acreage will double from last year.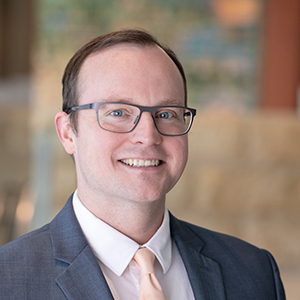 Request as a speaker
Joe Mahon
Director, Regional Outreach
Joe Mahon is a Minneapolis Fed regional outreach director. Joe's primary responsibilities involve tracking several sectors of the Ninth District economy, including agriculture, manufacturing, energy, and mining.