Strong crop production in Ninth District helps offset lower prices
Farmers have been preparing for a bumper crop this year: Nationally, a record number of soybean acres were planted this spring, and while corn acreage was down from last year, weather in much of the country was favorable enough to produce good yields. And, sure enough, the USDA's latest crop production estimates for 2014 confirm record production of both commodities for the United States.
The picture was only slightly different in the Ninth District. Due to a late spring and an early frost, corn yields in Minnesota and North Dakota were revised down from earlier forecasts, and production came in below 2013 (see Chart 1), though only narrowly for Minnesota. Corn production for South Dakota and Wisconsin did hit new records, however.
Soybean production hit new records in every district state, the result of both higher acreage and improved yields. North Dakota saw the biggest increase, with a 41 percent jump in bushels grown over 2013 (see Chart 2).
The big harvest should offer some comfort to farmers, who are also coping with much lower prices for these outputs, thanks in part to the expected boost in supply. Prices received by farmers for soybeans were down 23 percent in October compared with a year earlier, while corn prices fell 36 percent over the same period, according to the USDA.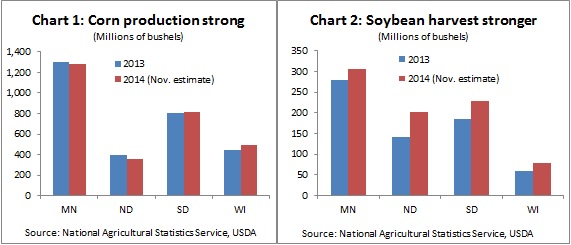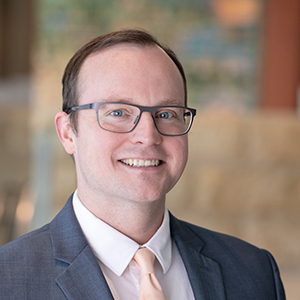 Request as a speaker
Joe Mahon
Director, Regional Outreach
Joe Mahon is a Minneapolis Fed regional outreach director. Joe's primary responsibilities involve tracking several sectors of the Ninth District economy, including agriculture, manufacturing, energy, and mining.