Zero-interest auto loan program puts rural workers behind the wheel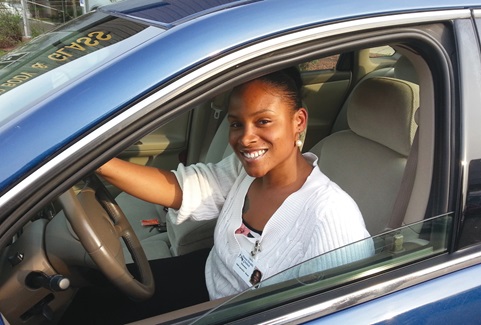 For a three-month period back in 2000, Jeff Segebrecht woke up at 6:30 a.m. every weekday, earlier than usual, and voluntarily picked up his clients from their homes and dropped them off at job sites throughout Dodgeville, Wis., a rural town of about 5,000 residents roughly 50 miles west of Madison. At the time, Segebrecht was employed by the State of Wisconsin as a caseworker for a newly created state program that secured employment for welfare recipients. As he lined up jobs for his clients, he found that, in some instances, he needed to drive them to their jobs as well.
"Some of my clients didn't have cars," he explains, "and the town, at least then, didn't have public transportation."
To Segebrecht, the solution was clear: his newly employed clients needed cars of their own. By the time he decided to end his voluntary transportation services, the plan for some type of car-purchase assistance program had germinated in his mind. Later in the year, the state turned his idea into a zero-interest loan program, administered via the Southwestern Wisconsin Workforce Development Board, so income-eligible individuals could purchase personal vehicles. The program took off and, 15 years later, it has been replicated in other parts of the state and now serves not just residents of Iowa County, which is home to Dodgeville, but also residents of 40 of Wisconsin's other 71 counties.
"A lot of people need cars to get them to work, especially people in rural areas," says Segebrecht, who now directs the Work-n-Wheels program from Dodgeville-based Southwestern Wisconsin Community Action Program (SWCAP), a Community Action Agency[1]where he moved the program after leaving his job at the state about a decade ago. "We want to help them buy dependable cars whose cost will fit their financial circumstances."
Rural areas often fall short on public transport
The premise of the Work-n-Wheels program is borne out by data showing a great reliance on automobiles in rural areas. According to an analysis of 2010–2012 American Community Survey data by the National Center for Transit Research, 91.1 percent of rural residents nationwide depended on a car, truck, or van to commute to work, a figure that accounts for solo drivers and carpoolers.[2] For rural residents, the reliance on automobiles in part may be attributable to the relative scarcity of public transportation options where they live. As reflected in the U.S. Census Bureau's 2009 American Housing Survey, which is referenced in the same report, public transit is available to 57 percent of all U.S. residents but only 13 percent of rural residents.
Even if public transportation exists in a rural area, it might not meet potential riders' needs. As Segebrecht points out, "Right now, in Iowa County, our public transportation consists of one shared-ride taxi that runs two days a week, from 7:30 a.m. to 5:00 p.m., and it doesn't leave the city of Dodgeville."
(Consumer-friendly) terms and conditions
SWCAP's Work-n-Wheels program does not sell cars; instead, it uses a revolving loan fund to provide financing to qualified borrowers to buy them.[3] A key feature of this financing is that it comes as a zero-interest loan. This means that people who borrow $5,400, the maximum amount available from the program, will pay back exactly $5,400. According to Segebrecht, profiting by charging interest would undermine the program's mission to help improve borrowers' financial self-sufficiency.
"Many of our customers come to us with bad or even no credit," he says. "They could go out and borrow money at a high interest rate to buy a car, but they'd end up paying a lot more for the vehicle than they could reasonably afford, which wouldn't help their financial situation. We want people to avoid that."
Although the program does not charge interest, it does assess a fee that adds up to approximately 10 percent of the loan—$500 on a $5,000 loan, for example. However, the program uses roughly half of the fee to pay for a portion of the taxes, title, and registration costs associated with a borrower's vehicle purchase. The other half goes into a fund that the program draws on to make zero-interest loans for major car repairs.
With financing in hand, borrowers can then purchase a vehicle from any automobile dealership they choose, but Segebrecht and his colleagues must first approve of the car. The program makes financing contingent on this condition so that borrowers do not end up buying a "lemon" or a vehicle that is, according to Segebrecht, "more car than someone needs." He cites automobiles with features that are desirable but not necessary for a borrower's needs, such as four-wheel drive, or higher-end vehicles whose prices may be inflated because of their aesthetics.
After purchasing the car, the borrower then pays, on average, about $150 a month until the loan is paid off. To qualify for the loan, borrowers must meet several conditions, including having a job and earning 200 percent or less than the federal poverty level. In 2015, for a family of three (one adult and two children), the 200 percent mark is a little over $40,000 a year. Segebrecht notes that most Work-n-Wheels borrowers earn $10 an hour or less, which amounts to less than half the threshold.
A thorough application process
By design, getting a Work-n-Wheels loan is not a quick, same-day process. To be approved for financing, borrowers must first meet several programmatic benchmarks aimed at both uncovering more about their household situations and educating them about personal finances.
The benchmarks include completing a detailed application, which inquires about a prospective borrower's income, receipt of public assistance, driving history, employment history, and personal references; establishing a family development plan, which involves discussing the various needs of an applicant, including housing, daycare, food, and medication; and completing a four-module series of personal financial education sessions, a service offered by University of Wisconsin (UW) Extension. The application approval takes about two weeks. For borrowers who wait for their approval letter before starting the personal finance sessions, the education portion can add another two weeks.
Ruth Schriefer, a family living agent for the Iowa County-based UW Extension office who teaches the financial education classes, describes how she met with Work-n-Wheels staff about a decade ago to determine which aspects of financial education would benefit borrowers the most. The four topics they ultimately settled on were household budgets, crisis spending, banking, and credit.
"Before the borrowers were required to take these classes, some of the same people were returning after a few years to borrow money again," she says. "It turned out that some of the people who borrowed money for a car the first time hadn't learned anything about personal finances, and we realized that the program was acting as a Band-Aid instead of a solution."
Now borrowers have to meet with Extension agents like Schriefer for one-on-one sessions, which take about an hour per subject, to hash out family budgets, plan for unexpected expenses, learn about the different aspects of banking, and discuss what credit is and what the borrower's own credit report says.
This last topic is particularly noteworthy because the Work-n-Wheels program, which as a policy doesn't pull credit scores on prospective borrowers, nevertheless reports to the Credit Builders Alliance the monthly payments that borrowers make.[4] By repaying their loans on time, borrowers who start out with poor credit could have improved credit profiles at the completion of their payment schedules.
Performance and benefits
SWCAP makes 55–60 Work-n-Wheels loans per year, on average, and through 2014 has made a total of 586 loans worth more than $2 million. In addition, it has made 50 repair loans totaling approximately $47,000. The program has had to repossess 44 vehicles since its inception, or 7.5 percent of its loans, and write off a little more than $94,000, or 4.6 percent of total loans. Segebrecht characterizes these numbers as similar to those of retail auto lenders.
Data collected by SWCAP show that Work-n-Wheels car purchases can lead to substantial financial gains for borrowers over time. According to annual employment follow ups the program began conducting with its customers in 2005, families served saw a roughly $5,000 net increase in wages per year from the time of the vehicle purchase to the completion of loan payments. Segebrecht points out that the increased earnings result in savings to the state in the form of lower public assistance payments, increased income tax collection, and more dollars spent in the local economy.
Another benefit from the program: some Work-n-Wheels customers are now helping other rural residents commute to their jobs. A couple of years ago, SWCAP took a poll of past borrowers to determine how many were offering rides to other people to get to work. The response was promising: about 31 percent of the people who participated in the loan program provided carpooling. To Segebrecht, it's a sign that, at the very least, participants take the application process seriously: the very last thing borrowers sign, right before they're approved for a loan, is a statement agreeing to offer rides to people if it is logistically feasible.
"We're helping you," says Segebrecht, "and we want you to help others."
Recognition through replication


In 2008, after recognition of the Work-n-Wheels program's success at putting low-income residents into cars grew, Jeff Segebrecht of Southwestern Wisconsin Community Action Program was asked to launch the program at other Community Action Agencies in different parts of the state. Although some of the subsequently launched programs differ slightly in detail—some might not require a borrower to establish a family development plan, for instance, while others might not report payments to a credit bureau—the key feature is the same: no interest is charged on their loans.
Other Community Action Agencies in Wisconsin that now have zero-interest car loan programs include:
Couleecap, Westby
Western Dairyland Equal Opportunity Council, Independence
NEWCAP, Oconto
ADVOCAP, Fond du Lac
CAP Services, Stevens Point
Community Action Inc., Beloit
Moreover, in 2014, the Dane County Department of Human Services, which serves the county where the City of Madison is located, launched a zero-interest car loan program whose design is an exact replication of SWCAP's program.
Some other organizations—Community Action Agencies and otherwise—in Wisconsin and elsewhere offer consumer-friendly loan programs for car purchases or car repairs. Examples include the Vehicle Repair Program at the Lakes and Pines Community Action Council in Minnesota (lakesandpines.org) and the JumpStart Car program at West Central Wisconsin Community Action Agency (westcap.org).
---