From red-hot to lukewarm in the Bakken
For much of the past decade, economic activity in western North Dakota and eastern Montana has grown briskly, driven by shale oil and natural gas drilling and production. An oil boom sustained by oil prices consistently above $70 per barrel brought not only energy-related businesses and workers to the region, but also retailers and many new housing and infrastructure development projects.
But since June 2014, the last time oil prices topped $100 per barrel, prices have fallen sharply. By mid-January, the price of West Texas Intermediate (WTI) crude had dropped below $30 per barrel, resulting in cutbacks in oil drilling and an economic slowdown in the Bakken region.
Data and anecdotes from the region suggest that business revenue has declined, labor markets have loosened and once sky-high apartment rental rates have returned to earth. The outlook for drilling activity is subdued; the U.S. Energy Information Administration (EIA) expects the WTI oil price to average under $40 per barrel in 2016. Nevertheless, even as output has fallen, oil and gas continue to be produced. And despite oilfield layoffs, job openings remain in the region, although fewer in number.
Less drilling, but production still high
As oil prices fell, so did the number of drilling rigs operating in the Bakken and Three Forks shale formations in North Dakota and Montana (see Chart 1). In September 2014, there were 197 active rigs in the region, according to Baker Hughes, an oilfield technology firm that tracks drilling activity. The rig count stood at 80 by April 2015 and had slid to 45 by mid-January. All the remaining rigs were in North Dakota.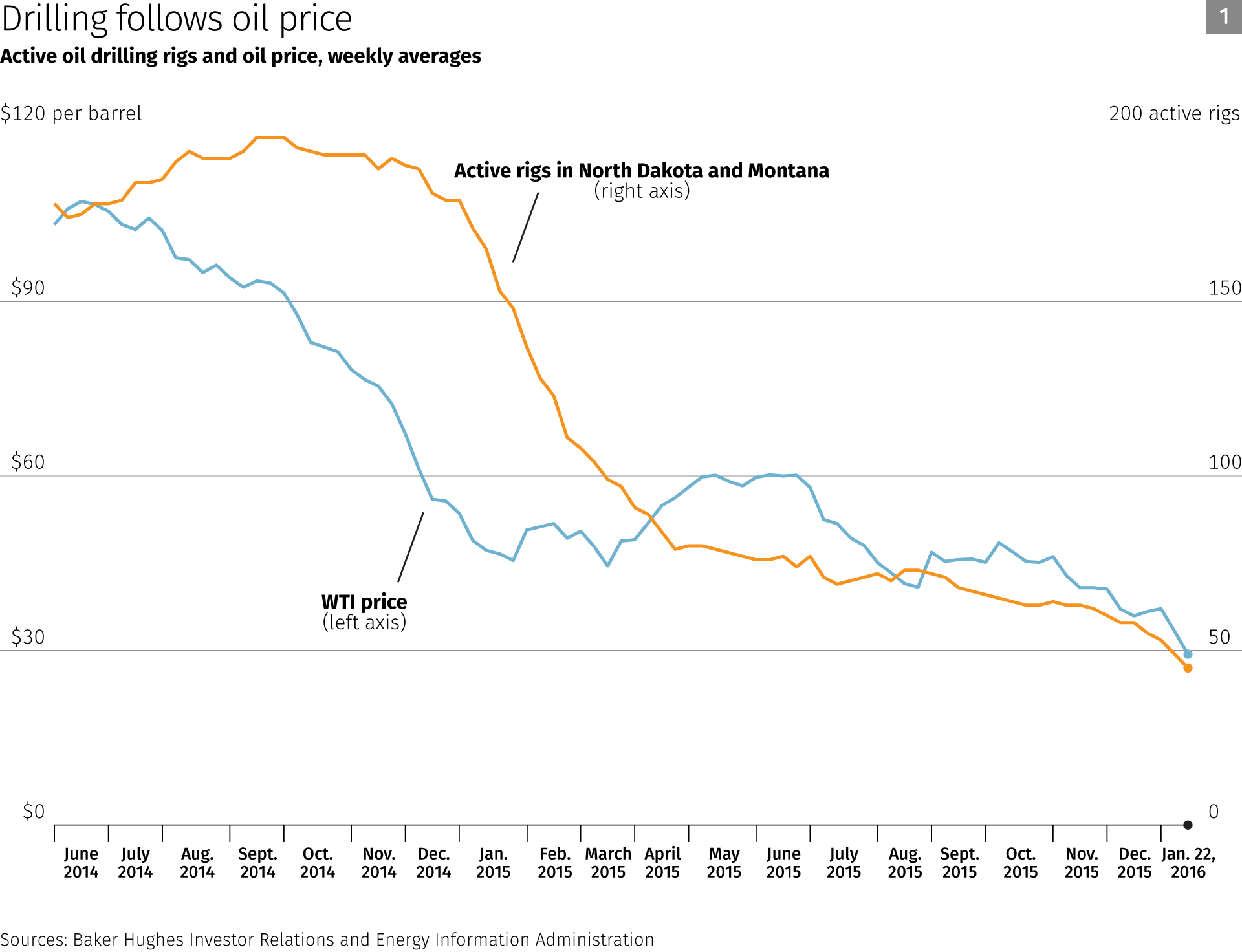 Not only has drilling slowed, but energy companies have delayed completing wells with hydraulic fracturing technology, which draws oil and gas to the surface. The North Dakota Industrial Commission estimates that there were 975 wells waiting for completion at the end of October 2015, up from 650 a year earlier. Delaying well completion allows oil companies to keep oil in the ground and wait for higher oil prices, but not indefinitely. Energy companies in North Dakota have one year after drilling a well to produce oil and gas in economic quantities, according to the NDIC.

In October, oil production in the Bakken was down 1 percent year over year and 5 percent below its peak at the end of 2014—but still at relatively high levels compared with three years ago and earlier. Some of the decline in the number of drilling rigs has been offset by rising drilling productivity, as shown by EIA data. Nevertheless, overall well development has slowed, and with the majority of oil production occurring within the first two years of a well's life, oil industry experts expect Bakken production to continue to decline as long as oil prices remain depressed.
Production is concentrated in McKenzie, Mountrail, Dunn and Williams counties in North Dakota, an area that accounts for 86 percent of Bakken oil production. (These four counties combined cover an area slightly smaller than the state of New Hampshire.) Production costs are lowest in this core region, but in December, wellhead prices in core counties were starting to drop below some average break-even prices estimated by the NDIC. In higher-cost surrounding counties, most rigs have been idled.
Labor market not quite so tight
Oilfield workers have been laid off by the hundreds in the Bakken, contributing to slower employment growth.
After peaking at just over 110,000 jobs in fourth quarter 2014, the Bakken region lost almost 15,000 jobs across all sectors by second quarter 2015 (see Chart 2). Almost half of these job losses were in the oil and gas extraction sector, while 20 percent were in trade, transportation and utilities, most of which likely supported oil and gas production. Falling construction employment accounted for another 12 percent of the downturn.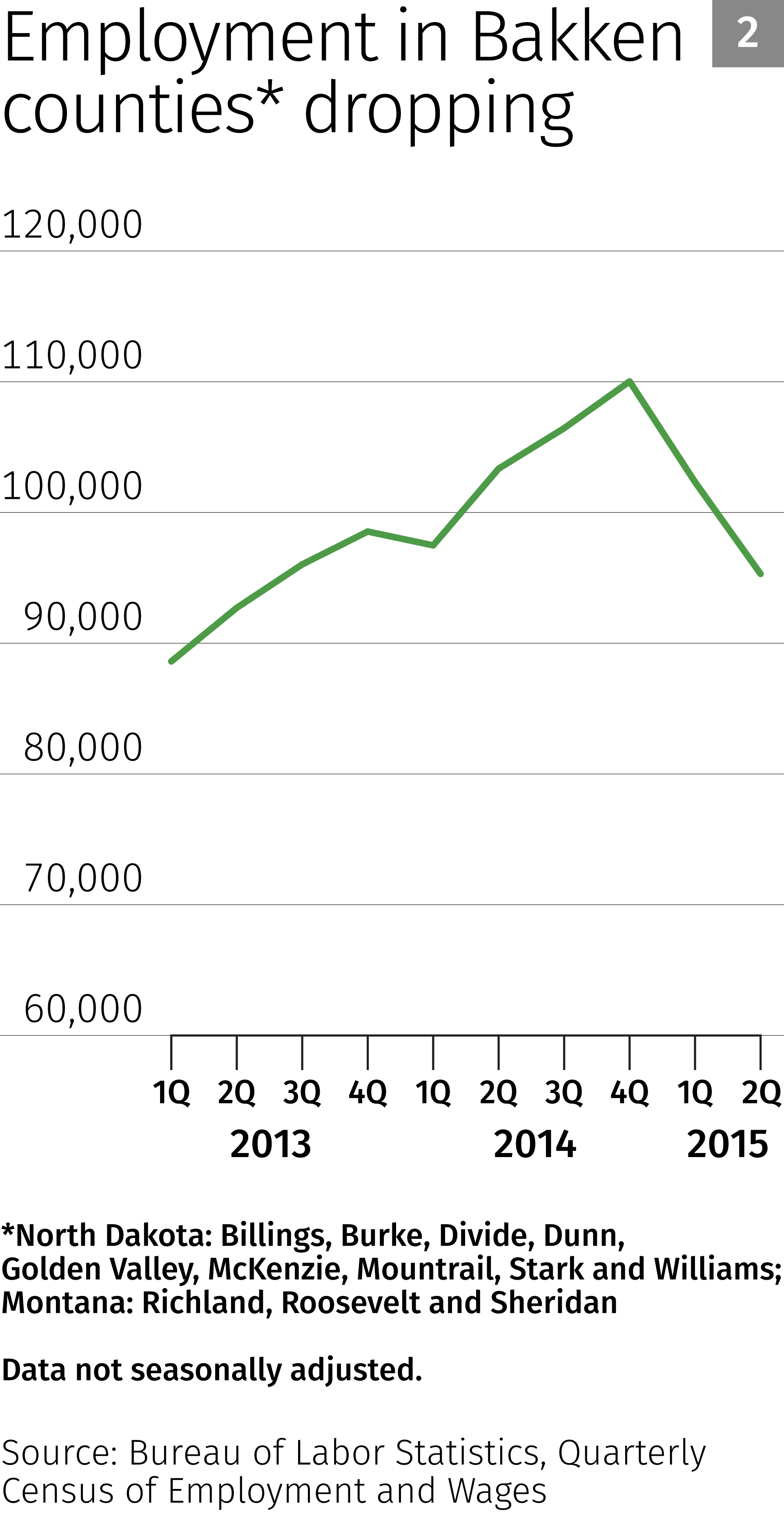 Seasonality explains part of the decline; employment tends to drop with the onset of cold, snowy weather. But much of the decrease reflects the impact of less drilling and other oil production-related activity.
A cautionary note: These data from the Quarterly Census of Employment and Wages go only through second quarter 2015; it's likely that employment has declined further since, although data from the Bureau of Labor Statistics household survey showed a 1,900 gain in jobs from October 2014 to October 2015 (the survey's relatively small sample size makes it much less reliable than the QCEW).
Also, part of the laid-off oilfield workforce includes workers employed by firms outside the region who travel to the Bakken to work two-week shifts. These terminated workers don't show up in Bakken area data for the QCEW, which counts workers employed by firms with a physical presence in the region.
Anecdotal reports suggest that many oilfield workers who were commuting to the region, sometimes by air from other states, are no longer making the trip. Others who moved to the Bakken have returned to their home states. But a jump in the number of workers applying for unemployment insurance in the region—the 637 initial claims in Job Service North Dakota data for November were up from 243 a year earlier—indicates that some laid off oilfield workers have stayed in the Bakken.
Most oilfield workers who kept their jobs faced sharp reductions in overtime hours and, in some cases regular hours, according to reports from sources in the region.
Job openings have decreased markedly in the region. Online job postings in the North Dakota part of the Bakken fell 59 percent from December 2014 to December 2015, reaching levels last recorded by Job Service North Dakota in 2010 (see Chart 3).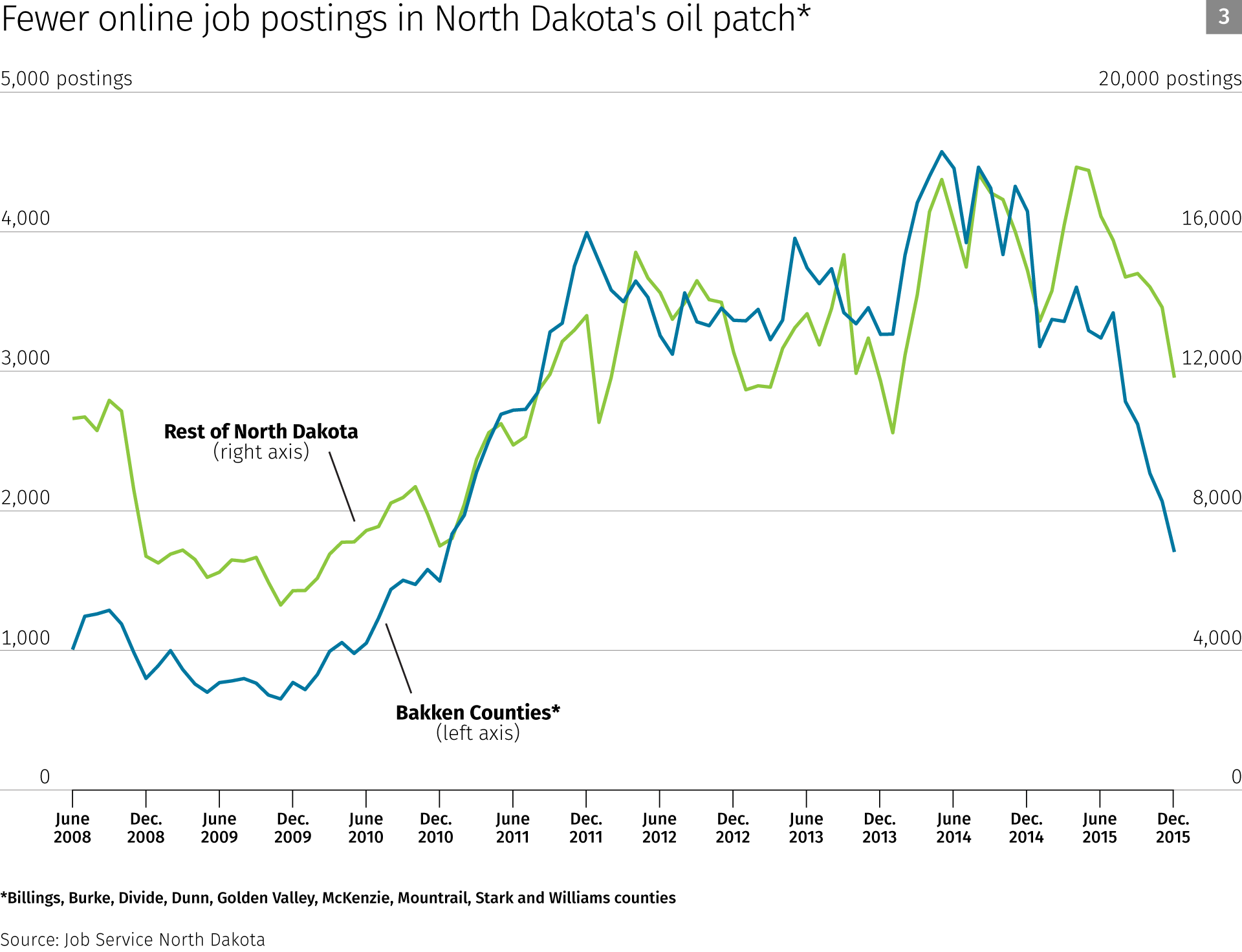 Employers in the area reported receiving more job applications, which has allowed for more selective hiring than in the past and some decreases in wage offers. From 2009 to 2014, estimates based on QCEW data of average weekly wages in Bakken counties increased at an annual average rate of 12 percent. Wage figures for the second quarter show a marked reversal of that trend; estimated weekly wages in the Bakken were 14 percent below their peak six months earlier (see Chart 4).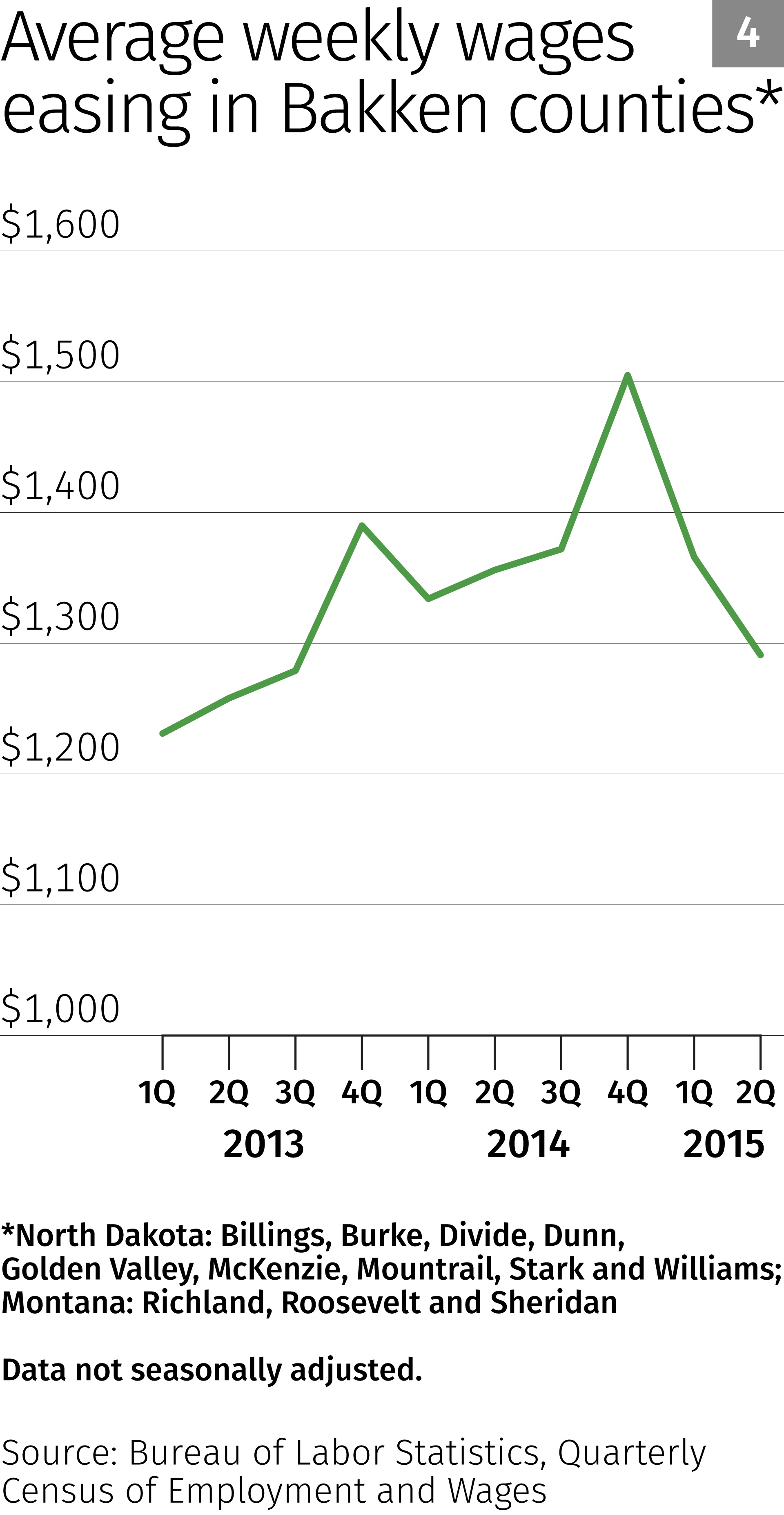 Nevertheless, estimated average weekly wages remained 59 percent higher in North Dakota counties in the Bakken than those in the rest of North Dakota, while wages in the Bakken counties of Montana were 20 percent higher than average wages elsewhere in the state.
Faltering sales and business growth
The effects of the oil industry slowdown and slackening labor demand have been felt throughout the Bakken economy.
Taxable sales and purchases in North Dakota decreased 25 percent to $5.8 billion in third quarter 2015 compared with a year earlier, according to the state tax department. Taxable transactions for mining and oil extraction products fell by more than half. The Bakken counties in North Dakota accounted for over 40 percent of the drop in the state total; taxable sales and purchases fell 43 percent in those counties.
The falloff in sales and purchases is consistent with the drop in oil activity in the Bakken and means less revenue for state and local governments. From July through November, North Dakota's general fund tax revenue was 8.9 percent less than forecasted.
According to QCEW data, in second quarter 2015, the estimated number of business establishments in the Bakken counties was 2 percent higher than a year earlier, but this gain was far less than the 12 percent average annual growth rate in the region from 2009 to 2014. (Business establishments in North Dakota's oil patch represent 19 percent of all establishments in the state.)
Other indications of the region's slowing economic pulse include falling rents. Just two years ago, the Bakken region had some of the highest apartment rental rates in the country. However, an increase in apartments and single-family housing, along with slower population growth, has decreased rents. As of October and November, apartment rental rates in some parts of the region were down by as much as half compared with 2014, according to sources in the area.
Despite the overall slowdown in the Bakken economy, a number of infrastructure projects were under way in the region, which has been playing catch-up on construction since the oil boom began. In February 2015, the North Dakota Legislature approved $1.1 billion in infrastructure spending in the region, primarily for roads and bridges, but also for water systems, sewer lines and other public services and amenities. This construction activity has helped to forestall further slowing of the regional economy.
Research Analyst Li-Pin Juan contributed to this article.