Six years ago, Steve Williams moved his company from Chicago to the Upper Peninsula of Michigan with the idea of continuing to run his business while preparing for retirement on a piece of north woods property he had purchased.
Williams figured that he would cut costs by relocating his firm, D.A. Glass America, to the small town of Calumet in the Keweenaw Peninsula. That expectation went unrealized, in part because of his large electricity bill—"400 percent higher than what I pay in Chicago," he said.
The manufacturer of acid-etched glass pays Upper Peninsula Power Co. 24 cents to 28 cents per kilowatt hour (kWh), including a base rate and additional business charges and taxes. The price of power has made it hard for the 21-employee plant to post a profit, although Williams is quick to point out that in addition to high power prices, the firm faces other challenges in the region, such as high shipping costs.
"I've been in business for 45 years, and I never thought I'd make as bad a decision in my entire business life as I did in putting this plant up here," he said.
Many other business owners, and not just those in the U.P., are unhappy about electricity costs. Although electricity rates are quite modest in district states compared with many parts of the country, power prices have provoked concern in some parts of the Ninth District.
Businesses in some states and areas within states pay more for their electricity than the U.S. average, reducing profits. And over the past decade, electricity rates have increased across the district, in some states quite dramatically.
In North Dakota, industrial electricity rates have risen 40 percent, adjusted for inflation, since 2007, according to the U.S. Energy Information Administration (EIA).
Wayne Brandt, executive vice president of Minnesota Forest Industries, a trade group, said increasing industrial electricity rates in Minnesota have hurt paper plants in the state's Arrowhead region. The rising cost of power "is a big deal to us," he said. "I've been around this association for a long time, and when I think back to five or 10 years ago, I'd spend maybe 2 to 5 percent of my time on energy issues. Now I'm spending a lot of time on them."
District states also have seen major increases in commercial rates, which generally run higher than industrial rates.
Differences in rates among district states and regions are longstanding and spring from a number of factors, including geography, generation sources and state energy regulations. The main drivers of power price hikes are infrastructure investments by utilities, including new power generation and upgrades to existing facilities to satisfy new environmental regulations.
Swing high, swing low
District firms bemoaning high power costs can take comfort from the fact that other parts of the country have much higher electricity rates. In 2015, no district state ranked in the top 10 of states with the highest average commercial and industrial rates, according to the EIA. Electric utilities in Hawaii, Alaska, California and several states in the Northeast charged the highest rates. In California, for example, industrial customers paid 12.3 cents per kWh, 79 percent more than the U.S. average and nearly 5 cents more per kWh than equivalent ratepayers in Minnesota.
Yet considerable disparities in the price of power exist among district states and regions within states. The U.P. tops the district price scale; in 2014, the latest year for which data for the U.P. are available, rates charged to businesses in the region were markedly higher than the U.S. average (see Chart 1). Wisconsin's business rates were above the U.S. average. In other district states, rates were below the national mean.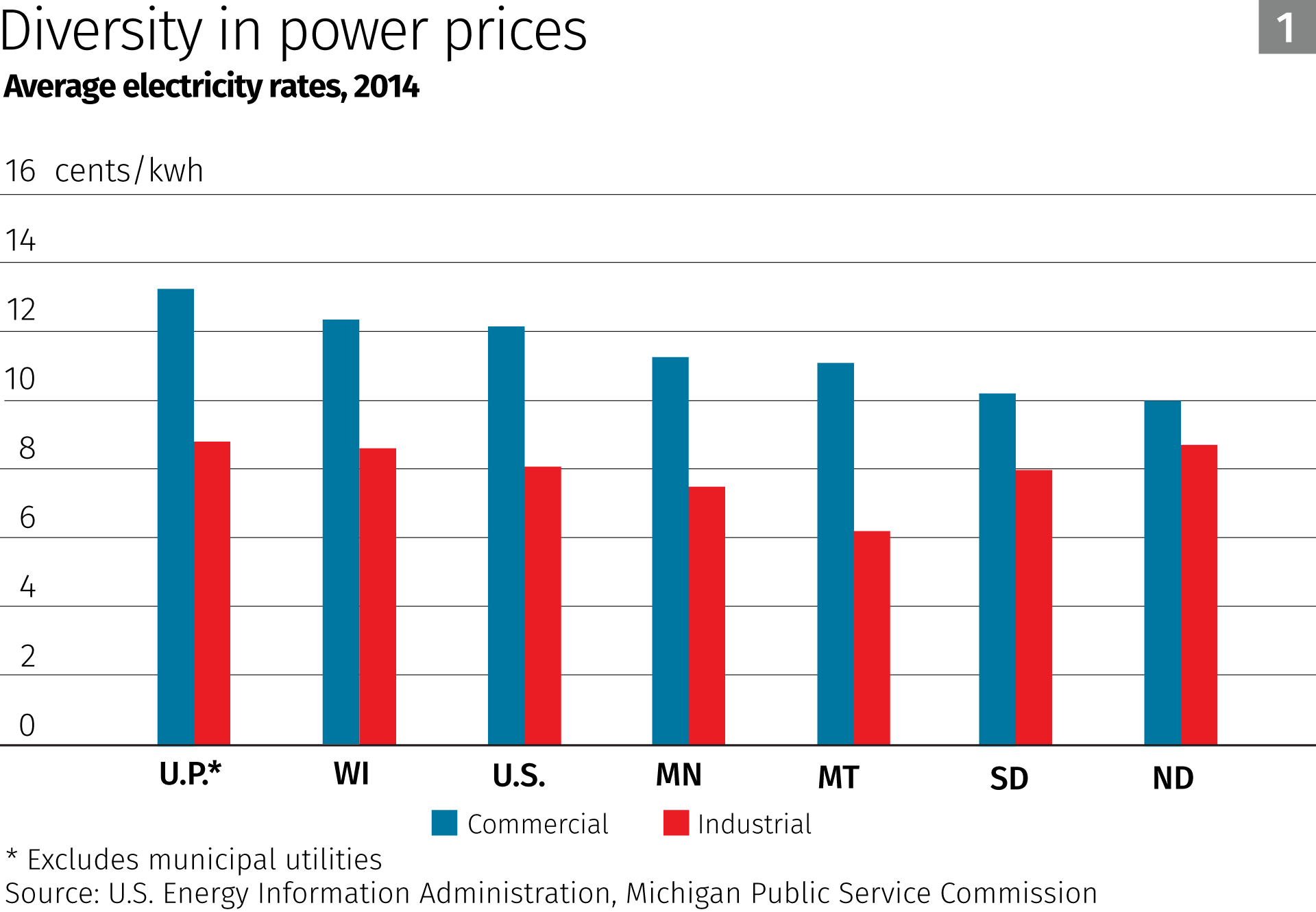 But the ranking of district states varies considerably depending on whether firms pay industrial or commercial rates. For example, in 2014 Montana had the lowest industrial rate, while North Dakota had the lowest commercial rate. (Residential rates, which nationwide are typically higher than rates paid by businesses, also vary widely among district states.)
"There's definitely a diversity of rates across the Midwest, and different reasons for those rates in each state," said Mike Gregerson, an analyst with the Great Plains Institute in Minneapolis.
Within states, electricity rates differ among utilities as well. For example, in 2014 Upper Peninsula Power charged higher commercial and residential rates than other large utilities serving the U.P.
How power is generated has a bearing on rates. Utilities in Minnesota and Wisconsin produce the bulk of their electricity in plants fueled by relatively inexpensive coal and natural gas, and in nuclear reactors. But about 15 percent of electricity consumed in Minnesota is generated by wind power, which critics of state policies promoting renewable-energy development say increases costs.
Montana and South Dakota are powered in large part by coal-fired plants and low-cost hydroelectricity from federal dams built decades ago on the Missouri River.
Remoteness and low population density partly explain the U.P.'s relatively high electricity rates. "There are transmission and generation issues in the Upper Peninsula, which is mostly rural in nature, and the distances are large between customers, and power plants," said John Quackenbush, a member of Michigan's Public Service Commission.
The region's economic troubles may have contributed to higher electricity prices, said Kenneth Rose, a senior fellow at Michigan State University's Institute of Public Utilities. Flat power consumption due to a stagnant economy and a dwindling population has left utilities with little choice but to raise rates on everyone to cover the cost of operating old coal-fired power plants, transmission lines and other infrastructure, he said.
Angst over expensive power in the U.P. came to a head in 2014 over proposed operating subsidies for a coal-burning plant in Marquette that had lost its biggest customer, mining company Cliffs Natural Resources. The average residential utility customer would have seen an average rate increase of over $150 annually if not for an agreement with the state that required Cliffs to keep buying power from the plant, forestalling rate hikes.
Rates on the rise
Over time, businesses in various states and communities become accustomed to prevailing electricity rates in those areas. The monthly power bill is simply a cost of doing business, along with other expenses such as materials, wages, rent and transport—although heavy power users tend to complain more about power prices.
In Wisconsin, energy is one of the top three expenses for large manufacturers, along with raw materials and labor, said Todd Stuart, executive director of the Wisconsin Industrial Energy Group (WIEG), a trade association that advocates for lower energy prices. Big industrial firms in the organization pay monthly energy bills ranging from $1 million to $3 million.
Many of those firms, such as paper mills, have facilities in other states with lower energy prices. "I can't remember the last time anyone said they're coming [to Wisconsin] because of our electric rates," Stuart said.
In northern Minnesota, iron mines and paper mills hurt by slack demand for commodities have appealed for rate relief under a new pricing plan created by the 2015 state Legislature. Earlier this year, state regulators rejected an initial request for rate relief.
What really gets the attention of businesses, rekindling anxiety about the impact of electricity costs on the bottom line, is rate increases. While average U.S. electricity rates for commercial and industrial users fell from 2007 to 2015 when adjusted for inflation (see Chart 2), power prices in most district states rose in constant dollars over that period. (The exception was industrial rates in Montana, which declined.)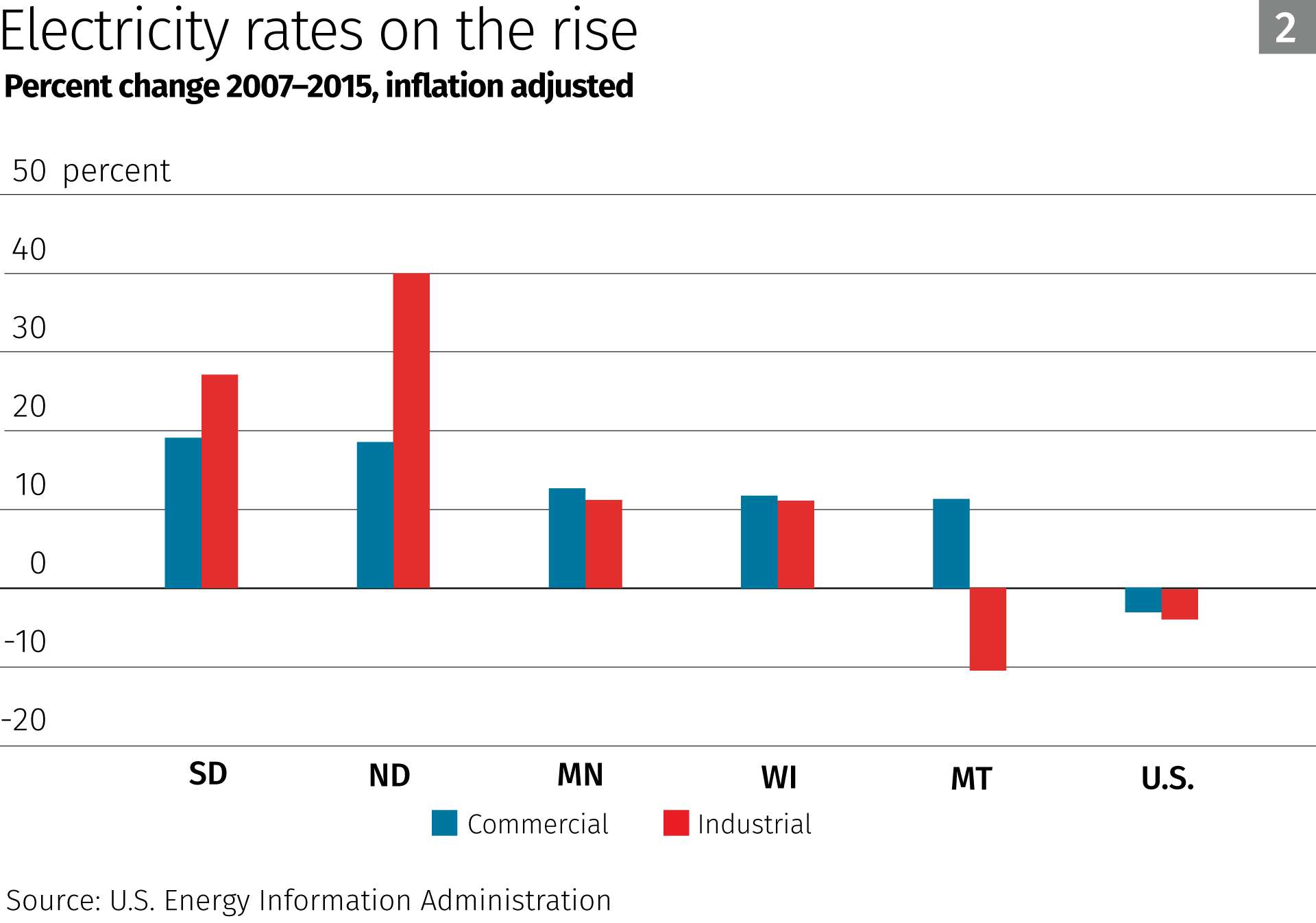 The Dakotas saw by far the biggest increases in rates charged to businesses. In addition to the big rate hike absorbed by North Dakota industrial consumers, South Dakota commercial rates increased almost 20 percent in real terms.
Build it and they will pay
The chief impetus for rate increases over the past decade has been utilities' need to recover costs of sizable investments in infrastructure. Power companies in district states have spent billions of dollars on new generation, increased transmission capacity and facility improvements. Much of this infrastructure spending has been in response to new federal air quality regulations and efforts by some district states to promote environmentally friendly generation.
In Wisconsin, utilities launched a massive capital investment campaign about 15 years ago to meet anticipated increases in demand and to comply with new pollution rules. Notably, ratepayers in the U.P. have borne part of the cost, because some Wisconsin-based utilities, such as We Energies and the Wisconsin Public Service Corp., serve the region.
The WIEG estimates that the state's utilities have spent roughly $13.4 billion since 2000 on capital projects. Most of that went toward construction of new, cleaner-burning power plants, facility upgrades and other air-quality improvements, followed by spending on renewable-energy generation and greater energy efficiency.
Minnesota has also made robust investments in electricity generation, transmission and pollution control. Xcel Energy, the state's largest investor-owned utility, has spent billions in the state over the past 10 years on capital projects that included converting two coal-fired power plants in the Twin Cities to natural gas and upgrading nuclear reactors in Monticello and Red Wing, Minn. Xcel also was the lead investor in the $2 billion CapX2020 project, a joint initiative of 11 utilities to boost high-voltage transmission capacity in Minnesota, Wisconsin and the Dakotas.
Among district states, Minnesota has the strongest state mandate for power generation from renewable sources. The state's renewable portfolio standard (RPS), enacted in 2007 and subsequently broadened, requires utilities to produce at least 25 percent of their energy from wind, biomass, solar and other renewable sources by 2025. The Legislature set more stringent RPS goals for Xcel.
Critics say renewables mandates have contributed to higher electricity prices in Minnesota. "Utility executives will tell you one of the reasons we're losing ground is because of the state policies we've adopted," said Bill Blazar, senior vice president of public affairs and business development at the Minnesota Chamber of Commerce. "They have expenses related to sustainability that trigger rate increases."
Supporters of the mandates counter that investment in renewables diversifies the power grid and provides a hedge against price increases for fossil fuels such as natural gas.

Cleaner air, higher rates
In the Dakotas, upward pressure on historically low electricity rates has come both from within and outside the region.
North Dakota's energy grid is tied closely to Minnesota's because three large cities in the state—Fargo, Grand Forks and Minot—are powered by Xcel. Other parts of North Dakota are served by Minnesota-based Otter Tail Power.
"I don't think there had been a rate case in years when I joined the PSC [North Dakota Public Service Commission] in 2008," said member Brian Kalk. Since then, Minnesota-based utilities have made multiple requests for rate increases to recover the costs of systemwide improvements.
North Dakota ratepayers chipped in to help cover the expense of upgrading Xcel's nuclear plants in Minnesota. "[Xcel] came in front of us, and we authorized those rate increases because that was baseload power, and they were able to get more shelf life out of [the plants]," Kalk said.
Last year, Xcel rates in North Dakota rose 5 percent for all classes of customers, the third and final 5 percent annual increase under a rate plan approved by the PSC in 2014.
Utilities based in North Dakota and South Dakota have undertaken their own costly upgrades, mainly to meet federal pollution regulations. In South Dakota, most rate increases over the past 10 years have resulted from projects to reduce plant emissions or to retire coal-burning plants. The Big Stone Power Plant—a coal-fired facility near Watertown, S.D., jointly owned by NorthWestern Energy, Montana-Dakota Utilities Co. and Otter Tail Power—recently completed a $384 million project to cut emissions of mercury and other toxic substances by 80 percent to 90 percent.
NorthWestern Energy, Montana's largest utility, has increased electricity rates, but the state hasn't seen big price bumps, in part due to an abundance of coal and hydropower, and because its electricity market is partially deregulated; large energy consumers can buy power directly from independent suppliers outside the state.
Access to inexpensive hydroelectric power from the Pacific Northwest "has conspired to suppress power prices over the long term," said Travis Kavulla, vice chair of Montana's Public Service Commission.
Bracing for more rate hikes
The prospect of further rate increases is never far from the mind of ratepayers in the U.P. Wisconsin-based We Energies hasn't proposed rate increases to cover the costs of operating its Marquette plant, which the utility has agreed to keep operating until it's replaced in 2020, either by a natural gas-fired plant or several smaller, clean-energy plants.
"There's an emphasis on getting to a global solution for the U.P. and having a reliable, affordable source of electricity going forward," said Brian Manthey, a spokesman for We Energies.
But the costs of replacing Presque Isle, a coal-fired power plant in Marquette, are as yet unknown. In the meantime, Upper Peninsula Power was seeking a price bump for 2016 that would raise rates for all classes of customers by 6.5 percent.
Rate increases may be in store elsewhere in the district. Xcel has proposed a $297 million, or 10 percent, overall price hike in Minnesota over the next three years and a 3.2 percent increase in northern Wisconsin. In Montana, Montana-Dakota Utilities Co. was seeking a 21 percent rate increase for all classes of customers.
The U.S. Supreme Court's recent decision to halt work on federal rules cutting greenhouse gas emissions from power plants spares utilities for now from the potentially heavy costs of compliance. But analysts expect regulatory pressures and market forces to push up the price of electricity nationwide and in the district.
Ongoing investment by utilities in plant upgrades and new, more efficient generation will be necessary to comply with existing laws restricting mercury and particulate emissions. Last year, Xcel announced plans to retire two units of the Sherco coal-fired plant near Becker, Minn., within the next decade.
And if wind and solar power development continues at its current pace, more transmission capacity will be needed to pipe electricity from rural installations to population centers.
At the same time, growth in demand for power has leveled off in recent years, a consequence of slower economic growth and efficiency gains. In Wisconsin, utilities may have overestimated demand growth when they undertook their latest round of infrastructure investment. "By the time those projects started operating, sales had begun to decline," said Michael Vickerman, program and policy director for Renew Wisconsin, an advocate for policies supporting renewable energy in the state.
The U.S. Department of Energy projects that U.S. electric energy consumption will increase less than a 10th of a percent per year over the next 25 years. Slow revenue growth makes it more difficult for power producers to recoup the costs of system improvements and may induce regulated utilities—which are guaranteed a minimum return on investment—to raise rates and monthly "fixed charges" on businesses and households.
Gregerson of the Great Plains Institute said that likely increases in the price of natural gas in coming years will put additional pressure on utilities to raise rates. "You talk to people in the industry, and they all say prices will go up; there's no way around it," he said. "There's going to have to be rate increases because utilities just don't have growth anymore to cover the costs."