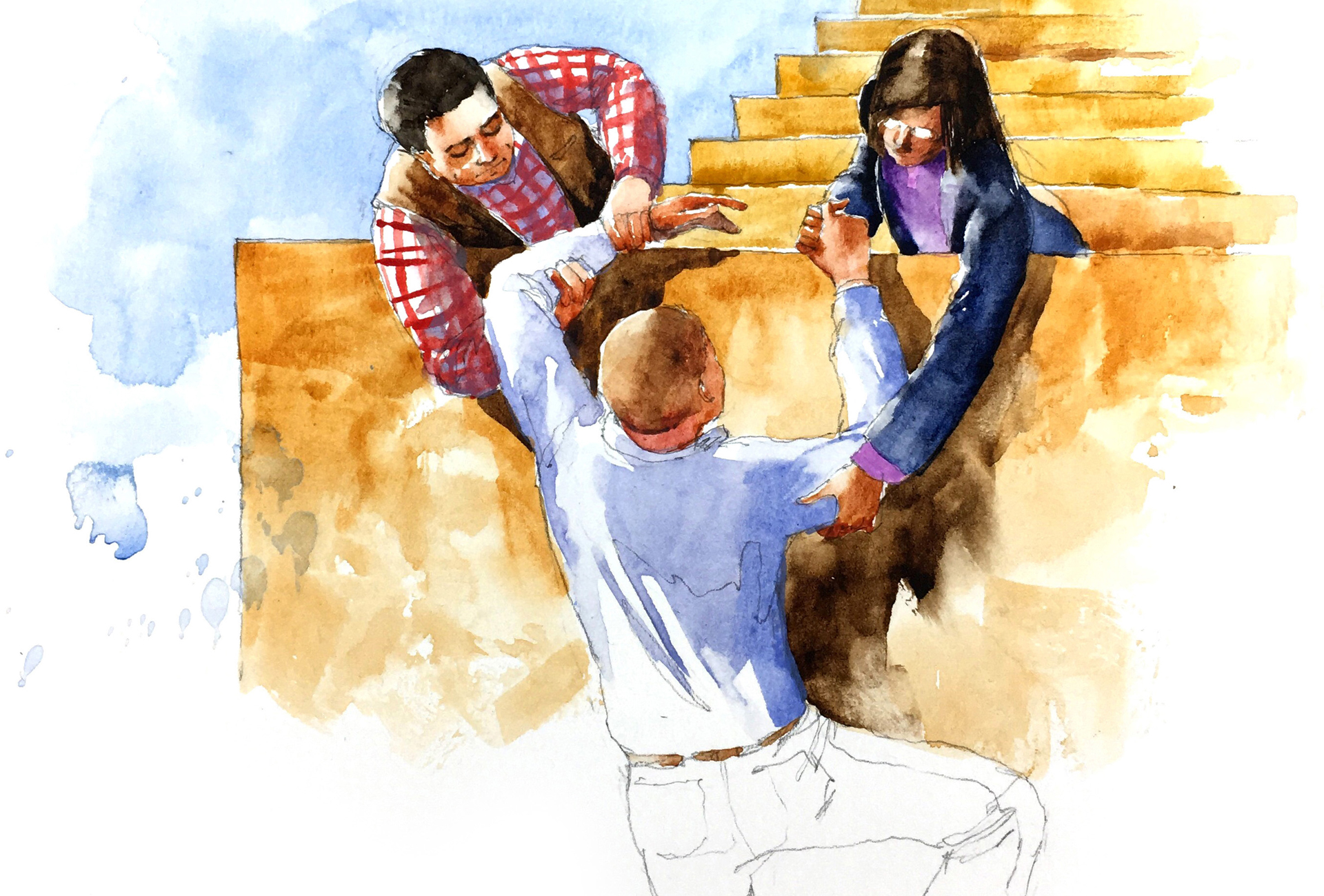 Illustration by Stan Fellows
Among those facing the longest odds of finding a job or moving up to full-time work are convicted felons and former substance abusers. For them, barriers to full participation in the workforce can be as high as the walls of the prisons and treatment facilities that once held them at a remove from society.
In the eyes of many employers, a job candidate with a criminal record or recent history of drug addiction is immediately disqualified. Ex-cons and former addicts often find doors firmly closed to them, despite public policies such as a federal tax credit available to employers who hire people with criminal records and Minnesota's ban the box law, which prohibits employers from asking about convictions on a job application.
Many become discouraged and drift in and out of the workforce, looking for work intermittently or holding a series of low-wage, part-time jobs. "I've dealt with people who haven't looked for a job in three years and have been living off the social system, on welfare," said Rick Loftus, president of Next Step Staffing, a Minneapolis firm that helps felons and recovering drug abusers gain employment.
For employers willing to give them a chance, people trying to get their lives back on track after a criminal conviction or treatment for substance abuse represent a significant potential labor source.
In 2010, 15,000 people were enrolled in drug rehabilitation programs in Minnesota, according to a national survey by the federal Substance Abuse and Mental Health Services Administration. Many recovering alcoholics and drug addicts leave treatment centers looking for work or a higher-paying job.
In the penal system, thousands of inmates are released annually from district prisons and jails. The majority are on parole or some form of supervised release requiring them to live in an approved residence and find work.
In 2015, according to the Minnesota Department of Corrections, roughly 7,000 offenders left state prisons and work release programs, joining more than 100,000 adults (including those sentenced to probation) under the supervision of state and county correction officials. This year in Montana, over 12,000 offenders were living outside prison, state prison system figures show; most were required to hold a job as a condition of their freedom.
In many district communities, employers looking to broaden their recruiting horizons connect with those trying to transcend troubled pasts through organizations that help disadvantaged people gain a foothold in the labor force.
Many of these firms and nonprofit groups—some under contract to state prison systems—network with employers on behalf of felons and recovering substance abusers and offer instruction in "soft" job skills such as reporting to work on time and following workplace rules. They may also assist with housing and provide ongoing alcohol or drug counseling (many felons have a history of substance abuse).
Onramps to employment
When Loftus of Next Step talks to job candidates about overcoming barriers, he speaks from personal experience. He was once a successful currency trader—and an alcoholic. Financial woes led to a swindling conviction, and Loftus spent three years in Minnesota prisons. After his release last year, he caught a break while volunteering for a Salvation Army program that helps felons get jobs. He was hired to head Next Step, a small employment agency founded in 2010 that serves felons, recovering drug addicts and others at the bottom of the labor pool.
Most people coming out of prison "are highly motivated to rebuild their life," Loftus said. But, he added, they often lose hope and stop looking for work if they don't find a job within a few weeks. Too many become homeless or commit new crimes to make ends meet. A 2011 study by the Pew Center on the States found that 61 percent of former inmates of Minnesota prisons had violated the terms of their release within three years and returned to custody. (Recidivism rates in other district states ranged from 40 percent to 46 percent.)
Next Step acts as an intermediary between stigmatized job seekers and employers. Job candidates receive coaching to boost their confidence and help them put their best foot forward in interviews. Those offered jobs by a client company work on a trial basis—typically three months—as Next Step employees. "It's almost like a test drive for the company," Loftus said. "If they work out, then they hire them permanently; if it doesn't work out, they ship them back."
Most job placements are low- to moderate-wage positions with manufacturers, food processers, wholesale distributors and retailers in the Twin Cities. Loftus says that employers who take a chance on people who were formerly incarcerated and those who have battled addiction earn "instant loyalty"—a key benefit in industries that have seen turnover rates climb in a tightening labor market.
Other organizations in the district that serve as onramps to employment for felons and recovering substance abusers include SOAR Career Solutions and Boyd Andrew Community Services.
SOAR offers employment counseling and training to a broad spectrum of jobless and underemployed people in Duluth, Minn. Over 80 percent of the nonprofit's clients are not working, and the majority depend on some form of public support such as state General Assistance or nutrition benefits.
A special focus for SOAR is helping convicted criminals re-enter the job market. Clients undergo an assessment of their skills and work interests, and take classes to prepare them for entry-level positions in industries such as light manufacturing, food service and hospitality.
Much class time is devoted to modeling appropriate behavior in the workplace. Many felons develop bad habits or odd mannerisms behind bars or during long periods of joblessness. "It's just a constant struggle to deal with behavior change," said SOAR Executive Director Emily Edison.
Boyd Andrew, a nonprofit based in Helena, Mont. (ironically, on a road called Last Chance Gulch), puts offenders on the path to gainful employment while they're still in state custody. The agency operates the Helena Prerelease Center, a facility for men near the end of their prison terms, under a contract with the Montana Department of Corrections.
All residents are required to work in the community. Two full-time job coordinators at the center teach job readiness skills and canvass local employers for suitable job openings. The facility has an excellent placement record; as of October, almost all of the 100-odd men in the center had jobs, typically with Helena-area restaurants, hotels and construction firms.
Monitoring and counseling continue during employment. "Getting a job is no problem; a lot of our residents can't wait to get back in the job market," said Amy Tenney, CEO of Boyd Andrew. "But often they struggle to keep a job, so we work with them and the employers to help them keep a job for a long time."
Winning trust
A tightening labor supply in many district markets hasn't diminished the role of such programs in helping people with checkered pasts break into the workforce or achieve full employment. Despite their recruiting challenges (see Everybody into the (labor) pool), many employers remain leery of hiring felons or recovering substance abusers.
Last year, Next Step found jobs for about 100 people, and Loftus said he could place many more if more employers were willing to give his job candidates a try. "I don't have enough [suitable] jobs," Loftus said. "I could place over a hundred people a week in jobs. That's how big the flow is from these people in disadvantaged situations."
Long-standing industry practices and policies of individual employers may discourage the hiring of people with convictions and former substance abusers. Edison of SOAR cited the health care industry as an example; a felon with a history of drug addiction is unlikely to land a job at one of Duluth's many clinics and hospitals.
But much of the responsibility for breaking down such barriers lies with those confronted by them. SOAR advises its trainees to come clean about their criminal or addiction backgrounds and strive to win an employer's trust.
"You can't change the past, but there's a point at which you have to be able to sell yourself and show commitment and reduce the risk for an employer," Edison said.