The Power of Philanthropy in Community Development
Sarah DeWees contributed to this article.
An increasing number of tribes and Native nonprofits are using the power of philanthropy to capitalize economic and community development programs in their communities. These Native nonprofits are taking purposeful steps to engage and lift up their communities, make long-term social investments, and preserve their diverse cultures. The collective development impact of this large and growing Native nonprofit consortium, as well as the changing face of grantmaking, is the subject of a recent report from First Nations Development Institute–and the numbers are impressive.
According to Telling Our Giving Stories: Native Philanthropy and Community Development, 63 Native American-led grantmaking programs fund educational, economic development, health, and cultural-preservation programs nationwide.1 Over two-thirds, 41 programs, are affiliated with a tribal government, with over half established in the past 25 years. While tribal gaming has significantly impacted tribal economies, it is not the main driver of Native philanthropy.2 What this growth trend demonstrates is the trajectory of directed self-governance and economic development.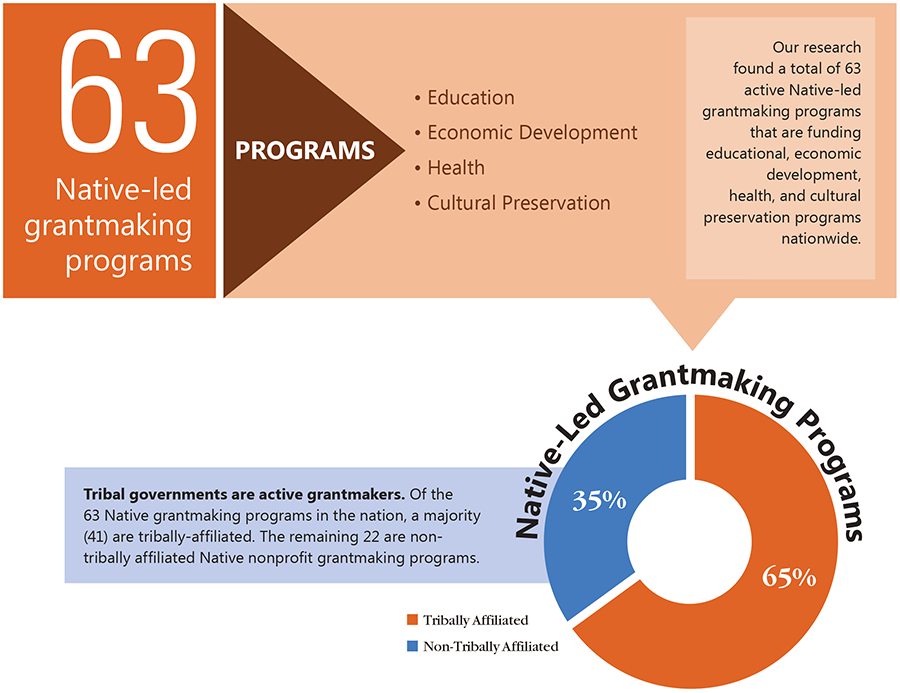 For the past several decades, Native nations have made concerted efforts to build assets and create wealth.3 Taken as a whole, recent economic growth in Indian Country has outpaced that of the rest of the United States.4 With an enormous boost from the gaming industry, significant gains were made in almost every sector, including real per capita income, median household income, employment, infrastructure, and education.5 Nonetheless, far too many tribal economies still struggle to meet the basic needs of their communities, and large gaps remain between Indian Country and the rest of the country in practically every economic and social indicator. Native-led philanthropy focuses on these gaps and needs and connects the community through strategic investments.
For example, the Hopi Tribe has used its education endowment to award scholarships and grants to support myriad needs of its community. Since 2000, the Hopi Education Endowment Fund has raised revenue within and outside the reservation to encourage Hopi students to pursue their dreams of higher education.6 This community-based grantmaking model stimulates an intergenerational cycle of investment and a continuous feedback loop of social investments, with the beneficiaries of these grants in turn giving back to their families and communities.
Native-led philanthropy has the potential to transform the roles, skills, and interactions of tribal administration, to shift mindsets and skill sets, and to stimulate long-term social change.7 In this way, philanthropy is integral to holistic economic and social development. By working collectively and collaboratively, tribal giving programs can multiply their outcomes beyond their individual grantmaking contributions and leverage their investments into greater influence, resources, and impact.
On a larger scale, Oregon has experienced the real economic impact of tribal foundation investments. Since 1997, the nine Oregon tribes have been generous neighbors, giving more than $100 million in grants, supporting local and regional economies, and creating opportunities for both the Native nations and their surrounding communities. For example, through the Spirit Mountain Community Fund, established in 1997 as a way for the tribe to practice its potlatch tradition, a gift-giving celebration, the Confederated Tribes of Grand Ronde has given more than $63 million to fund youth groups, health coalitions, dental clinics, family services, education programs, housing projects, and public safety.8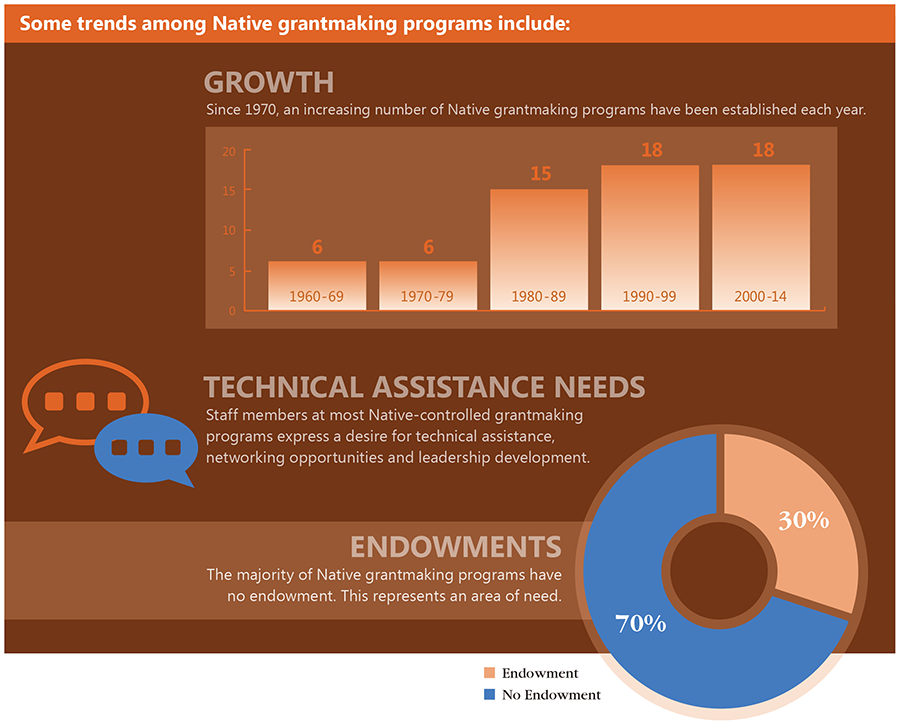 Importantly, more than the sum total of the financial contributions, tribal philanthropy has been a powerful tool in changing political structures and redefining social narratives. Tribes "have a unique understanding of what it is to be marginalized. Philanthropy provides an opportunity to be included in the power structure that makes decisions about tribal people."9 Native grantmaking strategies thus are embedded in the values of the tribe, as well as targeted on investing in vital community relationships.
Through the Telling Our Giving Stories report, First Nations captures the remarkable stories of Native grantmakers and, importantly, catalyzes a national conversation on the exponential contributions they are making inside and outside their communities. The report also serves to rally educators and advocates for Indian Country, about the potential of Native-led grantmaking programs on community development. As noted by First Nations President Michael Roberts (Tlingit), "We are proud to help educate people about the power of Native philanthropy – and to demonstrate its impact." Through its own philanthropic endeavors, First Nations gave a record $2 million in grants in 2015, bringing its total grantmaking to $24.3 million.10
The vibrancy and transcendence of tribal economies as demonstrated by Native philanthropy is part of the core mission of the Center for Indian Country Development (CICD) of the Federal Reserve Bank of Minneapolis. Many social and economic issues confronting Native communities are interconnected and have resulted in systems that perpetuate poverty and diminish their power to solve these chronic problems. The CICD takes an expansive community development approach by supporting cross-sector collaboration among tribal leaders, federal agencies, philanthropic foundations, and banks and enhancing investments in Indian Country. Everyone who works in Indian Country knows that this is a formidable task. Nonetheless, the significant economic gains made in the past three decades and the diverse paths to Indian Country development are tremendously encouraging.
---

Endnotes
1 These 63 Native-controlled giving programs have a range of organizational structures, from 501(c)(3) public charities to grantmaking committees. Telling our Giving Stories at 6. In addition, many more informal grantmaking, development, and outreach programs may exist, but are not designated as such for sovereignty and cultural reasons. For instance, the legal structure for 501(c)(3) charitable-giving programs may impose unsupportable administrative burdens, and the term "philanthropy" carries historical connotations of "cultural assimilation and tribal relocation," which may discourage designation of charitable giving programs as philanthropy. Id. at 10.
2 According to the Telling our Giving Stories report, very few of the gaming tribes have used their revenues to establish an endowed philanthropic program. Of the 63 foundations and funds, 26 (41%) exclusively provide educational scholarships. The remaining 37 (59%) offer support for a range of community cultural and economic development. A large majority of the foundations (41) are affiliated with a tribal government, but only half of those (21) are gaming tribes, with 9 foundations specifically created by tribal-state compacts. Id. at 6, 25.
3 Indicators and definitions of wealth vary greatly, from the purely economic measure of gross domestic product (greater production and output equate to increased financial affluence), to the qualitative agencies of prosperity (resources for and access to health care, education service, and employment opportunities translate to well-being). As used herein, wealth creation and economic development are integrated concepts that encompass a process whereby a community creates, retains, and reinvests its resources and improves its overall quality of life, thus meeting the needs of the current generation and factoring in the capacity of future generations to meet their own needs.
4 Commercial Lending in Indian Country: Potential Opportunities in a Growing Market, Community Developments, Office of the Comptroller of the Currency, February 2016.
5 Akee, Randall K.Q. and Jonathon B. Taylor, Social and Economic Change on American Indian Reservations, A Databook of the US Censuses and the American Community Survey 1990-2010, May 15, 2014.
6 Telling Our Giving Stories at 11-12. The Hopi Education Endowment Fund is established pursuant to Section 7871 of the Internal Revenue Code. Much like a 501(c)(3) organizations, Section 7871 requires a private letter ruling confirming the program's status and permits fundraising with mainstream sources.