Cross-sector collaborations address upstream health issues in Montana
A fall snowstorm did not deter 250 public health experts, community development practitioners, policymakers, researchers, school administrators, and business leaders across the state from convening for the second Montana Healthy Communities Conference on November 1–2 in Helena.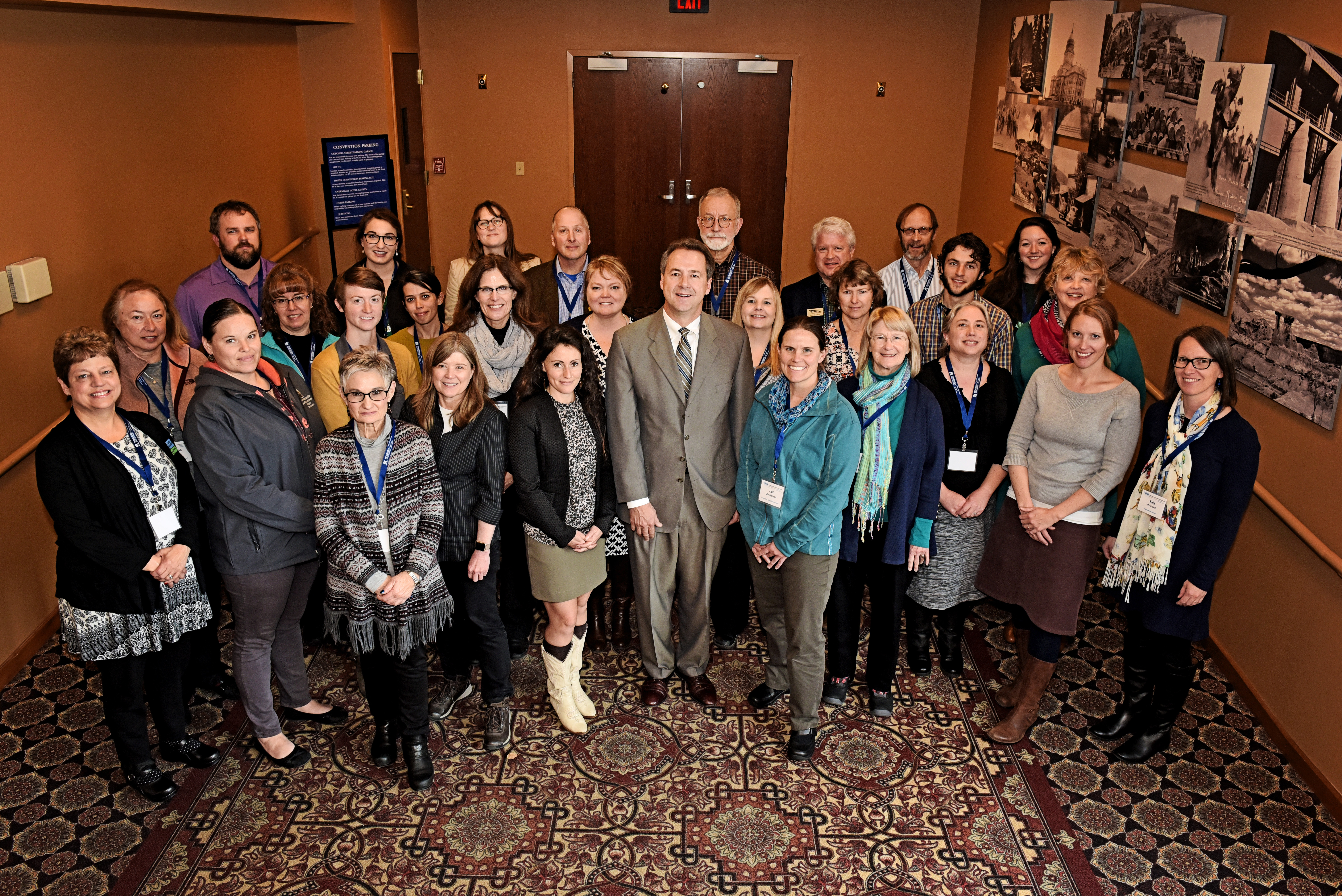 Montana Governor Steve Bullock and "What Works in Montana" project presenters. Photography by Eliza Wiley.
Attendees discussed community-based and upstream health solutions in the context of constrained government resources and increased demands on health systems and nonprofit organizations. Presenters and participants provided research findings and examples that show how strategic cross-sector partnerships can reduce expensive downstream costs, such as chronic disease management, emergency room usage, and costs related to homelessness.
Tyler Norris, chief executive of the Well Being Trust, a new national foundation focused on innovation and improvement in mental health and well-being in the U.S., discussed the impact of transforming the health care sector from a largely fee-for-service model to one with incentives and flexibility to promote health and wellness for individuals, families, and communities. Currently, health care systems are typically rewarded for the volume of medical procedures performed and are not necessarily accountable for producing health.
"If we move resources upstream, we can reduce medical care costs and improve health and local economies. And the organizations in the health sector, partnering with community development organizations, bring the leadership and have the assets we need to make this happen," Norris said.
Norris cited examples of health care institutions, including his former employer, Kaiser Permanente, that are shifting their emphasis to population health through partnerships with local housing and social service agencies. Community needs assessment is a tool nonprofit hospitals use to help identify issues affecting health and engage partners to address those needs. Developing cross-sector community partnerships requires trust, Norris noted, adding that "change happens at the speed of trust."
David Erickson, director of community development at the Federal Reserve Bank of San Francisco, cited What Matters: Investing in Results as a resource for developing outcomes-based approaches in health care and building a market that values health.
"We now have a few population business health models in a sea of fee-for-service medical models. We need a few examples of population-based successes where hospitals, banks, and community-based organizations produce health and reduce costs for this to catch on," Erickson said.
Many of the participants represented leaders and projects in rural communities where much of the state's population lives. "Rural communities have an advantage in bringing community leaders and service providers around the table since they can actually fit their local leaders around a table," noted Erickson.
For example, Shelly Sutherland, chief community development officer at Big Horn Valley Health Center, described how a partnership of organizations in a rural southeastern part of the state was able to combine healthy food access and health promotion through the expansion of a local farmers market. This project, along with others in Montana, demonstrates how rural communities can improve local conditions that affect health.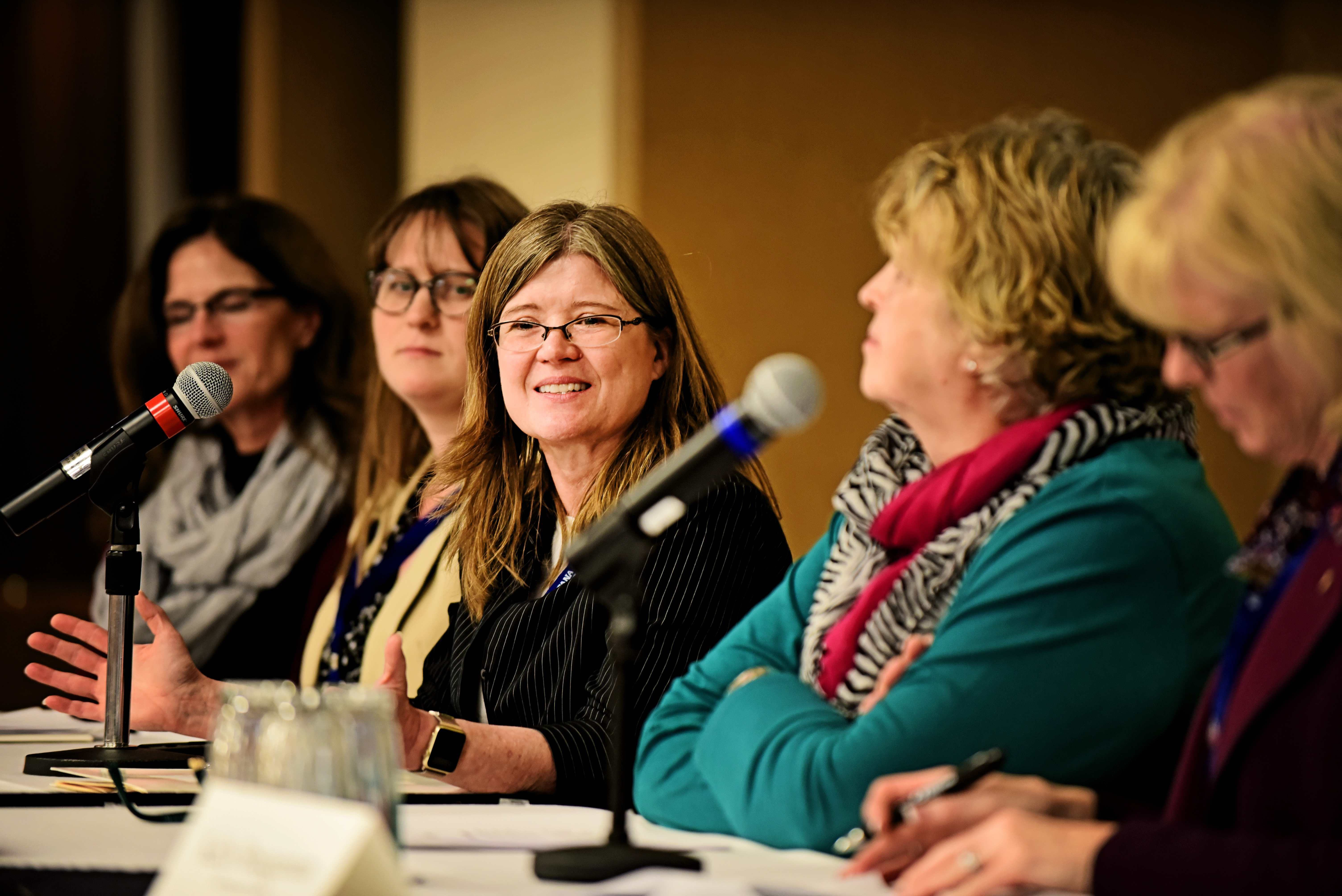 Shelly Sutherland (center), chief community development officer at Big Horn Valley Health Center, speaking on the panel, "Lessons Learned from Cross-Sector Community Health Improvement Projects in Montana." Photography by Eliza Wiley.
Many solutions focused on community asset building, and participants cited a number of key ingredients for achieving successful community-level collaborations, including:
Convene key stakeholders;
Engage community members to hear their priorities and solicit feedback;
Clearly define the problem to solve;
Find how local assets and funding streams can work effectively together; and
Develop a measurement strategy to assess results.
Resources from the conference, including presentation slides and posters of 25 successful cross-sector initiatives aimed at community health improvement in Montana, are available on the conference web site. Also visit #MTHC2017 on Twitter to see pictures and highlights from the day.