Small business debt load expected to decrease during 2017
Relatively more Ninth District* and U.S. respondents to the Federal Reserve System's Small Business Credit Survey (SBCS) expect to lower their debt level in 2017 than increase it. Diffusion index values for expected small business debt load were below zero, indicating a contraction in total debt outstanding (see Chart 1). Minnesota respondents indicated the steepest contraction among Ninth District states. Looking back, relatively more Ninth District and U.S. respondents noted increases in debt during 2016.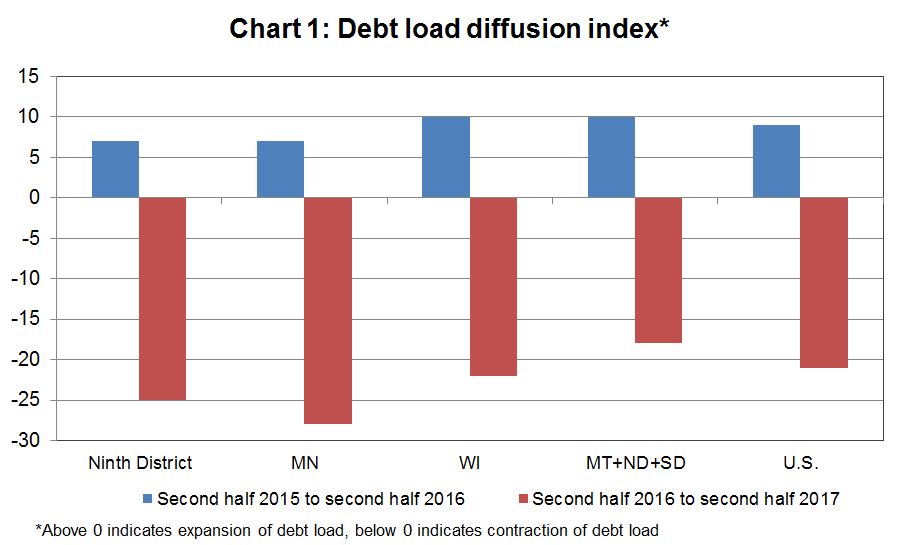 In 2016, respondents cited expanding business or new opportunity as the top reason for seeking financing, followed by operating expenses and refinancing. Results were relatively consistent across Ninth District states, although a smaller share of respondents from Wisconsin and the combined area of Montana, North Dakota, and South Dakota sought financing for operating expenses (see Chart 2).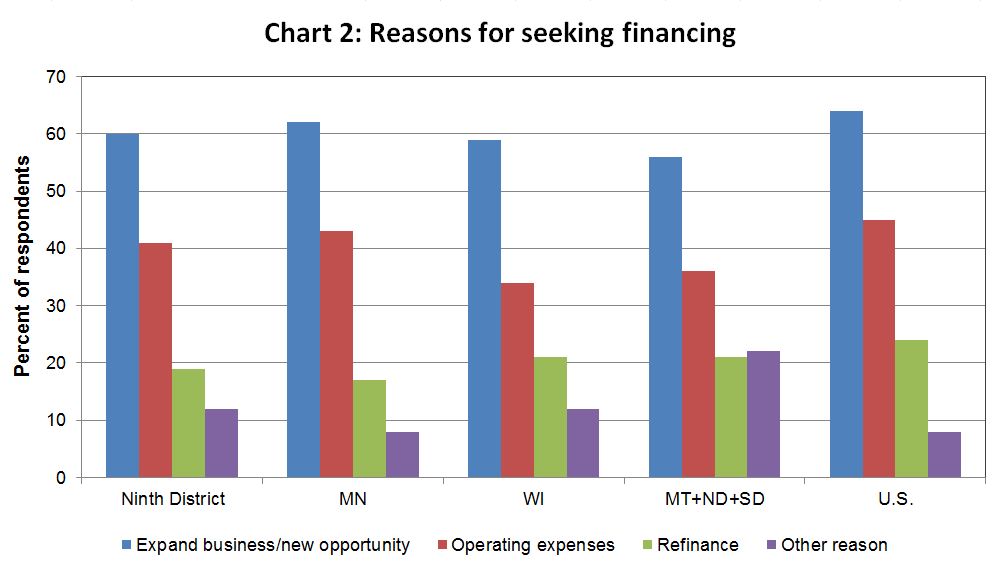 The largest share of Ninth District and U.S. small businesses sought financing in the range of $25,000 to $100,000, followed by $100,000 to $250,000 (see the table below). Compared with U.S. respondents, a smaller share of Ninth District respondents sought financing for $25,000 or less. This was particularly true for respondents in Montana, North Dakota, and South Dakota, where only 5 percent sought such small loans. In addition, among respondents from these three states, 30 percent sought loans of $250,000 to $1,000,000, whereas fewer than 20 percent sought loans of that size in Minnesota, Wisconsin, and the U.S.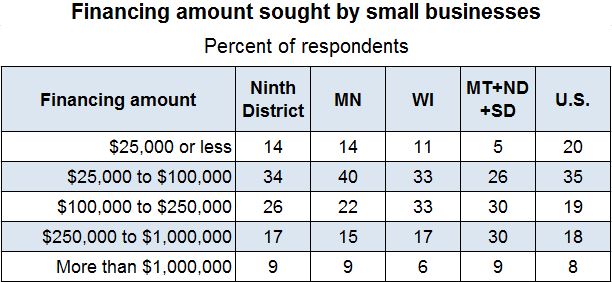 The 12 Reserve Banks of the Federal Reserve System conducted the survey during fourth quarter 2016. A total of 10,303 small businesses located in 50 states and the District of Columbia responded to the survey (846 employer firms located in Ninth District states responded). A small business is defined as a firm with fewer than 500 employees. The SBCS is conducted annually using a convenience-sample survey in partnership with business associations, local agencies, and nonprofit organizations. For individual state reports, results are weighted to reflect the full population of firms in the state along these dimensions: industry, age, number of employees, and geography. See the full report for more information about the survey design and weighting methodology.
For any questions about the SBCS or to become a survey partner, please contact Michou Kokodoko at the Federal Reserve Bank of Minneapolis.
* The Ninth Federal Reserve District includes Minnesota, Montana, North and South Dakota, 26 counties in northwestern Wisconsin, and the Upper Peninsula of Michigan. For this analysis, Wisconsin includes the full state and Michigan is excluded.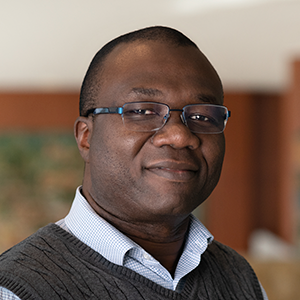 Michou Kokodoko
Project Director, Community Development and Engagement
Michou Kokodoko is a project director in the Minneapolis Fed's Community Development and Engagement department. He leads the Bank's efforts to promote effective community-bank partnerships by increasing awareness of community development trends and investment opportunities, especially those related to the Community Reinvestment Act.