Forging job-skills partnerships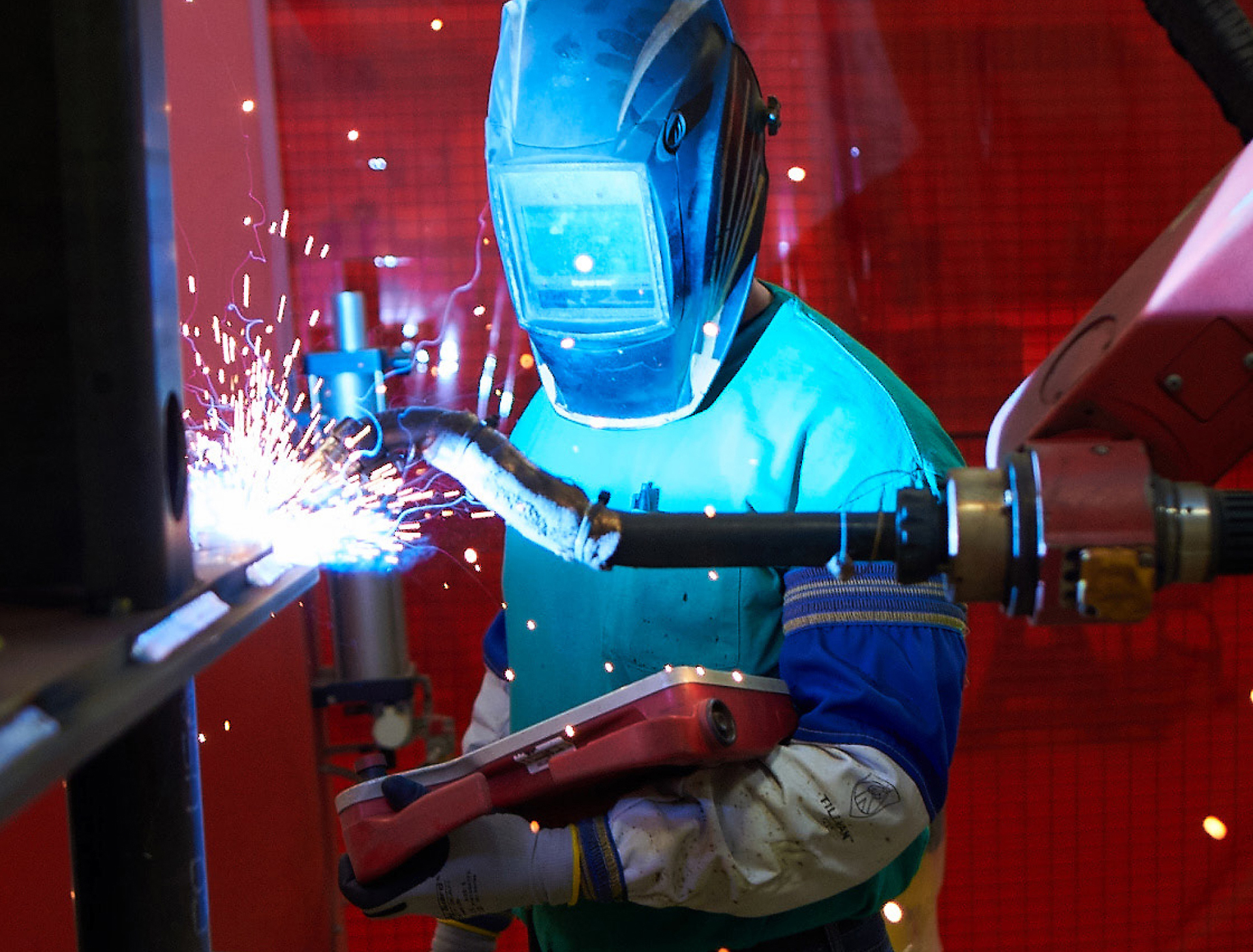 Bruce Yakley isn't an easy guy to impress. The president and CEO of Trail King Industries, a Mitchell, S.D., maker of high-end specialized trailers, gained notoriety a couple of years ago for publicly blaming high turnover at the firm's production line on younger employees' poor work ethic. "I slammed the millennials pretty darn hard," he said.
But Yakley has high praise for the welding graduates Trail King hires out of Mitchell Technical Institute (MTI). Their skills are equivalent to five to seven years' on-the-job experience, he says, and they receive a well-rounded education, with training in robotics and other advanced manufacturing disciplines. The company is so bullish on the two-year college that it's helping sponsor 10 scholarships to Mitchell Tech.
With the aging of Trail King's labor force—"40 percent of our workforce has more than 15 years of experience," Yakley said—the firm sees taking an active role in restocking the pipeline of skilled workers as essential to its future.
Employers across the Ninth District are taking similar hands-on approaches to job-skills training. Confronting aging workforces and low unemployment rates—in November, South Dakota's was 2.7 percent, tied for lowest in the nation—employers and public two-year colleges are working together more closely than ever to align training programs with workforce needs.
Employers are asserting themselves on college advisory boards, telling schools which skills are most in demand and offering advice on how best to teach them. They're supporting jobs skills training by contributing to college foundations, sponsoring scholarships and donating equipment. They're expanding alternative career pathways, such as apprenticeships, to let workers earn while they learn. And they're striving to improve the public image of technical training and occupations that don't require a four-year degree.
For their part, two-year colleges are developing new programs in fast-growing fields such as advanced manufacturing and health care, aided in part by big federal grants. They're cooperating with each other to make credits easier to transfer and career ladders easier to climb. And schools, whose state funding is increasingly tied to performance-based metrics, are doing everything they can to ensure that their graduates find well-paid, satisfying jobs in their chosen fields.
Gray expectations
Employers and two-year colleges are coming together, in part, because they need each other. Employers need graduates to fill jobs, and colleges need employers to chart a clear career pathway for students.
During the Great Recession, they didn't need each other quite so much. Manufacturers and construction companies were slashing payrolls. Technical and community colleges were flooded with high school grads who might otherwise have gone straight to work, as well as older, laid-off workers seeking marketable skills.
Seven years into the economic recovery, markets for skilled labor have tightened considerably. Baby boomers are retiring, and there aren't enough young workers to replace them (for more on the impact of demographics on the district workforce, see Working through demographic change). Demand for construction workers has rebounded, but many veteran workers have opted for occupations that are less physically challenging. The health care sector is experiencing its own growing pains with an aging population, a graying workforce and forecast shortages of caregivers at all levels.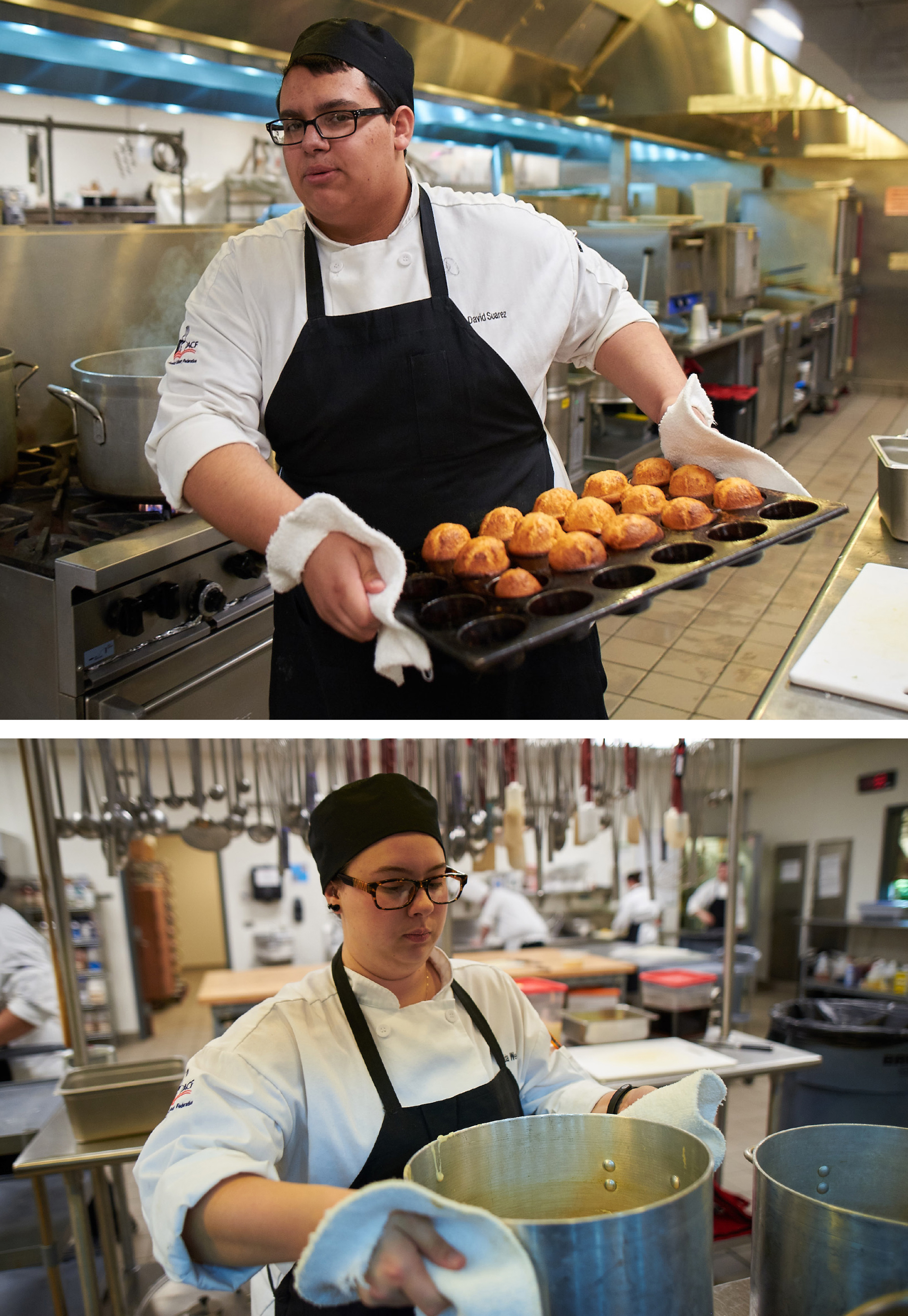 Companies are hiring again—or trying to. Fifty-three employers showed up at an October job fair at Chippewa Valley Technical College in Eau Claire, Wis.,—more than double the number from three years ago, according to the college. In the seven-county metro area of Minneapolis and St. Paul, manufacturers had more than 5,500 job vacancies in the second quarter—the most in 15 years, according to the Minnesota Department of Employment and Economic Development.
Many of those open jobs require workers with a high level of technical training. As automation has reduced the number of jobs involving simple, repetitive tasks, manufacturing has become increasingly high-tech, said Bob Kill, president and CEO of Enterprise Minnesota, which serves small- and medium-sized manufacturers in the state. Today any manufacturing job is "going to have a computer involved, even in maintenance," he said. "The bulk of job opportunities require a technical degree with experience." (See Closing the attainment gap.)
Feeling the pressure
For many two-year colleges, the challenge to produce graduates with the requisite job skills comes at a time of diminished enrollment and funding constraints.
After growing rapidly during the recession, enrollment at public two-year colleges in the district stalled and then fell after 2010, according to the U.S. Department of Education (see chart). Community and technical schools face increased competition for students from employers and from four-year institutions, which have become the default choice for many high school graduates.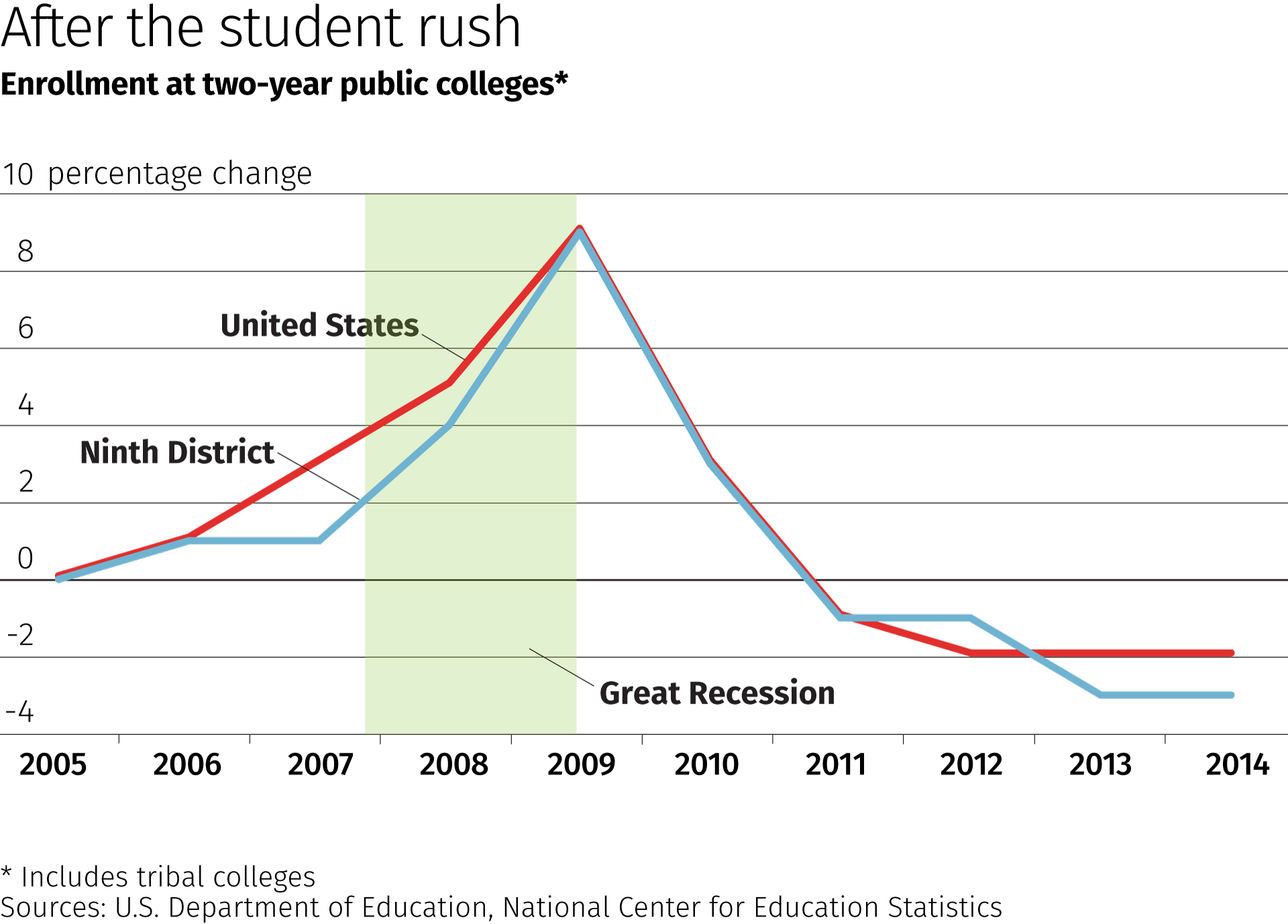 The district's biggest two-year systems are also under budget pressure. The Minnesota State system, with 30 technical and community colleges serving the equivalent of over 82,000 full-time students, received 4 percent less state funding per student last year, adjusted for inflation, than it did before the recession. Adding to the budget squeeze, legislators froze tuition at 2012-13 levels before rolling it back 1 percent for 2016-17.
The Wisconsin Technical College System (WTCS), comprising 16 colleges focused on job training, has fared somewhat better; state and local funding per student is up 3 percent since 2008 in constant dollars. But changes in its funding model have triggered a 34 percent tuition increase since the recession to cover shortfalls in the system's $1 billion budget.
North Dakota greatly increased its higher ed funding during its oil boom, but has recently pulled back as low oil and commodity prices triggered budget shortfalls. South Dakota's technical institutes won a rare victory in 2016, receiving a dedicated portion of the state's first sales tax increase since 1969 for instructor salaries. An employer coalition led by Yakley of Trail King lobbied for the funding.
Job-driven partnerships
With limited state funding available, many initiatives in the district to unite employers and colleges in a common cause have gotten a boost from the federal government.
Beginning in 2011, the U.S. Department of Labor offered $2 billion in competitive grants to community colleges through the Trade Adjustment Assistance Community College and Career Training program. The idea of the Obama Administration initiative was to retrain displaced workers for higher-skill, better-paying jobs by fostering partnerships between educators and employers.
Montana two-year public and tribal colleges and the state's Department of Labor and Industry scooped up $52 million in grants, including $25 million for RevUp Montana, which aims to shrink the skills gap in the state by quickly training new and existing workers for in-demand jobs in fields like diesel technology, machining and welding.
The program is an important step toward re-engaging the state's private sector in workforce training. Small businesses dominate the Montana economy, and the state's vast distances offer limited opportunities for employers to share ideas, said RevUp Montana's executive director, Matt Springer.
In the spirit of Gov. Steve Bullock's Main Street Montana Project, which solicited input from key industry networks on a statewide basis, the RevUp program convened representatives of the manufacturing sector to find common ground on regional priorities.
"The grants helped build a lot of momentum," said Kirk Lacy, state director of industry-driven workforce development partnerships, including helping to fund a series of curriculum development workshops in which accomplished workers shared insights on the skills required to perform their jobs.
About five years ago, Miles Community College in Miles City suspended its construction program because students and faculty kept getting hired away. That was costly for the college, and it didn't serve workers or employers well. "We're not increasing their skill, and we're also not getting that benefit as an employer," said Hattie Redmon, lead project coordinator at Jackson Contractor Group in Missoula, one of the state's biggest construction firms.
Today Redmon is working with the college and Missoula College to design an apprenticeship that gives workers access to related instruction even when they're deployed at job sites across the state. (For more on apprenticeships, see On the job, and up the ladder.)
Three years into RevUp Montana's four-year grant, Lacy sees progress. "The two-year colleges are looking at things differently," he said. In the past, they might have said, "'Here's our menu of programs we can offer.' Now employers are saying, 'How can you adapt to fit my needs?'"
Similar conversations are taking place across the district. In North Mankato, Minn., South Central College recently revived the college's welding program after a decade-long hiatus with guidance from Jones Metal, a Mankato metal-fabrication company.
In the past, President and CEO Sarah Richards says, graduates couldn't pass her company's welding test, so the company pushed South Central to give students more hands-on welding experience in on-campus metalworking shops. Now graduates are passing the test and coming with a welding certificate in hand, ready to work. The lesson for Richards: South Central can be a valuable resource for workforce development, but employers only benefit if they contribute to the process.
Students in white coats
In the health care industry, where clinical experience is an essential part of students' preparation, providers are developing especially close working relationships with colleges.
Representatives from Fairview Health Services, a statewide network of clinics, hospitals and care centers, sit on Saint Paul College's strategic planning committee and advisory boards for training programs. At Fairview's request, the college recently added a phlebotomy (blood-drawing) technician certificate program; creating the program involved discussions between the college and Fairview about how many students to enroll and how many could complete their clinical training at Fairview, said Laura Beeth, Fairview's head of talent acquisition.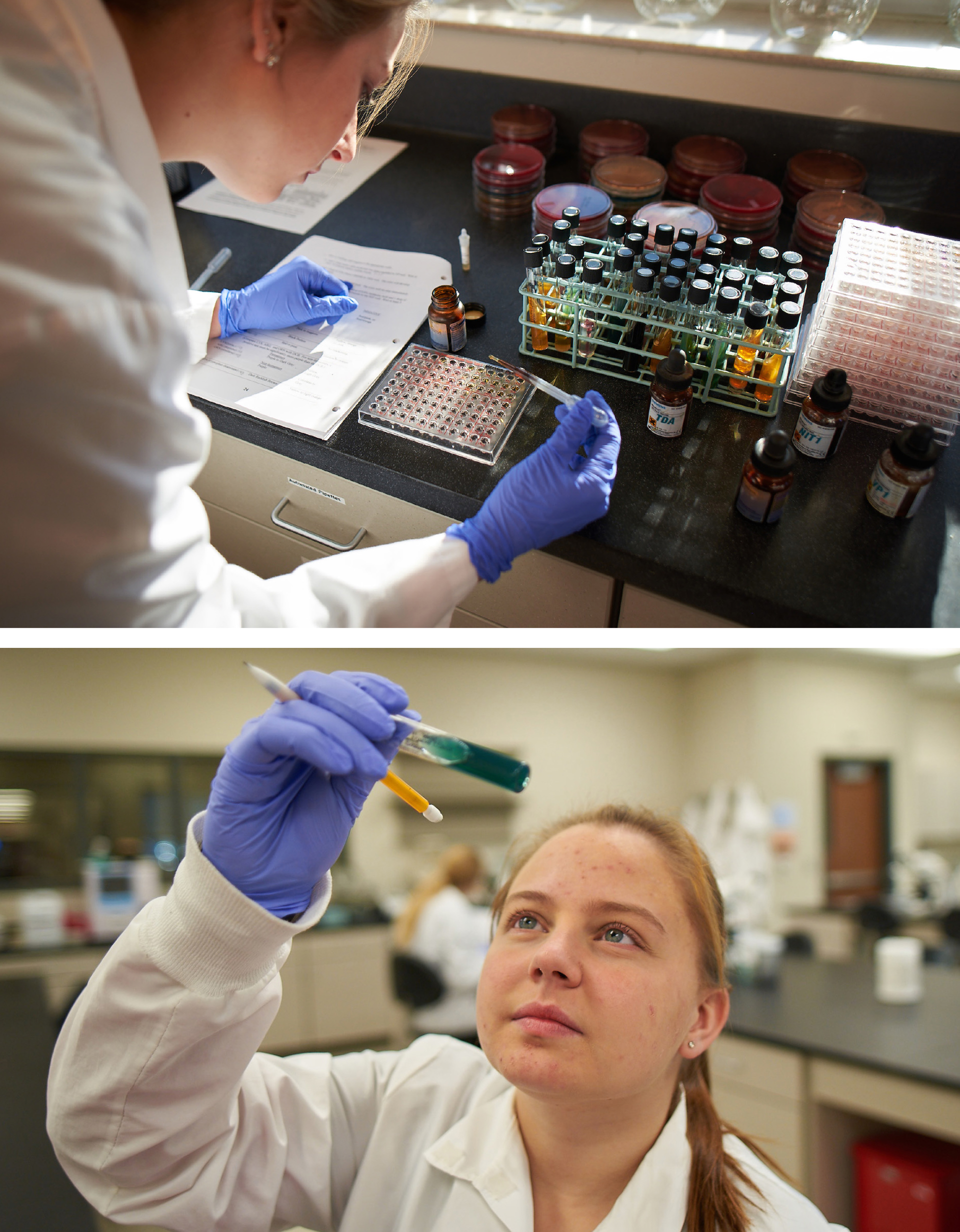 Recently, Fairview asked Saint Paul College to add a surgical technician program Beeth says is much needed. And the college is building a $20 million Health and Science Alliance facility to add capacity and reduce wait lists for such in-demand programs. "Saint Paul College is a fantastic partner," Beeth said. "They have been in constant dialogue with us. We're giving direct feedback. They're listening."
A key attraction for employers is Saint Paul College's diverse student body; 61 percent are students of color. Through the Central Corridor College Fellows program, Fairview and other health care providers hire students of Saint Paul College and other local schools who live in Minneapolis or St. Paul for entry-level jobs while they are still in school. In an informal apprenticeship, students gain experience working in the field and earn higher pay than they would likely receive outside the program.
Over half of the fellows in the program are students of color, helping to make Fairview's workforce more diverse and representative of its patient population.
Measuring up
Ultimately, two-year colleges are judged on how they meet the labor demands of employers. "Our number one goal is placement," said Mark Wilson, president of Mitchell Technical Institute. Generally speaking, job placement rates for job-skills training programs at two-year colleges are high (see table), although variations in reporting make comparisons among district states imprecise.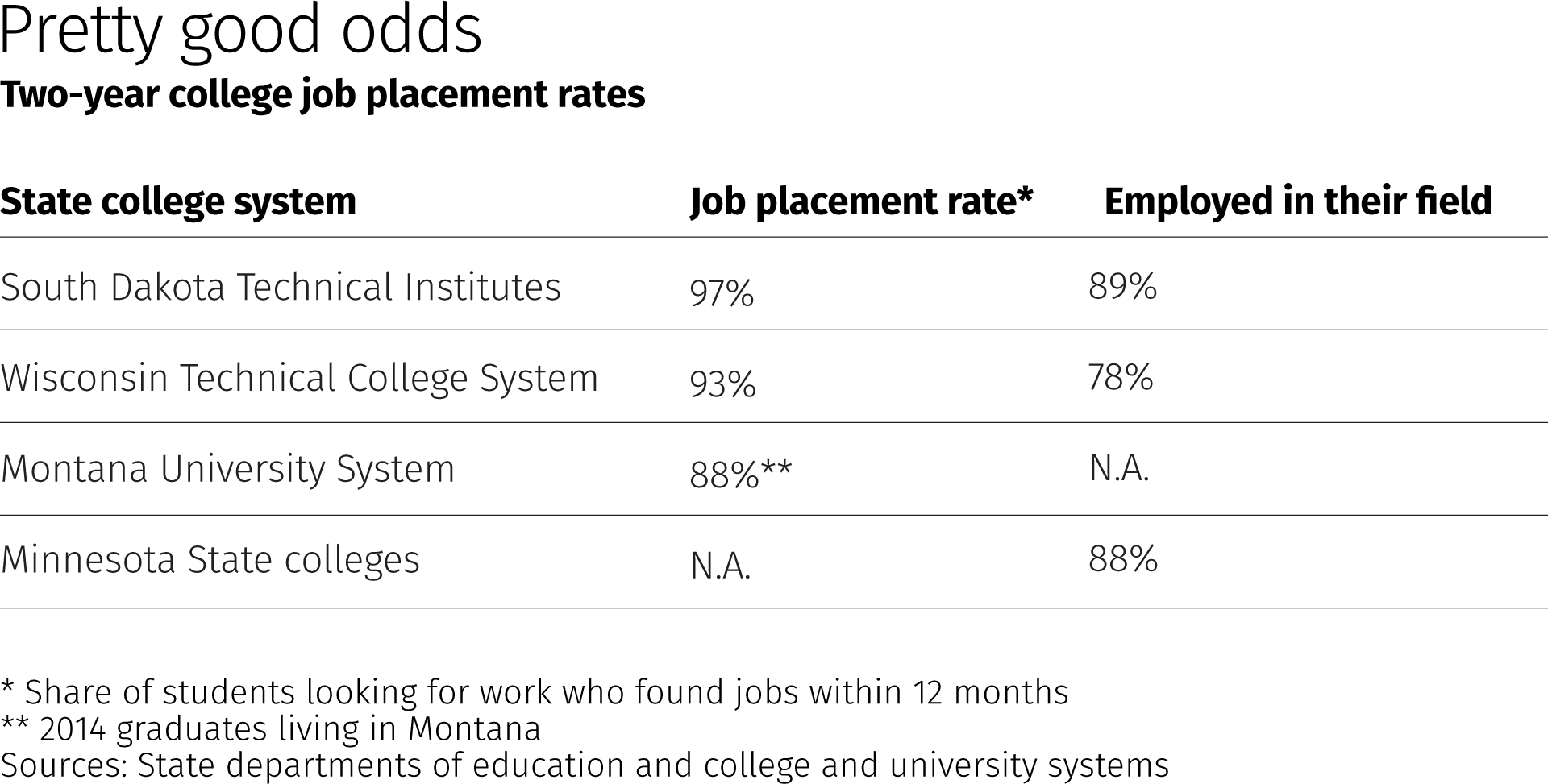 Mitchell Tech's educational wares are selling well: Of its 2015 graduates who entered the job market after graduation, 99 percent were employed six months after graduation, and over 86 percent were working in their chosen fields. Eight of the institute's 26 programs—from radiologic technology to culinary arts to automation controls—posted 100 percent placement rates in students' fields of study.
Ten years ago, Mitchell Tech had low enrollment, scant funding and some outdated, 1960s-era facilities. As state director of career and technical education, Wilson pushed for upgrades to the institute's buildings and more accountability, with program funding tied to factors such as workforce demand, job placement and average wages. Programs that didn't measure up had to change or be eliminated. "Bottom line, with the limited resources that we had, if our grads were not getting jobs and not getting paid very well, then we're done," he said.
Like Mitchell Tech, Chippewa Valley Technical College in Eau Claire has several programs boasting perfect placement records. In 2015, all surveyed graduates of the school's industrial mechanic technician program found jobs in their fields, at an average annual salary of more than $60,000. In some programs, like machine tools, there are seven local openings per graduate, according to Jeff Sullivan, the school's dean of manufacturing.
Overall in the WTCS, registered nurses, respiratory therapists, dental hygienists and other health care workers were in high demand, as were workers in many occupations outside health care: The system placed all of the diesel and heavy equipment technicians surveyed, and 98 percent of veterinary technicians. (However, about one in five trained software developers was still looking for work six months after graduation.)
Performance-based funding for two-year colleges is an added spur to job placement goals in a number of district states.
In North Dakota, for example, nearly all state funding is based on the number of credit hours students complete—a strong incentive to keep students from dropping out. Over the past three years, the state of Wisconsin has phased in outcome-based funding, with 30 percent of WTCS support contingent on a range of metrics, including many related to employment, such as job placement rates, degrees and certificates awarded in high-demand fields, and industry input on course content and methods.
In recent years, 5 percent of state funding for Minnesota State colleges and universities has been tied to performance goals set by the Legislature. As a reward for exceeding its 2015 goals, including improving related-field placement rates and awarding more degrees and certificates, the system retained $32 million in fiscal 2017 funding.
Building a bigger pipeline
High job placement rates mean little if too few prospective workers enroll in job-skills training programs. States, colleges and employers are all striving to expand the pipeline of successful graduates entering the workforce.
Through Wisconsin's Blueprint for Prosperity grant program, the state Department of Workforce Development has spent about $56 million since 2014 to make room for an additional 10,000 students at technical colleges, reducing wait lists for courses in high-demand occupations such as welding, truck driving, computer support and certified nursing assistants. The state also expanded dual enrollment, allowing more high school students to earn college credit for training in a variety of in-demand fields.
A free ride is a powerful inducement to enroll in a job-skill program. Build Dakota, a $50 million scholarship program co-funded by the state and South Dakota businessman and philanthropist T. Denny Sanford, offers free tuition to students training for jobs in advanced manufacturing, information technology and other fields. Applicants must commit to work in their field in South Dakota for three years after graduation.
The latest round of scholarships drew about 1,250 applicants for 300 spots, including some of the Mitchell Tech students sponsored by Trail King. Such arrangements, in which an employer splits the cost of a scholarship with Build Dakota, have seen tremendous growth, Program Manager Deni Amundson said, with 65 industry partners signing on this year and more expected in coming years.
Williston State College in North Dakota's oil patch has offered free tuition to degree-seeking high school graduates from nearby counties in the state, contributing to record fall enrollments in the past two years.
And in Minnesota, an $8.5 million pilot program funded by the 2015 Legislature gives a free ride to students from middle-income families enrolled in an array of high-demand job training programs at Minnesota State colleges.
Smaller efforts can have big local impacts. Last summer, global agricultural equipment maker AGCO Jackson paid for 16 furloughed workers to take an introductory mechatronics (a field that combines several advanced manufacturing disciplines) course at Minnesota West Community and Technical College's Jackson campus. With AGCO's financial support, 13 have now completed 26 credits toward an associate's degree in mechatronics, helping build a pipeline of local talent, said Brad Quinn, the plant's manager of training and development.
Fighting the stigma
For all the lure of scholarships, negative perceptions of manufacturing and other hands-on technical occupations remain an obstacle for many prospective two-year college students. Students at Minnesota tech colleges recently told Enterprise Minnesota researchers that many of their teachers and parents saw four-year colleges as the only way to go, and some had even tried to talk them out of a manufacturing career.
Employers are taking action to fight this stigma. With the help of a state grant, a group of Mitchell, S.D., employers, including Trail King, hired a counselor to spread the word among area high schoolers that a sheepskin from a four-year college isn't the only ticket to a good living.
And employers are partnering with two-year colleges to introduce high school students to potential technical careers. At Chippewa Valley Technical College this fall, 11 local manufacturing firms opened their facilities for tours by over 300 high school students. In Minnesota, health care providers and schools like Saint Paul College host "Scrubs Camps" to introduce high school students to a range of medical careers, from physicians to pharmacists to lab technicians.
Employers must advocate for job-skills training by not only pushing for more state funding, but also by helping to shape curriculum and championing technical careers, Yakley said. "Industry needs to step up to the plate. We're the ones begging for workers. We can't just sit back and complain."