Sioux Falls: Diverse, growing and looking for workers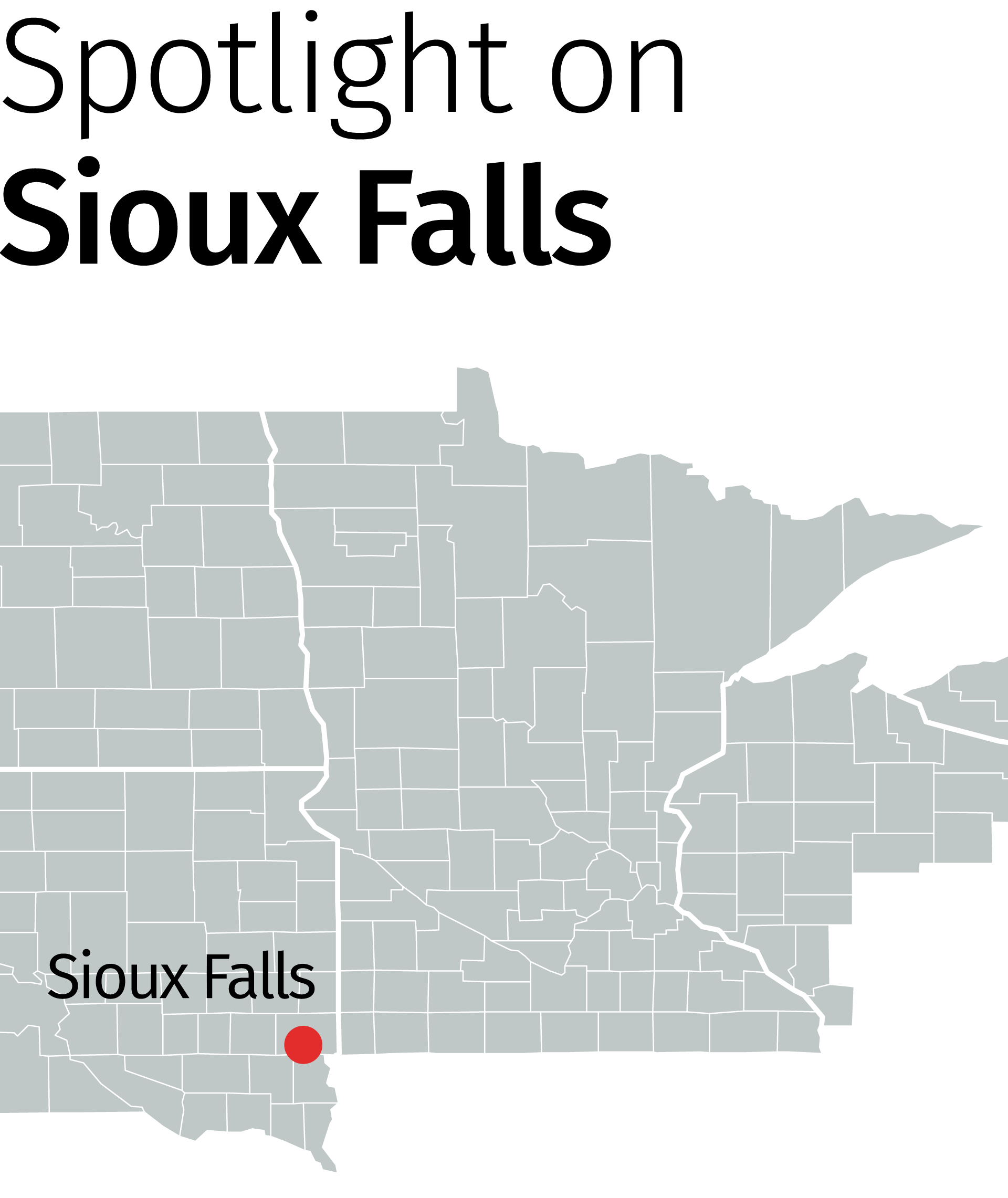 "Spotlight" is an occasional feature about Ninth District communities in which the Minneapolis Fed has held private meetings with businesses to gauge regional economic conditions. To maintain confidentiality, individuals and their businesses are not named.
Sioux Falls is the economic nerve center of South Dakota. Residents typically describe their city's diverse economy as "booming" and "on fire," and the data bear out that assessment. With just over a quarter of a million residents, the Sioux Falls metro area, which encompasses Minnehaha County and parts of three other counties, is the state's largest urban area, and one of the fastest growing. Over the past decade, the central city of Sioux Falls has added roughly 3,000 residents each year, city records show.
Commercial and residential contractor vans can be seen everywhere. Construction permits issued for new housing in the city of Sioux Falls have set annual records in recent years; last year, the city permitted over 2,600 single- and multifamily dwellings, a 29 percent increase over the previous record set in 2014.
Sioux Falls' unemployment rate routinely ranks among the lowest in U.S. metros—it was 2.8 percent in January. "Anyone who wants a job has a job," said one local business owner.
One of the few economic measures in which Sioux Falls has recently lagged its Ninth District peers is economic output. After surging in the wake of the recession, Sioux Falls' gross domestic product has since risen at a more gradual pace, according to the U.S. Bureau of Economic Analysis. From 2012 to 2015, the GDP of Sioux Falls grew about 1 percent annually in constant dollars—half the rate of all U.S. metropolitan areas. Over the same period, several district metros, including Fargo, N.D., and Billings, Mont., posted bigger gains in GDP.
Changing with the times
Sioux Falls has learned well the lesson of not remaining a one-industry town.
For more than a century, the city has been a key hub for agriculture in eastern South Dakota. The I-29 corridor cuts through rich farmland between Vermillion and Watertown, and two state universities in the region—the University of South Dakota (USD) in Vermillion and South Dakota State University (SDSU) in Brookings—have helped to keep the area at the forefront of ag research and production. Although the food processing industry is no longer as dominant in Sioux Falls as it once was, pork processer Smithfield Foods/John Morrell and Co., maintains a strong presence in the city as its third-largest employer.
But the city's economy encompasses far more than corn, soybeans and pork. Over the past 40 years, it has broadened to include health care, financial services and computer software, providing a sound base for continued growth.
Financial services came first, in the early 1980s, after the state passed a law that eliminated caps on bank interest rates. Citibank of New York relocated its credit card operations to Sioux Falls, and Wells Fargo, HSBC, TCF Bank and dozens of other financial institutions followed, drawn by low operating costs as well as the freedom to charge higher interest rates. By 2009, roughly 20,000 people worked at financial services firms in the metro area.
About the time it seemed that the local economy would become reliant on financial services, another sector was on the rise: health care. In 2007, First Premier Bank owner T. Denny Sanford donated $400 million to the Sioux Valley Health System, which as Sanford Health would become one of the largest health care systems in the Upper Midwest. Sanford's USD Medical Center is one of four major hospitals in Sioux Falls.
Over the past decade, health care has widened its lead over financial services in terms of the share of city residents employed in those sectors, according to the U.S. Census Bureau (Chart 1).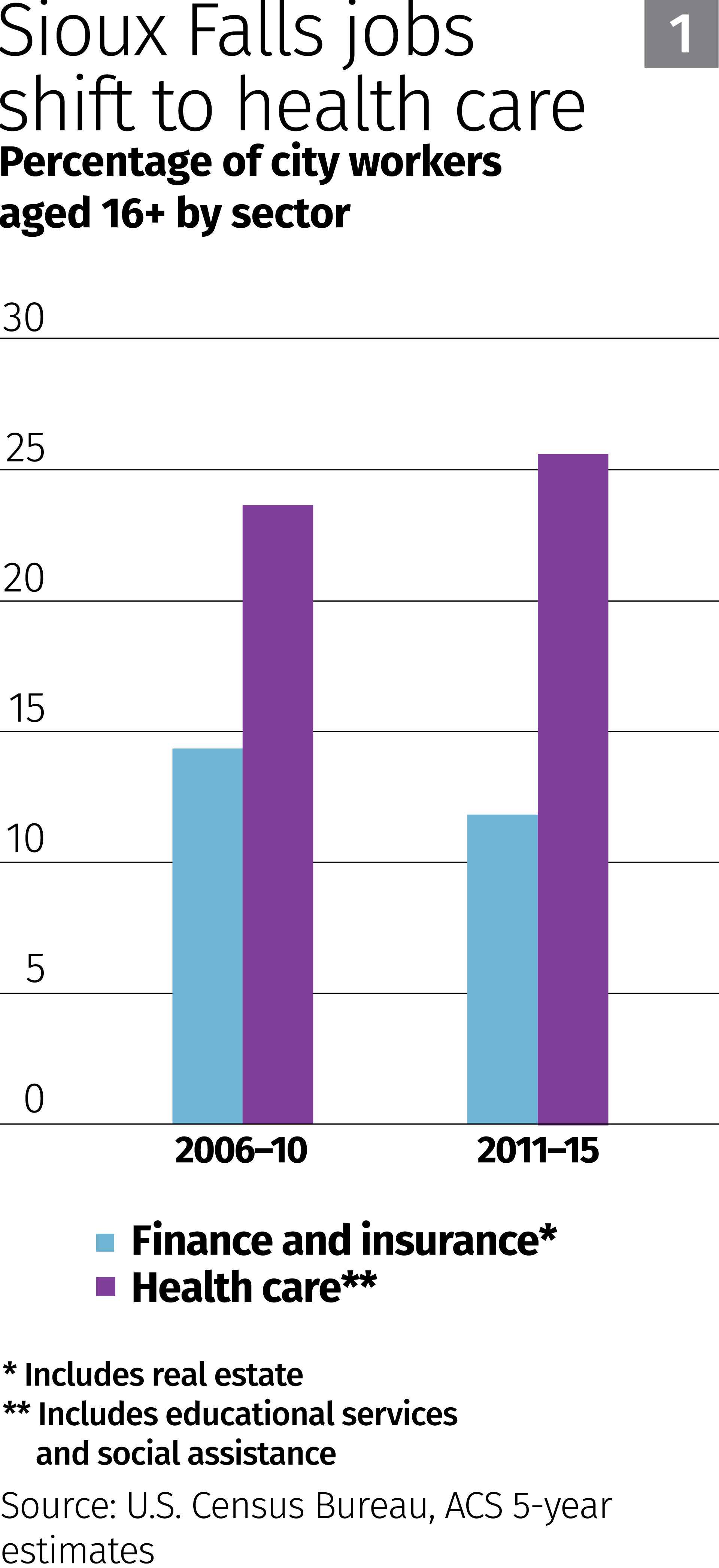 Together, Sanford and Avera Health employ over 16,000 people in Sioux Falls. Including biomedical companies such as SAB Biotherapeutics and Nanoblood (a startup that relocated from California in 2015), the health care industry employs nearly 20,000 people.
A vibrant professional services industry has grown up to serve the health care sector. Tech firms either based in Sioux Falls or with a local presence include Fiserve, a provider of financial transaction services, and Zuercher Technologies and Docutap, developers of software for, respectively, urgent care and public safety.
Calling all workers
Sioux Falls' unemployment rate, like that for South Dakota as a whole, has long been well below the national average (Chart 2). During the recession, unemployment in Sioux Falls was over four percentage points lower than the U.S. rate, and since then the city's jobless rate has tracked significantly below the state level.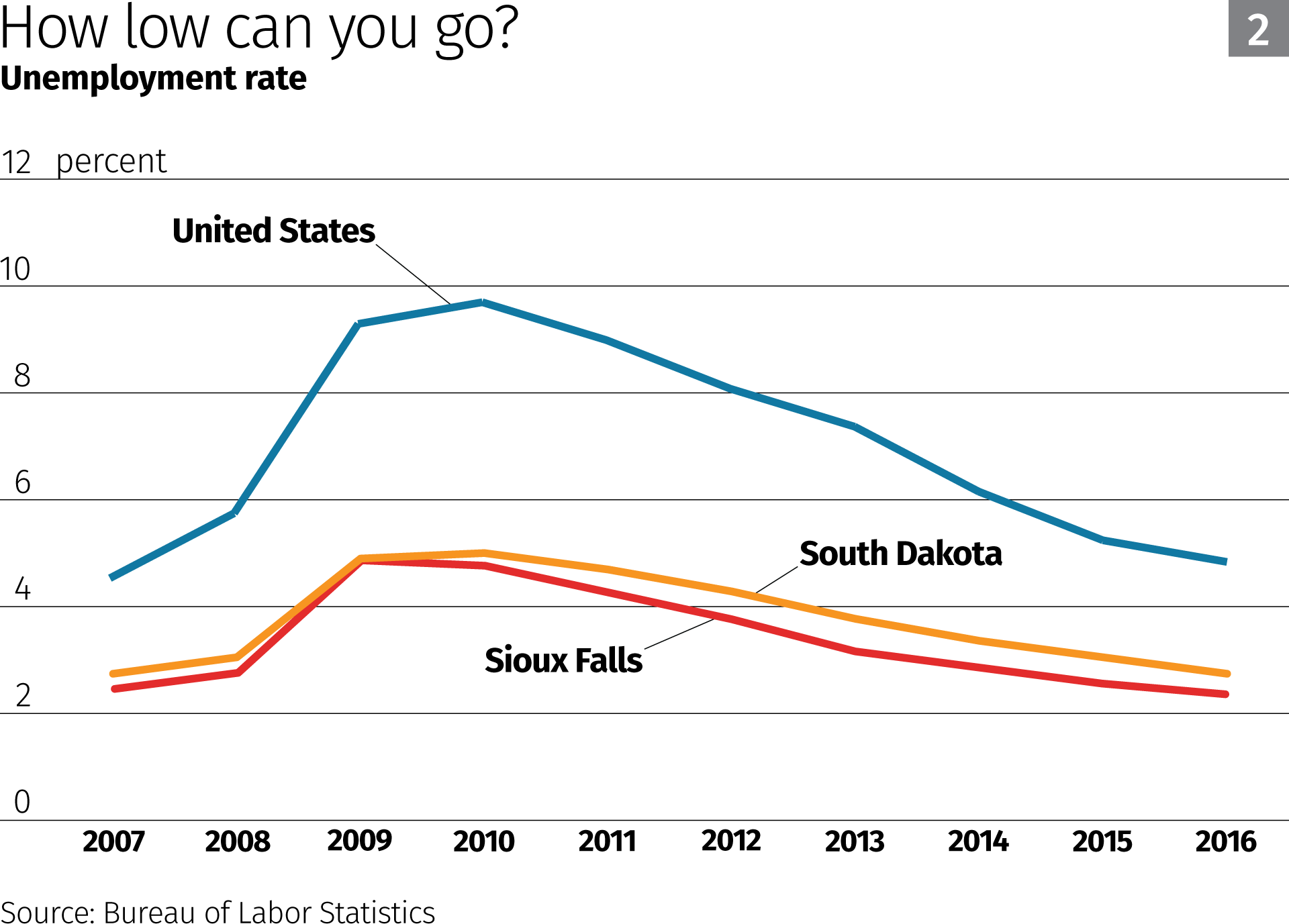 Rapid growth in health care and professional services has increased the strain on the labor supply. Competition for workers is fierce, and employers across the industry spectrum are hard pressed to fill jobs; in March, there were almost 5,000 job openings in the Sioux Falls metro area, according to the South Dakota Labor Market Information Center.
Sioux Falls' expanding health care and health care-related IT industries (over a fifth of the area's March job openings were in health care and social assistance) are pulling in every available worker, many from other local employers in the financial sector. "Software and IT jobs are looked at as more cutting edge than what financial services firms can offer," said one software industry leader. "And because hospitals and clinics are becoming more high-tech, our services are in big demand."
Workers are also flooding into the region from other areas of the state and beyond. This influx, together with the expansion of urban boundaries due to annexation, increased the city of Sioux Falls' population by 5,200 last year, well above the long-run average.
Many new workers make their way to Sioux Falls after college; every spring, USD and SDSU contribute large contingents of job-seeking graduates to the metro workforce. Several local colleges and technical schools, among them Augustana University and Southeast Tech, also serve as a pipeline for skilled workers into the labor force.
Other new residents seeking work come from foreign countries such as Somalia, Sudan, Ukraine and Pakistan. Census figure show that the foreign-born population of Sioux Falls has more than doubled since 2000 to about 12,000.
But there never seem to be enough workers to fill job vacancies. Employers and city officials are trying to attract college graduates and other talented workers from other parts of the district and as far away as the East Coast by touting not only the city's burgeoning economy, but also its recreational and cultural amenities.
One of those attractions is the falls for which the city is named; the Big Sioux River winds through the central business district and tumbles over quartzite cliffs at Falls Park. In recent years, redevelopment has transformed the downtown riverbanks, leveraging the area's natural beauty to foster development of restaurants, hotels and other businesses. Other recreational and cultural attractions in Sioux Falls include museums, concert halls—Denny Sanford Premier Center, completed in 2014, is the state's largest concert and sports venue—and several pro, college and amateur sports teams.
The emergence of a corporate and academic research park called the University of South Dakota Discovery District is expected to further stoke economic growth in Sioux Falls. City government, USD, area businesses and other development partners envision the Discovery District as a catalyst for the growth of high-tech industry in the region. Plans for an 80-acre "urban innovation community" include privately built research facilities, on-site advanced manufacturing and a hotel.
The recently renovated Zeal Center for Entrepreneurship, an incubator for early-stage companies, is another engine of innovation in Sioux Falls.
As the nation's economy has evolved, Sioux Falls has sought out and embraced new industries, allowing it to adapt to new economic conditions and achieve a level of growth envied by other communities of similar size. The area's greatest challenge is developing a workforce that can keep up with demand for labor to fuel new and expanding enterprises. Commented one insurance executive: "Everything is up. We're building, we're growing, we're adding new jobs. There is plenty of work, just not enough workers."