The closing of the J.C. Penney store in Jamestown, N.D., dealt a body blow to Buffalo Mall, an indoor shopping center that has struggled to keep its storefronts filled over the past decade.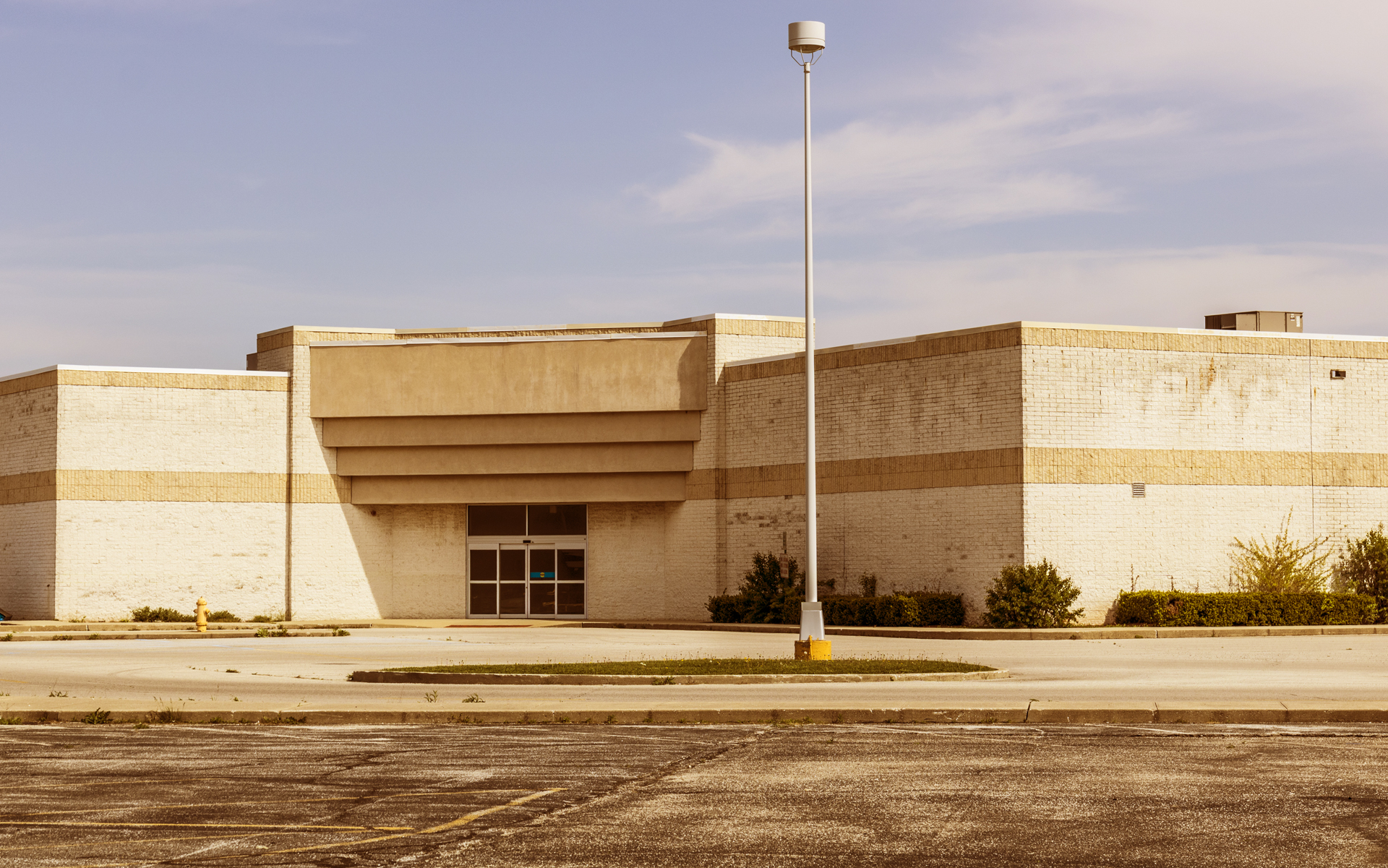 J.C. Penney was an "anchor" tenant that drew customers crucial for sustaining smaller stores in the 37-year-old mall. A New Jersey-based firm bought the mall in July, the same month that the department store closed, and is trying to recruit new tenants for the 34,000 square feet of vacant space it left behind. "We've had some interest," said Mall Manager Tim Perkins. "Hopefully, we can backfill that space fairly quickly and get somebody in as good if not better for the mall and the rest of the stores."
A new Dunham's Sports store scheduled to open in September is expected to increase foot traffic at the mall. But Perkins allows that attracting enough shoppers to support merchants and keep them in the mall "is a challenge. Malls aren't what they used to be 10 or 15 years ago, at least in Jamestown."
In the Ninth District and across the country, indoor shopping centers like Buffalo Mall are suffering due to the travails of bricks-and-mortar retailers and a rash of store closings (see Everything must go). While top-tier malls in metro areas continue to do well, maintaining high occupancy rates for the most part, many older, less fashionable malls are fighting to stay relevant, or even survive, in a shifting retail landscape. Challenged malls include metro malls with low-rent tenants and retail centers in small cities that have lost shoppers over the years to metro areas or larger regional centers.
Many of these beleaguered malls are so-called legacy centers that were built in the 1970s, an era "when enclosed malls were all the rage, and everyone was building them," said Jim Buus, president of Goldmark Commercial Real Estate in Fargo, N.D.
Over the past decade, these malls have lost tenants and shoppers to newer, more upscale malls and alternative retail formats such as big-box stores and strip malls. Many are no longer considered "cool," Buus said. "Consumers tend to like to go to new developing parts of town, the shiny new mall or retail center, as opposed to a 40-year-old neighborhood and mall that maybe hasn't been kept up as well as it should have been."
The current troubles of J.C. Penney, Sears, Gordmans and other retailers has led to the closing of underperforming stores and dimmed the outlook for malls at the lower end of the retail pecking order. A June report by investment bank Credit Suisse projected the closing of up to a quarter of the country's roughly 1,100 malls within five years.
That empty feeling
When a major tenant leaves a popular regional mall such as the Mall of America in Bloomington, Minn., or West Acres in Fargo, the mall is likely to find a replacement fairly quickly, said Leah Maurer, a retail investment specialist at Cushman & Wakefield NorthMarq, a Minneapolis commercial real estate firm. Demand for space in such destination malls with a wide selection of stores is still high, despite the stumbles of top-draw mall tenants such as Macy's.
As many national or regional retailers retrench, it's become hard for less prestigious metro malls to attract tenants capable of filling a sizable vacancy, and even harder for centers in smaller cities with fewer potential customers for those large stores, Maurer said. "In markets that maybe aren't as tight or have higher vacancy rates, the C centers for sure are the ones that are going to be hurting," she said, referring to less desirable malls with lower-rent tenants.
The loss of J.C. Penney was painful for Buffalo Mall, but the Jamestown retail center has been seeking relief for years. The mall "has struggled to find its identity and fill its space for quite some time now," said Buus, whose firm represented the mall until recently. In addition to the J.C. Penney exit, Sears, Kmart and several smaller shops selling food, clothing and books have left the mall in recent years.
Perkins says that many Jamestown residents drive to either Fargo or Bismarck (both about 90 minutes away via Interstate 94) to shop. "It's been that way for the last several years," he said. "People go to those cities for whatever activity or event their kid may have, and they hit up stores and go to a restaurant while they're there—there's more selection there."
He added that e-commerce has diminished trips to the mall, and some bricks-and-mortar retailers are gravitating toward nonmall locations—last year women's fashion outlet Maurices left the mall to open a free-standing store near Walmart.
Vacancy rates at the mall have averaged between 15 percent and 20 percent in recent years, Perkins said. That's far higher than the average for regional malls nationwide—8 percent in the second quarter of this year, according to Reis, a commercial real estate information firm.
Other district malls with elevated vacancy include Burnsville Center and Maplewood Mall in suburban Minneapolis-St. Paul, Copper Country Mall in Houghton, Mich., and Westridge Mall in Fergus Falls, Minn. The Sears store at 40-year-old Burnsville Center was slated to close in September, adding 180,000 square feet of vacancy to existing empty space behind over a dozen shuttered storefronts.
A parade of stores has come and gone at Westridge, a small mall anchored by Dunham's Sports and a Herberger's department store. In the past few years, more have closed than opened, leaving the mall half empty. The mall's last eatery closed in July.
The closing of an anchor store such as Sears or J.C. Penney can set in motion a vicious cycle of declining revenues and rising vacancy at a mall. "Co-tenancy" clauses, common in mall lease agreements, permit mall tenants to terminate their leases or renegotiate the terms until another retailer moves into the vacant anchor space. To hold onto tenants or attract new ones, the mall landlord may lower rents or defer rent obligations for a few months. Reduced revenue discourages ongoing investment in the property, driving away shoppers and triggering more vacancies and rent cuts.
"If the anchor leaves … it can snowball rather quickly," Buus said. "Once the downward spiral starts, it's hard to turn it around." Ultimately, a foundering mall can't collect enough rent to cover its expenses, and the owner sells the property or lets it go into foreclosure. A few malls in the district—among them Brookdale Center in suburban Minneapolis and Oak Park Mall in Austin, Minn.—have been razed or extensively remodeled to make way for new development.
The big losers when a mall fails are the property's owner and investors in the mall, who are likely to receive pennies on the dollar for their liquidated assets in a foreclosure sale.
A closed or dying mall also can mean less property tax revenue to fund local government, because a shopping center's appraised value depends to a large extent on its capacity to generate rental income. The estimated market value of Westridge Mall has fallen by more than half since 2014, according to the Otter Tail County tax assessor's office.
The mall repurposed
Faced with the prospect of oblivion in a retail market in flux, distressed malls are experimenting with changes to the shopping mall model, created in 1956 with the opening of Southdale Center in the Minneapolis suburb of Edina.
Instead of trying to fill vacancies with more stores selling retail goods, an increasing number of mall landlords are courting restaurants and entertainment vendors "to get people into the mall and give them a fun experience, get them to stay a bit longer, shop a bit more," Maurer said. Entertainment and dining are also viewed as more resistant to inroads by e-commerce than merchandise outlets.
Buffalo Mall's new management is considering building an indoor children's play area and introducing miniature golf to appeal to families patronizing the new Dunham's Sports and the mall cinema, Perkins said. At Burnsville Center, options for filling vacant space include an indoor ice skating rink or a bowling alley.
Other malls in the district and across the country have evolved into community-oriented centers offering a mix of shopping, services and recreation. Large anchor spaces once occupied by department stores now accommodate fitness clubs, medical clinics, libraries and state driver's license bureaus. "That's a trend we've been seeing for a while now, and I think it will only accelerate, especially in smaller communities and more inner city, aging neighborhoods to deal with space vacancies," Buus said.
Buus adds that some shopping centers that have seen better days are taking on completely new roles as distribution centers and warehouses—a transformation partly driven by the success of online retailers. "We've see a strong demand for distribution space and new facilities for FedEx, UPS and smaller delivery-type companies."