How African immigrants contribute to the Minnesota economy
This post is based on a presentation by Michou Kokodoko on August 17, 2018, in St. Paul, at a celebration of African Economic Development Solutions' 10th year of building African immigrant communities in Minnesota.
Since 2000, the number of African immigrants in Minnesota has increased from almost 35,000 to more than 90,000, according to data from the U.S. Census Bureau. During this time, African immigrants in Minneapolis-St. Paul and in communities outside the metro area have actively engaged in civic and economic life. For example, Ilhan Omar was recently elected to represent the state's fifth Congressional district, the first Somali American elected to Congress. In terms of economic life, African immigrants work in a number of industries, with a notable presence in health care.
Labor force participation rates are strong among African immigrants in Minnesota, reaching 78 percent in 2012–2016, higher than that among all immigrants in Minnesota and among U.S.-born Minnesotans. (See Figure 1.)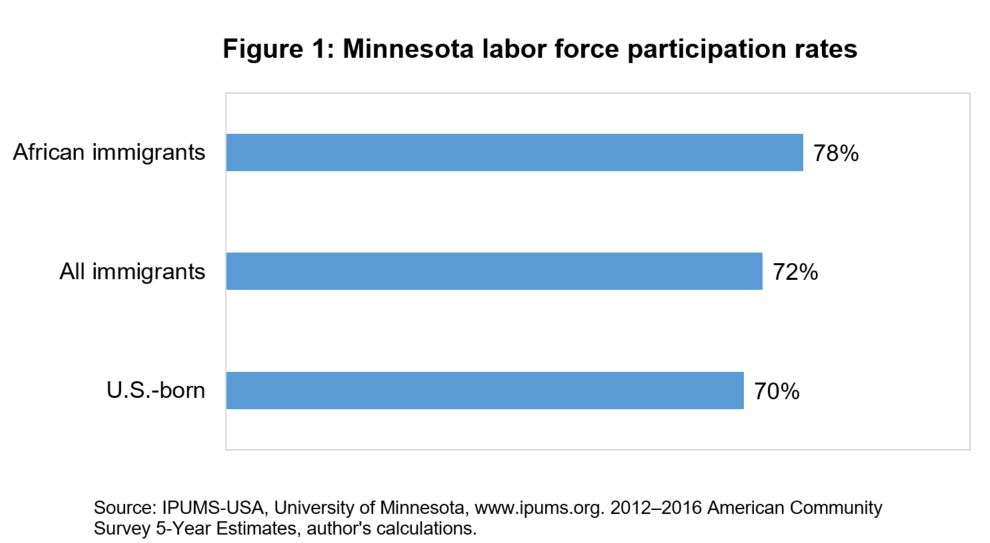 A relatively large share, about 70 percent, of African immigrants and immigrants overall in Minnesota are age 25 to 64, compared with 51 percent of Minnesota's U.S.-born population, while the U.S.-born population has larger shares of both people age 0 to 24 and age 65+ compared with the immigrant populations. (See Figure 2.) Only 5 percent of African immigrants in Minnesota are older than age 65, compared with 15 percent of the U.S.-born population.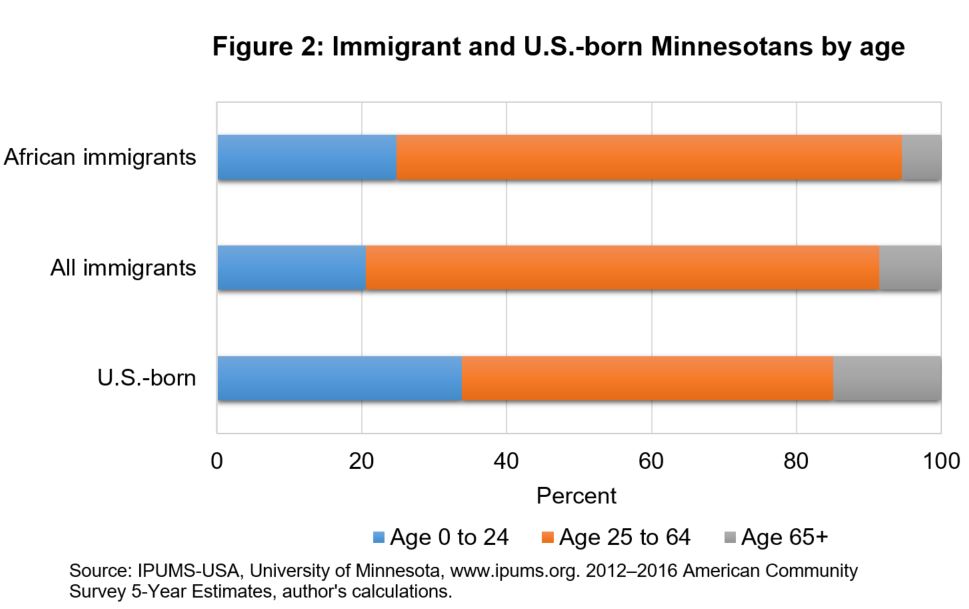 About 37 percent of African immigrants are employed in educational services, health care, or social assistance, compared with 25 percent for all immigrants and US-born Minnesotans. Most of this difference is driven by participation in the health care sector. Across occupations, over 15 percent of African immigrants are health care practitioners.
Over 20 percent of African immigrants hold a bachelor's degree or higher, with 8 percent holding one or more graduate degrees. In comparison, roughly one-third of the overall immigrant and U.S.-born population in Minnesota has a bachelor's degree or higher. (See Figure 3.) African immigrants with higher levels of education attainment are in a position to earn relatively higher wages and salaries in the labor market.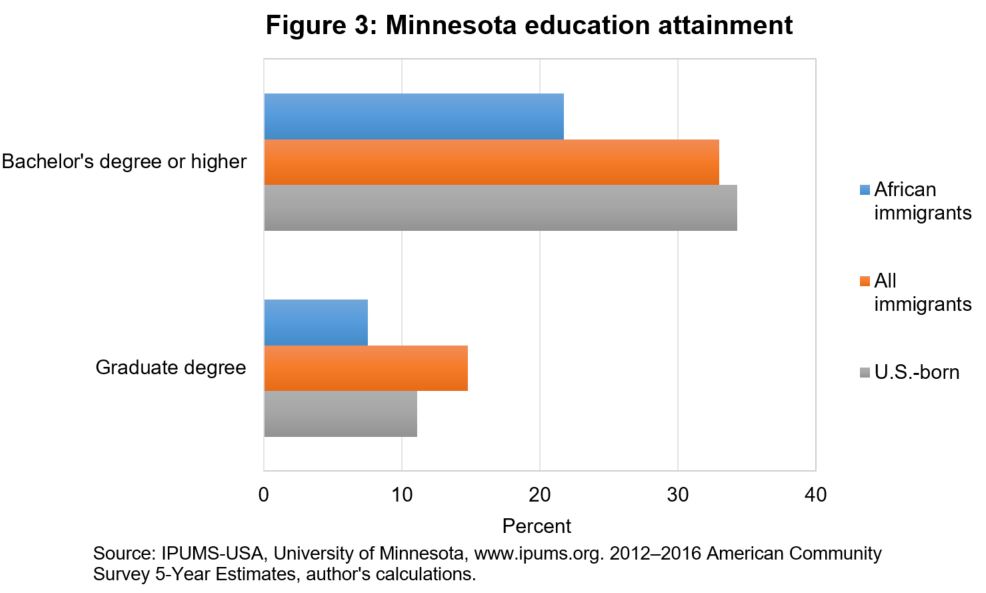 With high levels of labor force participation and employment, African immigrants brought in $2.5 billion in earnings during 2015. These households paid $419 million in federal taxes and $222 million in state and local taxes, leaving African immigrants an estimated $1.8 billion in spending power.* Despite its relatively small size, the African immigrant population makes significant contributions to the Minnesota economy.
*Spending power is defined as the disposable income left over after subtracting federal, state, and local taxes from household income. State and local tax contributions were estimated based on tax rate estimates by the Institute on Taxation and Economic Policy. Federal tax contributions are based on average tax rates released by the Joint Committee on Taxation.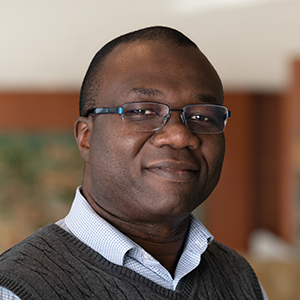 Michou Kokodoko
Project Director, Community Development and Engagement
Michou Kokodoko is a project director in the Minneapolis Fed's Community Development and Engagement department. He leads the Bank's efforts to promote effective community-bank partnerships by increasing awareness of community development trends and investment opportunities, especially those related to the Community Reinvestment Act.