Center for Indian Country Development Welcomes Research Economist Donna Feir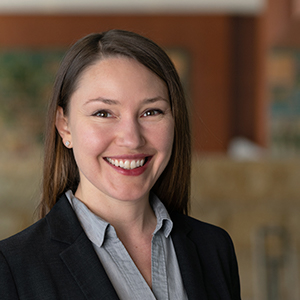 On August 27th, the Center for Indian Country Development welcomed Research Economist Donna Feir, who moved over 1,400 miles from the University of Victoria to join the CICD team in Minneapolis. As an applied labor economist with a focus on Indigenous Policy, Donna brings with her a wealth of research on an array of historical policies and events that have continuing impacts on modern Indigenous economies in North America. In a one-on-one interview, Donna shares more about her interest in Indigenous, or Native, economic research and the parallels between Canada's First Nations and Indian Country in the United States.
Donna holds a doctorate in economics from the University of British Columbia. Her research on Native reconciliation, assimilation, and earnings gaps demonstrate new models of analyzing historic data. Her list of scholarly articles is extensive.
Donna's interest in Native issues relates back to her childhood in Alberta. The mother of one of her childhood friends was First Nations (Indigenous people in Canada are referred to as First Nations) and opened Donna's eyes to the systemic biases against First Nations people. Donna reflects, "The need to address the systemic biases against First Nations people has always seemed very salient and important . . . and it is fundamentally wrong that people should face systemic barriers based on their ethnic and cultural background."
Due to their shared colonial history, Donna notices many similar challenges between Indian Country in the United States and First Nations communities in Canada. The two countries share very similar Native child welfare issues and experiences. For example, Canadian policies around residential boarding schools often followed American policies. A continuing effect of these and similar policies is the large portion of Native children in foster care. In addition, while First Nations communities in northern Canada struggle with mass suicides, many Native communities in the United State confront similar challenges.
Other similarities include governance and law. "The right to govern themselves independently, is shared as well. To the degree is different and how it's actually implemented is different, but the fact that there is some right to autonomy and right to consultation is shared." The shared common law history further leads to parallel in property finance and laws.
The CICD is excited to work with Donna on research projects that will help us better understand the socio-economic issues facing Native communities, and to build evidence-based policy models to help inform decision makers. Donna is ready to make important contributions to our work. "Everybody should have the opportunity to live the good life as they define it, including First Nations and Indian Country."
See more about Donna's research.
See more information about the CICD's research and resources.