Community outreach: Opportunities and challenges for Minnesota veterans
Underemployment is one of the biggest challenges for Minnesota's veterans, according to advocates and experts who met recently with Federal Reserve Bank of Minneapolis President Neel Kashkari.
It might surprise many to learn that the unemployment rate among veterans is only 3 percent, which is just about equal to the statewide rate. Experts explained, however, that although veterans are working, many are holding down two jobs to make ends meet or are not in jobs with career growth potential.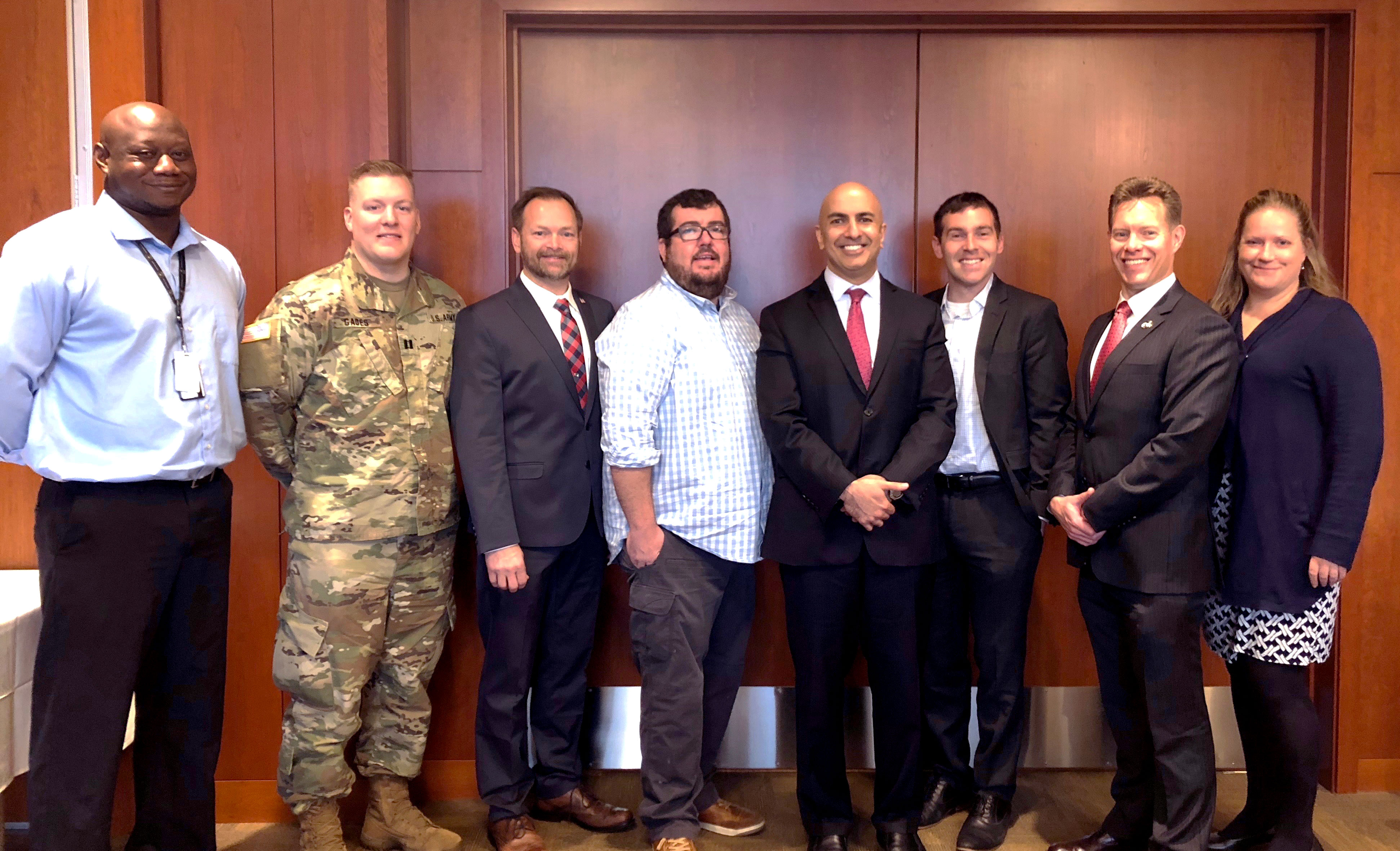 Minneapolis Fed President Neel Kashkari learned about veterans' employment issues at a recent Bank breakfast.Minneapolis Fed
Understanding nuances like these among veterans was the goal of the Oct. 9 breakfast meeting.
"Part of our mandate is to promote maximum employment," said Kashkari. "So, we're interested in hearing how segments of our communities are faring in today's economy."
Other barriers to employment are cultural: It is difficult to transition from a military culture to a corporate one. It can also be difficult for employers to recognize the skill sets veterans bring, not only because military jobs are specialized, but also because veterans often put others before themselves and are not always their own best advocates.
Because they are so often underemployed, many challenges are also financial. One participant said that the most frequent request the National Guard gets is for financial assistance. Teaching financial literacy and helping vets transition from service pay to civilian life—which has many more out-of-pocket costs—is important.
The group also talked about how employers, like the Bank, can support its employees who are veterans and be a welcoming place for new recruits. Creating the flexibility for Guard members to go to trainings and deployments and having a veterans' employee network can be important to success.
The breakfast was attended by Dustin Bystrom, Sara Sommarstrom, and Brian Peterson of the Minnesota Assistance Council for Veterans; Deric Williams of the Minneapolis VA Health Care System; David Bellefeuille of the Minnesota Department of Veterans Affairs; Capt. Adam Gades of the Minnesota Department of Military Affairs; and Adam Naryka of the Eagle Group of Minnesota Veterans.