CICD's Convening on Homeownership in Indian Country: Creating Opportunities and Inspiring Action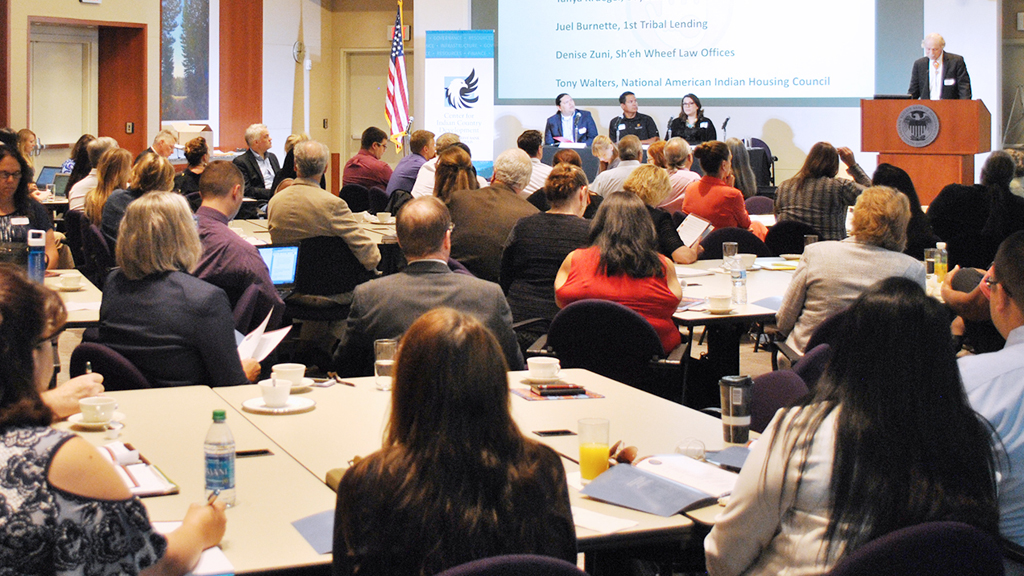 Almost 300 people from across the country participated in the Homeownership in Indian Country: Creating the Opportunity for Choice convening on July 10th at the Federal Reserve Bank of Minneapolis, including virtual attendees. Co-hosted by the Center for Indian Country Development, Enterprise Community Partners, and NeighborWorks America, the day inspired tribal entities, housing authorities, lending institutions, regulators, government agencies, and community foundations to improve housing development and increase finance options in Indian Country.
Three themes emerged from the day's speakers, presentations, and interactive sessions: inspire, educate, and innovate.
Inspire
Energy filled the standing room-only convening as the Ogichidakwe Council opened the day with a drum song and set the stage for the important convening. More encouragement for improving homeownership opportunities was generated by world café participants in response to two key questions: "What is one of your most successful strategies or tactics to improve the mortgage lending and homeownership process in Native communities?" and "What inspires you to pursue homeownership opportunities in your community or organization?"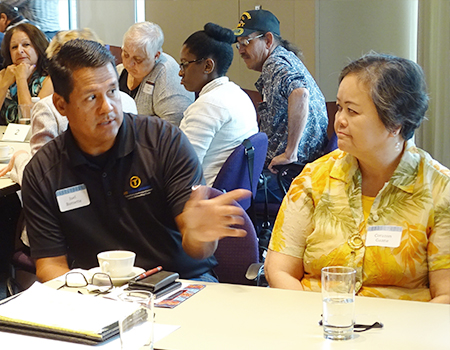 Many responses focused on ways that housing influences family, culture, stability, and economic development in their communities and drives their passion to persevere on homeownership in Indian Country. Joe Garcia, Governor of Ohkay Owingeh, shared how housing and homeownership is integral to a sense of community and identify. "It relates back to the land…We're part of the land. We're part of mother earth. And homeownership is that relationship between my family and mother earth." In another motivating remark, Governor Garcia reflected, "If you don't have a home, it means something is missing."
Recordings of the world café and impactful presentations are available on the Homeownership in Indian Country: Creating the Opportunity for Choice event webpage.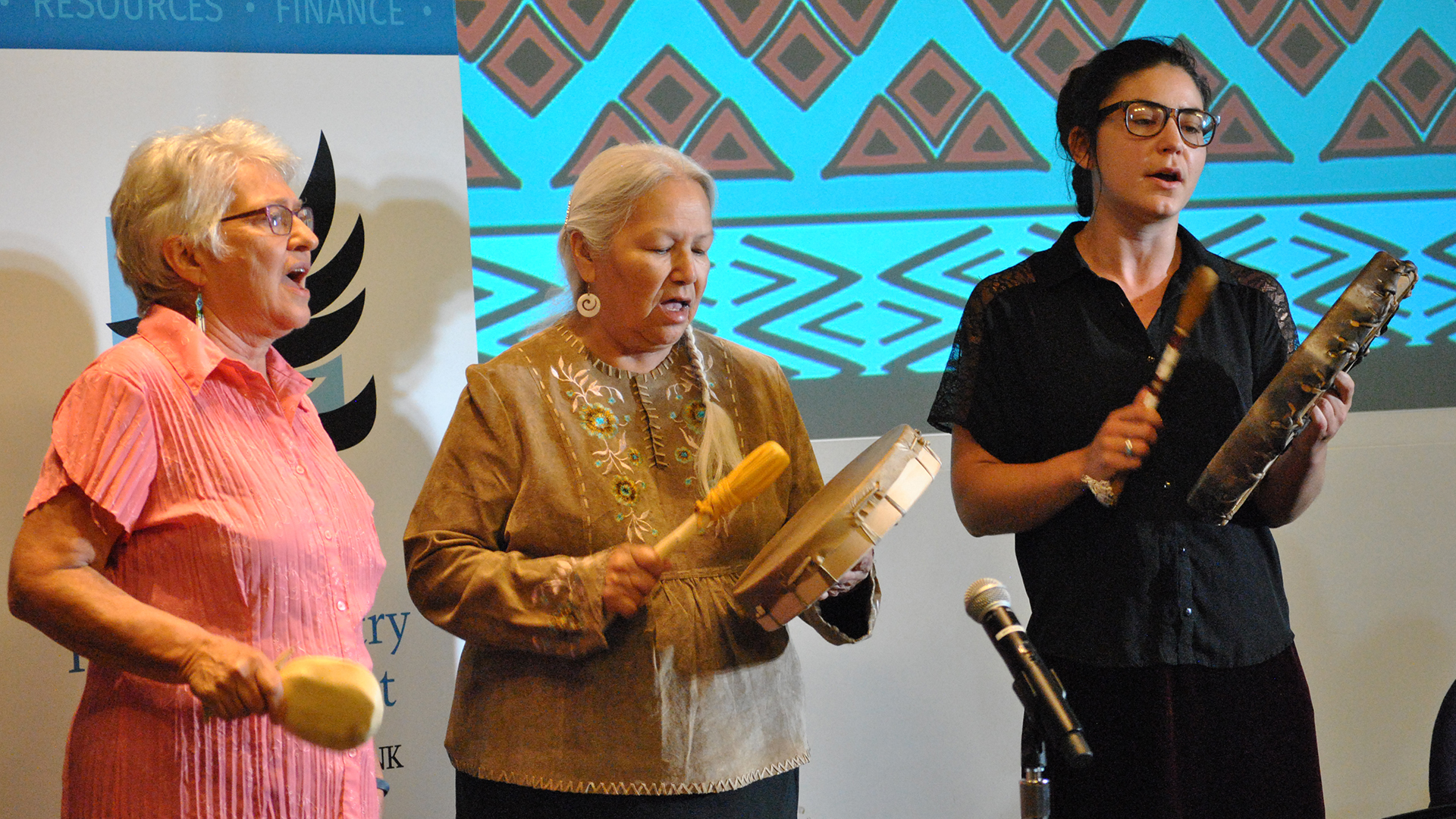 Educate
Creating housing and homeownership opportunities requires a deep dive into data, finance, and processes. Thus the significance of education – the need for information and technical skills required to plan and build thriving communities – was highlighted at every level of the housing development ladder. Tribal leaders need a good understanding of their community's housing assets and needs, as well as the capacity to develop, finance, and manage housing development projects. At the individual level, potential homebuyers need to learn about the mortgage process, both qualifying for a loan and maintaining their home. Overall, this work continues to be an important pathway for developing and exercising good governance, for professional growth and development of tribal staff, and for overall economic opportunity.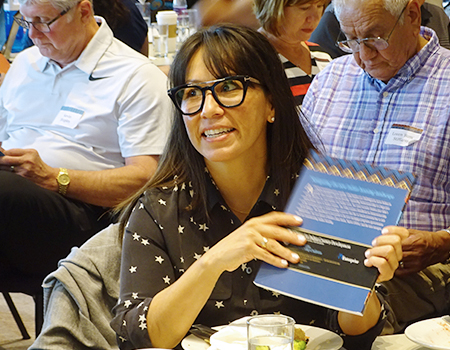 It is important to remember that tribal leaders and members are not alone in their journeys to navigate the complexities of housing finance. Panelists and participants highlighted many programs available to support capacity building at the tribal and individual level, such as the National American Indian Housing Council's financial education program, Pathways Home: A Native Homeownership Guide and First Nations Development Institute's Building Native Communities: Financial Skills for Families.
One of the highpoints of the day was the launch of the Tribal Leaders Handbook on Homeownership, a new educational resource to the mortgage lending process on trust lands. Backed by research and best practices from across Indian Country, it provides a comprehensive overview of the mortgage process and addresses challenges to homeownership on trust lands. The book includes the voices of over a dozen contributing authors who share research and resources on housing programs, financing, and community development. CICD Director Patrice Kunesh and Enterprise Community Partners CEO Terri Ludwig shared the stage to reveal the Handbook. Each attendee received a copy of the Handbook, while virtual participants viewed the online version during the launch.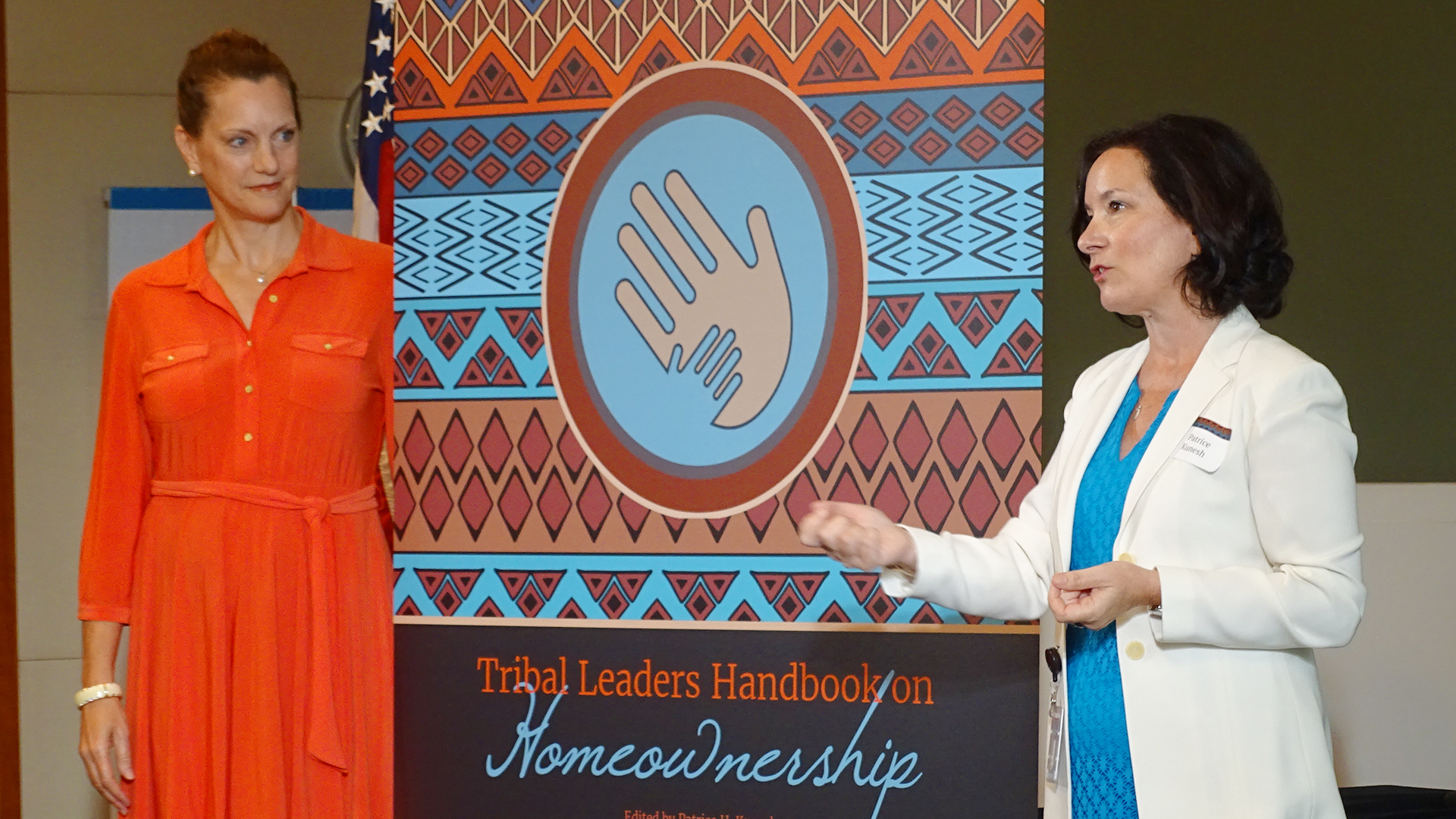 Innovate
Dire housing needs combined with increasing demands for homeownership on most reservations are driving the effort to create more affordable housing options. Conveners tackled the tough issues of burdensome processes and financing challenges, which must be addressed in order to improve homeownership opportunities on trust lands. Fortunately, many tribes and agencies are committed to improving and streamlining the leasing and titling systems and processes.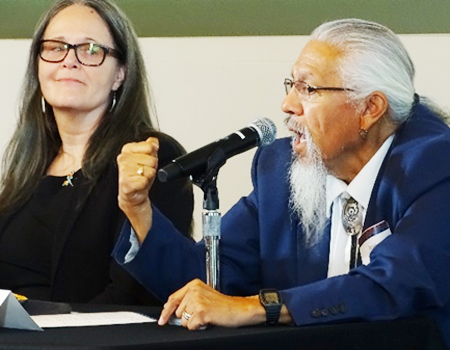 Participants offered new and innovative ideas for addressing challenges in the lending systems, loan products, and housing markets. For example, creating a standard loan document across the three main federal agencies involved in delivering housing programs – HUD, and the Departments of the Interior and Agriculture – would greatly improve access to their programs and will attract more lenders to tribal lands. Another idea offered is for the Department of the Interior Bureau of Indians Affairs to develop a public dashboard for all Title Status Report requests, identified by case numbers that will allow lenders and homebuyers to track progress on lease approvals and certified Title Status Reports.
At the end of the day, Jackie Pata, CEO of the National Congress of American Indians, issued a call to action: "More, better, faster!" More loans, better loan products, and faster processing times. Jackie committed to raising this issue to the national level at NCAI's annual conference in October to ensure tribal leaders understand the importance of homeownership in their communities and making it a priority in their own community.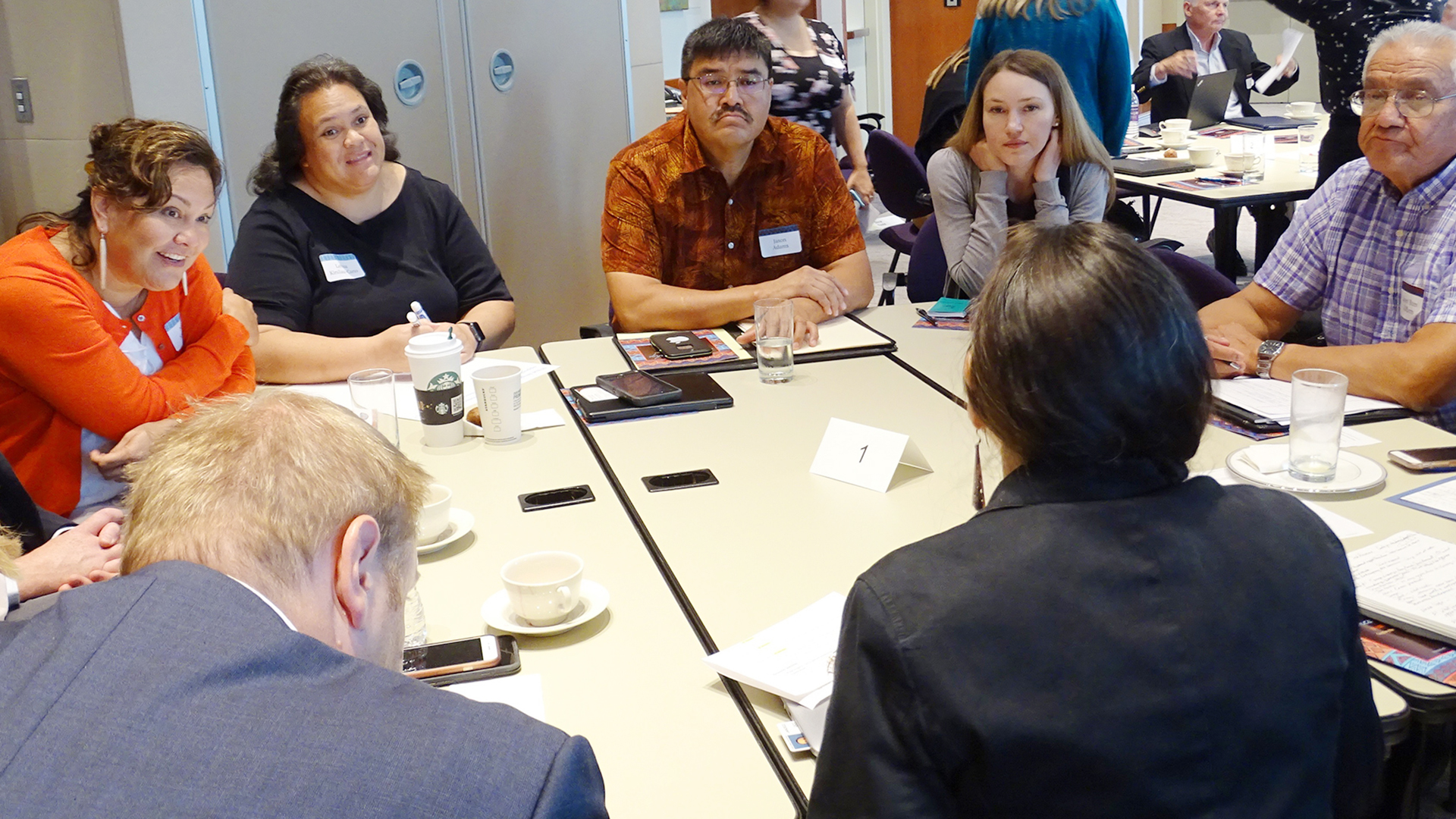 To continue the learning and sparking inspiration, we encourage you to check out the Tribal Leaders Handbook on Homeownership webpage, where hard copies of the Handbook may be ordered. Conference materials and presentations also are available on the Center for Indian Country Development event webpage, including a video recording of the event. Finally, we encourage you to contact the CICD with innovative strategies and proven tactics to making homeownership a real option in Indian Country.
This work requires many hands, and housing and homeownership opportunities will increase only through broad collaboration and intentional partnerships.