Indigenous Arts Ecology – A New Investment Model for Indian Country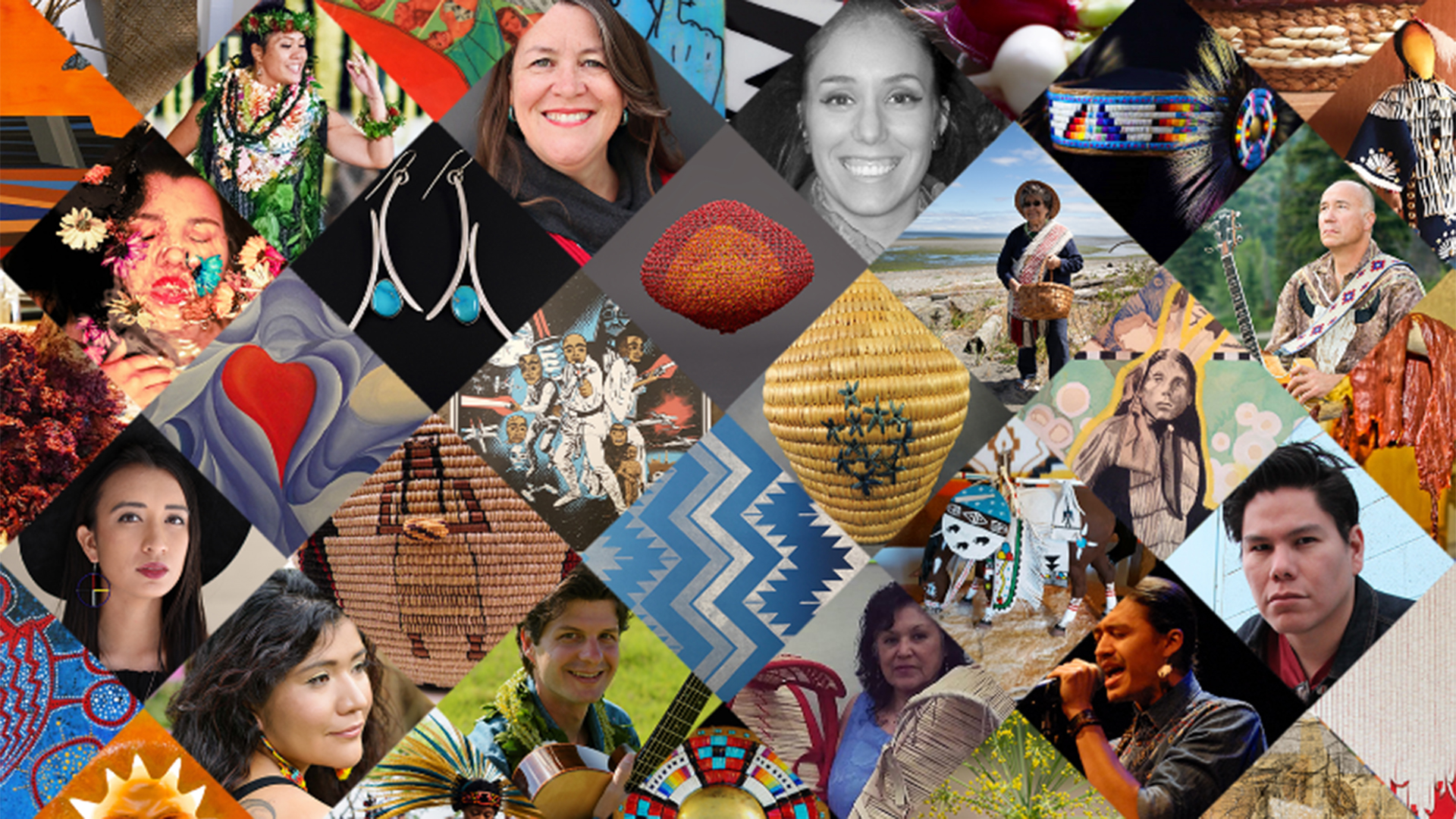 For 23 years, First Peoples Fund has been guided by the belief that restoring the practice of culture rooted in ancient traditions is what is most vital to healthy tribal communities and thriving economies. Activating artists as entrepreneurs through a culture-based, artist-led approach to economic development and community problem solving remains an unmet need in many Native communities, and many emerging artists live on less than $10,000 per year.1
Toward that end, First Peoples Fund has invested $4 million in grants to 375 individual Native artists and their families across Indian Country, and certified more than fifty Native artists and business coaches who have in turn trained 1,500 emerging artist-entrepreneurs through Native Artists Professional Development trainings. Focused on rural, reservation-based artists, First Peoples Fund invests in the quilters, beadworkers, basket weavers, quillworkers, traditional musicians, dancers, storytellers, and next generation artists who, when fully supported, have the potential to become viable economic and social change makers.
From its extensive data about the impact of its work with individual artists on their entrepreneurial growth, financial independence, and community involvement, First Peoples Fund finds that small investments (grants ranging from $5,000-$10,000) coupled with tailored technical assistance help artists increase their annual income by an average 20 percent. The data also demonstrate that when artists are well supported and achieve financial security for themselves and their families, they turn their gifts and energy toward their communities, passing on their skills and knowledge.
Investing in the Indigenous Arts Ecology
Over a decade ago, First Peoples Fund's board and staff came to realize that they must go beyond simply providing support at the individual level to make real and lasting change. First Peoples Fund then began to invest in the Indigenous arts ecosystems that support artists and their families and communities. Bringing together decades of community economic development experience and deeply rooted relationships, First Peoples Fund aims to build the capacity of Native Community Development Financial Institutions (CDFI) and other community-based organizations to support artist-entrepreneurs as local economic drivers through capital, markets, networks, trainings and other resources they need to create and sell their work.
A recent report, Investing in the Indigenous Arts Ecology, evaluates the impact of First Peoples Fund's pilot Indigenous Arts Ecology Grant Program as part of the effort to refine a model of creative placemaking for tribal communities, especially for building creative economies. Since 2013, the program has distributed seventeen $20,000 grants and intensive technical assistance to Native CDFIs and other artist-serving organizations across Indian Country.
Importantly, the Investing report identifies promising potential for significant impact through small investments through the nexus of CDFIs and Native artists:
Native CDFIs developed financial products and programs specifically for artists:

Unsecured microloans up to $500
Individual Development Accounts (IDAs) matched savings accounts for entrepreneurs to leverage capital for their businesses
Professional development training on pricing and marketing artwork
Business planning

Native artists are good business for Native CDFIs. At the end of the Indigenous Arts Ecology pilot grant period (2013-2016), the Native CDFIs participating more than doubled the average percentage of their artist clientele, from 12 percent to 26 percent of their total clientele.
Native artists, especially those in rural reservation communities, see Native CDFIs as a sole source for the resources they need as entrepreneurs. Surveys of more than 70 artists from the grantees' communities showed that a majority (51 percent) of artists view Native CDFIs as a critical source of support.
By providing products and services tailored to meet the needs of artist entrepreneurs, the Native CDFIs achieved a deeper reach into their local artists' communities. Following an asset-mapping period, individualized projects were tailored to the needs of each community, such as professional development trainings focused on pricing and marketing artwork and business planning; $500 unsecured loans to purchase supplies to build inventory; access to local and regional art markets; and online artists' directories.
Evidence for a Native Arts Economy
In 2013, First Peoples Fund published another impressive report, Establishing a Creative Economy, Art as an Economic Engine in Native Communities, which established art as a significant economic development lever.2 More than half (51 percent) of the reservation-based households in the study rely on a home-based business to support themselves, and 79 percent of those home-based business consist of traditional art forms. This data was independently reconfirmed in the Cheyenne River Tribal Ventures study in 2015.3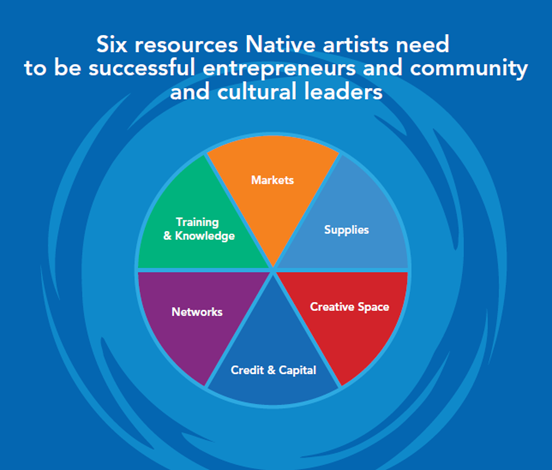 Establishing a Creative Economy also shed light on the key resources that Native artists need in order to grow as entrepreneurs and cultural leaders — credit and capital, new markets, knowledge and training, informal networks, creative space and supplies. These findings set First Peoples Fund on a path to work with artists and organizations in tribal communities to develop local ecosystems that provide artists with access to these critical resources. Investing in the Indigenous Arts Ecology describes results of this work — growing and thriving Indigenous arts ecosystems in communities across Indian Country.
The Pine Ridge Reservation is an example. Artists are able to build and grow their arts businesses with financial products, business trainings, new markets and other services developed specifically for them by the Native community development financial institutions, Lakota Funds and Lakota Federal Credit Union. To overcome barriers to transportation, the Rolling Rez Arts bus, outfitted as a bank through a partnership between First Peoples Fund and Lakota Federal Credit Union, brings access to financial resources directly to artists and other community members. The 32-foot bus also brings art workshops taught by Lakota culture bearers for artists of all ages, and wholesale opportunities through a partnership with The Red Cloud Heritage Center.

In two and a half years, the Rolling Rez Arts bus has traveled 8,500 miles, reaching nearly 1,000 artists of all ages in the region. Next year, Oglala Lakota Artspace, a project of First Peoples Fund, Artspace and Lakota Funds, will provide the reservation's first studio, learning, gathering and gallery space for Native artists. Rolling Rez Arts and Dances with Words, First Peoples Fund's burgeoning youth spoken word program rooted in Lakota oral tradition, will have a home at the new facility, and Lakota Federal Credit Union will provide banking services.
The analysis contained in Investing in the Indigenous Arts Ecology validated First Peoples Fund's long-held understanding of how to approach our work — with artists and culture bearers at the center and with a focus on building lasting relationships. When relationships between community organizations and artists are woven more tightly together, the entire local arts ecosystem is strengthened, allowing the Indigenous Arts Ecology to fully take root and generate impact for artists, families and communities.
Lori Pourier, Oglala Lakota, has been a leader in the Native arts, social justice and community economic development fields for nearly three decades and has been President of First Peoples Fund since 1999.
For more information about the work of First Peoples Fund or the Native arts economy, please contact Cecily Englehart, Oglala/Ihanktonwan, Communications Manager at First Peoples Fund at cecily@firstpeoplesfund.org.
---

Endnotes
1 First Peoples Fund, "Establishing a Creative Economy: Art as an Economic Engine in Native Communities." July 2013.
2 In 2011, through a partnership with Artspace, Colorado State University, LINC, and the Northwest Area Foundation, First Peoples Fund conducted the American Indian Creative Economy Markets Study Project, to examine the household economic status and entrepreneurial needs of Native artists in the Great Plains region. The findings were published in Establishing a Creative Economy, Art as an Economic Development Engine in Native Communities.
3 Eileen Briggs and Dr. Kathleen Sherman. "Cheyenne River Tribal Ventures Voices Project, Our Survey, Our Voice, Our Way, Executive Summary Report." Cheyenne River Sioux Tribal Ventures (2015).