Navigating the Leadership Puzzle
The ability to put together a puzzle, depending on size and complexity, takes significant thought, attention to detail, and, above all, patience. In looking at the articles in this issue of Banking in the Ninth, as well as in previous issues over the years, the interconnectedness of the variety of topics stands out to me. While each article or newsletter is valuable on its own, there is also a higher-level perspective on how one might provide leadership in a way that is akin to piecing together a puzzle. There is a common phrase that says you need every piece of the puzzle for it to make sense. In this article, I will highlight ways in which I think this is true for successful leadership in our line of work.
Sort Your "Pieces"
I enjoy doing puzzles. The first step I take is sorting the pieces. For bank management and supervisors alike, this means identifying the universe with which you are dealing—such as business lines, products, regulation changes, environmental factors, and management oversight—in order to identify your risks and prioritize the work you need to do to address and mitigate these risks.
When the critical pieces have been identified, you can move to the strategy: How can you most successfully manage your institution, or how can you most successfully supervise your institutions? In addition to the partnership we at the Reserve Bank work to attain with the institutions we supervise, it is helpful to identify the outside pieces—the framework of the operation—to find the solid ground and our known quantities. As you think through your institution's framework and evaluate whether you have any missing pieces, I encourage you to review previous Banking in the Ninth articles by topical index to help ensure you've considered all of the elements.1
Finishing the puzzle teaches us commitment. When we take advantage of and celebrate small wins along the way, the final picture becomes clearer. Once we start gaining this clarity, the remaining pieces are far easier to put in place. This is where we can see the commitment pay off.
Make Connections Where You Can
With risks identified and your framework in place, you can now make connections among all of the pieces. Where are the natural connections? Where can you leverage processes that work in one area for another? Where can you translate lessons learned from experiences in one area to ensure you don't repeat mistakes?
Sometimes it is far easier to raise the questions than to find the answers. Like trying to piece together a puzzle, these impact questions can seem insurmountable. In my day-to-day work, I try to tackle the most difficult problems in small sections to make them more manageable.
I also try to make connections by leveraging my resources. I don't know that I have ever finished a complex puzzle by myself. I do know that I don't have all of the answers, but I usually know where to go to get them. Connections to other people are invaluable—we are only as good as the people we have around us.
Finish the Puzzle
If you are like me, you want your business challenges solved yesterday. While many issues are time critical, it is important to realize that this may not be the first priority.
It is easy to become frustrated when you are working on those final pieces, because those final pieces are often the hardest problems to solve. It becomes tempting to walk away. As someone who currently has a 1,500-piece puzzle sitting unfinished, I can tell you that it is not very satisfying to walk away!
Finishing the puzzle teaches us commitment. When we take advantage of and celebrate small wins along the way, the final picture becomes clearer. Once we start gaining this clarity, the remaining pieces are far easier to put in place. This is where we can see the commitment pay off.
Our leadership puzzle may never be as complete as a glued-and-framed jigsaw puzzle, but the analogy helps me think about how to simplify challenging banking, operational, or supervisory issues, as well as how to successfully lead my team and our operations in an inclusive way. Everyone on the team is needed to contribute to the puzzle, and the puzzle is not complete unless you have every piece.
As you read through this newsletter, as well as other resources we offer, I encourage you to consider these resources as pieces of your leadership puzzle that can be uniquely aligned to your team and your operations.
---

Endnote
1 https://www.minneapolisfed.org/publications/banking-in-the-ninth/topic-index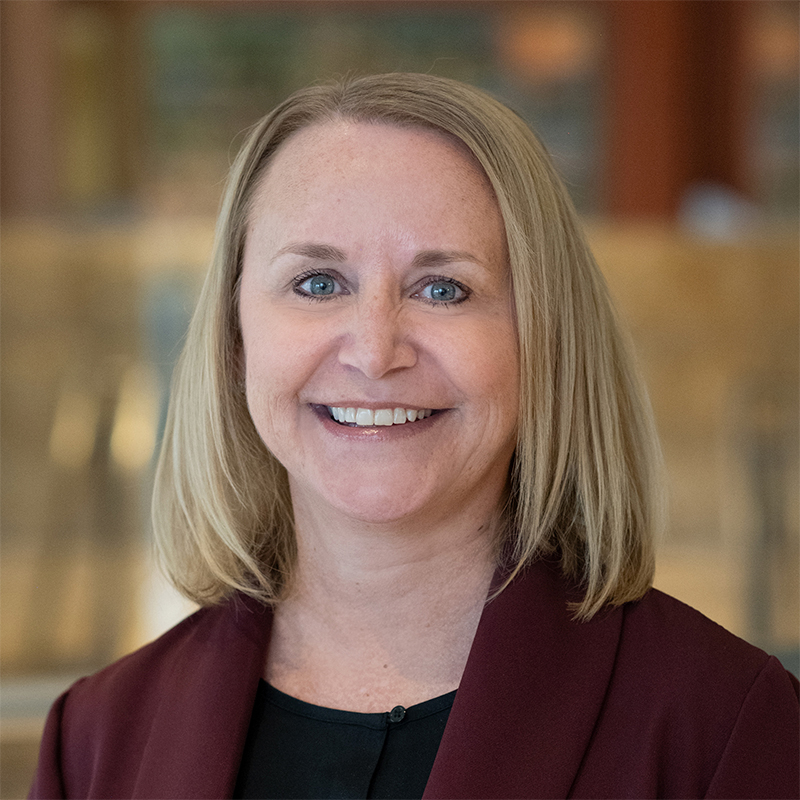 Christine Gaffney
Senior Vice President, Supervision, Regulation, and Credit
Christine Gaffney is senior vice president for Supervision, Regulation and Credit (SRC) at the Federal Reserve Bank of Minneapolis, where she oversees the consumer and safety and soundness supervision of state member banks and bank holding companies in the Ninth District. She is also responsible for the Bank's lending to Ninth District depository institutions and for managing the resulting credit risk.
Gaffney joined the Bank in 2001 in the SRC department as a consumer affairs examiner. She continued in the examination role until 2008. During that period, she spent one year at the Board of Governors and four years as key support for the System's examiner training efforts. She managed SRC's quality assurance and training functions before becoming an assistant vice president in 2011 and then vice president in 2014 over the credit, payments systems risk, statistical and structure reporting, and support services areas.
Throughout her tenure, she has made a wide range of contributions, including leading several critical System efforts as well as helping SRC grow its areas of formal responsibility.
Gaffney has a Bachelor of Arts from the University of Jamestown in North Dakota.