Social Impact Partnerships to Pay for Results Act: Notice of Funding Availability released
On February 22, the U.S. Department of the Treasury issued a Notice of Funding Availability (NOFA) to invite applications from state, local, or tribal governments for awards under the Social Impact Partnerships to Pay for Results Act, or SIPPRA. As part of the Bipartisan Budget Act of 2018, Congress appropriated $100 million for feasibility studies, evaluations, and outcome payments for social impact partnership projects. SIPPRA is designed to spur activity in the Pay for Success (PFS) sector and emphasizes projects that invest in children. The legislation specifies that at least 50 percent of all federal payments are made to carry out agreements that directly benefit children.
As discussed in the April 2018 Community Dividend article titled "Can Pay for Success succeed in early childhood development?", the innovative aspect of the PFS approach lies in applying outcomes-based procurement contracts to areas of government that typically pay for outputs. For example, social services contracts typically make payments to service providers based on the amount of services delivered, whereas in PFS projects, government pays service providers for attaining specific outcomes.
In a social impact bond, a particular form of PFS, investors provide funding to deliver services and are paid back by government based on pre-agreed metrics. If outcome measures meet certain thresholds, investors may be paid back with a return, but if they are not met, investors may not be paid at all (see figure).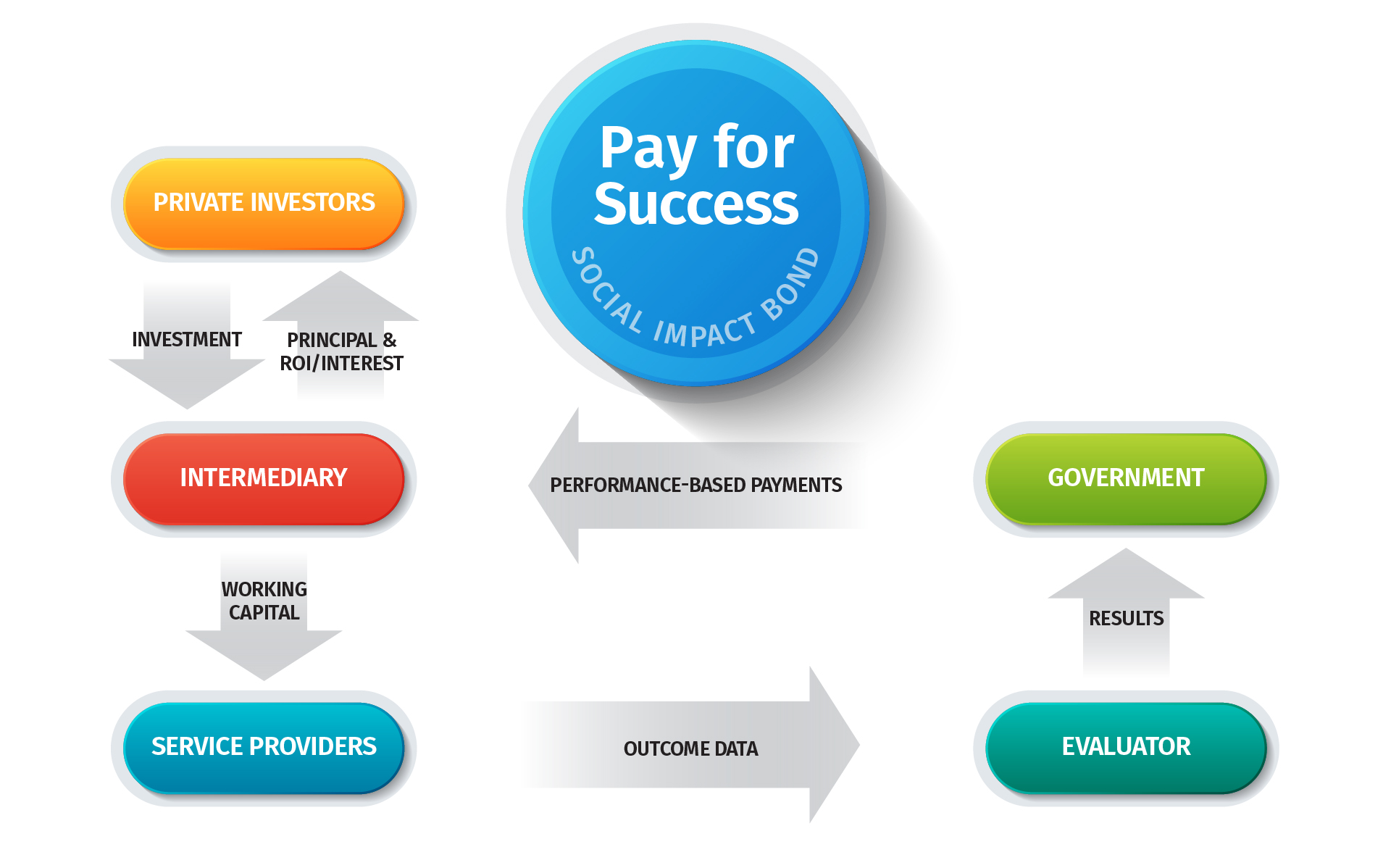 As described in the NOFA, award recipients will receive payment if a specified outcome of the social impact partnership project is achieved, as determined by an independent evaluator. In addition, the payment to the grantee cannot exceed the value of the outcome to the federal government within the project timeframe. This means that the federal government won't pay for outcomes that only provide value to state and local governments or other entities. However, state and local governments aren't precluded from using other funding sources, including their own revenue, to make payments to service providers or find other ways to account for outcomes that provide value to non-federal jurisdictions.
Treasury expects to award up to $66.3 million in competitive project grants. In addition, awardees will be eligible to receive up to 15 percent of the project grant to pay for all or a portion of the cost of an independent evaluation, which determines whether pre-agreed outcomes are attained. These funds will be paid regardless of whether outcomes are met. Treasury expects up to $10 million to be available to pay for the costs of independent evaluators.
This NOFA doesn't stipulate award conditions for feasibility studies of PFS projects which assess the viability of implementing a PFS project, including the cost of the project, number of eligible people to serve, and whether service outcomes lead to measurable government savings. Treasury will issue a separate NOFA regarding feasibility studies, likely later in 2019.
Eligibility and project topics
State, local, or tribal governments are eligible to apply for SIPPRA funding, while for-profit and nonprofit organizations, including academic institutions, are not eligible to apply. However, non-governmental organizations typically provide the services outlined in PFS projects and conduct the evaluations, and will be incorporated into state or local government applications.
The legislation identifies 20 different outcomes that result in social benefit and federal, state, or local savings, including topics such as increasing employment for people who are unemployed for more than six months or receiving federal disability benefits; improving health outcomes; reducing child abuse, neglect, and foster care placements; and reducing homelessness. SIPPRA also makes room for outcomes not specified in the list—those defined by state or local governments that result in positive social outcomes and federal savings.
A number of state and local governments have been involved in PFS projects to date, and a few university centers and nonprofit organizations offer resources to assist with developing a PFS project and applying for SIPPRA. (For more on this, see the "Resources and technical assistance" section of the Community Dividend article first mentioned above.)
Applications must be submitted no earlier than April 22, 2019, and no later than May 22, 2019. Treasury expects to announce the results of the competition by November 2019.