Toward One Wisconsin addresses barriers to inclusion

On April 11 and 12, more than 500 attendees of Toward One Wisconsin: A Conference on Overcoming Barriers to Inclusion addressed a host of topics on how to promote inclusivity throughout the state. As in many parts of the country, the demographics of Wisconsin are shifting to a more diverse population.
Since 1980, the U.S. Census has asked respondents to select choices for race and ethnicity in separate questions. In 1980, 94.4 percent respondents in Wisconsin selected White and 98.7 percent selected non-Hispanic (see table). In 2013–2017, those numbers dropped to 85.9 percent and 93.4 percent, respectively, according to the American Community Survey. Meanwhile, in 2013–2017, 4.9 percent of Wisconsin's population was foreign-born, smaller than the 13.4 percent share nationally, but up from 4.4 percent in 2005–2009.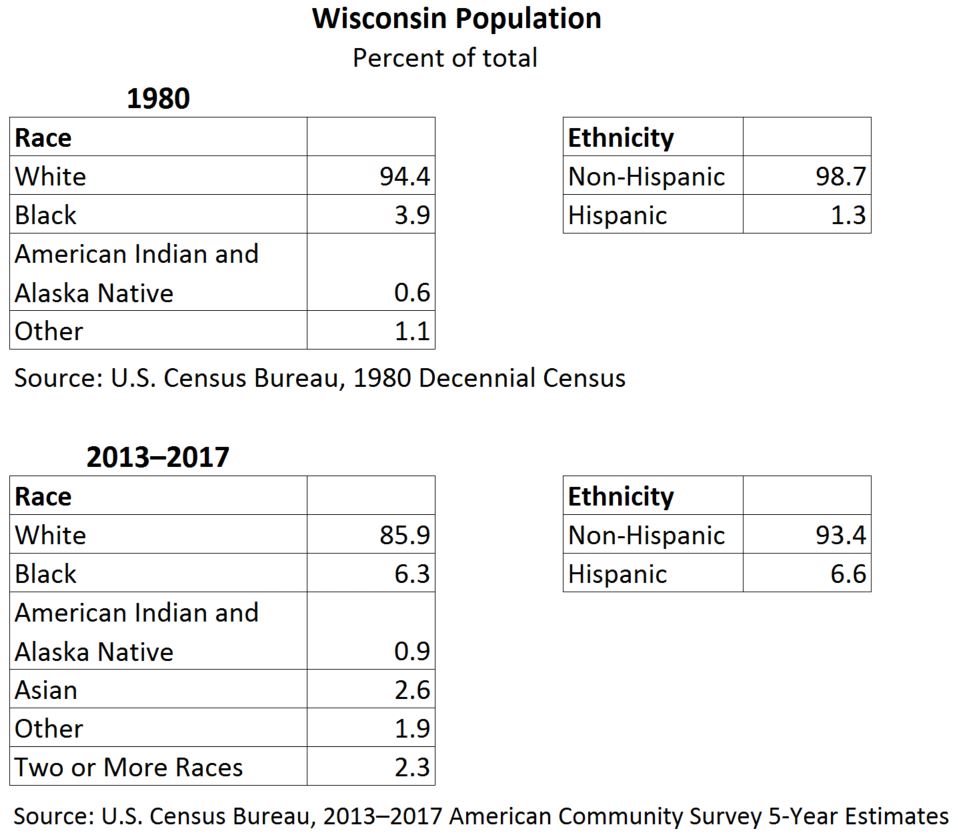 Aside from these data, Toward One Wisconsin is looking at a number of factors in promoting inclusivity, including people's cultural, religious, gender, and socioeconomic backgrounds. At the conference, attendees participated in more than 100 information and discussion sessions on increasing opportunities for inclusion in the workforce, creating inclusive communities, raising the next generation of inclusive leaders, and building health equity.
Barbara Lawton, former Wisconsin Lieutenant Governor and one of four co-chairs of the Toward One Wisconsin conference, said, "The conference helped launch a rich conversation with participants from all over the state. Our goal now is to capture and direct that enthusiasm to support and advance higher ambitions, breaking down ossified attitudes that still function as formidable barriers as we go."
A key part of the discourse was identifying measures that indicate conditions for success at a local level. To implement data-collection and inclusivity strategies locally, the conference sponsors plan to build regional teams across the state that reflect each area's composition and include cross-sector representation.
"We see those teams as both ongoing think tanks and solution networks that develop and empower a deeper pool of leaders along the way," Lawton said.
Toward One Wisconsin was inspired by Toward One Wausau, an initiative in the central Wisconsin city to help foster an inclusive environment for all residents. Toward One Wausau began after a teen's conviction in the homicide of another youth exposed racial and ethnic tensions in the community.
From September 2017 to October 2018, listening sessions, story circles, and deliberative dialogues provided forums for more than 600 Wausau community members to share their perspectives on how to overcome divisions and promote inclusivity. Key project findings show that a large majority of participants indicated the forums helped expose them to new ideas and change their thinking about inclusivity issues. The findings also show approaches to inclusivity that community members support or oppose.
Based in Wausau, the Wisconsin Institute for Public Policy and Service developed partnerships to guide the Toward One Wausau community engagement process and was one of the Toward One Wisconsin sponsors.
At the statewide conference, researchers from the Federal Reserve Banks of Chicago, Minneapolis, and St. Louis moderated panels or presented on employment challenges for the formerly incarcerated, early childhood development, and income and wealth inequality respectively. The Ninth Federal Reserve District, which the Minneapolis Fed serves, comprises 26 northwestern counties in Wisconsin; while the Seventh Federal Reserve District, which the Chicago Fed serves, comprises 46 counties, including Wausau.