In Aberdeen, growth amid the farm slowdown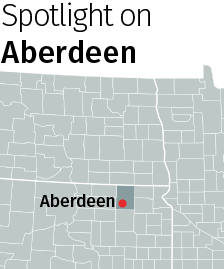 Chris Pearson is probably better positioned than most people to assess the effects of looming uncertainty on the farm economy. As CEO of Agtegra, a large agricultural cooperative based in Aberdeen, S.D., he sees firsthand how uncertainty—about trade policy, about the weather, about crop prices—factors not only into the co-op's decisions about investment and hiring, but also into the decisions made by its farmer members.
"When we're uncertain as an industry, what do we do?" he asked rhetorically at a meeting with Minneapolis Fed President Neel Kashkari. "We don't spend money."
Pearson was one of many business and community leaders whom Kashkari and other Minneapolis Fed staff heard from on a July trip to Aberdeen intended in part to dig deeper into the impacts of the ongoing farm slump on the broader economy in this heavily agricultural region. The picture that emerged was one of two different but not completely separate economies: Ag and everything else.
Outside of agriculture, the area's economy—centered on manufacturing, health services, and higher education—was by most accounts quite strong. The area's unemployment rate of 2.8 percent (as of June) was even slightly lower than the state's very low unemployment rate and nearly a full percentage point lower than the national rate. Not surprisingly, many business contacts voiced familiar concerns about tight labor markets making it difficult to find workers.
Economic opportunity has drawn more people to Aberdeen, which is South Dakota's third-largest city. Since 2010, the city's population (28,562) has increased 9.4 percent, according to U.S. Census Bureau estimates, which was more than 50 percent faster than the national rate of population growth.
Still, many residents were preoccupied with the effects of the prolonged downturn in ag, which is still center stage in Aberdeen, even though farm income has declined as a share of personal income for the area over time, as illustrated in the chart (area farm income in 2017, the latest year for which data were available, was negative).
Loading chart 1...
It's easy to see why agriculture is still so prominent. Located right in the middle of some of South Dakota's most productive farmland, the town is a center for processing and related agribusiness, such as Agtegra and a soybean processing plant recently opened by AGP Inc. And even many residents of the city who aren't involved in agriculture at all have relatives or friends in the business.
In addition to the ongoing low-commodity-price environment that has led to multiple difficult years for farm income and the simmering trade tensions that have blocked producers' access to some valuable foreign markets, the weather this year has been difficult. Heavy winter snowfall and rains through the beginning of the prime planting season led to flooded fields across the Midwest that farmers couldn't get crops into, and South Dakota was one of the hardest-hit states.
These stresses are carrying over to the community's broader economy for the reason Pearson mentioned—farmers aren't spending as much money. Though farming accounts for a smaller share of area income, those falling incomes have led to less spending at other businesses, according to participants at a business roundtable with Kashkari.
Mayor Travis Schaunaman, one of the roundtable participants, undertook an informal survey of area businesses. Retailers and restaurants told Schaunaman that business had become more sluggish and largely attributed it to belt tightening by farmers. Other contacts mentioned that farmers were more frequently undertaking repairs on their cars and appliances rather than purchasing new ones, or deferring medical and dental care.
These spillover effects might explain why, in spite of low unemployment and reports of a strong non-ag economy, nonfarm personal income in Aberdeen actually fell slightly in 2017 (about 1 percent, adjusted for inflation), the most recent year for which data are available. In spite of the area's diversification and a growing non-ag economy, agriculture still looms large.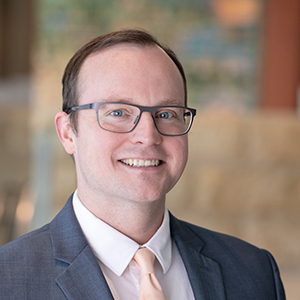 Request as a speaker
Joe Mahon
Director, Regional Outreach
Joe Mahon is a Minneapolis Fed regional outreach director. Joe's primary responsibilities involve tracking several sectors of the Ninth District economy, including agriculture, manufacturing, energy, and mining.