The perks of more egg baskets
Not many people would argue that North Dakota is suffering from a weak economy at the moment. It has one of the lowest unemployment rates in the nation, and most businesses are more concerned about difficulty finding workers than a lack of demand for them.
Still, the state's growth rate has cooled from its blistering pace of a few years ago, when the Bakken oil patch was booming and cash was flowing to farmers. Due to the slowdown in those two key sectors, gross domestic product in North Dakota has actually fallen since 2014 (Chart 1).
Loading chart 1...
But Fargo, the state's largest city, is an exception to this trend, having continued to grow at a steady pace even as the surrounding region has retrenched. The Fargo-Moorhead metropolitan statistical area saw GDP increase by 1.9 percent in real terms in 2017, even as North Dakota's GDP fell half a percent over the same period. (North Dakota's GDP increased slightly in 2018, but metro area GDP numbers for 2018 are not yet available.)
A look at labor markets reveals a similar pattern. North Dakota saw explosive job growth in the years following the Great Recession, largely driven by the Bakken oil boom, but employment went into decline as the boom subsided and has been stable recently. In Fargo, employment grew during the boom at a robust pace—if not as fast as the state's rate—but the metro has continued to see modest job growth even as state employment declined (Chart 2). The metro unemployment rate is similar to the state's, but without the bump the state experienced when the oil boom slowed.
Loading chart 2...
A recent visit to the area by Minneapolis Fed President Neel Kashkari uncovered part of the reason that Fargo has been relatively insulated from the ups and downs that have affected North Dakota: diversification. Participants in meetings with Kashkari, along with meetings held by Bank regional outreach directors ahead of his visit, repeatedly pointed to a regional economy that has broadened, allowing Fargo to grow with the state but not contract with it.
One notable example was a roundtable with representatives from Fargo's rapidly growing tech sector. The tech sector got a major shot in the arm when local firm Great Plains Software was bought out by Microsoft in 2001, unleashing a wave of tech-savvy entrepreneurs with capital to invest. Firms and local booster organizations—such as Emerging Prairie, which hosted the meeting—have been busy supporting the development of a tech ecosystem.
Interestingly, players in the area's tech sector also reported being less constrained by the chronic shortfall of labor often reported by businesses across the region. One business owner said they had hired about 100 workers over the past two years with little difficulty. Participants cited the presence of North Dakota State University and its internship programs as a strong pipeline of entry-level talent for new businesses. Recruiting mid-career professionals was more of a challenge, they said.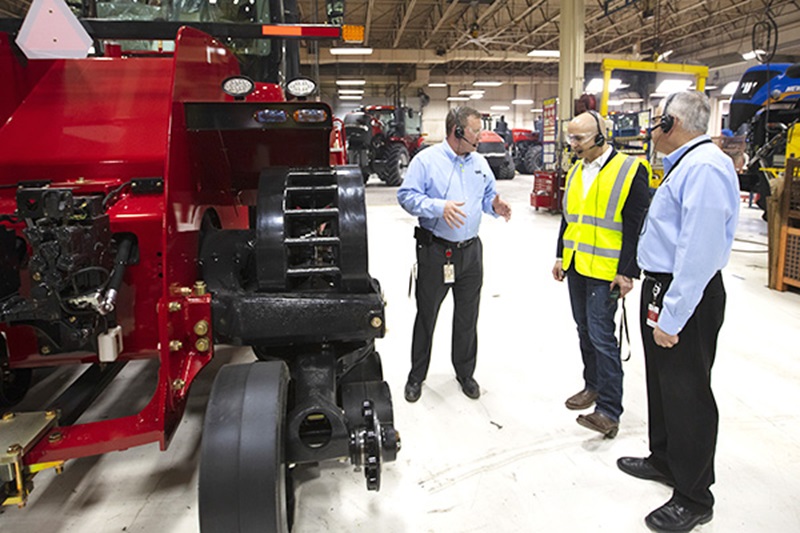 President Neel Kashkari tours a CNH Industrial plant during an April visit to Fargo, N.D. The plant produces tractors and other heavy equipment for agriculture and construction that are sold around the world.CNH Industrial N.V.
Other major employers in Fargo include the health care industry, banking and finance, and manufacturing, particularly producers of agricultural and heavy equipment. Some of these manufacturing firms took part in a meeting with Kashkari and Minneapolis Fed staff. Though woes in agriculture and trade conflict have negatively impacted that sector, it was still benefiting from overseas demand, according to meeting participants.
Spillover from the agricultural slowdown was another theme that ran through multiple conversations. A participant in a meeting with housing developers said this was affecting "communities across the state." However, it's clear from the available data that this is a bigger issue for North Dakota as a whole than for the Fargo area.
Comparing the breakdown of GDP by industry sector between Fargo and the state throws this diversification into dramatic light. Agriculture and natural resources, which includes oil drilling, made up more than a fifth of the state's output in 2017 (the most recent year for which GDP numbers for the state and the metro area are both available) and in other recent years has accounted for an even larger share. In Fargo, that sector made up less than 2 percent of metro economic output (Chart 3).
Loading chart 3...
Fargo has a relatively larger share of economic activity coming from the manufacturing, education and health, and services sectors. But the difference between the share coming from the information and financial services sectors—30 percent in Fargo to North Dakota's 18 percent—is particularly notable.
The difference in the breakdown of employment by sector is not quite as stark. That might be due in part to the fact that these numbers don't include farm labor. Even so, employment is spread out slightly more evenly in Fargo. The metro has a smaller share of workers in construction and natural resources—6 percent to North Dakota's 11 percent—as well as in government, which makes up 13 percent versus 19 percent of workers in Fargo and North Dakota respectively. On the other hand, Fargo has a larger share of workers in education and health care, business services, finance, and manufacturing than the state.
Most contacts who spoke with Kashkari and Fed staff expressed a strong sense of optimism about Fargo's economic prospects. This was true even of those in relatively embattled industries. It goes to show that the advice financial advisers give to their clients about the benefits of diversifying their portfolios—spreading their eggs among more baskets—could apply to communities as well.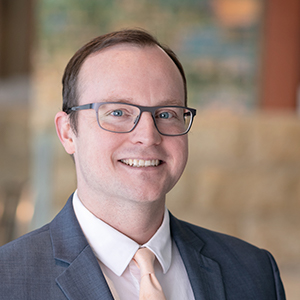 Request as a speaker
Joe Mahon
Director, Regional Outreach
Joe Mahon is a Minneapolis Fed regional outreach director. Joe's primary responsibilities involve tracking several sectors of the Ninth District economy, including agriculture, manufacturing, energy, and mining.