Beyond virus testing:
Measuring COVID-19's impact
One of the primary public health issues during the COVID-19 pandemic has been an inability to widely test. Short of knowing exactly who is infected by the virus, many policymakers have to assume everyone is.
The fundamental policy problem is missing data.
This lack of information inspired Minneapolis Fed Senior Economist and Opportunity & Inclusive Growth Institute Director Abigail Wozniak to turn to a common tool of economists and social scientists: surveys. And that inspiration has led to the Bank's groundbreaking partnership with the Data Foundation of Washington, D.C.
Currently, there is no immediate way to know who has the virus. But it is possible to know how people are feeling, where they are, and what they are experiencing when. Asking as many of the "five Ws and the H" as possible, a large, ongoing survey can help identify virus hot spots or other problems and point to possible solutions.
Wozniak says having access to new and ongoing data is crucial to containing the virus. "It is essential that policymakers have timely data on where it is emerging and how populations are faring under movement restrictions," Wozniak recently wrote in an Institute policy brief.
Her idea quickly gained steam. It presented a viable alternative to widely available testing. This information could empower officials and policymakers to formulate real-time responses to the pandemic.
On April 9, in collaboration with Wozniak as a co-principal investigator, the Data Foundation launched the COVID Impact Survey. It's a 25-question, random sample survey, with queries about physical and mental health, financial security, and social environment. The first set of data will be available in early May to policymakers, researchers, and journalists. It will also offer state- and region-specific insights and trends.
As a policymaker, Minneapolis Fed President Neel Kashkari says the value of these data cannot be understated: "The COVID Impact Survey has the potential to give us critical information on both public health and economic developments that could lead to more informed policy decisions and ultimately better outcomes for the American people."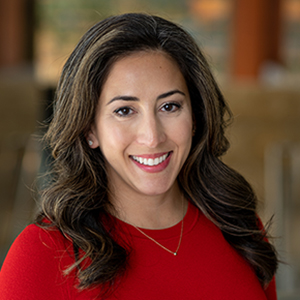 Alyssa Augustine
Content Strategy and Engagement Supervisor
Alyssa Augustine oversees social media and digital engagement, leads the Bank's content strategy, and manages media relations for President Neel Kashkari and other Bank leaders. An experienced TV journalist, Alyssa also contributes articles to the Bank's website and publications.