COVID-19: Profound disruption to Minnesota community organizations, Fed survey finds
The spread of COVID-19 and the many efforts to slow it are affecting communities across the nation. In order to best respond to this crisis, policymakers and leaders need information about the scope and scale of challenges in various communities.
A new Federal Reserve report, Perspectives from Main Street: The Impact of COVID-19 on Communities and the Entities Serving Them, describes the results of a survey designed to collect information from community development stakeholders on the effects of COVID-19.
All 12 Federal Reserve Banks and the Board of Governors of the Federal Reserve System fielded the survey between April 8 and April 10, 2020, resulting in 3,899 responses nationally. Of those responses, 711 were from organizations working in the Ninth Federal Reserve District, with 630 from Minnesota alone. Among Minnesota survey respondents, 84 percent represent nonprofits, with an additional 4 percent from government, 3 percent from private industry, 3 percent from financial institutions, and the remainder from other sectors.
Responses were collected through a convenience sampling method that relied on Federal Reserve Bank and Board of Governors stakeholder contact databases to identify representatives of nonprofit organizations, financial institutions, government agencies, and other entities that serve communities. These representatives were invited by email to participate in an online survey. Additionally, the Minnesota Council of Nonprofits distributed the survey via email to its members.
This summary describes Minnesota responses, as they were 89 percent of all responses from the Ninth District.* (Responses from entities serving other Ninth District states were similar.)
Key findings
Overall, the survey found that among Minnesota respondents:
Nearly two out of three (64 percent) indicated COVID-19 was a significant disruption to the economic conditions of the communities they serve and that they expect recovery to be difficult.
Income loss, job cuts, business impacts, housing, health concerns, and food insecurity were the most frequently cited impacts of COVID-19, in addition to general stress and anxiety caused by the pandemic.
Three in ten (30 percent) indicated it will take more than 12 months for their communities to return to the conditions they were experiencing prior to the disruption from COVID-19. Less than one in five (19 percent) expect their communities to recover in six months or less.
More than three-quarters (78 percent) indicated COVID-19 is having a significant disruption on the entity they represent. Of those, just over half expect to bounce back quickly after recovery begins, while the remaining half expect recovery to be difficult.
More than half (55 percent) indicated demand for their services has increased or is anticipated to increase, and two-thirds (66 percent) noted a corresponding decrease or anticipated decrease in their ability to provide services.
Three in ten (31 percent) indicated their entity could only operate for less than three months in the current environment before exhibiting financial distress. Another quarter (26 percent) expect to be in financial distress in three to six months.
Loading chart 1...
2

Top impacts of COVID-19 on communities (N=630)

In an open-response question, respondents were asked to share the top impacts of COVID-19 on the communities they serve. Responses were coded, and the top impacts include:


Income Loss
Including the loss of revenue for both nonprofits and small businesses

Job Cuts
Including loss of jobs and self-employment, leading to the inability to pay bills

Business Impact
Including the closures, whether temporary or permanent, of small businesses,
particularly those owned by people of color

Housing
Including concerns about increased housing instability and homelessness


Health Concerns
Including access to health care, especially mental health concerns, and access
to health insurance

Food Insecurity
Including concerns about lack of access to food, particularly for school-aged children
Loading chart 3...
Loading chart 4...
5

In what ways has COVID-19 impacted the entity you represent?

Demand for services (N=627)
Ability to provide services (N=628)
Staffing levels (N=627)
Expenses (N=625)
Fee for service (N=621)
Philan-thropic funds (N=624)
Government funds (N=624)
Decreased
27%
47%
29%
10%
25%
18%
6%
Anticipated
decrease
7%
19%
18%
14%
13%
29%
14%
No change
10%
13%
43%
30%
29%
17%
26%
Anticipated
increase
17%
11%
4%
22%
5%
20%
28%
Increased
38%
9%
4%
23%
3%
6%
7%
NA
1%
1%
2%
1%
25%
11%
19%
Loading chart 6...
---
Endnotes
* The breakdown of Minnesota survey respondents was as follows:
62 percent report serving urban areas, 46 percent report serving suburban areas, and 52 percent report serving rural areas. (Many entities work in multiple locations.)
30 percent work in housing, 23 percent work in workforce development, 17 percent work in small business, and 6 percent work in consumer finance. Just over half (53 percent) reported working on "Other" issues not identified in the survey.
71 percent report being direct service providers.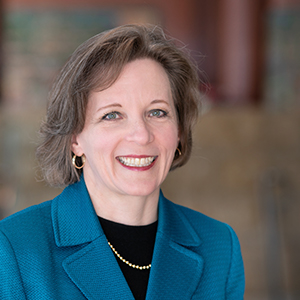 Request as a speaker
Libby Starling
Senior Community Development Advisor, Community Development and Engagement
Libby Starling is Senior Community Development Advisor in Community Development and Engagement at the Federal Reserve Bank of Minneapolis. She focuses on deepening the Bank's understanding of housing affordability, concentrating on effective housing policies and practices that make a difference for low- and moderate-income families in the Ninth Federal Reserve District.