Developer insights on mixed-income housing policies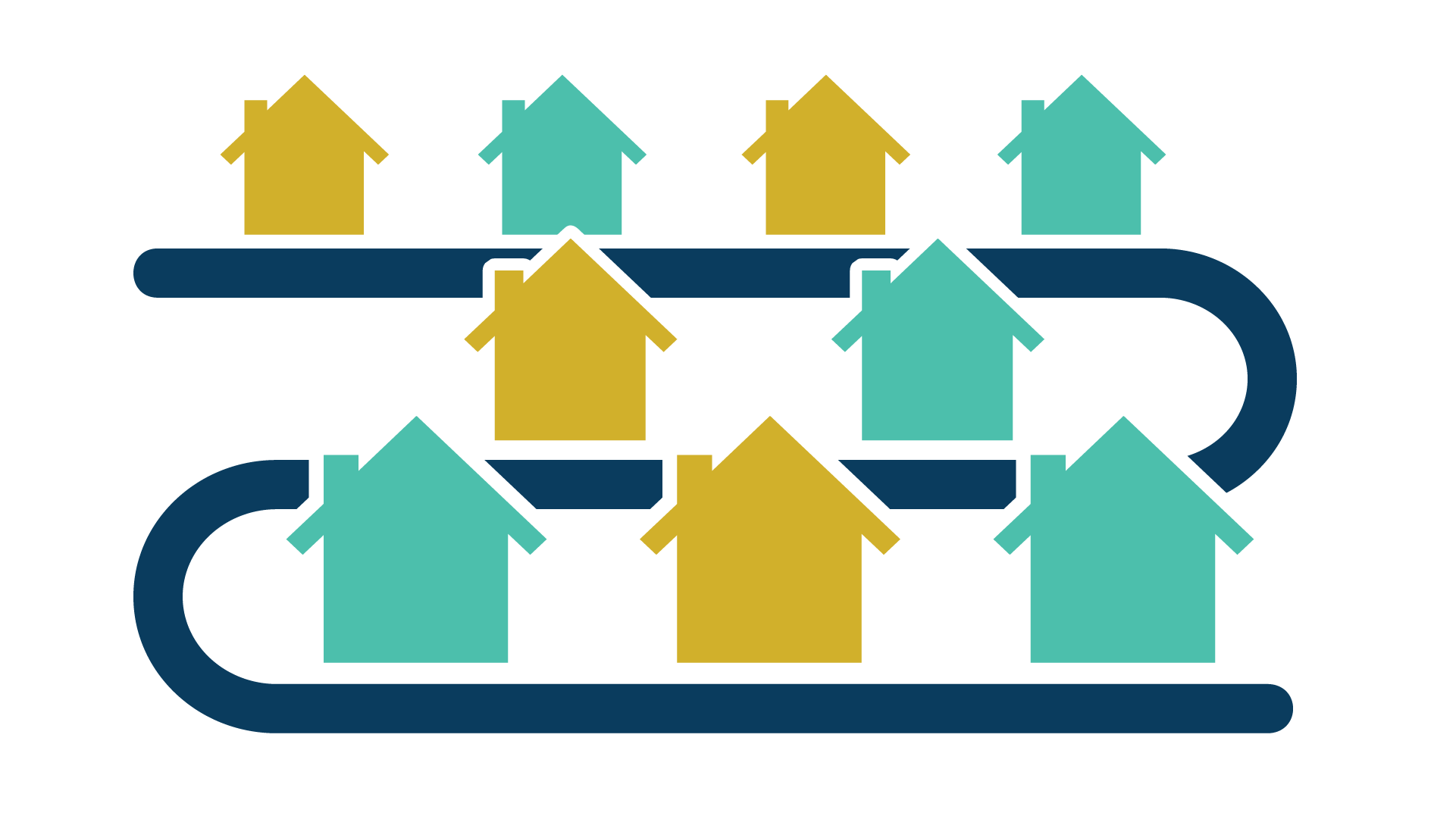 In the last five years, multiple cities in the Twin Cities region have adopted mixed-income housing policies, also known as inclusionary zoning policies, that require developers to include affordable units in market-rate rental projects that meet a policy threshold, such as receiving city financial assistance or requiring zoning changes. While most cities that have adopted mixed-income housing policies are located in suburbs experiencing strong development markets, e.g., Bloomington, Edina, and St. Louis Park, the City of Minneapolis is considering a mandatory policy that would apply to any market-rate housing development.
In September 2019, the Federal Reserve Bank of Minneapolis and Urban Land Institute Minnesota convened a Developers' Roundtable to discuss the impacts of mixed-income housing policies. This article summarizes the results of that conversation with leadership and representatives from 17 multifamily rental residential housing developers based in the Twin Cities, which included both market-rate and affordable developers.*
Financing challenges
Developers perceive requirements to include affordable units in otherwise market-rate residential developments as an added tax:
The estimated added cost of required affordable units is between $100,000 and $150,000 per required affordable unit.
This increase in cost translated into roughly a 10 percent tax on development.
Profit margins and yields in local residential development have declined over time, making financing challenging without added costs.
From a developer:
"We have no interest in a voluntary tax on development, which is what IZ [inclusionary zoning] is. We can't make the numbers work. Why would we voluntarily tax ourselves?"
One of the key challenges articulated by developers is the impact of institutional equity on the Twin Cities real estate market. The vast majority of local developers use institutional equity from national investors to capitalize their developments.
Developers indicated that:
Institutional investors tend to prefer markets where they can maximize their yields, which mixed-income housing policies threaten.
Financing market-rate apartments in suburban locations in the Twin Cities can be difficult even without mixed-income housing policies in place because of weaker markets.
Institutional investors prefer the predictability of either 100 percent market-rate or 100 percent affordable developments rather than mixed-income developments.
If the cost structure of development in the Twin Cities market is not competitive, capital could move to more profitable cities, such as Milwaukee or Nashville.
From a developer:
"In this scenario, institutional capital wins and renters lose."
Less capital available for new construction in the Twin Cities could have cascading, negative effects on the local rental markets, illustrated by the figure below.
---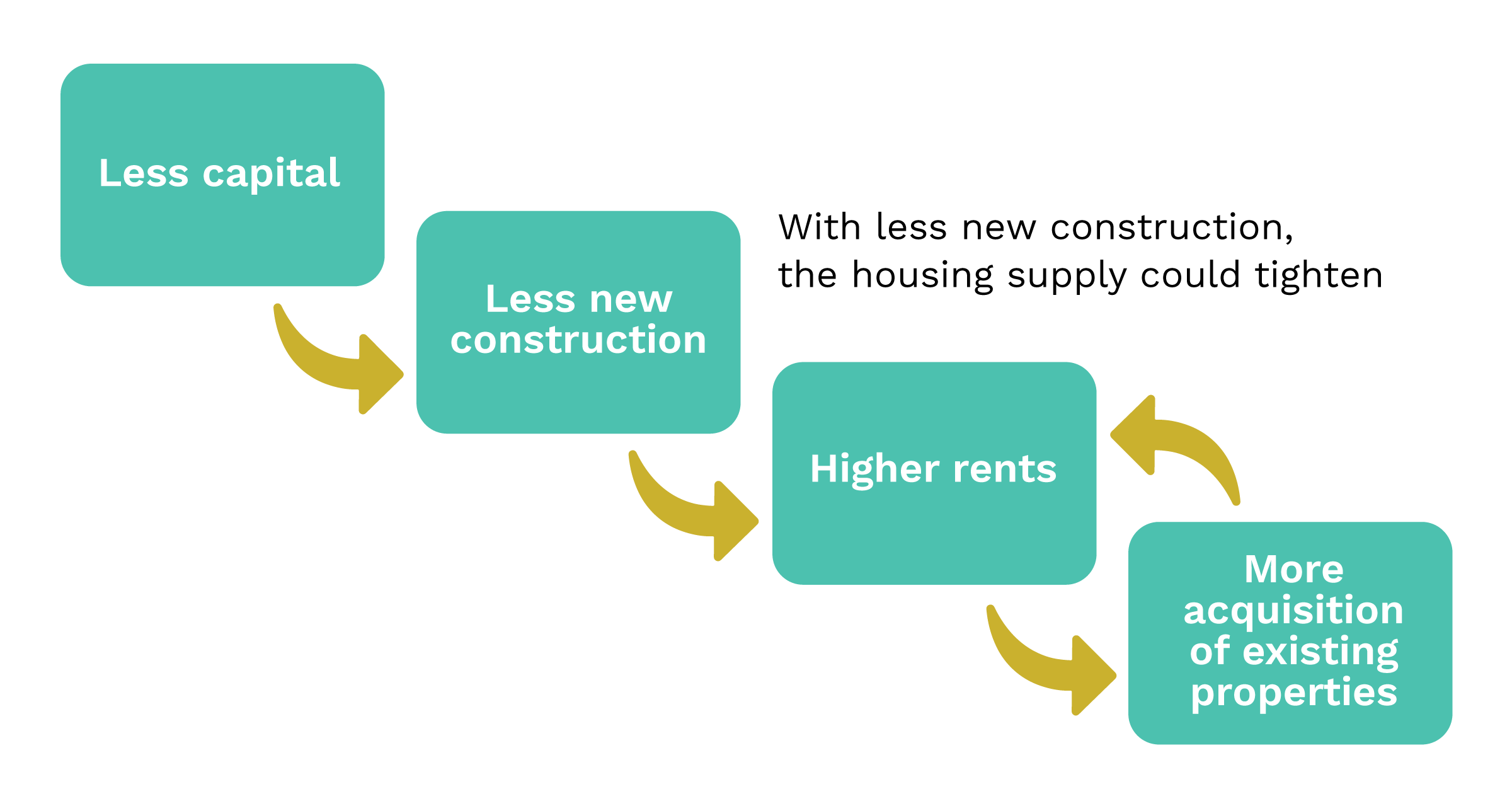 ---
One local developer remarked that they were already receiving phone calls from outside investors looking to buy rental properties in anticipation of rising rents in this market.
Less housing and higher rents
Developers, including both market-rate and affordable developers, were sympathetic to the housing affordability challenges low- and moderate-income households in the Twin Cities face. However, they were unanimous in their belief that the most important driver of housing affordability is continued growth in housing supply across all price points. Policies that increase the cost of development (e.g., green building requirements) or the cost of operating housing (e.g., limits on tenant screening) constrain housing supply, which results in higher rents. In general, developers prefer suburban communities that welcome developers as a partner, have fewer barriers, and welcome new residential development.
Compliance requirements and added costs
Developers identified two operational sets of challenges associated with building mixed-income housing—compliance and marketing:
The multiple funding sources commonly associated with affordable housing increase legal costs at project closing.
Managers of buildings with income-restricted affordable units must regularly report the incomes of their renters to ensure compliance with their funding sources.
Affordable housing developers are prepared to respond to these reporting requirements.
Market-rate developers typically do not have the staffing or structure in place to easily handle the added compliance requirements associated with federal or state financing.
Marketing of new rental units can be more challenging because some renters are not interested in living in mixed-income projects.
Nonetheless, a quick poll of attendees suggested that market-rate developers would be willing to deal with compliance and marketing issues if they were made whole on the cost side.
From a developer:
"Beyond the numbers, some developers just don't do affordable, and some developers only do affordable."
Effective use of scarce subsidy
Developers who generally build market-rate developments were clear that they preferred building mixed-income developments in cities that provide financial assistance to close the financing gap. However, a nonprofit affordable housing developer expressed concern that mixed-income housing development could siphon off scarce public resources needed for more deeply affordable housing (that is, for households earning 30 percent or less of area median income, or AMI). Developers agreed that building housing for households earning 30 percent or less of AMI is impossible without significant public subsidy and government intervention. As a result, housing policies that provide public resources for affordable units in otherwise market-rate developments could limit opportunities to build new deeply affordable units for the lowest-income households.
From developers:
"How many more market-rate units could have been created that would have provided workforce housing?"
"What is the policy objective—to maximize income-restricted housing, or to maximize units?"
"People say that we have an affordable housing crisis, but what we really have is an affordable housing financing crisis."
Policy opportunities ahead
To address the challenges of housing affordability in the Twin Cities region, developers saw potential opportunity in a range of policy options and financing tools:
Streamline development processes and waive fees.
Expand the benefit of the 4d tax abatement.
Increase flexibility in the use of tax-increment financing (TIF) and TIF pooling more often to support affordability.
Leverage Opportunity Zones.
Increase funds available for rental subsidy.
Consider the collective costs and benefits of housing-related regulation on construction.
Make more private activity bonds available for new housing construction.
Focus on new tools to acquire and convert existing NOAH (naturally occurring affordable housing) into mixed-income housing.
Create an affordable housing fund financed through developer contributions from market rate development.
---
Endnote
* Of the 33 developers invited, the following were in attendance: Aeon, Bader Development, Beacon Interfaith Housing Collaborative, Carlson Partners, Dominium, Doran Companies, Hope Community, Lupe Development, McGough, MWF Properties, Project for Pride in Living, Ryan Companies, Sand Companies, Saturday Properties, Shafer Richardson, Wall Companies, and Wellington Management.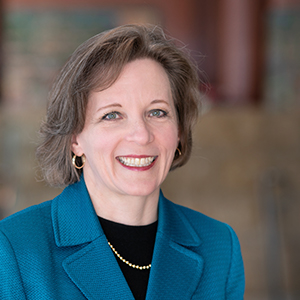 Request as a speaker
Libby Starling
Director, Community Development and Engagement
Libby Starling is the Minneapolis Fed's Community Development and Engagement director. She is responsible for the Bank's efforts to promote the economic resilience and mobility of low- to moderate-income individuals and communities across the Ninth Federal Reserve District.