On the front line of pandemic response, local governments face financial setbacks
As the coronavirus pandemic began ravaging the U.S. economy in March, economists were warning of consequences for local governments as they grapple with a public health and a fiscal crisis at the same time.
Those consequences are beginning to be felt in Ninth District cities, counties, and school districts, though so far not at the level seen in the private sector, according to a mid-July survey conducted by the Federal Reserve Bank of Minneapolis.
Revenue is down for most local governments, but demand for essential services is up, officials surveyed in Minnesota, Montana, and the Dakotas said. Many organizations have had to cut non-essential services but, so far, this has not resulted in widespread job cuts.
"We closed our performing arts center, ice arena, and golf course (which resulted in significant lost revenue) and reassigned those staff for more immediate and time-sensitive community needs," one Minnesota city official said in the survey.
The next 12 months may bring more challenges. Most officials surveyed expect revenue to continue to decrease; however, most also maintained that they don't foresee deeper cuts to services or jobs.
As economists have argued, the health of local governments bears watching. They're not only at the front line of the pandemic response, but they also provide services undergirding the economy. The present debate over reopening K-12 classrooms is connected, for example, to parents being able to return to work.
And local governments are major employers too. In Minnesota, Montana, and the Dakotas, they employ nearly as many as the entire manufacturing sector, according to Bureau of Economic Analysis statistics.
Methodology
The Minneapolis Fed survey was conducted online in partnership with 12 local government associations.
A total of 464 surveys were completed, with the strongest participation in Minnesota and North Dakota. In the other states, not all associations participated, and there were fewer respondents.
The survey was not randomized, and results are not necessarily representative of all local governments in the Ninth District.
Revenue falling
The pandemic's early effect on revenue was light overall.
Loading chart 1...
While more than half of local-government respondents reported that revenue was less than budgeted from March to June (Chart 1), most said the decrease was no more than 5 percent. It helped that a lot of property taxes were paid before the full effects of the pandemic arrived, and state and federal funding, including from the CARES Act, was unchanged or grew.
There was a good deal of variation among different groups of respondents. For example, a 10th of officials said their revenue decreased more than 10 percent.
Lower revenues were more widely reported among Minnesota officials compared with other states, by officials from metropolitan areas compared with nonmetro areas, and by those representing city and county governments compared with school districts (Chart 2).
Loading chart 2...
The next 12 months bring growing uncertainty, with a fifth of the officials responding saying they have no idea where revenue will go during the first half of 2021. Among those willing to hazard a forecast, the share of officials expecting revenue to get worse grew larger over time.
No doubt there are a lot of unknowns.
K-12 enrollment, on which state aid formulas are based, may decline if parents disagree with their school districts' reopening policies. Property owners may be less able to pay property taxes. State aid, though already appropriated, may be delayed, creating cash-flow problems for local governments.
"We expect to lose some students no matter how we start the school year due to [COVID-19]," one Minnesota school district official said. "Some will not return [while] the virus is active. Some will not return if we hybrid or continue distance learning. No winning scenario."
Voter sentiment matters, too, according to Kirk Schneidawind, executive director of the Minnesota School Boards Association. "Operating referendums will be difficult to pass when taxpayers are struggling to make ends meet."
Services adapting rapidly
Whatever their financial circumstances, most local governments maintained or expanded essential services in recent months (Chart 3).
Loading chart 3...
Minnesota counties are spending more to battle the pandemic, from deploying contact tracing teams to finding new spaces for the homeless to reduce the risk of disease at overcrowded shelters, according to Matt Hilgart, a policy analyst with the Association of Minnesota Counties.
And, like other organizations, they've had to buy personal protective equipment or tools that make it easier to work from home, he said.
Nearly half of officials said their organization had cut non-essential services, even those reporting higher-than-expected revenue. Examples of such services include those that would be in low demand anyway because of social-distancing guidelines, such as senior centers, libraries, and after-school activities.
Despite the grim revenue forecast for the next 12 months, fewer officials expect further cuts to essential or non-essential services. The largest number of officials who reported cuts said they happened in recent months. These numbers fell by half as officials looked to the next 12 months.
Most said they expected no change, even those forecasting revenue declines.
Terry Traynor, executive director of the North Dakota Association of Counties, said counties will likely find other ways to cut spending, such as delaying infrastructure projects.
Jobs remain mostly stable
Despite the sometimes dramatic changes in work, most officials reported no cuts to worker hours or jobs in recent months (Chart 4).
Loading chart 4...
Even the hardest-hit organizations maintained the status quo. Of 19 officials who said their organizations saw revenue fall more than 20 percent, only one said jobs were cut, and two said hours were cut.
Officials reported shifting workers to new jobs, though this sometimes created challenges.
"Requiring us to find work for noncertified staff was a challenge, and this was put on administration," one Minnesota school official reported. "Finding things for them to do [safely] and what they were or could be trained for was difficult."
The threat of job cuts over the next 12 months remained low; however, potential cuts do increase slightly for essential workers in the first half of 2021. Most officials said they expect to maintain the status quo.
However, a growing number of officials in the hardest-hit organizations said they expect to see workers' hours or jobs cut.
These are and will be hard decisions throughout the Ninth District. More than a few respondents said everybody in their organization is essential.
"Our school is very small, so all are considered essential," said one rural North Dakota school official.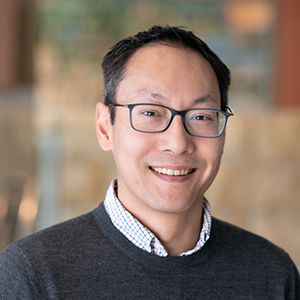 Tu-Uyen Tran
Senior Writer
Tu-Uyen Tran is the senior writer in the Minneapolis Fed's Public Affairs department. He specializes in deeply reported, data-driven articles. Before joining the Bank in 2018, Tu-Uyen was an editor and reporter in Fargo, Grand Forks, and Seattle.