As pandemic dragged on, Minnesota child care providers faced enrollment, financial crises
Over the past year, Minnesota's child care providers have had to turn down the heat, buy fewer toys and art supplies, cut back on outings for their children, and dip into emergency funds—all to serve their families and stay in business.
The pandemic has been challenging in both financial and personal terms for what's long been a challenging business, according to a joint survey by the Minneapolis Fed and First Children's Finance, a nonprofit group advocating for affordable, quality child care.
"I look back on a year ago when COVID hit and all the changes we all had thrown at us, and I thought, 'How are we going to make it?' And now, a year later, we still struggle, but we are here," a home-based provider in central Minnesota said. "We make it with just the basics, no extras. Child care needs come first before our personal needs now."
A majority of the 781 providers surveyed saw enrollment decline over the course of the pandemic. Even now, as infection rates fall and vaccination rates grow, nearly a third still struggle to pay all their expenses. The hardest hit financially were family child care providers—small providers usually based out of their own homes—a majority of whom have seen their household income affected by losses from their business.
"It's a good thing we know how to live poorer," said a southwestern Minnesota family provider. "Our splurges are food and occasionally clothing items needed. Very little else. But I still justify a little happiness now and then."
The survey, conducted from the end of March through early April, represented about 10 percent of child care license holders in the state. Though not a randomized survey, the mix of respondents representing family child care providers and child care centers was representative of actual license holders in each category. Providers located in the Twin Cities were underrepresented in the survey, however.
Falling enrollment
More than half of survey respondents said their enrollment had declined over the course of the pandemic (Chart 1), and nearly a third said enrollment was still in decline over the past three months (Chart 2). Child care centers did worse than family providers for the most part, though there was some improvement in recent months. Twin Cities providers in both categories did worse than their Greater Minnesota counterparts.
Loading chart 1...
Loading chart 2...
The owner of one Twin Cities child care center said she had stopped paying herself and had to dip into personal savings twice to meet payroll.
The survey didn't delve into reasons why enrollment fell, but many respondents volunteered comments indicating there was less need for child care because parents lost jobs or worked from home. These trends may have had a bigger impact on Twin Cities providers because, as state data show, the metro area lost jobs at a greater rate than the rest of the state and has a higher concentration of workers in sectors where working from home is possible, such as finance and professional services. The metro area also has a larger share of child care centers relative to family providers.
"It is important that child care businesses can offer a workable wage. I don't feel that I am financially sound enough to do so."
Some respondents said their enrollment suffered because they had trouble retaining enough workers to maintain the staff-to-child ratios required by the state. This was already a concern before the pandemic, but respondents' comments suggested it had gotten worse. The staffing issue primarily affected child care centers, with 57 percent reporting that they struggled to maintain appropriate staffing levels and 91 percent saying that hiring is difficult or very difficult for them. The vast majority of family child care providers don't employ anyone.
Some providers blamed the supplemental unemployment benefits that came with federal pandemic aid, which made their wages less competitive. Others said their staff deserve better wages, but offering that was challenging even before the pandemic.
"It is important that child care businesses can offer a workable wage. I don't feel that I am financially sound enough to do so," said the operator of a central Minnesota child care center.
Difficult financial decisions
In response to declining enrollment and revenue, more than half of providers cut expenses, but far fewer raised tuition.
Many family providers were reluctant to raise tuition for fear it would erode their enrollment. Some said young families can barely afford their services as it is, especially in high-poverty areas. Others suggested that low tuition is one of their competitive advantages against child care centers; they said most parents prefer centers because the availability of care isn't dependent on one teacher, whose illness or vacation would force the parents to make other arrangements or stay home from work.
But operators of child care centers also agonized over tuition hikes. They, too, worried about affordability, but several said tuition needed to go up to retain or hire needed staff.
"I haven't increased my rates yet, but plan to in June," said the operator of a central Minnesota child care center. "My staff all want raises if they are to stay during COVID."
Overall, child care centers were nearly three times more likely to raise tuition than family providers, while both were about as likely to cut expenses. Perhaps as a consequence of that, family providers were more likely to report that their cash flow wasn't enough to cover all expenses. They were more likely to borrow, especially using high-interest financing such as credit cards, and more likely to tap into emergency funds (Chart 3). Sixty-two percent of family providers said their household income was affected by business losses compared with 37 percent of child care center operators.
Loading chart 3...
"No trips, no vacations," said a southwestern Minnesota family provider. "My days off are COVID-related this last year. We've been cashing in retirement money to have a [financial] cushion."
"My oven went out, so I make do with an air fryer and the stovetop," said another southwestern family provider. "My dryer no longer works, so I hang-dry my clothes as I don't feel comfortable going out and buying a new dryer when my financial situation is so unknown."
Providers who are racial and ethnic minorities were worse off than nonminorities by several measures. Though the small sample size makes exact figures less reliable—only 5 percent of respondents identified as members of a minority group—the racial gaps were undeniable. Compared with nonminorities, significantly more minority providers reported enrollment decline, inability to pay all expenses, and household incomes being affected by business losses.
Looking ahead
Despite the financial distress, state and federal aid appears to have kept many child care providers afloat through the pandemic.
"Last year, we lost more than half of our enrollment for about five months because parents were out of work or students would have COVID symptoms," said the operator of a southwestern Minnesota child care center. "If we would not have received grants and the [Paycheck Protection Program] loan, we definitely would not still be in business today."
"I understand families need me, and I'm so crucial to them to be able to go to work. But at times I wonder if it's even worth it to stay in business during these times or to quit and find a job with guaranteed steady income."
Another respondent, a family provider from northwestern Minnesota, said the grants and PPP loan allowed her to offer discounts to families when they had to quarantine for COVID-19 exposure.
Nine in 10 respondents said they had received a government grant of some kind. Far fewer obtained loans from the PPP or the Economic Injury Disaster Loan program.
Looking ahead, many respondents expressed uncertainty about the survival of their child care business.
Asked how long they expect to remain in business under current economic conditions, nearly half said they weren't sure. Nearly a fifth said less than a year, and the rest said they didn't expect to be out of business anytime soon. Child care centers had a worse outlook overall compared with family child care providers.
"We are still struggling to stay afloat during these times," said a northeastern Minnesota family provider who reported being unsure. "I understand families need me, and I'm so crucial to them to be able to go to work. But at times I wonder if it's even worth it to stay in business during these times or to quit and find a job with guaranteed steady income."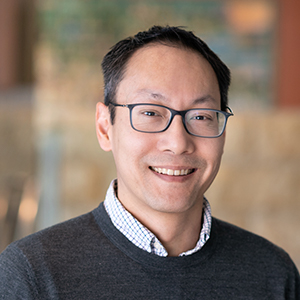 Tu-Uyen Tran
Senior Writer
Tu-Uyen Tran is the senior writer in the Minneapolis Fed's Public Affairs department. He specializes in deeply reported, data-driven articles. Before joining the Bank in 2018, Tu-Uyen was an editor and reporter in Fargo, Grand Forks, and Seattle.