Fed's "Racism and the Economy" series explores the criminal legal system
For Phillip Atiba Goff, American investment in the carceral system is in dire need of adjustment.
"Policing has been overfunded. Incarceration has been overfunded. We have to figure out how to shift those funds to form a new human infrastructure," said Goff, professor of African American studies and psychology at Yale University.
"Incarceration is a drag on our ability to achieve our maximum employment goal," said Atlanta Fed President Raphael Bostic in his opening remarks.
The modern-day criminal justice system in the United States has roots in slavery, and panelists explained that the effects of this foundation are evident both in the disproportionate number of people of color caught up in the system and in the sheer number of imprisoned individuals.
"The U.S. is 5 percent of the world's population, but it accounts for 21 to 22 percent of the world's incarcerated population," said Nicholas Turner, president of the Vera Institute of Justice.
Despite the high rates of incarceration, the United States does not have better public safety outcomes or lower crime rates than other countries. Systemic racism in the American criminal legal system has immense consequences for people of color even beyond disproportionate incarceration rates.
"Nearly $20 billion have been levied against Black and Brown communities in the last few years. Most people can't pay [the fines]," said Kelly Lytle Hernandez, professor of history, African American studies, and urban planning at UCLA. "You have to pay bail fees and bail bond companies, and [families] who lose those monies are losing access to transportation funds, to rent money."
The economic consequences to individuals and to society are broad and deep. Being incarcerated has a massive effect on a person's lifetime earnings and employability. The wide range of economic impacts were discussed at the series' seventh installment, "Racism and the Economy: Focus on Criminal Justice," where Goff, Turner, and Lytle Hernandez were speakers.
Accountable policing
In the spring of 2021, Minnesota Attorney General Keith Ellison prosecuted former Minneapolis police officer Derek Chauvin for the murder of George Floyd. This case sparked a national debate on policing and police accountability. The successful prosecution of a police officer is a rarity, an exception that proves the rule of unaccountable policing.
This lack of accountability—coupled with the use of police to respond to a wide range of problems—means more people are engaging with the criminal justice system and at a great personal and financial expense.
Ellison and other speakers called for changes that would make police more accountable. Walter Katz, vice president of criminal justice at Arnold Ventures, recommended several reforms:
Departments should train all officers in de-escalation.
Law enforcement agencies should invest in early intervention systems.
Local prosecutors should exercise greater independent oversight over nonlethal force that results in serious injuries.
Society and government must consider embarking on a long and difficult path toward transitional justice and truth seeking.
"There's a cost associated to all the parts of the economic system," said Ellison. "There are costs people pay to talk to their loved ones. There are costs in the bail system. The real cost is the cost of human potential."
Reducing the reach of the criminal justice system
Speakers emphasized the wide reach of the criminal justice system. The reach is evident in the numerous convictions for nonviolent crimes and in the large fines and fees levied against individuals.
Convictions present huge barriers to lower-income individuals and people of color who want to fully participate in the economy. But Jennifer Doleac, associate professor of economics at Texas A&M University, found that recidivism rates are reduced when nonviolent charges for first offenses are dismissed. "First-time offenders are at a crucial fork in the road," said Doleac. "Helping them avoid incarceration can help them find housing and make them dramatically less likely to show up in court again."
Monetary sanctions—fines and fees—also impact outcomes for lower-income people in the carceral system. Andrea Young, executive director of the ACLU of Georgia, proposed making monetary sanctions proportional to the financial resources of those who pay them. "When you look at a city like Atlanta, the average [annual] household income for African Americans is $25,000 and is $80,000 for Whites," said Young. "People without money stay in jail; people with money don't."
Why does this matter to the Fed?
A criminal justice system that derails the lives of so many people of color will inevitably have large negative impacts on the economy. With a system that holds back millions of people from full participation in the economy, there is no way to achieve full employment.
Boston Fed President Eric Rosengren pointed out how expensive it is to have a society focused on mass incarceration. As an economist, he sees the current state of the criminal justice system as a "misallocation of resources," he said. The challenge is to ensure public safety while reducing collateral damage on the people in the criminal justice system, especially on people of color.
Bostic emphasized the need for change. "We have to give people a chance just to be people," he said. "What we're doing now is not working, and it's hurting our potential."
Neel Kashkari, Minneapolis Fed president, said the economic costs are even larger than he expected. "Imagine if we had a different society that wasn't so geared toward criminalizing people. What could that society look like, and what could that economy look like?"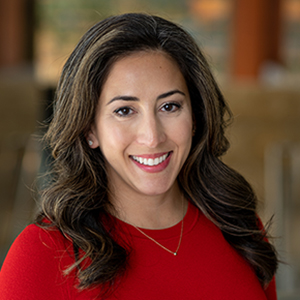 Alyssa Augustine
Senior Public Relations Program Manager
Alyssa Augustine is the Minneapolis Fed's senior public relations manager. In this role, she coordinates all media relations for President Neel Kashkari and other Bank leaders. An experienced TV journalist, Alyssa also contributes articles to our website and publications. She holds a B.A. in media studies from Fordham University and an M.A. in sociology from the University of Washington.