Institute update: Growing the conversation
The Institute is always at work shaping and sharing scholarship on economic opportunity and inclusion. Presentations and discussions at scholarly conferences provide one venue for these efforts.
Last fall, the Opportunity & Inclusive Growth Institute held its inaugural research conference. This was not the first Institute conference, but it was the first to showcase the range of frontier-style research that the Institute engages with in pursuit of its mission to conduct and promote scholarship that will increase economic opportunity and inclusive growth for all Americans.
This is a broad goal, one that is served by embracing breadth and diversity in researchers and research topics. Several presentations spoke to the ways monetary policy impacts different dimensions of inequality. Others considered how market competition, laws, and government enforcement actions affect discrimination in specific spheres, research that helps illuminate remedies for racial discrimination.
The conference keynote panel, "Race in Economic Research: From One Dimension to Many," continued the Institute's commitment to examine how researchers can enrich and expand their study of questions related to race in economics. It is a conversation that Institute economists took to the American Economic Association's (AEA) annual meeting in January in a session titled "Incorporating Racial Inequality into Macroeconomic Models." Former visiting scholar Trevon Logan convened the session, which was moderated by Institute Director Abigail Wozniak and featured Assistant Director Alessandra Fogli and Senior Research Economist Illenin Kondo as panelists. The AEA meeting is the largest annual gathering of academic economists in the U.S., and the session provided an opportunity to discuss best practices in research to better reflect and account for racial economic inequality.
The Institute also supports the work and development of the next generation of researchers. To this end, the fall research conference was preceeded by a full-day mentoring workshop to hone projects by seven scholars who recently completed their Ph.D.s. Milena Almagro, a former Institute visiting scholar who presented at the mentoring conference, appreciated the workshop's focus on constructive feedback. "I think this 'en petit comité' [small group] format really encouraged questions, suggestions, and interactions," Almagro said.
Promoting teaching and training within economics is one of the goals of the Midwest Economics Association, which held its annual meeting in March. Wozniak chaired the session "Doing Inclusion in Economics," which drew inspiration from "Reaching Our Full Potential," an Institute report that reflects on broad themes and concrete actions that emerged from last year's "Racism in the Economy: Focus on the Economics Profession" event. Panelists discussed engaging students from a broad range of backgrounds, improving inclusion in journals' editorial processes, and researching pressing questions of economic inclusion.
---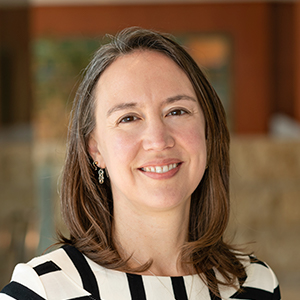 Lisa Camner McKay
Writer/Analyst, Institute
Lisa Camner McKay is a writer/analyst with the Opportunity & Inclusive Growth Institute at the Minneapolis Fed. In this role, she creates content for diverse audiences in support of the Institute's policy and research work.