As business startups surge, they're creating more jobs
Heather Wendlandt opened what she calls a "coffee shop with a twist" this summer in downtown Sioux Falls, South Dakota.
"So, you come into the cafe. You can eat, grab a drink, everything like that, and then for a small fee, you can enter a separate room that's full of cats," she said.
The Cattitude Cafe, the state's first and only cat cafe, has 22 employees and about a dozen cats from the Humane Society available to pet and adopt.
For Wendlandt, it's a dream come true. Ever since visiting a Minneapolis cat cafe in 2018, she has wanted to open her own. But it was only after the COVID-19 pandemic began that she resolved to pursue her dream.
She's part of a surge in entrepreneurship that started with the pandemic and has remained strong despite high inflation and interest rates. Many of the new businesses, like Wendlandt's, have employees or are likely to employ. They often have more economic impact than businesses where the only employee is the owner. But they also require much more planning and financing, making them more difficult to open.
For policymakers, employer businesses are important indicators of the economy's ability to grow and change. They often introduce new goods and services and increase competition. In recent decades, a decline in new employers had been cause for concern. The pandemic seems to have changed that.
Startups surge amid vast changes
Data on business startups come from what the U.S. Census Bureau calls "high-propensity business applications." These are derived from applications filed with the IRS for employer identification numbers (EINs), which are required to employ workers and, often, to obtain business loans.
Based on what a form reveals, such as payroll information, the bureau determines if the business is likely to employ. (For simplicity, this article will use the term "employer businesses" for both actual and likely employers.)
In the 14 quarters since the pandemic began in March 2020, employer businesses filed an average of 2.6 applications for every 1,000 workers nationwide. In Minnesota, Montana, and North and South Dakota—the four states wholly in the Ninth District1—the average was 1.8 (Figure 1). In the 14 quarters before 2020, the averages were 2 nationwide and 1.4 in the district states.
Loading chart 1...
Of the four district states, Montana had the highest startup rate with 2.8 and North Dakota the lowest with 1.6. Minnesota, the state with the largest number of startups and the most weight on the district average, had 1.7.
While not every application results in a business opening its doors, the surge in applications likely led to a surge in openings that exceeded pre-pandemic levels, according to recent research by economists Ryan Decker, Federal Reserve Board of Governors, and John Haltiwanger, University of Maryland.
"The surprising surge in business applications and registrations seen during the pandemic represented genuine entrepreneurial activity and resulted in considerable job creation and reallocation of jobs and workers," Decker and Haltiwanger said.
"When you look at the average before the pandemic compared to after the pandemic, it is up significantly. I think that speaks to a new normal."
—Tessa Conroy, University of Wisconsin–Madison
These openings occurred against a backdrop of vast economic changes. As COVID-19 arrived, millions isolated at home. Unemployment reached record levels. The government pumped trillions into the economy. A rapid recovery brought a labor shortage and inflation reached a 40-year high. Interest rates reached a 20-year high. Yet the employer business startup rate in the U.S. and every Ninth District state has exceeded pre-pandemic levels in all but the quarter following March 2020.
"When you look at the average before the pandemic compared to after the pandemic, it is up significantly. I think that speaks to a new normal," said Tessa Conroy, an economist at the University of Wisconsin–Madison.
Restaurants, retailers, doctors join the surge
Among sectors with the largest number of employer startups before the pandemic, accommodation and food services dominated. Since March 2020, there have been close to a million filings in the sector.
That might seem counterintuitive because hotels and restaurants suffered early on when consumers isolated at home. But different types of food service startups may have surged at different phases of the pandemic.
Business opening data, which provide more detail than business applications, suggest special food services such as food trucks surged early on, before vaccines were widely available. In contrast, fewer restaurants were started.
The next surge in 2021 likely included many new restaurants. The availability of vaccines early that year led restaurateurs to believe that "pent-up demand" for dining out would bring people back into their restaurants.
Wendlandt said she began working on plans for her own cafe in fall 2021 "after things kind of went normal." She spent more than a year conducting market research and clearing regulatory hurdles before she was ready to file for her EIN, she said.
The retail trade, transportation and warehousing, and health care and social assistance sectors also had a lot of startups (Figure 2). Census data suggest that increase included a surge in electronic shopping and mail orders in 2020. Consumers isolated at home spent less on in-person experiences, such as dining out, and more on online shopping. This change in consumer behavior may also be linked to the surge in freight trucking needed to deliver those online orders.
Loading chart 2...
After vaccines became available, the retail surge included more brick-and-mortar stores selling building materials, food and beverages, and apparel.
Health care and social assistance startups pulled ahead later in the pandemic. The strongest growth was in subsectors dominated by physicians' offices and by child care and nonprofit groups helping the needy. A large number of these firms closed early in the pandemic, and new businesses may be filling a supply-demand gap.
What drives entrepreneurship?
Economists have long discussed the roles that necessity and opportunity play in new business formations.
A need to replace lost jobs can spur some to start new businesses. That could be a reason for the startup surge in early 2020 when many workers were furloughed.
"The pandemic sparked rapid, dramatic changes to consumer demand. … From the standpoint of potential entrepreneurs, these dramatic changes presented opportunities."
—Ryan Decker, Federal Reserve Board of Governors, and John Haltiwanger, University of Maryland
But economists have found that employer businesses usually aren't started out of necessity. Becoming an employer requires more investment and business experience, which most unemployed workers lack. Opportunity is usually the main driver.
"The pandemic sparked rapid, dramatic changes to the composition of consumer demand and to preferences for work and lifestyle, and these patterns have continued to evolve through mid-2023," Decker and Haltiwanger said. "From the standpoint of potential entrepreneurs, these dramatic changes presented opportunities."
This can be seen in the startup surge in online retail and freight trucking, and in suburban areas where more workers spent their time as they worked from home, according to the economists.
Then there are psychological factors. The stress of living in a pandemic led many to reflect on life goals. That's reportedly the driver behind the "Great Resignation" and the high demand for work-from-home jobs. It may be a driver behind rising employer and nonemployer business applications as well.
"I think it did create an opportunity to rethink and reimagine how individually you might want to move your future forward," said Amy Whitney, who runs the Center for Innovation at the University of North Dakota. Tenancy rates at her business incubator rose from 75 percent pre-pandemic to between 80 and 90 percent today, she said.
Can this last?
Early on, Conroy said, economists thought the surge would be just a blip caused by people starting businesses after losing jobs or who weren't comfortable in their workplace because of COVID-19. "But now we're several years out and we're still seeing this sustained entrepreneurial activity, so I don't have a reason to think it wouldn't continue. It seems that the conditions are such that people are still really interested in starting businesses, and at levels that we haven't seen prior to the pandemic."
"[The pandemic] did create an opportunity to rethink and reimagine how individually you might want to move your future forward."
—Amy Whitney, Center for Innovation, University of North Dakota
Decker and Haltiwanger are more cautious. Before the pandemic, U.S. businesses were slow to respond to changing economic conditions, and this showed up in fewer business openings. They think this had to do with occupational licensing impeding entry into some fields and the widespread use of non-compete agreements. While not well understood, there's no reason to believe those factors have gone away, they said.
The startup surge could simply be part of a restructuring to accommodate post-pandemic work and lifestyles, they said. This implies restructuring will be complete at some point and startup rates would return to pre-pandemic levels. That is, it's not a long-term shift in the economy's ability to grow and change and introduce new goods and services.
The Cattitude Cafe both refutes and confirms this idea. It's part of a wave of new restaurants that took over after many established restaurants closed in early 2020. But it's also providing a service that had not existed in the market.
With all the trauma from the pandemic, Wendlandt said, allowing people to pet cats at her cafe can help reduce stress. Business has been "amazing," she said. One measure of success: 80 cats have been adopted as of late September, she said.
---
Endnotes
1 County-level data do not allow for an analysis of the relatively small number of Wisconsin and Michigan businesses located in the district.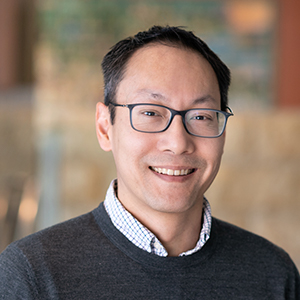 Tu-Uyen Tran
Senior Writer
Tu-Uyen Tran is the senior writer in the Minneapolis Fed's Public Affairs department. He specializes in deeply reported, data-driven articles. Before joining the Bank in 2018, Tu-Uyen was an editor and reporter in Fargo, Grand Forks, and Seattle.