Shifting trends in part-time employment
Attitudes around work have changed over recent decades and during the pandemic. Labor force participation has been on the decline, remote work has increased in popularity, and an already-strong labor market has emboldened workers to look for higher pay and flexible schedules.
As workers look for more "life" in the work-life balance, attention has been drawn to some recent increases in the number of people choosing part-time employment.
However, the long-term trend shows something different. Over the last few decades, part-time workers have made up a mostly falling share of total employment, according to data from the federal Current Population Survey. Workers are also choosing part-time employment for different reasons, which tells its own story about work and labor force choices today.
Unpacking part-time work
Part-time employees are defined by the Bureau of Labor Statistics as workers who normally work fewer than 35 hours in a week, regardless of how many jobs they may have. These workers currently make up about 20 percent of the total employed population in the Ninth District.
Across both the United States and the Ninth District, the part-time employment rate has been mostly on the decline since the 1990s.
An increase in part-time employment followed the Great Recession, and it took some time for that trend to unwind. But today the national part-time employment rate has declined to some of the lowest levels reported over the last two decades (see Figure 1).
The Ninth District rate has historically been several percentage points higher than the national average and has seen a slight uptick recently. But aside from the Great Recession hiccup and a dip after the start of the pandemic, it now appears to be realigning with its pre-pandemic path.
Loading figure 1...
Among Ninth District states, part-time employment rates in North Dakota and South Dakota have typically aligned more closely with the national average since the early 2010s. The other states, especially Montana and Wisconsin, consistently have higher shares of part-time employees than the rest of the region (see Figure2).
Loading figure 2...
The overall part-time rate only tells part of the story. The Bureau of Labor Statistics categorizes part-time workers into two different groups: those working part time for economic reasons and those working part time for noneconomic reasons.
Those who are working part time for economic reasons, referred to by the Bureau of Labor Statistics as "involuntary part-time workers," are available to work full time and want full-time hours but either cannot find a full-time job or their hours have been cut.
Those who work part time for noneconomic reasons are referred to as "voluntary part-time workers." These workers do not want to work full time or are not able to for a variety of reasons, such as having limited health, being retired, or being in school.
The reasons that some workers take part-time hours show that the "voluntary" label is a bit of a misnomer. For many of these voluntary part-time workers, their own circumstances (rather than the job market) give them little choice in the matter.
Once separated, the data show that most part-time workers are working part time voluntarily. Since 2000, the voluntary part-time employment rate declined slightly but has not varied much (see Figure 3).
Unlike the involuntary part-time rate, which ballooned after 2008, the voluntary rate showed little change following the Great Recession. Only in 2020 did the voluntary part-time rate drop significantly, likely due to more limited part-time options as businesses shut down. The voluntary rate rebounded to pre-pandemic levels by 2022.
Loading figure 3...
Aside from the post–Great Recession surge, the share of involuntary part-time workers has also declined both in the long and short term, with the COVID-19 recession appearing to have little effect on the overall trend.
Involuntary part-time workers now make up just under 1 percent of employed people in the Ninth District. This is the lowest the rate has been in over 20 years, likely because of the wide availability of jobs in the economy.
Changing reasons for part-time employment
With only a tiny fraction of people working part time involuntarily, why do most part-time workers prefer these hours over full-time employment?
The most significant reason has consistently been school. As of 2022, about 32 percent of voluntary part-time workers reported that they chose to work part-time due to school or training (see Figure 4).
The share of those working part time due to school has been mostly declining since the 1990s. Only since the pandemic has there been a substantial increase in the percent of people working part time due to school, possibly a result of the strong labor market and an increase in remote school options, which can make balancing classes and work easier.
Loading figure 4...
The second most common reason is personal and family obligations, which can include caretaking for family members, housework, or other tasks. But the share citing these obligations has been cut almost in half, falling 13 percentage points since the early 2000s.
Meanwhile, the share of workers who are working part time specifically because of a lack of available or affordable child care has remained relatively low since the 1990s.
Countering these trends, a much higher share of voluntary part-time workers consists of retirees (and/or those who have income limits) and those who report working fewer than 35 hours a week but are still considered full-time.
The latter category has seen more pronounced growth over the years, increasing 10 percentage points since 1994.
Any easy explanation of this trend is obscured by a mostly arbitrary definition of full-time employment. The Bureau of Labor Statistics defines part- and full-time work by the 35-hour cutoff point, but this is purely for statistical purposes. Defining full-time employment is left to the employer in most cases.
The growth of workers who consider themselves to be full-time but work fewer than 35 hours a week possibly stems from shifting views of what full-time work hours should be. With employers mostly responsible for defining full-time employment, they may be setting lower thresholds to better match changing employee expectations.
An increase in self-defined or nontraditional schedules, such as for gig workers or sales representatives, could also contribute to this change. Additionally, the Census Bureau points to federal regulations that cap full-time hours worked for employees in a few professions (often for safety reasons) and union contracts that define full-time employment under 35 hours as potential factors. That being said, there isn't available data to confirm what is really behind this change.
The future of part-time work
The reasons people work part-time hours will likely continue to evolve in a post-pandemic world. If the popularity of shorter work weeks and schedule flexibility endures, the share of part-time workers who work under 35 hours a week but consider themselves full-time may grow even faster.
However, the long-term trend favors full-time work, and recent changes in work culture could also benefit workers who want more hours but have been restricted by inflexible schedules in the past. With more remote and flexible work options available, people who once had to work part time due to their own circumstances may have new opportunities to work full-time hours with more accommodating schedules going forward.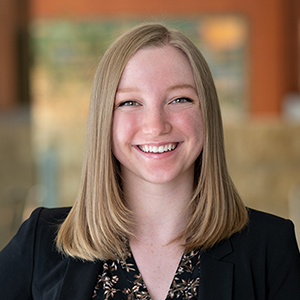 Haley Chinander
Research Assistant
Haley Chinander is a research assistant in Regional Outreach at the Minneapolis Fed. She focuses on data collection and research related to current business conditions and broader, long-term trends in the Ninth District economy. Follow her on Twitter @haleychinander.