The Changing Payments Landscape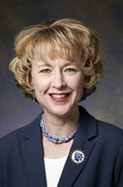 Businesses and consumers are writing fewer checks, so what payment methods are being used instead? Will mobile payments be the "next big thing" or something else? How do cyber security threats and fraud impact payments? What other factors are driving change in U.S. payments that will impact businesses and consumers?
To answer these questions, join Senior Vice President, Claudia Swendseid, in a discussion of the changing payments landscape. She will discuss the Fed's historical and current role in payments and provide insight into emerging payments trends. Claudia is known as an expert and thought leader in the payments industry, especially on business to business payments and payments fraud. She oversees payments and support departments at the Minneapolis Fed and leads Federal Reserve industry relations directed at business end users.
Conversations with the Fed: The Changing Payments Landscape was a public event and discussion held at the Minneapolis Fed on September 5, 2013.
Video: Presentation

Slides: Slides [PDF]