Strategies for Improving the U.S. Payment System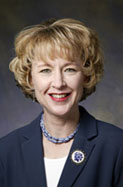 The Federal Reserve Banks are collaborating with payment stakeholders on a multi-pronged initiative to identify and implement strategies to improve the U.S. payment system. The Fed has established two industry task forces: one devoted to faster payments and another focusing on secure payments. These task forces offer a unique platform for diverse stakeholders to voice concerns, weigh in on alternatives, and advance potentially sweeping improvements.
Join Federal Reserve Bank of Minneapolis Senior Vice President Claudia Swendseid on May 25 for a discussion on the latest developments in this historic quest. Consider what faster, safer payments could mean for the U.S. To get a sneak peek into this initiative, visit www.fedpaymentsimprovement.org.
Conversations with the Fed: Strategies for Improving the US Payments System was a public event and discussion held at the Minneapolis Fed on May 25, 2016.
Video: Event in full

Slides: Strategies for Improving the U.S. Payment System [PDF]