Regional Economic Conditions Conference
State economists, Senator Heidi Heitkamp, N.D., converge on Minneapolis Fed for Regional Economic Conditions Conference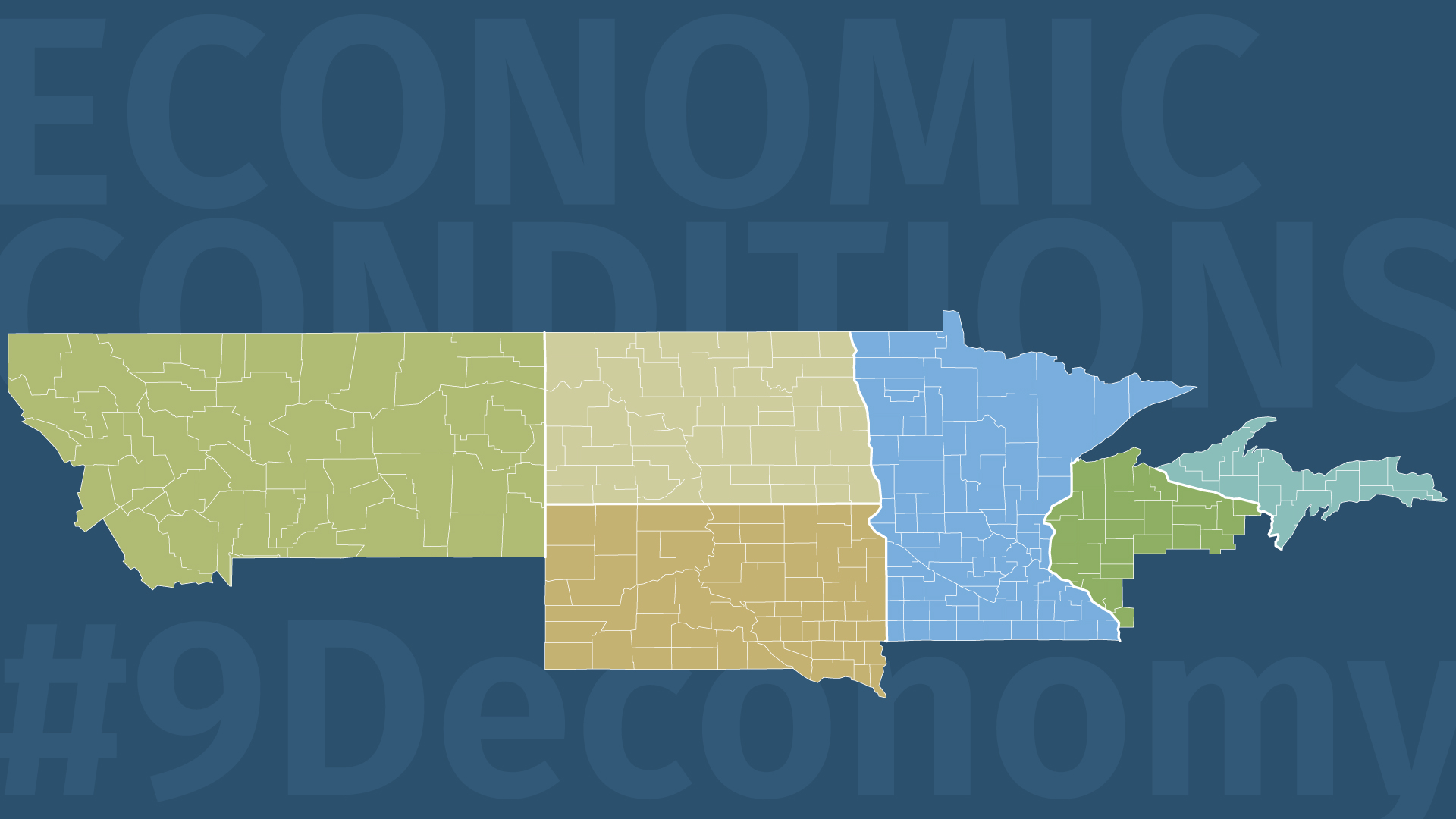 Roughly 100 economists, business leaders, bankers and government officials gathered at the Federal Reserve Bank of Minneapolis for the Bank's first-ever Regional Economic Conditions Conference. The half-day conference on Oct. 10 featured presentations and panel discussions with prominent economists from each of the six states (Minnesota, North Dakota, South Dakota, Montana, northwestern Wisconsin and the Upper Peninsula of Michigan) in the Federal Reserve System's Ninth District, capped with a luncheon keynote address by U.S. Sen. Heidi Heitkamp of North Dakota.
The conference was initiated to elevate and investigate current economic conditions in the Ninth District, with the goal of learning about the challenges and opportunities in each state, as well as the near-term outlook for state economies in the District. By design, the conference encouraged participation, with extended discussion periods that highlighted common themes across the region. One of those themes was slow labor force growth, and the current and future labor shortage that most states face as a result.
Speakers also expressed concerns about young workers migrating out of the region, and the District's comparative difficulty in attracting workers, which limits economic growth. In the Upper Peninsula, a lack of larger employers has led to a shortage of good-paying jobs, according to Hugo Eyzaguirre of Northern Michigan University, so young people look elsewhere. Mike Allgrunn of the University of South Dakota observed that his state leads the nation in the number of people with more than one job—partly because no one else is available. Minnesota state economist Laura Kalambokidis pointed out that the state's population growth in recent years had come from immigrants, adding, "National policies that put that at risk are a risk for our labor market."
Concerns about agriculture also surfaced from several participants, given continued low commodity prices and severe drought in the western part of the district. In Montana, a "devastating wildfire season" has compounded the problem by destroying vast amounts of grassland, according to Barbara Wagner, the state's chief economist. North Dakota's economy is still commodity-driven, said David Flynn of the University of North Dakota. As a result, the combination of low prices for oil and farm crops has weighed on the state's economy and, ultimately, its tax revenues.
In the conference keynote address, Sen. Heitkamp covered a wide variety of policy issues, including health care and tax reform. The first female senator elected from her state, Sen. Heitkamp was candid about her frustration with the current gridlock in Washington, D.C. A former state tax commissioner, she told the luncheon audience that she had learned that the single most important thing government officials can provide to constituents is predictability and, right now, "everything is up in the air." She said there is some common ground on some issues, such as lowering the corporate tax rate, but questions remain on how to pay for it. She is optimistic that Congress will enact regulatory reform to reduce the costs of compliance for small and regional banks, saying, "If we can get that done, I think it signals that we can get a whole lot more done."
In a question-and-answer session with Minneapolis Fed President Neel Kashkari, Sen. Heitkamp returned to the issue of economic development and the labor force, providing some historical perspective. In the 1980s and '90s, rural areas were losing population and "the belief was, all we needed to do was provide a job" to solve the rural out-migration problem. Now, with jobs more plentiful almost everywhere, the challenge is different. Recently, she was in northeastern North Dakota, where there were 80 good-paying jobs "and no one to fill them." Now, she said, communities need to focus on being a place where people want to live. That means a greater focus on rural infrastructure, broadly defined, including broadband access. "Can you stream Netflix in your community? Is there a grocery store? Is there health care?" Sen. Heitkamp asked. "We have to create an environment that people want to live in."
More on the Minneapolis Fed's Regional Economy work.
Video: Morning Sessions


Video: Lunch Keynote

Agenda
| | |
| --- | --- |
| 8:30 a.m. | Registration and Continental Breakfast |
| 9:00 a.m. | Welcome by Neel Kashkari, President, Federal Reserve Bank of Minneapolis |
| 9:15 a.m. | State Economy Presentations: Minnesota [pdf], Michigan's Upper Peninsula [pdf], Wisconsin [pdf] |
| 10:00 a.m. | Moderated Q & A with Minnesota, Upper Peninsula and Wisconsin presenters |
| 10:30 a.m. | Break |
| 10:45 a.m. | State Economy Presentations: Montana [pdf], North Dakota [pdf], South Dakota [pdf] |
| 11:30 a.m. | Moderated Q & A with Montana, North Dakota and South Dakota presenters |
| 12:00 p.m. | Lunch (2nd floor Reserve Dining Room) |
| 12:30 p.m. | Keynote Speech by U.S. Senator Heidi Heitkamp (in Reserve Dining Room) |
| 1:15 p.m. | Conference end |