Spring 2019 Institute Conference: Distributional Consequences of the Business Cycle and Monetary Policy
Fed Listens: Distributional Consequences of the Cycle and Monetary Policy
In November 2018, the Federal Reserve System announced an effort to review how it formulates, conducts, and communicates monetary policy. As part of this review, the Opportunity & Inclusive Growth Institute—a System initiative housed at the Federal Reserve Bank of Minneapolis—hosted a conference to explore and discuss the distributional consequences of the business cycle and monetary policy.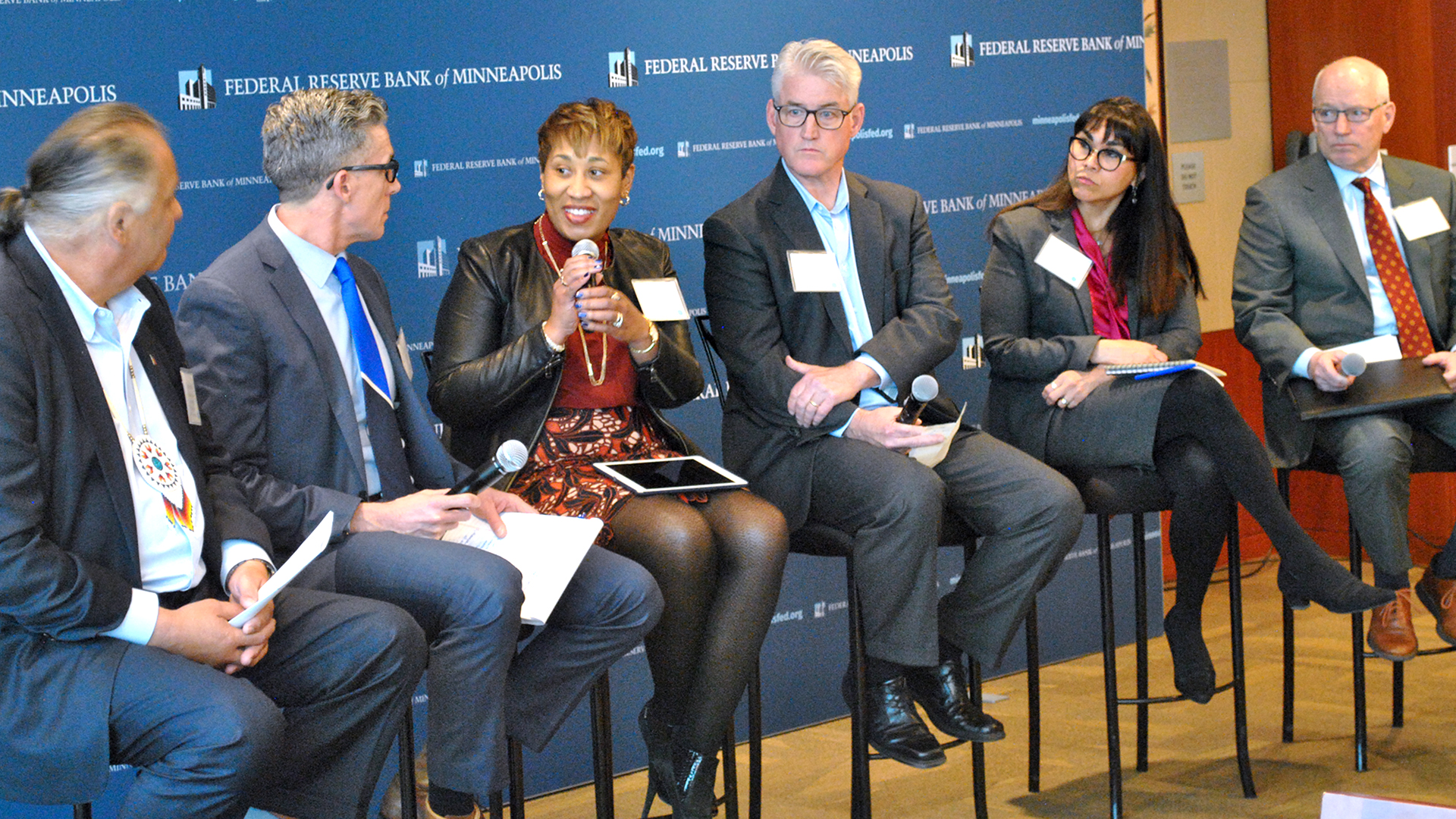 A panel of Minnesota community leaders wrapped up the Spring Institute Conference expressing hope that the Federal Reserve's research can positively affect the constituents of their struggling communities.Stan Waldhauser for Minneapolis Fed
The goal? To gain a better understanding of the trade-offs associated with alternative approaches to monetary policy and how these approaches impact different populations. Additionally, we sought to understand distributional considerations that should inform the System's view of the economy in monetary policymaking.
This two-day conference was one of a "Fed Listens" series of events that regional Reserve Banks conducted as part of the overall Federal Reserve System monetary policy framework review. These events were designed to bring diverse perspectives and voices to the policy review, with proceedings shared publicly. These discussions were designed to underscore the System's accountability to the public for achieving its dual mandate assigned by Congress to pursue maximum employment and price stability.
The Minneapolis Fed conference featured a keynote by Richard Clarida, Vice Chairman of the Board of Governors of the Federal Reserve System and a leader of this review effort. We learned much from a variety of diverse voices, from academic researchers, policy experts, and local leaders.
A Report to the Federal Reserve Bank's Board of Governors
FedListens: Board of Governors Summary
Agenda
Tuesday, April 9

1:00 p.m. - 1:15 p.m.

Introduction and Welcome [Video]

Abigail Wozniak, Federal Reserve Bank of Minneapolis

1:15 p.m. - 3:45 p.m.

Research Panel 1 [Video]

Context: Trends and Driving Forces in U.S. Inequality
Moderator: Abigail Wozniak, Federal Reserve Bank of Minneapolis

Fatih Guvenen, University of Minnesota
The Great Micro Moderation
Prepared presentation [pdf]
Greg Kaplan, University of Chicago*
Monetary Policy, Markups and Labor Market Inequality
Prepared presentation [pdf]
Moritz Kuhn, University of Bonn
Wealth and Income Inequality in America, 1949-2016
Prepared presentation [pdf]
Isabel Cairo, Board of Governors of the Federal Reserve System
Market Power, Income Inequality, and Financial Instability

3:45 p.m. - 4:00 p.m.

Break

4:00 p.m. - 5:30 p.m.

Policy Panel 1 [Video]

Moderator: Mark Wright, Federal Reserve Bank of Minneapolis

Aparna Mathur, American Enterprise Institute
Addressing Old and New Challenges in the Labor Market
Prepared presentation [pdf]
Josh Bivens, Economic Policy Institute
The Progressive Benefits and the Retreating Risks of High-Pressure Labor Markets
Prepared presentation [pdf]

5:45 p.m.

Dinner Keynote [Video]

Introduction: Neel Kashkari, Federal Reserve Bank of Minneapolis
Richard Clarida, Vice Chairman of the Board of Governors of the Federal Reserve System
Wednesday, April 10

7:45 a.m.

Continental Breakfast

8:15 a.m. - 10:45 a.m.

Research Panel 2 [Video]

Household Heterogeneity: How Different Households Fare over the Business Cycle
Moderator: Jonathan Heathcote, Federal Reserve Bank of Minneapolis

10:45 a.m. - 11:00 a.m.

Break

11:00 a.m. - 12:30 p.m.

Policy Panel 2 [Video]

Moderator: Alessandra Fogli, Federal Reserve Bank of Minneapolis

12:30 p.m. - 12:45 p.m.

Break

12:45 p.m. - 2:00 p.m.

Lunch Panel [Video]

Fed Listens: Perspectives from the Community
Moderator: Lee Schafer, StarTribune

Tawanna Black, Center for Economic Inclusion*
Myron Frans, Minnesota Management and Budget
Michael Goze, American Indian Community Development Corporation*
Sean Kershaw, Wilder Foundation
Gloria Perez, Jeremiah Program*

2:00 p.m.

Adjourn Conference
* Panelists who also serve on the Community Advisory Board or Institute Community Advisory Board
For questions, please contact mplsinstitute@mpls.frb.org