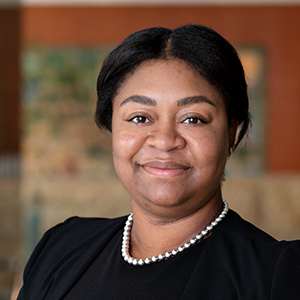 Cher Ross Vice President, Treasury Services
Cher is responsible for all three Treasury Services operations: the contact center, savings bond services, and the fulfillment center. Treasury Services at the Minneapolis Fed is unique within the Federal Reserve System and operates as the fiscal agent of the U.S. Treasury Department. It provides support for customers who purchase and redeem U.S. Treasury securities and savings bonds in paper and electronic form.
Ross was most recently director of the administrative strategy and management enterprise portfolio office at Allianz. As a part of leading the enterprise portfolio office, Cher and her team worked with senior leaders and project owners across the organization in setting the annual IT project portfolio. She was also accountable for overseeing governance committees and supported leaders to achieve expected business value and outcomes of projects.
Cher also held leadership positions within Operations and Marketing at Allianz. She had significant experience leading projects, managing budgets, and developing relationships across the organization.
She holds an MBA from Cardinal Stritch University and a B.A. in organizational leadership from Bethel University.
October 2020