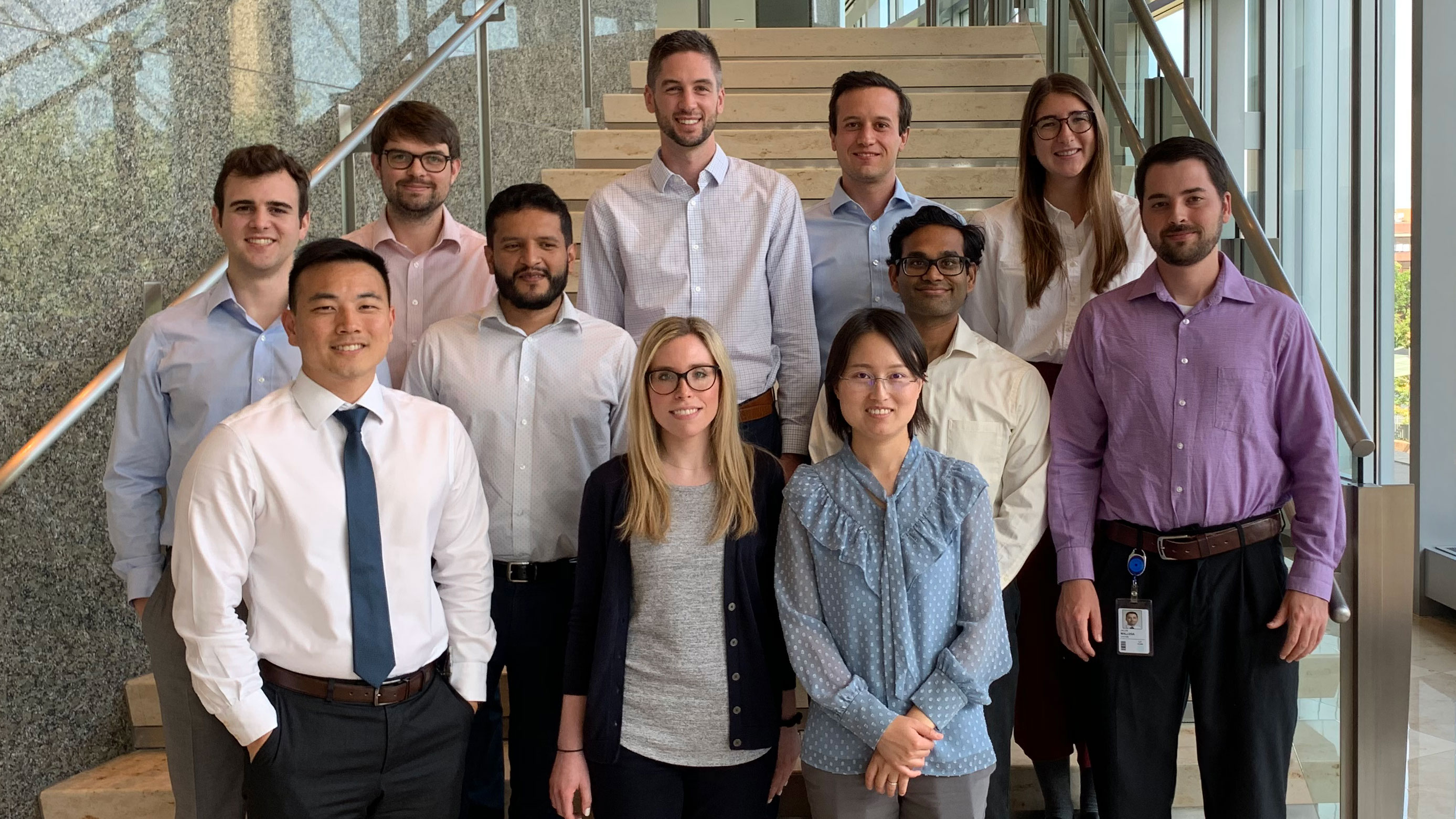 2019 QFP Participants
Join the Federal Reserve System's Quantitative Fellowship Program
We're eager to work with individuals who would like to join the Federal Reserve System's Quantitative Fellowship Program (QFP) to perform in-depth and rigorous assessments of the major risks that banks and other financial institutions face.
The QFP is a program of the Federal Reserve System and its Supervision and Regulation function. We're leaders in overseeing the nation's largest and most complex financial institutions. The QFP is a unique opportunity to promote a safe, sound, and efficient banking and financial system that supports the growth and stability of the U.S. economy.
For the QFP, we're seeking highly analytical and quantitative individuals who seek to work in an intellectually stimulating and collaborative environment, who want to engage in meaningful public service, and to interact with senior experts in the Federal Reserve System and the firms we oversee.
Key dates
Application deadline:
Dec. 20, 2019
Offers extended by:
March 13, 2020
Program starts:
July 13, 2020
You'll spend at least 50 percent of your time at your home-base location and the rest of the time working on-site at other Federal Reserve locations.
In the QFP, we'll provide the kinds of development opportunities to prepare you for a career in the Federal Reserve System.
About us
The QFP is a two-year program designed to develop candidates to become full-time quantitative analysts for the Federal Reserve System. As a fellow, you'll work on-site at multiple Reserve banks and at the Board of Governors in Washington, D.C.
The goal of the program is to take people with advanced degrees (analytical skills) but lacking experience and provide them the experience. You'll gain cross-firm perspective on modeling challenges and help senior Federal Reserve leaders make informed decisions. And you'll gain experience in areas such as stress test modeling, analyzing financial institution portfolios, and model risk management and validation, among other quantitative topics.
Once you've successfully completed the program, you'll be placed in a full-time quantitative role within the Federal Reserve System.
A typical QFP
Our QFPs run the gamut, from economists to engineers, from international affairs experts to statisticians. They've attended the nation's and world's best universities and, before they joined us, they were graduate assistants or actuarial risk managers or financial stability analysts, and just about everything else in between.
About you and what we're looking for
Successful candidates will have proven skills in:
Communication
Teamwork
Quantitative analysis
Strategic and critical thinking
And are required to have:
A graduate degree in a quantitative discipline such as business administration (with quantitative emphasis), economics, engineering, mathematics, quantitative finance, statistics, or data science
Excellent academic record
Experience programming in languages such as Matlab, Python, R, SAS, or Stata
Ability to manage and analyze large data sets
Experience in developing or validating mathematical models
Ability to present technical issues to nontechnical audiences and to clearly articulate findings in verbal and written form
Willingness to travel up to 50 percent throughout the duration of the program
Meet Protected Individual Requirement. See Note 1.
Applying
The application period has ended for the 2020 program.
When applying, select your preferred top three home-base locations from among the Federal Reserve Banks. Each of the Banks offers its Quantitative Fellows different and unique opportunities.
For example, here's the type of work previous fellows have done:
Atlanta:
Conducted transaction testing models during the examinations of model risk management and business line reviews
Developed bank-reporting tools related to risk identification and monitoring
Used natural language processing to enhance efficiencies in examinations
Boston:
Provided briefings to senior bank management on credit market conditions, trends in banking, and asset markets and how these may impact financial stability
Conducted research to inform policy related to financial stability
Worked on the management, measurement and understanding of risk associated with supervisory stress test models
Chicago:
Worked on a variety of quantitative related topics within the Wholesale Credit Risk Center
Supported the development and maintenance of wholesale credit supervisory stress test models, both in terms of risk identification and measurement
Contributed to horizontal examinations and surveillance work for wholesale credit portfolios
Cleveland:
Reviewed models and technical aspects of supervisory work, such as model risk management, wholesale and credit models, and market risk
Conducted the System's main horizontal reviews
Engaged with select research work, including an artificial intelligence initiative and machine learning projects
Dallas:
Developed, maintained and reviewed supervisory early warning models for bank risk
Worked on System-wide stress testing models, monitor banking conditions in the district and participate in preparing materials for the briefings of the Dallas Fed's president
Developed a variety of additional tools using machine learning and natural language processing
Minneapolis:
Assisted on examinations focused on components of pre-provision net revenue
Assisted the System Model Validation group by validating supervisory stress test models
Worked with the Centralized Production Unit on the implementation and production of supervisory stress test models.
New York:
Worked on projects that span from data visualization to model development efforts, including projects related to the Global Market Shock to support stress testing and scenario design mandates
Developed a front-end tool that helps achieve operational efficiencies
Engaged in the explorations of machine learning and natural language processing applications to supervisory work
Philadelphia:
Focused on retail portfolios, including the RADAR group that manages the System's largest retail data repository
Developed the retail supervisory model for DFAST
Provided front office and back office support for supervisory activities and for bank examinations in the district and conducted supervisory research
Richmond:
Contributed to supervisory model development in various risk areas, including operational risk and wholesale credit risk, as well as modeling the effect of the global market shock
Supported the LISCC program in multiple risk areas, including operational risk, wholesale credit risk, counterparty credit risk and market risk
Assisted on bank examinations, focusing on model development and model risk management
San Francisco:
Participated in the development and production of supervisory stress testing models
Worked on data management and analytics, model development and coding, code review and ongoing model monitoring
Developed an expertise in market risk modeling, such as counterparty credit risk, for business-as-usual and stress testing applications
Focused on developing supervisory tools and leverage data science techniques to enhance efficiencies in examinations and develop techniques to quantify non-financial risk
St. Louis:
Applied emerging technologies, including machine learning and robotic process automation, to improve operational efficiency
Conducted research into the future of the community banking business model
Explored issues related to household balance sheets and consumer affairs examination data
Notes
The Board of Governors of the Federal Reserve System mandates individuals authorized to access banking supervision and regulation Confidential Supervisory Information (CSI) must be "Protected Individuals", which covers two categories of persons: U.S. citizens or lawful permanent residents and other non-citizens who apply for citizenship within six months of becoming eligible and, if offered a position, will sign a Declaration of Intent to become a United States Citizen. (Students on work visas generally would not meet this requirement.)
Compensation and benefits may vary by home-base location. While we try to accommodate requests, preferred home-base location is not guaranteed.