Coming to a national forest near you
If there is anything convenient about many environmental controversies, at least the opposing parties are typically well defined, and the rhetoric predictable.
But that's where the clarity ends regarding a proposal set in motion by President Clinton to place permanent development restrictions on upwards of 50 million acres in national forests in 44 states and Puerto Rico that currently that have no roads—so-called "roadless areas."
There are 191 million acres of land in the U.S. national forests. Of that total, 35 million acres are wilderness, and about 117 million acres are general forest and grasslands which have an extensive network of roads—typically a rough, dirt road—averaging about one mile of road for every 300 acres. The remaining 40 million or so acres are roadless areas-identified in 5,000-acre tracts from an inventory conducted in the 1970s.
The roadless initiative, however, is proposing to also include 1,000-acre roadless tracts that exist in the general forest and grassland areas. Although these areas have not yet been mapped or even inventoried as of March, such a move is expected to push the total acreage of roadless areas to roughly 50 million acres, according to the U.S. Forest Service (Forest Service).
Roadless areas are quasi-protected to the extent that without roads, little human activity typically takes place in these areas. However, unlike designated wilderness areas—where development is forbidden by law—roadless areas generally are not off-limits to road building and the logging and recreational uses that eventually follow.
Clinton's roadless initiative would essentially prevent future road building in existing roadless areas, making it de facto wilderness. The proposal includes a little less than 6 million acres in 19 national forests in the Ninth Federal Reserve District, and better than 90 percent of that acreage lies in Montana's 12 national forests.
Road building in national forests reached its heyday in the 1980s, cutting paths into largely undisturbed areas and dropping the amount of large-tract roadless areas from about 60 million acres to its current 40 million.
Road building, however, has come to a screeching halt. The result largely of public opposition and a huge maintenance backlog on existing roads, the NFS decommissioned close to 10 times more road than it built in 1998. Forest Service officials have also pushed for more stringent analysis of new road projects.
The underbellies of dueling sound bites
Like others before it, the roadless initiative has been boiled down to an "us-against-them" arm wrestle between environmentalists, who want roadless areas wholly preserved, and timber and off-road enthusiasts, who believe continued access to national forests is paramount.
While maintaining a fairly low profile in the national media, the issue is a hot one in those areas near national forests.
"We're not happy with [the proposal]," said Keith Johnson, city manager of Ironwood, a city of 6,600 in Michigan's Upper Peninsula which lies on the border of Ottawa National Forest and is 30 miles from the Chequamegon-Nicolet National Forest in northern Wisconsin. "I think it's going to be devastating for our community."
Idaho and Montana governors—whose states are bearing the brunt of the proposal, along with West Coast states and Alaska—filed suit to stop the proposal from moving forward (since dismissed). A coalition of Republican congressional members also accused the Clinton administration of giving environmental groups preferred access and an inside track in organizing public comment on the proposal.
Environmentalists are saying the roadless initiative is one of the most significant federal moves since the creation of the national forests themselves more 100 years ago. They also have been critical of the rhetoric getting passed off as information as camps jockey for position.
"Is there misinformation? Acres and acres of it," said Bob Decker, executive director of the Montana Wilderness Association (MWA) in Helena. For example, opponents are wrongly publicizing that the initiative would halt all public access in national forests. "There is no threat to access," Decker said. "It protects the status quo."
The roadless initiative also has broad public support. Opinion polls—including one commissioned by an environmental group but conducted by a leading GOP polling organization—have consistently found widespread support for increased protection of roadless areas. But such results shouldn't be surprising, according to Nadine Bailey, president of the Timber Products Association of Michigan and Wisconsin.
"It's not a 'fuzzy' issue. You pick a knuckle-dragging logger or a spotted owl—who gets the sound bite?" Bailey said. "It's (all about) land access and that's why we're so vehemently opposed. It's a little bit here and a little bit there."
Beneath the rhetoric, however, are a number of issues that have been left relatively unexamined by the mainstream media. While both off-road enthusiasts and the timber industry are battling for future access, the battle is largely defined by the decades-old debate over logging rights and practices in the national forests, and their economic and ecological impact.
In some respects, the argument might seem like much ado about nothing: The impact of roadless areas on timber "is very little in the first place," Decker said—a fact the timber industry cannot refute. Proposal advocates say protection of roadless areas would have little immediate impact on the timber industry. The little impact that would occur would be very locally absorbed.
However, the logging that currently takes place in roaded areas of national forests is actually set in law as part of the NFS's mission. In lockstep with public sentiment, the agency's focus has gradually shifted away from resource harvesting to environmental protection and enhancement.
This shift has brought environmental regulations that have significantly scaled back logging in roaded areas where the vast majority of timber is cut, and thus placing a premium on roadless areas as the timber industry looks for new forests to back-fill those lost to various restrictions. The NFS's shift toward environmental stewardship has also led to higher average costs for existing timber programs and a public perception that the timber industry is being subsidized to log national forests.
If a tree falls in the forest ... was it cut by a logger?
While much of the public condemns logging in national forests—and wonders why it continues—largely overlooked is the fact that the Organic Administration Act of 1897 mandated the Forest Service to "furnish a continuous supply of timber for the use and necessities of the citizens of the United States." Congress is also involved in setting harvest goals in each forest.
Today about 45 million acres of national forest are deemed suitable for timber harvests, with only about 1 percent actually harvested in any one year. Roadless areas potentially offer another 8 million acres for timber harvests, according to the NFS.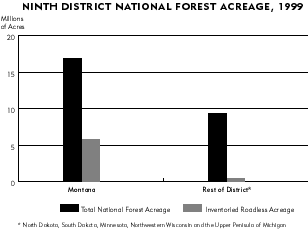 Although some logging does currently take place in roadless areas, it is a miniscule portion—likely somewhere between zero and 1 percent—of the total timber harvest. "We know it's relatively small ... but no one has good numbers," said Chuck Keegan, associate director with the Bureau of Business and Economic Research at the University of Montana.
Kootenai National Forest is the biggest timber producer among national forests in the Ninth District, harvesting about 60 million board feet (mbf) annually, according to Bob Castaneda, Kootenai forest supervisor. "Roadless areas are not a big factor in maintaining the program we have now," he said. "We've got enough (timber in roaded areas) to sustain 60 to 70 mbf."
But generally speaking, logging in national forests has hit the skids. Adjusting for a few spikes and valleys, timber production from national forests hovered around 11 billion to 12 billion board feet (bbf) from the mid-1950s until the late 1980s. That level has since crashed to 3 bbf in fiscal year 1999—a drop of about 75 percent and similar to pre-1950 levels.
Given this decline, timber from national forests today makes up a small portion of the total timber market. Today, Montana's national forests supply roughly 15 percent to 20 percent of all timber cut in that state, down from about 40 percent to 50 percent in the 1980s, Keegan said.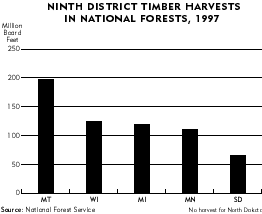 "It's not because we're running out of trees," Keegan said. "There's a substantial amount of timber out there" in existing roaded areas. A number of sources pointed out that national forests are experiencing significant net tree growth in its forests, and depending on whom you talk to, could sustain higher cutting levels.
Instead, the drop in timber production in national forests is due mostly to new environmental regulations for water, animal and plant protection, which has put millions of forested acres in roaded areas off-limits to timber harvests.
Castaneda said that forest officials have to manage for the bald eagle, grizzly bear, bull trout and other animals in Kootenai. Grizzly habitat alone covers close to half of Kootenai, Castaneda said, bringing with it varying use restrictions.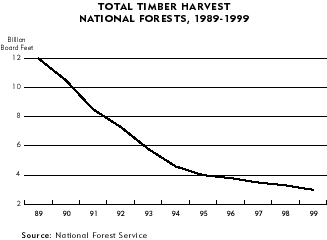 Since the passage of the Endangered Species Act in 1973, the number of protected species with habitat on national forests and grasslands has risen more than sevenfold. Bailey estimated that this act alone was responsible for dropping timber harvests by as much as 5 bbf in national forests.
"This industry is being squeezed so hard by so many things. This (roadless initiative) might be what throws them over the edge," Bailey said.
Logging restrictions don't affect everyone in the timber industry. Many timber and wood-product companies own or manage some forest for their own private cutting. But smaller operations typically have smaller holdings and often have to fall back on national forests to meet their demand, according to Ronald Buentemeier, logging and lands manager for F.H. Stoltze, a family-owned lumber company that employs 185 in sawmill and logging operations in Columbia Falls, Mont. (pop. 4,200).
F.H. Stoltze manages about 35,000 private acres, which has been largely exhausted over the last decade as harvest areas and related public timber offerings declined, Buentemeier said. If logging in national forests continues to be scaled back, he said his company could be forced out of business in two to three years.
Decker said blame for timber woes falls squarely on the backs of the timber industry. He pointed out that timber companies, with an assist from government, were on a "liquidation pace" in harvesting trees from national forests in the 1970s and '80s, "and it caught up with them."
Decker acknowledged that forest management on both private and public lands is better than it once was. "There's no wholesale clearing of hillsides," he said. "But it's hard to do as badly as they used to."
And by many measures, national forests appear to be on the road to recovery. The total number of acres impacted by timber harvests has been cut by 55 percent to less than 460,000 acres from 1989 to 1997. About 88,000 acres are harvested in national forests in the Ninth District.
According to a report by the Forest Service's North Central Region (which includes Wisconsin, the U.P., Minnesota and the Dakotas), the number of trees at least 10 feet tall has increased by 55 percent since 1980, and now number more than 50 billion. Within a representative sample of 400 of these trees, only one out of 400 is harvested in a given year, while 26 die by natural causes.
The subsidy question
Part of the push for greater forest protection from logging stems from the publicly accepted belief that logging companies are subsidized to do what they do in our national forests.
As it relates to the roadless initiative, for example, charges are regularly made that the Forest Service is paying for new logging roads. In fact, once all of the accounting is done, that's not really the case.
According to several Forest Service officials, when a stand of timber is put out for private bid, the agency calculates a fair market floor price for the timber as if the road was already in place. This tactic pushes up a timber offering's market value, and by relation, the bids from logging companies for that timber.
The end result is that the Forest Service earns more revenue on a typical timber offering than it would have otherwise without the higher—and somewhat artificial—market value estimation. In return, road construction costs are built into contracts with logging companies, and "paid" for by the additional revenue generated by the higher timber valuation.
Forest Service officials did acknowledge that timber from national forests is undersold by 5 percent to 10 percent compared with an identical private stand. When estimating the timber's value, the agency reduces the asking price to account for additional costs—like environmental protection costs for slash disposal or water bar construction—that a purchaser incurs on a national forest stand that it would not likely see on a private stand.
Even here, however, the private logger is not subsidized. Out-of-pocket costs are similar on both stands; expenses on the private stand pay for timber only, while expenses on the national forest stand pay for timber plus the cost of the environmental remediation (which generally equals the timber discount given in the first place).
Timber critics also point to an $88 million shortfall in Forest Service timber sales in 1997 as evidence of subsidy. Timber programs in Ninth District national forests fared better than their counterparts elsewhere, although three of four NFS timber programs in the Ninth District lost money, including all 10 in Montana.
But unraveling the cost structure of timber programs again reveals little or no subsidy for loggers. One reason for the deficit stems from the fact that the Forest Service is a high-cost producer compared with private as well as county- and state-based timber programs, according to numerous studies.
Over the last two decades, the Forest Service has undergone a well-documented shift away from resource production toward resource protection and enhancement. In doing so, it has instituted more environmentally sensitive cutting methods (including a dramatic decline in clear cutting) and has increased the use of timber harvests for "forest stewardship" objectives (such as forest thinning to dampen wildfire risks), both of which typically create higher costs per unit.
The Forest Service now assigns timber-related costs to three different objectives—commodity timber (commercial), forest stewardship (environmental) and personal use (which includes such things as Christmas tree and firewood cuts). Commodity timber sales were in the black in 1997, while sales for forest stewardship and personal use timber programs were in the red by $57 million and $38 million, respectively.
Connecting the trees to wood consumption
Ultimately, the roadless initiative will be a referendum of sorts on what the public wants from its national forests. Many people agree in concept about protection but have very different opinions about what that means, according to Paul Strong of the Chequamegon-Nicolet forest.
"The devil is in the details—protected from what?" Strong said. "People get lost in the rhetoric."
According to Buentemeier, the demands of John Q. Public are simple: "Look green and look clean," he said. The challenge for forestry professionals is to better manage the visual impact of timber harvests.
"They don't know if we cut a tree if they don't see it," Buentemeier said. "We have to figure out how to manage land and leave that (green and clean) kind of impression with the general public."
Some environmental groups, like the Montana Wilderness Association, are even lending a hand. Decker said MWA has been involved with small wood products and logging companies to devise alternative cutting methods in roaded areas. "We think there's a place for timber production on public lands," Decker said.
A larger issue—one unlikely to be resolved regardless of the roadless initiative's outcome—is the disconnect between timber harvests and wood consumption. "Hand-in-glove in protecting roadless areas is consumption," said Decker, pointing out that some roadless advocates are the same people who live in 5,000 square foot, stick-built houses.
"The value of roadless lands is only going to grow as we lose wilderness," Decker said, but added that "consumption numbers don't jive with the public support for protecting roadless areas."
That, it seems, is one thing all parties involved in the roadless debate can agree on.
"Everybody seems to think they can have everything they want without producing the product," Bailey said. "Pigs don't lay bacon, and you don't pick pulp from a tree. No one connects natural resources with anything.
Roadless Initiatives Resources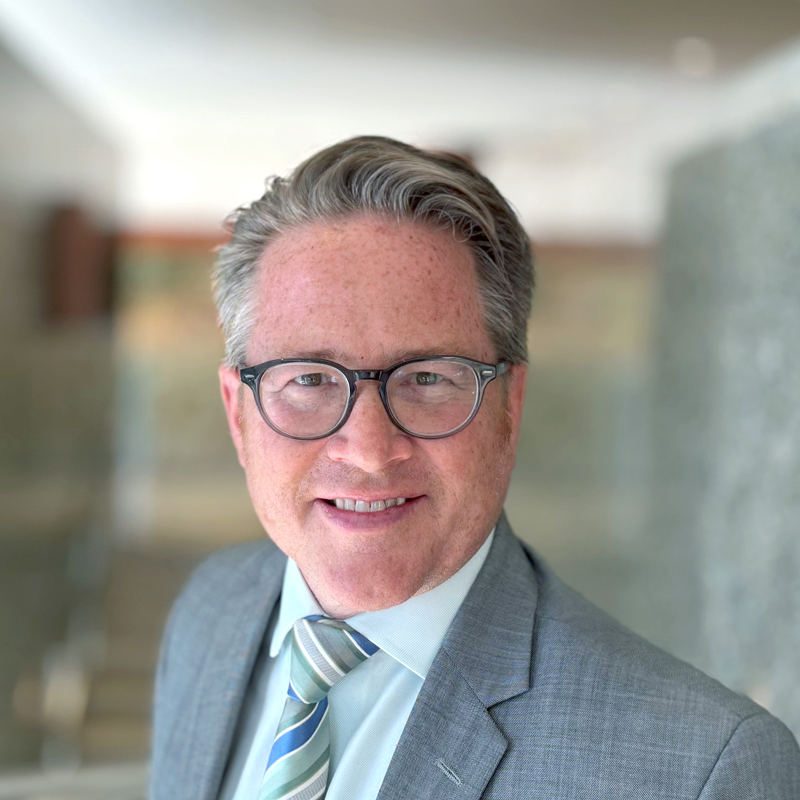 Request as a speaker
Ron Wirtz
Editor, fedgazette
Ron Wirtz is a Minneapolis Fed regional outreach director. Ron tracks current business conditions, with a focus on employment and wages, construction, real estate, consumer spending, and tourism. In this role, he networks with businesses in the Bank's six-state region and gives frequent speeches on economic conditions. Follow him on Twitter @RonWirtz.