Ninth District economy enters the new year in good shape
Business leaders expect continued strength as the district economy enters the new year. Eighty-five percent of 203 district business leaders who responded to a poll in late 1999 are optimistic about their community's prospects in 2000 and expect increases in consumer spending, employment and investment (see poll). The Minneapolis Fed's regional forecasting models (see charts) indicate that the pace of nonfarm employment growth will increase modestly as rock bottom unemployment rates continue to restrain hiring.
Employment growth slowed throughout the district as the labor pool continues to shrink. The district unemployment rate for fourth quarter 1999 is expected to finish at 3 percent, down from 3.2 percent for fourth quarter 1998. The smaller labor pool has contributed to sluggish employment growth, which slowed to 1.2 percent in the fourth quarter of 1999, below 1.9 percent in the fourth quarter of 1998. Looking at estimates of employment growth by industry, construction, services and trade finished above the district average for fourth quarter 1999, while manufacturing and government finished below.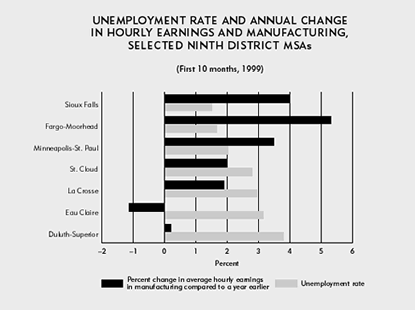 As businesses scramble to find workers, some signs of wage increases are emerging. Average hourly earnings in manufacturing grew 3.1 percent in the three-month period ending in November compared to a year earlier, and higher than last year's 2.7 percent increase. Wages have remained above 3 percent for the past eight months, outstripping the pace of inflation. Construction wages in Minnesota have recently climbed above 7 percent compared to last year, outpacing the nation by about 3 percent. District cities with the lowest unemployment rates show the largest increases in hourly earnings in manufacturing.
The business outlook poll indicates that 42 percent of respondents plan to increase wages next year at least 4 percent or more, and one-third will raise prices on their products and services in 2000.
The pace of home building and sales is showing signs of slowing. Growth in district housing units authorized is expected to slow to 2.8 percent for fourth quarter 1999 compared to a year earlier. Total existing home sales dropped almost 1 percent in third quarter 1999 compared to a year earlier. The regional forecast expects housing to increase moderately in 2000; however, business outlook poll respondents indicate they expect housing starts to finish 2000 slightly below 1999. With the forecast and poll pointing toward a slight change in opposite directions, little change is foreseen in housing for the upcoming year.
Grains are pained while meat is upbeat
Last year was difficult for most district agricultural producers. Low crop prices forced many farmers to cut capital spending and rely on government assistance to survive. At the end of last year, district crop prices descended near their historic lows while cattle and hog prices rebounded. Crop farmers are in distress, but due to the record government payments in 1999, most crop producers will plant again this spring.
Looking forward, the U.S. Department of Agriculture forecasts that 2000 net farm income for U.S. farmers will be 15 percent below 1999 levels. Placing the 2000 income forecast into a longer-term perspective, net farm income is predicted to be 88 percent of its 1990-99 average. For 2000, government payments are forecast to drop to $17.2 billion from the record $22.7 billion in 1999.
On the bright side, the strong economy has increased the demand for meat. The low feed costs and relatively high sales prices should fatten the margins of beef, pork and poultry producers.
However, producers specializing in wheat, corn and soybeans will likely experience additional financial stress in 2000. Many family farms will survive on income derived from work off the farm: More than 88 percent of household income of owner-operated (family) farms is expected to come from off-farm sources.
Of particular concern for district farmers and ranchers are the current dry conditions. Winter wheat producers are worried about the lack of snow cover to protect the crop this winter. Ranchers are worried as runoff water and water holes have gone dry in many places. In addition, the dry soil conditions have farmers and ranchers worried about a possible drought next summer.
Bank earnings stable
Community banks in the Ninth District (those with assets less than $100 million) saw their earnings stabilize during the latter portion of 1999 as pretax return on average assets (ROAA) rose slightly to 1.72 percent. The third quarter increase was the first time in almost two years that small banks posted consecutive quarterly increases in pretax ROAA. Earnings at the district's large banks held steady at 2.12 percent.
Profits at community banks have been under pressure recently because of a persistent weakening in banks' net interest margins, the spread between the interest rates at which banks borrow and lend, due to the intense competition for loans in the Ninth District. Margins have been declining for most of the past two years and fell sharply during the first quarter by 25 basis points. Since then community banks have experienced a 10 basis point gain in their margins while large banks have been relatively stagnant.
The asset quality of the district's loan portfolio remained in strong condition during the third quarter. Loan losses at community banks increased marginally during the third quarter and have held roughly at the same level for the last three years. Losses in the two primary areas of lending for the district, agriculture and real estate, remain near their lowest levels in the past 16 years.
Agriculture banks—those commercial banks with agricultural loans equal to or greater than 25 percent of their loan portfolios—saw their pretax ROAA rise to 1.78 percent during the third quarter, the second consecutive quarterly increase. Earnings at nonagriculture banks were flat for the second straight quarter at 1.82 percent. The asset quality of these institutions was also generally consistent with nonagriculture banks.
Compiled by Rob Grunewald, associate editor-statistics; Tobias Madden, regional economist; Jason Schmidt, financial analyst