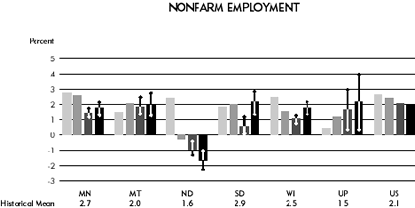 Nonfarm employment is forecast to increase at a faster rate in 2000 than in 1999, but at rates below historical averages in most states. Exceptions include the Upper Peninsula of Michigan, which is predicted to finish higher than historical average, and North Dakota, where unemployment is expected to decrease. Employment growth decelerated from 1998 to 1999 and remained below historical averages in all states except the Upper Peninsula of Michigan.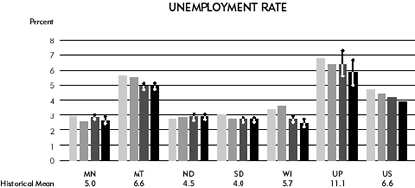 Unemployment rates are predicted to fall slowly. Unemployment rates in Minnesota, Wisconsin and the Upper Peninsula of Michigan will decrease in 2000 to about 50 percent below their historical rates. In Montana and the Dakotas, unemployment will not change, but will still finish about 30 percent below their historical rates. From 1998 to 1999 unemployment increased slightly in Minnesota and the Dakotas, remained unchanged in the Upper Peninsula of Michigan and decreased in the rest of the region.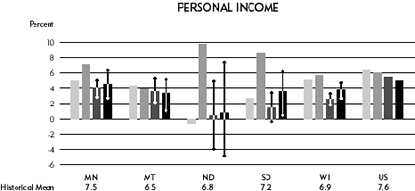 Personal income growth will continue to advance moderately. In 2000 personal income is predicted to increase at a faster rate than 1999 for all states except Montana, but will remain below historical growth rates throughout the district. The below average growth rates primarily stem from a slowing in price increases rather than a slowing in the growth of output. Personal income growth accelerated slower from 1998 to 1999 in some areas. Changes in agricultural prices account for volatility in personal income for North Dakota and South Dakota.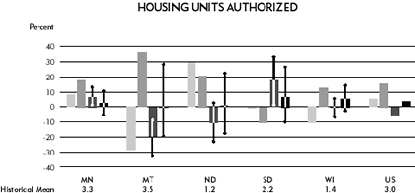 Home building will rebound moderately. In all states, housing units authorized in 2000 will surpass 1999 levels, except Minnesota and South Dakota. Most states will remain below historical rates in 2000 except South Dakota and Wisconsin. From 1998 to 1999, housing units authorized increased in Minnesota and South Dakota and decreased in Montana, North Dakota and Wisconsin.
Notes
These forecasts come from national and regional models developed at the Minneapolis Fed, using a statistical procedure known as the Bayesian vector autoregression.
For Ninth District forecasts, a range surrounds the point forecasts for 1998 and 1999 in which the actual value of the projected variable has a 70 percent chance of falling. No ranges are provided for U.S. forecasts, because they are the point forecasts on which the regional models are based.
The unemployment rate is unemployment as a percent of the labor force, seasonally adjusted, in the fourth quarter, and its historical average is computed over the period 4th quarter 1977 through 4th quarter 1997. All other series are the 4th quarter percent change from the previous year, and their historical averages are computed from the 4th quarter year-to-year percent change between 1977 and 1997.
The percent changes in personal income are computed from data in current dollars.
Return to: Ninth District economy enters the new year in good shape