Fairy tales and venture capital
Call it a Goldilocks dilemma: When it comes to venture capital, how much is too much, too little or just right?
That depends on whom you ask. Last year, for instance, Minnesota saw a record amount of venture capital—$877 million—go to young entrepreneurial companies. Some might think that's a lot of porridge, but many—even in the Twin Cities, where most of Minnesota's venture capital lands—believe the state's helping of venture capital is downright meager.
In some ways, they're right. Despite solid growth in venture capital financing in the last half-decade, the state is not keeping pace with the rest of the country. The situation is even more dire in the rest of the district, where entrepreneurs have to look long and hard for venture capital. This worries policymakers and business leaders alike, who see venture capital as an important nutrient for fast-growing, entrepreneurial companies that could turn into the next Microsoft or 3M. The absence and apparent shortage of venture capital, by extension, is seen as a predictor of economic doom, or at least stagnation.
But it's not clear whether such cause-effect exists. Part of the problem lies in the fact that there is virtually no quantifiable measure of either supply or demand when it comes to venture capital. On the surface, venture capital supply can be easily defined, even by the various seed-to-expansion stages of investment that a young company goes through. Capital is difficult to box in from a geographical sense, however, and the narrow focus on institutional venture capital overlooks substantial investment capital in the hands of private individuals and corporations. The demand side is even trickier because it involves an entrepreneur's subjective "need" for someone else's money.
Without a clear measure of capital supply and demand, the discussion often falls to anecdotes of cash-strapped entrepreneurs. But financial difficulty itself does not represent market failure, as entrepreneurs have historically struggled to find money to seed and grow their endeavors. And there is little evidence that the market is systematically overlooking good ideas in the district.
What's more, economic theory would suggest that the venture capital industry—formally organized, high-risk investment of other people's money—is developing much as it should. Typically, it pools in areas offering the highest rate of return, usually in regions with highly visible investment opportunities and an inlaid support system to nurture good but immature concepts or products.
Exceptions do exist where good ideas go hungry, both in the district and elsewhere, and efforts are under way to improve the availability of regional capital and connect it with local entrepreneurs.
Buddy, can you spare a few million?
By many measures, venture capital—commonly referred to as VC—is playing a significant role in today's economy. A study by WEFA, an economics consulting firm, found that venture capital-backed companies are responsible for 3.3 percent of the nation's jobs and 7.4 percent of gross domestic product—all for about 1 percent of the nation's investment.
Venture capital is particularly prevalent in high-tech areas and with so-called gazelles (young companies that experience 20 percent annual growth), both of which have a weighty impact on the national economy. For example, despite making up just 5 percent of all U.S. firms, gazelles were responsible for about two-thirds of all new jobs from 1993 to 1996, according to a report by the Progressive Policy Institute.
There are many factors behind the growth of venture capital. For example, wealth and disposable investment income have increased tremendously; at the same time, securities and other investment regulations have been loosened, opening the door to a plethora of investment outlets, including high-risk ventures. Development of the Internet and telecommunications industries has exponentially accelerated the information exchange necessary for high-risk investments to take place, and, along the way, these industries have become the poster children for the feast-or-famine nature of venture capital.
Today's fast-paced economy is also demanding larger financial investments in earlier stages of a company's development, particularly for those in high-tech fields—a gap increasingly filled by equity funding. A May survey of more than 100 high-tech start-ups (roughly half in Wisconsin and the other half from eight other states) by the Wisconsin Technology Council found that only six had traditional bank debt as a primary source of first-round capital.
Venture capital investments are typically segmented by phases: start-up (or seed), when an idea or product is being developed; early, when the idea goes into initial production and sales; and expansion, when the idea is ready for full-scale rollout and production. With each passing phase, capital demands grow. For example, start-up funding typically ranges from $300,000 to $3 million; early stage, $3 million to $20 million; and the expansion phase, $20 million to $100 million, possibly more. (Outside major venture capital markets, however, each funding phase is usually much smaller.) The expansion phase is expected to culminate in either an initial public offering of company stock or a buyout from an established firm, at which point venture capitalists cash out—often with eye-popping returns—and reinvest in other opportunities.
The color of acorns
Venture capital is on the rise in the district, particularly in the Twin Cities. Since 1995, the number of venture capital deals in Minnesota has risen by about 70 percent, and total capital investment has risen by 500 percent. But that level pales in comparison to national trends. During the same period, the number of nationwide VC deals has quadrupled, and total capital invested in these deals has exploded more than 14-fold to $88 billion.
As a result, Minnesota has seen its share of national venture capital slide from 2.6 percent in 1995 to 1 percent last year, according to a PricewaterhouseCoopers and VentureOne MoneyTree survey. That falloff in national share meant there were "30 to 40 companies that didn't get financed, and those that do get less," said Jay Hare, partner of the technology industry group at PricewaterhouseCoopers. This represented a lost opportunity, something Hare likened to the seeding of an oak tree. "If that acorn doesn't grow, what's the consequence? That depends on the type of tree" it would have grown into, Hare said, "and how many [new] acorns drop from the tree."
Historical evidence suggests, however, that 1995—used by many as the VC benchmark for Minnesota—might be more of an anomaly than a standard, a blip in the data, if you will. PricewaterhouseCoopers data go back only to 1995 but show the state's VC share dropped to 1.1 percent the following year and has averaged less than 1.3 percent over the last five years. Venture Economics, which uses a different data methodology, shows three years with about a 3 percent state share for Minnesota (1990, 1995 and 1998). But in the remaining eight years since 1990, the state share was 1.5 percent or less; six years were 1.1 percent or less.
Nonetheless, it remains that the majority of acorns fall disproportionately on a few coastal regions. Silicon Valley and northern California grab almost a third of all venture capital investments in the United States. Add on southern California, and the state attracts $4 of every $10 of venture capital, according to Venture Economics, a Thomson Financial company specializing in private equity information.
U.S. Venture Capital
Total vs. New Funds
Year
Number of Funds
Venture Capital
(Billions of $)
Number of New Funds
1990

82

3.1

13

1991

43

1.7

4

1992

75

5.0

13

1993

94

4.5

17

1994

134

7.6

24

1995

155

9.7

44

1996

163

11.7

58

1997

224

17.0

77

1998

255

29.1

74

1999

403

59.9

137

2000

494

92.6

162

Sources: Venture Economics; National Venture Capital Association
With Route 128 and the Big Apple, the New England and greater New York regions together attract a little better than one-quarter of all venture investments. After that, venture capital tends to be isolated in small regional pools, like Austin-Richardson, Seattle, Raleigh, Denver, Chicago, Atlanta, and the Twin Cities, each garnering between 1 percent and 4 percent of the national pie.
VC (envy): Enough to go around
When it comes to venture capital in the Ninth District, there's the Twin Cities and then everywhere else. Even in mid-size cities like Duluth or Sioux Falls, entrepreneurs have traditionally had very little local venture capital to tap into.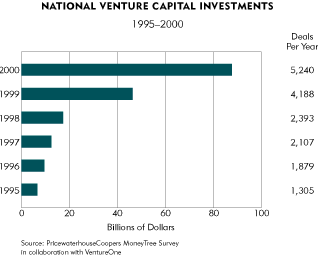 In the first quarter of this year, for example, 100 percent of $159 million in VC deals made in Minnesota were with Twin Cities companies, according to the most recent MoneyTree survey. Wisconsin is seeing strong growth from a percentage standpoint, but virtually all of it is occurring in the Madison-Milwaukee corridor (which is part of the Chicago Fed's Seventh District), and only last year cracked the $100 million annual mark. There have been no VC deals in the Dakotas since 1995, according to PricewaterhouseCoopers; Montana has had a total of seven deals worth about $55 million in the last six years.
(Oft-cited venture capital data from the National Venture Capital Association show both more deals and higher VC levels in all Ninth District states, particularly Minnesota and Wisconsin. This results mainly from the use of different criteria in tracking venture capital. But trends in NVCA data generally mirror those of PricewaterhouseCoopers.)
By such measures, not to mention numerous anecdotes and popular opinion, venture capital in the district appears hard to come by, particularly in comparison to other regions. "I think there is a shortage of venture capital" in Minnesota, said Roger Weingarth, president and chief operations officer of Optical Solutions, a fiber optics firm in Minneapolis. "If you're looking for money, California is the place."
The company has gone through three rounds of venture capital financing, raising a total of $100 million, but only about 30 percent from investment firms in the Midwest, Weingarth said. Numerous venture capitalists told him financing would be much easier if the firm would relocate to a telecom hotbed. For the new entrepreneurs simply looking for money, "right now I think the pull is either to the East or West Coast," he said.
While venture capital is very mobile, VC funds tend to be located in areas where the investments themselves will be made. For example, close to 60 percent of the VC funds raised and organized in the fourth quarter of last year were in northern California. This geographic concentration is not necessarily a problem for Midwest companies looking for later-stage investments, as Weingarth and other sources said financing capital is available for proven concepts, even if they have to go to the coasts. But capital mobility is more restricted in earlier stages.
"The early stages are where the gaps are," said John Neis, partner of Venture Investors of Madison, Wis. In early-stage investments, venture capitalists typically assume a strong role on a company's board and in general operations. This makes geographic proximity important and can make financing more difficult for Midwestern entrepreneurs because capital on the coasts becomes "painfully difficult, if not impossible to get at," Neis said.
For this reason, Minnesota and virtually all other states not named California, Massachusetts or New York are pining for venture capitalists to set up locally based funds. And inroads are being made in Minnesota, which currently ranks 11th nationally in the amount of venture capital under management, with over $5 billion held by 31 private funds in the state. In the fourth quarter of 2000, a total of $1.4 billion in venture capital was raised in Minnesota, ranking it fourth nationally, according to Venture Economics.
But an increase in state-based funds doesn't mean Minnesota entrepreneurs are getting funded at a higher rate. Despite a steady climb in VC firms and total capital under management in the state, most of the deals and money still go elsewhere. Last year, Minnesota-based VC funds made 254 deals, but less than one-quarter of those deals went to in-state entrepreneurs (again, almost all in the Twin Cities), and that percentage has actually fallen slightly since 1995, according to estimates from PricewaterhouseCoopers. The percentage of total dollars allocated within the state has also declined and was just 20 percent last year.
Rather than a VC shortage, some see such an outflow of capital as a shortage of ideas, or deficiencies in their level of development. "There is no shortage of venture capital for the right idea," said John Taylor, vice president of research for the National Venture Capital Association. He pointed out that existing venture capital funds have an excess of $35 billion in capital available for investing. "That's the powder that's dry."
"It's rare that a smashingly good idea doesn't get funding," said Daryl Erdman, senior director of Aavin Venture Capital Partners, which recently opened an office in Minneapolis. Erdman scouts both Minnesota and Wisconsin for ideas and works out of his home in the small town of Shell Lake in northwestern Wisconsin. Erdman acknowledged that the supply of capital can contract at times, "and then you have to work a little harder" to get funding. "I'm not certain that's bad. It never hurts to starve a little before you get that great big nut."
Evolving from ag finance
Venture capital and equity financing can be a big nut to crack outside the Twin Cities. A 1999 survey of economic development professionals throughout Wisconsin identified the lack of equity capital as the single biggest barrier for start-up companies, with nearly three of four respondents saying it was a major problem.
North Dakota entrepreneurs face much the same problem, according to several sources. The state is "stuck in ag finance," said Delore Zimmerman, founder and president of CEO Praxis, a community and enterprise development company in Grand Forks. "We don't have a culture of local investment. ... Investment [capital] that is here is outward." Business deals today "are based on intangibles," Zimmerman said, which are "so different than normal bank debt financing."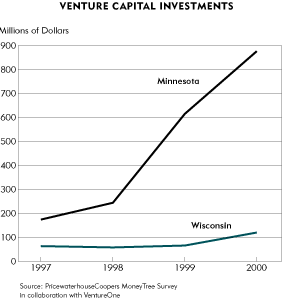 But the venture capital scene outside the Twin Cities is evolving, if slowly. At Sundog Interactive, a web design and software company in Fargo, N.D., employees were coming up with new ideas that the company could not afford to pursue, and outside capital was not available. "We knew there were a lot of ideas out there" with good potential, said Justin Shardin, Sundog's chief operating officer.
To help grease the entrepreneurial skids, Sundog started Convexity, an e-business accelerator and small venture fund that received more than $1 million in start-up grants from the state and Dakota Renaissance Ventures, a local quasi-public economic development fund. To date, it has made two venture capital deals and is negotiating a third, Shardin said.
Many sources also acknowledged that investment capital might not be so much absent as it is inaccessible. For one, there exists in virtually all regions a number of so-called angel investors—private individuals who make direct investments in young companies. The Global Entrepreneurship Monitor estimated that angel investors in the United States contributed about $54 billion in capital to entrepreneurs last year. The problem for entrepreneurs is finding it. Shardin acknowledged that "there is definitely money in this state. It's there, but it's not usable."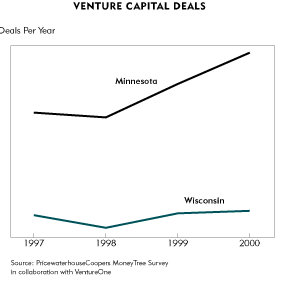 Others agreed. "It's not that [entrepreneurs] don't have capital in rural areas. But that capital isn't organized so you have access" to it, said Steve Mercil, president and CEO of Minnesota Investment Corp. (MIN-Corp.). "It's like having a lot of food and not having a road" to get it to hungry people.
Convexity and MIN-Corp. are two efforts designed to build better roads between entrepreneurs and investors, and both illustrate a unique feature to venture capital funds outside the Twin Cities: Most have been largely capitalized by public or foundation grants. Usually having $1 million to $10 million in capital, they are very small compared with funds directed at entrepreneurs in the Twin Cities. MIN-Corp. is a $10 million venture capital fund targeting outstate areas of Minnesota and has invested in about 20 companies in the last decade. The fund was originally capitalized with a state grant to the quasi-public Minnesota Technology Inc. and was later spun out as a stand-alone private fund.
But MIN-Corp.'s low rate of deal-making has pushed Mercil to look for other investment levers to spark entrepreneurial activity in smaller cities and rural areas. The company has since developed a template for organizing regional angel investor networks (RAIN), whereby local private capital is pooled with the hope of surfacing credible and profitable proposals from local entrepreneurs. MIN-Corp. hopes to organize 10 such RAIN funds throughout Minnesota, each with 15 to 25 angel investors and up to $1 million in capital, "to deliver capital back to a smaller scale," Mercil said.
Currently, there are RAIN funds up and running in Worthington and Alexandria, each with over $500,000 in capital, and a third is in the organizing stages. The trick, Mercil said, is to identify a local person or two who "want to do this for themselves. It's got to be the local person's group." MIN-Corp. has also licensed its template to CEO Praxis, which is about to launch the first RAIN fund in North Dakota, and is in preliminary stages of a second, according to Zimmerman.
Cliff Grant of Billings, Mont., saw much the same disconnect between local capital and local entrepreneurs. "Private capital in Montana is more inaccessible than unavailable. We found that there are numerous private investors in Montana, but they simply don't see enough attractive deals to invest in," said Grant, who is president of LocalFund.com, which he described as "a matchmaker of entrepreneurs and private investors."
Grant founded the organization last December as "an entrepreneur who was frustrated with the time and energy that it took to get a business plan in front of potential investors." Two private investors helped out because they "were equally frustrated that there were not more venture opportunities to consider. They knew the deals were out there, but it was not that easy to see them," Grant said. Entrepreneurs pay a small fee to enter their business plan into a secure Web site, and investors pay to review plans and are given information to contact entrepreneurs directly.
"It's really a simple solution to a common problem," Grant said.
Part of the problem also appears to stem from a lack of awareness of how equity investments work. When some entrepreneurs find out they have to relinquish control of the company in exchange for venture capital, "it comes as sort of a shock," said Erdman, the venture capitalist.
Mercil agreed. "People don't understand equity and how it works. ... I think that's where a lot of frustration is." He added that high-profile Internet deals have fueled the perception of a venture capital waterfall. "We've created a culture where entrepreneurs are naive in what a business idea has to look like" to get funded.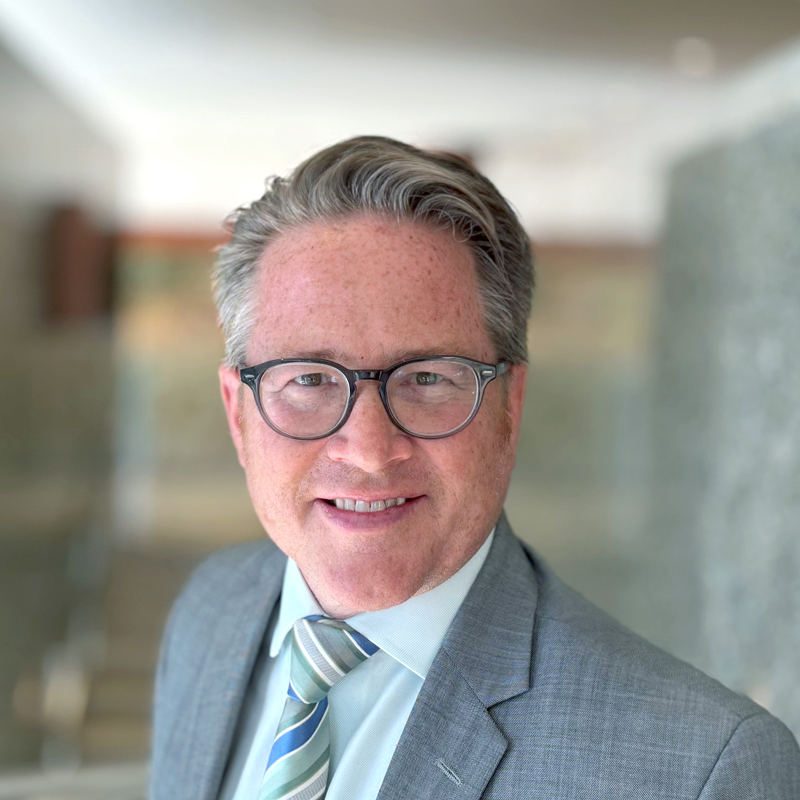 Request as a speaker
Ron Wirtz
Editor, fedgazette
Ron Wirtz is a Minneapolis Fed regional outreach director. Ron tracks current business conditions, with a focus on employment and wages, construction, real estate, consumer spending, and tourism. In this role, he networks with businesses in the Bank's six-state region and gives frequent speeches on economic conditions. Follow him on Twitter @RonWirtz.