Lotsa cooks in the broadband kitchen
Few policy initiatives are held in such wide regard in rural areas as universal service. Created back in 1934 and still in force today, it subsidizes rural telecom providers so people in rural and other high-cost areas can afford telephone service.
During negotiations over the landmark Telecommunications Act of 1996, many lawmakers argued that similar provider-based subsidies were needed to bring broadband and other advanced telecom services to rural America. But a funny thing happened on the way to the Internet.
The law encouraged the deployment of broadband and other advanced telecommunications "on a reasonable and timely basis." While the intent might be fairly clear, it is squishy enough to mandate virtually nothing. The law did not explicitly extend existing telephone universal service subsidies to broadband deployment. It did create one large, institution-based deployment program, but otherwise provided telecom companies with no direct incentives to bring broadband to the rural masses.
So federal and state lawmakers have filled that policy hole with a gaggle of programs, grants, loans and other initiatives designed to assist broadband deployment to areas that lawmakers thought it would not otherwise reach. Last year, 18 such bills were proposed, according to the Congressional Research Service. One came from Sen. Byron Dorgan of North Dakota, who proposed a five-year, $3 billion revolving loan fund for companies to invest in and deploy advanced telecom in rural areas; other bills of a similar nature (though of more modest financial means) have been proposed by U.S. Rep. Bart Stupak (representing Michigan's Upper Peninsula), Sen. Conrad Burns of Montana and Senate Majority leader Tom Daschle of South Dakota.
Within the first month of this year, three more bills were proposed in Congress; one Washington source estimated that as of September there were 10 bills currently floating in Congress. One bill in both houses of Congress would offer tax credits of 10 percent to 20 percent to companies for deploying broadband to rural and underserved areas.
States are getting involved as well. Minnesota Gov. Jesse Ventura proposed a $100 million revolving loan fund for advanced telecom deployment in his so-called Big Plan, but it was not funded by the Legislature.
Universal underwriting
In some ways, new broadband subsidies were not needed as long as broadband deployment could capitalize on universal service payments that rural telecom providers already receive for providing voice service to high-cost areas.
In 2001, rural telephone companies in the Ninth District (excluding Michigan) are expected to receive $205 million for providing telephone service to high-cost areas, according to projections by the Universal Service Administrative Co. (USAC), which oversees various service support programs.
Although providers aren't directly reimbursed for broadband deployment, representatives from several rural telephone companies acknowledged that universal service payments help underwrite all infrastructure and service improvements, which today include broadband.
This year, Paul Bunyan Telephone Cooperative in northern Minnesota will receive almost $2 million in high-cost support, according to USAC figures. The company has been methodically upgrading much of its rural territory, and today offers digital subscriber lines (DSL) in eight communities. "We wouldn't have been able to do it without universal service funds," said Brian Bissonette, the company's marketing supervisor. "None of the rural upgrade would have been even approachable."
According to a USAC database, 86 telephone companies in Minnesota receive universal service funding, and 12 are expecting $1 million or more this year; in Montana, only one of the state's 18 telephone companies—Qwest—does not receive universal service support, and 10 of the remaining 17 will receive between $2 million and $7 million; half the telephone companies in North Dakota will see at least $1 million in payments; 7 of 30 in South Dakota; 13 of 86 in Wisconsin.
Parade of programs
Aside from such side-door assistance and a legislative agenda crammed with new proposals, federal and state lawmakers have already managed to push through dozens of programs to boost broadband deployment in rural areas. At the federal level alone, there are 16 different broadband-deployment assistance programs, according to the Congressional Research Service.
Many programs are modest. The Telecommunications Opportunities Program, run by the US Department of Commerce, has awarded $8 million since 1994 for 21 projects in the district bringing greater telecommunications capacity or access, according to a TOP database.
Other programs are more ambitious. The largest and most expensive subsidy program for rural broadband deployment is called "education rate," or "e-rate," which was created in the 1996 telecommunications law.
E-rate reimburses schools and libraries in rural and low-income urban areas for the cost of bringing high-speed capacity on-site. As of July 2001, more than $6.6 billion had been committed nationwide, and somewhere between 60 percent and 70 percent has gone to schools and libraries in rural areas, according to USAC.
In 1998, the first year of e-rate funding, 355 schools and libraries in Montana alone filed for reimbursement, according to a Montana Public Services Commission report. In four years of funding, including July 2001 commitments, a total of $225 million has been approved for thousands of rural schools and libraries in district states (excluding Michigan). Wisconsin received the lion's share with $106 million, while Minnesota received almost $90 million, according to USAC figures.
A similar, but financially much smaller, USAC program exists for rural hospitals. From 1998 to 2000, hospitals in the Ninth District received more than $1.5 million in reimbursement for upgraded telecom wiring and Internet hookups. Last year, for example, 146 separate facilities received a total of $700,000, ranging from $20,280 by the Holy Rosary Health Center in Miles City, Mont., to $38 by the Westbrook (Minn.) Health Center. In 1999, 227 district health facilities received almost $800,000.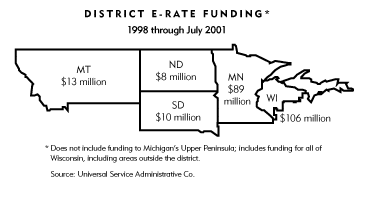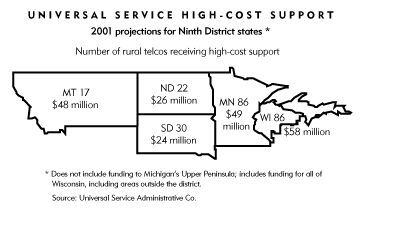 Broadband R-US
The federal Rural Utilities Service has been a major player in assisting rural broadband deployment. RUS is a branch of the US Department of Agriculture, tracing its roots to the Rural Electrification Act of 1936. Its mission is to help bring power, telecommunications and water to rural homes.
The 2000 annual report of the Rural Telephone Bank, a financing arm of the RUS, said the agency "has been instituting significant policy and regulatory reforms to ensure that the Bank is an engine of broadband deployment."
Foremost among the RUS's several broadband efforts is a new $100 million loan program to furnish or improve broadband service to rural communities under 20,000, according to a notice published in the Federal Register. One contact said the program received requests for three times the available funding.
RUS has also funded a distance learning and telemedicine program since 1993 that mirrors the e-rate program in many ways. Nationwide, the program has distributed more than $100 million in loans and grants during this period, with about $18 million for 69 projects in district states, including Michigan's Upper Peninsula, according to an RUS database on the program.
We'll help too
Many additional programs of varying scale can also be found at the state level. South Dakota spent around $15 million on a statewide initiative to bring high-speed capacity to every public school, using prison labor to keep project costs to a fraction of what they otherwise would have been.
In Wisconsin, the Technology for Educational Achievement in Wisconsin (TEACH) program helped 170 libraries get T-1 lines for direct high-speed Internet access. The state Public Service Commission also administers a $500,000 program promoting telecom to nonprofit medical clinics and public health agencies. As of November 2000, the PSC reported that it had granted five awards totaling $160,000. In 1995, the Wisconsin Legislature authorized $500,000 to help kick-start the Wisconsin Advanced Telecommunications Foundation. The organization made its first awards last year, totaling about $1 million, but never came close to its original goal of raising $40 million by the end of 2001, and its board voted to dissolve the foundation earlier this year.
North Dakota is in the midst of a two-phase program to bring high-speed Internet to more than 550 locations—mostly local government and K-12 school buildings—in 194 geographically dispersed communities. Last year, the state Legislature approved $3 million for the project, and as much as $20 million more will be needed for completion.
In 1997, Minnesota approved a proposal for a 2,200-mile fiber backbone along state highway rights-of-way in an effort to bring high-speed Internet to within 10 miles of 90 percent of the population. The network would have been privately built and owned, and 20 percent of the capacity would have been given back to the state in exchange for free access to public rights-of-way. But earlier this year, repeated delays and private financing difficulties convinced the state to terminate its contract with the Colorado firm hired to build the network, which had spent $30 million on a 250-mile loop from the Twin Cities to Moorhead along Interstate 94.
On a smaller scale, the state Department of Trade and Economic Development awarded $1 million in "technology catalyst" grants this year to nine communities for high-speed wireless projects.
In October 2000, the state of Montana gave more than $200,000 in tax credits to eight independent telephone companies that invested in high-speed infrastructure. The largest award gave $82,000 in state tax write-offs for a $1 million project that provided DSL to Thompson Falls, Superior and Philipsburg. Four years ago, the Montana Legislature approved a total of $750,000 for the Montana Universal Access Program to assist rural telecom companies with advanced services deployment.
All those in favor ...
One might expect that the billions of public dollars being spent on programs large and small would raise some dust within policy circles. Other than free-market think tanks, however, very few appear to question the idea of universal service, or tag-along financial support for deploying broadband.
"The federal government decided it was within the public interest to subsidize telephone infrastructure to remote parts of the nation," said Kathryn Lovik of Onvoy. With low population densities, "how [else] are you going to pay for investment in very rural areas?"
If there are pockets of unrest regarding broadband and telecommunications in general, one area might be the fact that virtually all subsidies flow to hard-line local telephone providers, to the exclusion of high-speed wireless, cable or satellite providers. Two wireless phone companies providing service to the district have gone on record—one with the North Dakota Public Services Commission, the other in testimony before the House of Representatives Committee on Small Business—objecting to the stiff-arm wireless providers receive when it comes to universal service support.
Yet there appears to be little collective outrage from such would-be competitors. A representative of the cable industry said his industry did not object to phone company subsidies given their requirement to provide services to all residents in a territory. The president of a high-speed wireless company acknowledged that subsidizing hard-line phone companies "is having an impact, but I don't know how drastic it is. ... You won't get me to stand on a soapbox."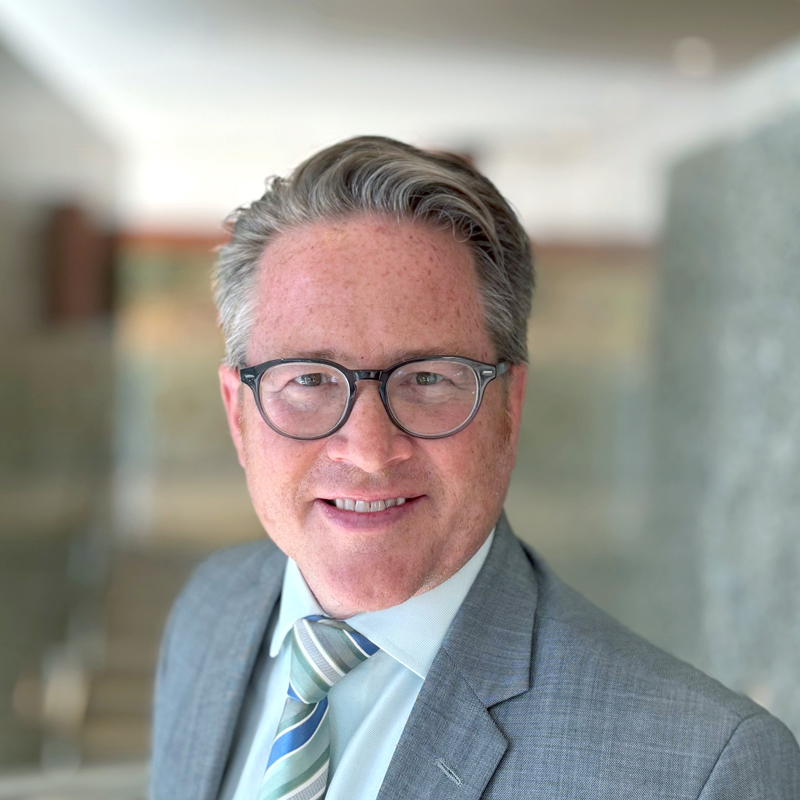 Request as a speaker
Ron Wirtz
Editor, fedgazette
Ron Wirtz is a Minneapolis Fed regional outreach director. Ron tracks current business conditions, with a focus on employment and wages, construction, real estate, consumer spending, and tourism. In this role, he networks with businesses in the Bank's six-state region and gives frequent speeches on economic conditions. Follow him on Twitter @RonWirtz.