One of the nation's fastest-growing industries is still battling the demons of public perception.
Call centers have seen remarkable growth throughout the country and in the Ninth District in the last decade. Mark Hardy, president of Advantage Line Call Solutions, has "been in the business for 12 years," and watched his small company start out in Wolf Point, Mont., move in 1993 to Williston, N.D., and later branch out to the Montana cities of Billings, Glendive and Havre. Today, Hardy employs 600 people.
Still, when he talks to people about his call center business, "everybody's first thought is, 'You're the one that called me during dinner last night.'" In fact, he wasn't. Hardy's firm is an inbound center, which means that his employees are answering your calls for catalogue orders, reservations and subscription renewals. And considering the 4 million calls Advantage takes every year, it's more likely that Hardy and his employees are the ones who don't get to eat in peace.
Many people still see the call center industry as outbound telemarketing—dinnertime phone calls hawking various products. But Hardy will tell anyone listening that telemarketing and call centers are "quite a bit broader than that." Call centers today handle a wide range of tasks, including service dispatching, order taking, call routing, complaint resolution, information retrieval, technical support and, yes, telemarketing sales.
Although industry tracking is spotty, available evidence shows the industry has been on a tear that is likely to continue in the near future. Technological advance and an attractive labor pool have encouraged significant growth of the industry in Ninth District states and cities—including some very small cities, which have earned the moniker "modem cowboys."
"Your district is a prime call center region in the nation, without a doubt," said John Boyd, president of the Boyd Co., a location consultant firm in Princeton, N.J.
On a roll call
Industry analysts estimate recent and future annual growth of the call center industry at between 10 percent and 20 percent. A report by the Boyd Co. claims call centers will be "the fastest growing industry in the U.S. in terms of job creation and corporate investment in new office facilities and equipment."
Last year, North Dakota saw 11 announcements for new or expanded call centers in the state, which proposed to add as many as 1,000 new jobs in the near future. South Dakota had three firms announce proposals to add 1,400 new jobs.
There are many reasons behind the growth, but one underlies them all. "Many national companies have thought of customer service as the way to distinguish their product in the marketplace," Boyd said. Companies like Sony or GE make a lot of "pretty homogenous products" that see heavy competition, he said, and such companies are turning to customer service to improve customer brand loyalty. "There's not a product they [Sony or GE] make that doesn't have an 800 number attached to it."
And somebody has to be on the other end when the calls come, giving rise to an industry "that came out of nowhere 10 years ago," said Andy Shapiro, senior manager with location consultant Deloitte & Touche Fantus. Although cities or states in the district don't show up much in national industry rankings for new sites or employment growth—southern cities from Florida to Texas and Arizona generally dominate—industry growth has nonetheless been strong, particularly considering the district's small population.
South Dakota is home to about 60 telemarketing and customer service centers, according to an official with the Governor's Office of Economic Development. In 1998 alone, South Dakota added more than 2,300 call center jobs, and about 90 percent were in Sioux Falls, according to an annual Deloitte & Touche Fantus report.
The kick-start came 20 years ago, when Citibank relocated its world headquarters and call center operations to Sioux Falls, to the surprise of the entire financial sector. That move "brought a different kind of sophistication" to the city, and "brought a global awareness of an industry," according to Mary Medema, workforce development director for the Sioux Falls Development Foundation. The city is now home to more than 20 such firms, about 65 percent of which are in financial services, Medema said, adding that it would be "hard to find someone whose neighbor hasn't worked" in the industry.
Call it fuzzy math
Estimating the size and growth of the call center industry is calculated guesswork. The Boyd Co., for example, estimated there were 70,000 call centers employing 2.5 million in 1999; by 2003, those numbers will grow to 105,000 centers and 4 million employees.
But one would be hard pressed to identify those call centers and plot them on a map, for a couple of reasons. Call centers come in one of two basic forms. One is an in-house center, where a firm like IBM hosts its own toll-free customer service. Such operations can spring up as a matter of business course when a product or service generates phone or Internet-based customer service demand. A Minnesota state report last year found a total of 37 different broad-based industries likely to have call center operations.
The second is a service bureau, like Advantage Line, which contracts with businesses to handle their customer service and other needs. As a focused, stand-alone enterprise, such businesses are hypothetically easier to identify, but the government's tracking system for industry—known as Standard Industry Classification (SIC) codes—has no category for call centers. A newer tracking system, called the North American Industry Classification System (NAICS), includes a call center category, but the most recent data is from the five-year 1997 Business Census, and significant growth has occurred in this industry since then.
Call Center
Comparative Annual Operating Cost
Simulation Summary*
Costs
Minneapolis/
St. Paul
St. Cloud
Sioux Falls
Total Annual Labor

$5,644,080

$5,181,290

$4,685,850

Electric Power

36,627

36,627

34,828

Office Rent

412,500

330,000

350,625

Equipment Amortization

960,000

960,000

960,000

Heating and Air Conditioning

30,513

31,944

29,421

Telecommunications

1,471,398

1,471,314

1,474,898

Total Annual Geographically Variable Operating Costs

8,555,118

8,021,175

7,535,622

* Costs are based on a corporate call center facility employing 150 workers, occupying approximately 30,000 sq. ft. of office space, and having an annual inbound customer service call volume of 15 million.
Source: The Boyd Co. Inc.
District well positioned
Many social, technological and geographic factors are driving new demand for call centers. For example, changing lifestyles and business practices have reduced face-to-face contact and consequently generated demand for remote electronic contact for all different types of service, said Shapiro of Deloitte.
Rapidly expanding computing power and sophisticated software have made it possible to provide more real-time information—like order tracking—to consumers and business clients, and such features have proven popular. At the same time, the infusion of personal computers into everyday life has fueled strong demand for software and hardware technical support. Said Shapiro, "The more technology that's involved, the more they need their hand held."
The supply end has been racing to keep pace with demand for the last decade. As the industry matures, it's looking for cost efficiencies, which Boyd said is one of the main reasons that district cities "tend to be on the short list of corporate selection seekers." The Boyd Co. recently completed a cost survey of 40 metro areas across the United States, and Sioux Falls found itself on top of the rankings, with Duluth and St. Cloud fifth and 11th, respectively.
Particularly where expansion is concerned, the most critical issue for call centers is labor—finding it, retaining it and not paying too much for it because labor costs typically make up 60 percent or more of a call center's annual budget. "Labor is the name of the game," said Hardy of Advantage Line.
And that has helped pull business to the district. "Companies are being driven to rural areas for cost and workforce quality [reasons]," said Quinn Ness, business recruitment officer with the Montana Department of Commerce. The state has seen roughly 3,000 new call center jobs in just the last two years. Companies interested in expanding "are looking at their cost structure," and finding Montana to their liking because the state "has the reputation of having some of the lowest wages in the country," Ness said.
The explosion of telecommunications bandwidth has also opened up entire new labor markets. Previously, limited telecomm capacity meant call centers located in high-capacity metro areas. That's changed. "The [bandwidth] pipe is ubiquitous now. It doesn't provide a leg up [in attracting call centers], but it helps" communities remain in contention for new or expanded facilities, according to Shapiro.
Hardy said the price of telecommunications "has dropped so substantially" that very small communities—if wired—are now viable locations for small call centers. A 20-seat center, which could employ 30 or more people, needs only 1,000 square feet of open office space. "Old retail stores work great." High labor costs and low unemployment in metro areas, new technology and expanded bandwidth in rural areas have motivated companies to "export that labor back to the farm," Hardy said.
And they are. North Dakota alone has at least 10 cities under 2,000 in population with call centers, according to the state Department of Economic Development and Finance (see map). South Dakota has at least eight cities under 5,000 with telemarketing or customer service centers, according to the Governor's Office of Economic Development. "The reason for it is there is labor there ... and it's good labor," Hardy said.
Call and Shared-Service Centers*
100 or More Employees per Company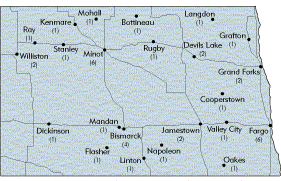 *Number of centers per location in parenthesis.
Source: North Dakota Department of Economic Development and Finance
Contact America, for example, has a 35-employee shop in Flasher, N.D., population 300. "It's been a good call center," said Kathleen Staley, company vice president. In small cities, "you get people that stay with you for years and years ... and are very dependable." Telecommunication rates also have been roughly halved from five years ago, which translated into a 10 percent drop in the company's total expenses, Staley said. "When costs drop 10 percent, it makes it a lot more profitable to be there."
Other seemingly mundane factors also make the Dakotas, Montana and rural areas of Minnesota an attractive location. For example, the neutral accent of Upper Midwesterners "is preferred by the profession," Boyd said.
Doreen West, general manager of Midco Call Center Services in Sioux Falls, said growth of call centers in Upper Midwest states "is due to the strong Midwest work ethic, clear speech and our favorable [time] location" that allows for better customer contact during business hours on both East and West coasts.
Phoning a lifeline
While there are obvious drawbacks to locating in small and medium markets—particularly for an industry with high turnover rates—there are also unique advantages. The overall labor pool might be limited, but several sources said workers also have fewer job opportunities luring them away, making call centers an employer of choice.
Some call centers "like a captive labor market," Ness said. "It costs a lot of money to recruit and train new employees." He added that call center jobs are attractive to farmers' spouses because they offer health and other benefits that can be difficult for farming families to afford. New 1,000-person call centers in Kalispell and Great Falls in Montana both inquired about the proximity to military bases, according to Ness, hoping to tap underemployed spouses of military personnel.
Wages for service agents are not high, typically starting at between $6 and $8 an hour for new hires, and averaging about $1 to $4 an hour more for those with company tenure, depending on the city and the type of call center. Many communities are only too happy to have them, and virtually no examples could be found of companies experiencing a shortage of job applications. If anything, it's the exact opposite. According to a 1999 state report, Mutual of Omaha received 700 applications for 25 openings in Aberdeen, S.D.; First Premier Bank received 1,300 applications for 116 jobs for a call center in Watertown, S.D.
Average wages at Advantage Line are $7.50 an hour, Hardy said. "Given the skill level of the people we require, these are very good paying jobs," and are perceived as a step above retail and other jobs. "We haven't had any trouble recruiting." Hardy said.
In North Dakota, it's been "fairly easy" to attract call centers because it's a growing industry in need of labor, many North Dakotans are underemployed, and cities typically offer a few incentives for the company's bottom line, said Cory Finneman, research coordinator for the North Dakota Department of Economic Development and Finance.
"There used to be a lot of companies benefiting from the incentive game," Finneman said. "There are still pockets out there but it's not as easy as it once was." Where communities "used to jump" at companies offering average wages of $7 or $8 an hour, "now it has to be $10 to $12 [an hour] unless you go to a very small community that is hungry for those kinds of jobs," Finneman said.
Regardless of current pay, several sources argued that call center jobs put workers on the so-called "skills ladder." Ness said that call centers "are taking people away from big-box retailers ... and exposing them to new economy-type jobs" that instill computer and other skills that would hopefully lead to better-paying jobs down the road.
North Dakota, according to Finneman, has had "a lot of success in the lower levels" of the industry, like outbound telemarketing. This has built a talent pool for other companies to tap, and the state is slowly seeing more jobs in better-paying call sectors like reservation services and technical support. "There definitely is an evolution that has occurred. We're moving up the ladder."
Finneman compared this evolution to "the development of a minor league baseball farm system. We have developed all the lower levels of customer service professionals, and even have a few major league companies, but we still need more major league companies to move our workers up the skills and wage ladders."
No call for a slowdown
The current economic slowdown does not appear to bode ill for the industry because, as Boyd puts it, call centers "are more function than industry," and their involvement in a diverse range of industries provides a hedge against recession. For example, where catalogue orders might decline, credit card activity is predicted to increase as consumers tap more debt. A dip in the publishing industry might be offset by growth in financial services.
Boyd said service bureaus would likely feel any heat first, because companies would pull back on third-party contracts. But others argued that in-house centers would get the hook quicker so the company can focus on core activities. Whatever the case, Boyd is optimistic. "I think there's still great legs to this industry," he said. Despite "a slight tick" in the national economy, "we're seeing no letdown in numbers of call center projects. ... I think your district will continue to do well, and South Dakota in particular is a location of choice."
The industry's biggest obstacle might be its public image. Federal "no call" laws have existed since 1994 whereby a consumer can request removal from call lists, punishable by a $10,000 fine for the first violation. Some states, most recently Missouri and Kentucky, are pushing their own no-call legislation.
Staley, of Contact America, said that despite all the new jobs and local investment, call centers have a reputation as the thing "everybody loves to hate." For that reason, Staley said, public perception of the industry "is getting worse, because the politicians know it's an easy [public relations] ride."
But the no-call legislation doesn't bother Staley. "We don't want to call those people anyway." She said the industry is "very lucrative" provided that companies remember a cardinal rule: good phone etiquette.
"We're very conscientious about being polite on the phone," Staley said. "Most people are polite, and a lot of people buy."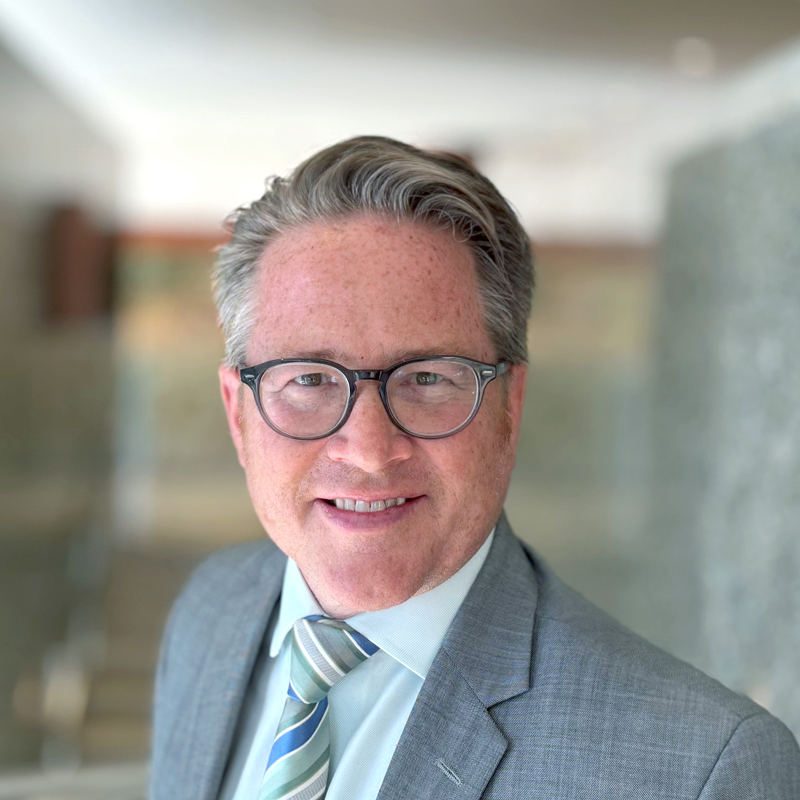 Request as a speaker
Ron Wirtz
Editor, fedgazette
Ron Wirtz is a Minneapolis Fed regional outreach director. Ron tracks current business conditions, with a focus on employment and wages, construction, real estate, consumer spending, and tourism. In this role, he networks with businesses in the Bank's six-state region and gives frequent speeches on economic conditions. Follow him on Twitter @RonWirtz.