Slower demand, increased supply drive down lumber prices
During the summer of 1999 lumber prices reached near historic highs during a period of strong residential construction. Prices remained at relatively high levels through April 2000, when they began tumbling to some of the lowest prices in the past 25 years. Not only has the demand for lumber slackened during the past year, supply has grown due to increased lumber entering the market and productivity gains at mills.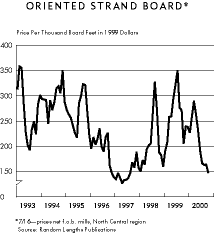 The biggest factor behind slowing demand was a weakening in homebuilding in 2000. Nationally, housing units authorized were down 4 percent for the first 10 months of 2000 compared with a year earlier, and construction employment was down slightly. "The economy is unexpectedly weaker than what people thought," said Chuck Keegan, an associate director of the Bureau of Business and Economic Research at the University of Montana. In addition, demand for lumber abroad has been slow, exacerbated by a strong U.S. dollar, which makes products from the United States more expensive in other countries.
While demand has slowed, the supply of lumber has picked up. Today's market now includes not only lumber from Canada, the traditional importer to the United States, but lumber from South America, Asia and Scandinavian countries, according to Wayne Brandt, executive vice president of Minnesota Forest Industries. Supply has also increased as mills have boosted productivity through improvements to operations, increasing capacity about 2 percent to 6 percent. With greater supply from imports and productivity, coupled with low demand, "inventories of soft wood lumber throughout the nation have increased substantially," Keegan said.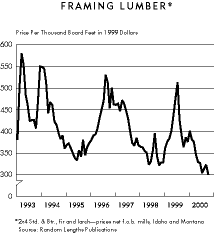 Domestic mills are further squeezed by reductions made in the amount of logs available for sale from national forests in many parts of the country. The drop in timber production in national forests is due mostly to new environmental regulations (see the April 2000 fedgazette). This has bid up the price of logs substantially to the point where "the price of the trees standing up is the same price as the lumber," Brandt said. Some mills have had to ship logs from further away, driving up costs and squeezing profit margins. Other district mills have recently curtailed production, resulting in some closings and layoffs.
One positive development may spawn from the large forest fires in Montana this past summer, which left a large supply of salvage timber. While the total availability of logs from fire-damaged land has yet to be determined, salvage timber could increase overall supply, Keegan said.
For more data on the regional economy, go to Ninth District economy. Up-to-date charts and data provide current and historical information on agriculture, banking, construction and real estate, labor markets, natural resources, travel and tourism, and more.