Meet AnySmallTown, USA. It, many people believe, is being left behind in the age of digital, super-fast, always-on telecommunications more commonly referred to as broadband.
Like any generalization, that's likely to be true in some cases. But available evidence, supplemented by numerous community anecdotes, casts doubt on the stereotype that rural areas are ground zero for the digital divide.
The wide-open spaces and one-horse towns of Montana "would be a great place to look" for the digital divide, said Geoff Feiss, general manager of the Montana Telecommunications Association. "I think [the digital divide] was hype. Montana would disprove the popular perception." Feiss said small independent phone companies in Montana cover 80 percent of the state and hold only 32 percent of access lines. "Yet we're deploying DSL [digital subscriber lines] to over 120 communities in Montana," Feiss said. "We're talking towns of 100 to 200 people. A big town for us is a thousand people."
"We believe the concept of a digital divide is a misperception," said Kathryn Lovik, director of corporate communications for Onvoy, a telecom company serving much of the nonmetropolitan portions of Minnesota, and the state's first Internet service provider. "We've had tremendous success serving outstate markets. ... There is a perception that there is no money to be made in outstate Minnesota and that's not correct."
"The rural telephone companies in North Dakota have been working real hard to put that [digital divide] statement to bed," said Dan Wilhelmson, CEO of Consolidated Telecom of Dickinson, N.D., which provides phone service to 20 communities in a western North Dakota territory covering 10,000 square miles. DSL, or high-speed Internet access over copper telephone lines, is available in 11 of those communities, and Consolidated expects to bring DSL to the remaining nine communities by the end of next year, he said.
Yesterday's divide: Snap, crackle and POPs
Just a few short years ago, the focus of the "divide" issue was affordable access to the Internet. Thanks to nearly universal phone penetration, an explosion of Internet service providers (ISPs), equipment upgrades by phone companies, and declining costs for computers and Internet access, this controversy has virtually evaporated.
Early on, access to the Internet often meant a long-distance call to an ISP, which had limited points-of-presence—or POPs—which are the physical and technical on-ramps to the Internet. However, the number of ISPs grew quickly, as did the number of POPs. Statistics on the young ISP industry are sketchy. But a variety of sources suggest that it has grown from several hundred five or six years ago to some 3,500 by 1998, to about 7,000 today, each of which brings with it at least one additional POP to the system, and usually many more.
Rather than the urban rule, cheap access to the Internet has become the rule virtually everywhere. A study by university researchers Shane Greenstein and Thomas Downes found that already by 1997, 92 percent of the U.S. population had competitive access to the Internet via a local phone call, although the authors noted at the time that "some residents of rural areas face less ideal conditions."
But significant improvements in rural access have been made as well since then. A membership survey by the National Telephone Cooperative Association (NTCA), whose members serve rural areas, found that 97 percent of respondents (about 200 telephone co-ops) said customers have local dial-up Internet access through themselves or another local ISP.
Members of the Minnesota Association for Rural Telecommunications (MART) serve 300 communities in outstate Minnesota, covering about 50 percent of the state yet holding just 14 percent of access lines; 100 percent of customers have toll-free access to the Internet, according to the association. A sampling of rural ISPs in the district also found that monthly access prices were similar to those of urban areas.
What's more, widespread line upgrading by local telephone companies has enhanced the dial-up system to the point where the central offices of phone companies regularly transmit information over standard telephone wires at 56 kilobits per second (kbps), twice as fast as the once-standard dial-up transmission speed of 28 kbps. Feiss said that 56k transmissions from central offices in Montana were "close to 100 percent."
Internet access has also broadened across income and other socio-economic barometers. A Commerce Department report on the digital divide last year found that "groups that have traditionally been digital 'have-nots' are now making dramatic gains" by income, race and geography. Growth in rural Internet household access "has come at all income levels, with the lowest levels showing some of the highest growth rates."
Catching the broadband wagon
With Internet connectivity no longer a major issue, the so-called digital divide has shifted to speed. "It's not an Internet divide. It's a broadband divide. It's a 'can I use the Internet as an effective tool' divide," said Larry Johnson, head of new project development for XtraTyme, a wireless broadband company in Hutchinson, Minn.
Though technically not the same thing, broadband is the common-use equivalent of having high-speed Internet access capable of delivering voice, data and video services to your computer desktop. The Federal Communications Commission (FCC) defines broadband as having a data transmission rate (both in and out of a computer) of at least 200 kbps, although much faster rates are commercially available.
Broadband subscriptions have jumped in the last few years as telephone, cable, wireless and other providers have rolled out service to customers across the country. An August report by the FCC found more than 7 million broadband subscribers in December 2000—a 158 percent increase from a year earlier. The number of residential and small business subscribers tripled during this time and was responsible for better than 80 percent of growth. Most are subscribers to either cable modem or DSL service.
Broadband subscribership has also grown in the district. With almost 120,000 broadband users as of December 2000, broadband use tripled in Minnesota over the previous year; in Wisconsin, it grew fourfold to 76,000 users.
Despite this growth, broadband access is far from universal. Even in cities that "get" broadband, not everyone can sign up. Cahners In-Stat Group, a telecom research firm, surveyed more than 1,000 service providers and found that although significant expansions were under way or being planned, local telephone carriers that offered broadband did so to just 37 percent of their service area, while cable and wireless providers offered broadband to 54 percent and 16 percent of service areas, respectively.
Upgrading existing telephone and cable systems to make them broadband-capable is expensive, and rolling out broadband service to an entire town—even a small one—is a major undertaking thrown on top of serving existing customers with existing products. As a result, telecom companies in the district are approaching such capital-intensive projects at varying speed. Only about 60 percent of Twin Cities residents can get DSL from Qwest despite an "aggressive" rollout by the company, according to Bryce Hallowell, regional spokesman for the company.
That means that broadband has come to some communities and even some city neighborhoods, but not others—sort of a "there-but-not-here" access phenomenon. As a result, many communities worry that a divide or competitive imbalance exists, and they could be on the wrong side permanently if something isn't done to close the local telecommunications gap. An official representing three small towns in southern Minnesota commented that broadband was "as important as roads or water for economic development. We still need broadband access just like larger communities."
The underlying implication, repeated widely by community leaders, as well as state and federal policymakers, is that broadband deployment is passing by rural areas, or threatening to do so. But available evidence—and understanding the limitations of existing data (see sidebar)—suggests that broadband's penetration into rural areas has been nothing short of phenomenal, managing to seep out into areas that on paper wouldn't seem economically viable.
For example, Golden West Telecommunications Cooperative offers DSL service—512k downstream and 256k upstream for $60 a month—to eight communities located mostly in southwestern South Dakota. One of those is the city of Pine Ridge, located on the Pine Ridge Reservation, one of the poorest areas in the country.
Asked about the digital divide, "Actually, we have it just as good as metro areas, and sometimes better," said Galen Boyd, network manager for Golden West.
A recent survey by the National Exchange Carrier Association, which represents small rural telephone companies, found that 65 percent of members' lines are expected to be DSL-capable by 2002, although costs to upgrade the remaining 35 percent would be prohibitively expensive at more than $9,000 per access line, due mainly to very low densities.
Last year's NTCA membership survey found that four of five providers expected to offer broadband by the end of 2001 and estimated that broadband services will be available to seven out of 10 subscribers in the areas served by these rural telephone co-ops. More locally, 32 percent of independent telephone customers in Minnesota have access to DSL, and that figure is expected to almost double in 2002, according to MART.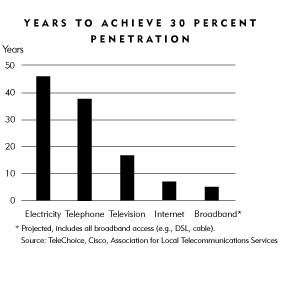 Cable and the divide
Historically, telecommunications policy has concerned telephone companies delivering voice access. But technological advances have brought a number of new players to the broadband market.
While much of the attention is paid to hard-line telephone companies, FCC data show that high-speed cable modem is the reigning king of broadband with close to 3.6 million subscribers nationwide, 80 percent more than DSL, its closest competitor.
High-speed cable modem "is a very substantial part of the [cable] business today," said Michael Martin, executive director of the Minnesota Cable Communications Association. He added that cable companies do "very well" competing against local phone companies and DSL service. "There isn't anybody that's not going after this pretty aggressively."
Like telephone, cable has a sizable customer base to tap into, with about 77 million current subscribers. A survey by the Minnesota Department of Administration found that 84 percent of the state's 800 incorporated cities have cable services. But like copper telephone wires, cable systems also require significant upgrades before users can get high-speed access.
Minnesota has a total of 350 cable systems operated by about 25 companies, Martin said, adding that "most systems have been in long-term upgrade that eventually leads to the provision of high-speed service." Martin estimated about 20 percent currently offer high-speed modem services, but said his organization does not collect subscriber data because member cable companies are reluctant to share trade-sensitive information.
Cable-based broadband is not likely coming to a home near you, however, unless you're a city dweller. The industry typically uses a benchmark of 40 homes per mile as the density necessary for investment, which usually means within the boundaries of a municipality. Martin makes no bones about cable going into rural or other high-cost areas. "We don't even pretend to go in these areas," he said. "We are coming to small towns, not to farmsteads."
Other technologies are also making some inroads, and all of them have their cheerleaders. Wireless and fiber-to-the-home have both seen strong growth in subscription rates but still have fewer than 7 percent of high-speed subscribers, FCC data show. According to government and private research sources, at least nine high-speed wireless providers had trials or commercial deployments in the district this year. Several sources said that some hard-line telephone companies are looking at wireless technologies as a gap strategy to extend a system's reach and fill service gaps.
Much of the telecommunications explosion is due to the high capacity of fiber optics. In the last five years, millions of miles of fiber-optic line have been threaded between cites and regions nationwide. Fiber has been used almost exclusively for long-haul lines—the system's backbone. But many believe that fiber-to-the-home (rather than just to the curb) is the "last mile" solution of the future because of its immense bandwidth capacity, and several pilots are currently under way in the district.
But the companies must first get a handle on deployment costs that are much higher than upgrading existing coaxial phone or cable wires. An executive of a wireless company in the district admitted that its high-speed wireless service "can't compete with fiber, but fiber (to the home) is very expensive."
A reverse divide?
Given such factors regarding other technologies, much of the "divide" discussion today continues to focus on telephone companies and DSL because of the telephone's omnipresence, especially in rural areas compared with cable or wireless. "There's only one ubiquitous [telecom] system in the country, and that's telephone," said Gary Allan, chief of the universal services branch of the Rural Utilities Service.
While conventional wisdom says that broadband will come to rural areas last-much like railroads, electricity and highways did-numerous sources said that broadband is being deployed fastest in rural areas, particularly when it comes to DSL.
"For people who perceive this digital divide, it may be a little flip-flopped," said Lovik of Onvoy.
"Where there is a divide, it's provider-based, not customer-based," said Feiss of MTA. Small independent phone companies "are way ahead of the Bell companies."
A September survey by the Minnesota Department of Commerce counted DSL deployment in the 717 telephone exchanges covering the state. Four companies in Minnesota—Qwest, Citizens, Frontier and Sprint—own about half (356) of all exchanges in the state. The four companies provided the state with information on 344 of those exchanges, and showed that only 52 exchanges offered DSL, or fewer than one in six. In contrast, Commerce received information on 286 of the remaining 361 exchanges owned by smaller telecom companies, and found that DSL was offered on 110 exchanges—a reported rate of better than one in three, and more than double the rate of the larger phone carriers.
That's not to say Qwest is absent in the broadband market. In fact, it is easily the largest DSL provider in the district. The company had more than 300,000 DSL subscribers at the end of the first quarter in 2001, spread among 74 markets in 14 Western and Midwestern states, according to company reports.
Hallowell, the regional spokesman, estimated there were about 50,000 DSL subscribers in Minnesota, the Dakotas and Montana. Qwest currently has DSL deployed to dozens of cities in Minnesota, most of them in the Twin Cities region, along with Rochester, St. Cloud and Duluth. As part of the merger agreement with the former US West, Qwest also agreed to bring DSL to 13 outstate communities by 2003. "Broadband is a tremendous part of our [expected] growth," Hallowell said. "We're just as interested [in broadband] as anyone. ... We're in with both feet."
But significant swaths of Qwest's territory, particularly outside large cities, are waiting impatiently for broadband. Qwest has rolled out DSL to only five cities—in fact, the five largest cities—in North and South Dakota combined. Despite the fact that it controls almost 70 percent of all access lines in Montana, Qwest has rolled out DSL to just parts of Helena and Bozeman.
Demand for broadband is there, Hallowell said, but certain obstacles exist to rolling out broadband everywhere to everyone. "We have communities knocking down our doors every day. We're trying to expand our footprint as fast as we can. It's a great situation in many respects. But the reality is it's a significant buildout in terms of manpower and resources. Unfortunately, it can't happen overnight."
For starters, past investments to improve voice service are now broadband roadblocks. Two different types of filters—bridge tabs and load coils—were widely used by phone companies to improve the voice clarity of phone calls by eliminating interference. Somewhat ironically, these filters affect the ability of that same phone line to transmit a digital signal. While most phone companies face this DSL obstacle, Qwest and other major local phone carriers face it on a massive scale.
Small rural phone companies are also facing fewer regulations than Qwest, which became a Regional Bell Operating Co. (RBOC) in regulatory terms when it purchased US West last year. Small phone companies, as a result, "have more opportunity to do different things," said Lovik of Onvoy. Equally important, rural phone companies are eligible for federal subsidies "that an RBOC does not have access to," she said. "It forces companies to make different investment choices."
Nowhere is that clearer than in a Qwest announcement in June that it had completed broadband installations in 25 major markets outside its 14-state territory. "Qwest is a global company and we have to take a global perspective in our investments," Hallowell said. Prudent investing outside its home territory "makes us that much more able to make investments inside" its territory, he said.
No fun playing monopoly
Not everyone is buying Qwest's rationale, especially given the company's financial resources. Qwest's spasmodic rollout of DSL "is a symptom of a monopoly market structure," said Tony Mendoza, assistant deputy of telecommunications with the Minnesota Department of Commerce. "They [Qwest] don't need to roll out service or deploy additional services."
The Telecommunications Act of 1996 was supposed to open up local telecommunications markets to competition. But in most cases very little competition has materialized, and as a result, most markets are lucky to have a single broadband provider, to say nothing of having competition between cable-modem and DSL providers, or between two local phone companies competing to provide DSL to the same customer.
"All we would like to see is that if demand is there, that customers have the opportunity to access the service," Mendoza said. But if there is no competition, businesses and residents have two choices: Require the provision of broadband and then subsidize it, much like the current telephone system; the second choice is "to let them go and hope the monopoly will do the right thing" and provide service, he said. "We don't think a monopoly, unregulated, is the best solution" for cities of any size.
Other sources, however, didn't question Qwest's investment strategy from a business standpoint. "They [Qwest] have to prioritize where they make investments. The large to mid-size cities have to be first," said Brian Bissonette, marketing supervisor for Paul Bunyan Telephone Cooperative. "But a lot of small towns get ignored along the way."
Paul Bunyan is one of a small handful of companies taking advantage of the situation in hopes of attracting new customers. Qwest is the incumbent local exchange carrier (or ILEC) in Bemidji, Minn., a city of about 12,000 that "was being ignored," and did not even have voice mail, according to Bissonette. "Bemidji isn't exactly on [Qwest's] list" for upgraded services.
Enter Paul Bunyan, the ILEC in more than 20 communities surrounding Bemidji in the triangle between Grand Rapids, Leech Lake and Lower Red Lake; eight of these communities also have DSL service. In 1999, the company decided to overbuild the local phone network in Bemidji (at the time, owned by US West) with about 9,000 access lines—all of which were immediately DSL-ready—at a cost of about $15 million. So far, the company has seen phone penetration rates in Bemidji of about 60 percent, Bissonette said, and "probably 75 to 80 percent" of the company's DSL subscribers are Bemidji residents.
Take our rural lines, please
Rather than try rolling out broadband to literally thousands of underserved phone exchanges, several of the Baby Bells have been shedding rural access lines. In fact, two RBOCs serving the district—US West and GTE (now Verizon)—were among the most aggressive over the last six or seven years, according to sources.
In 1994, US West sold "a whole bunch" of lines to local independent phone companies in Montana, which were "antiquated at best ... (and) indicated a lack of investment in physical facilities for a number of decades," said Feiss of the MTA. According to Wilhelmson of Consolidated, US West sold almost 70,000 access lines to 15 independent North Dakota telephone companies from 1993 to 1996, and he believes this trend will "absolutely" continue.
A report last year by the General Accounting Office (GAO) found that major ILECs shed 832,000 lines from 1996 through April 2000. In fact, the number sold just in the first four months of 2000 exceeded the total sold in the previous four years. Two-thirds of these lines—562,000—were rural access lines, about 135,000 of which were in Minnesota, North Dakota, South Dakota and Wisconsin, according to the GAO.
At the time of the report, GTE and US West also had sales pending for another 870,000 access lines, including more than 200,000 rural lines in Minnesota, South Dakota and Wisconsin. In purchasing US West, Qwest honored a previous agreement to sell thousands of access lines to Citizens Communications, but Citizens broke off negotiations and Qwest has since put away the for-sale sign, Hallowell said. "We feel we have a solid mix" of urban and rural customers, he said.
Transferring control of more access lines to rural telephone companies might bring broadband services to town more quickly, but likely depends more on the investment philosophy of the company than on the mere fact that it is a rural provider.
Mendoza, of the Minnesota Commerce Department, said the monopoly issue also applied to rural telephone companies because they had a similar stranglehold on smaller markets. He acknowledged that it was easy to find examples of rural telephone companies providing quality high-speed Internet service, but said individual companies "are reluctant to share actual data" on subscribers that might give policymakers a clearer idea of broadband deployment in outstate areas. "If you're doing such a good job, why are you afraid to show everyone?"
Bissonette acknowledged that a neighboring rural telephone co-op "isn't nearly as aggressive" as Paul Bunyan in rolling out broadband and other advanced services. "The people on the outside of our service are on the other side of the digital divide."
And in some cases, companies can bend over backward to provide the latest in technology, but someone has to be on the purchasing end.
"Our biggest problem is that we lose subscribers because of an aging population," said Wilhelmson of Consolidated Telecom. "We have the technology to connect people in Dickinson to the rest of the world. It would be nice to get people back."
Error message
It's the data, stupid
Part of the disagreement and confusion regarding the digital divide might well come from the fact that the most trusted and oft-cited information source on this issue—the Federal Communications Commission—misses a substantial number of high-speed providers in its surveys.
There are two main reasons, both of which lie largely outside of the FCC's control. First, FCC surveys capture data only for those high-speed providers that have at least 250 subscribers. While logical, it nonetheless misses a fair number of providers, virtually all of whom are in rural areas.
For example, the FCC's latest report on high-speed penetration lists just five high-speed providers in Montana. However, the Montana Telecommunications Association (which represents independent phone companies) reports that 13 of its members currently provide digital subscriber lines. Adding Qwest would make 14, and high-speed providers were found for both cable modem and wireless as well.
While the FCC could lower its subscriber threshold, it would probably involve substantial extra work to locate and survey very small telecom providers. Adding them would not likely change nationwide subscription levels very much, but it might show a much broader penetration pattern, particularly in rural areas.
Given the difficulties of nationwide surveying and the push for broadband deployment, FCC data also lag the real world and can become quickly outdated. In its August 2001 report, the FCC claimed Minnesota had 64,000 cable-modem subscribers. But it reported no high-speed cable-modem providers (and thus no subscribers) for Montana, the Dakotas or Wisconsin.
Yet a quick Internet search found cable-modem providers in major cities in each of these states. It appeared that most had started their service only in the last year, which likely occurred sometime after the FCC's reporting time frame.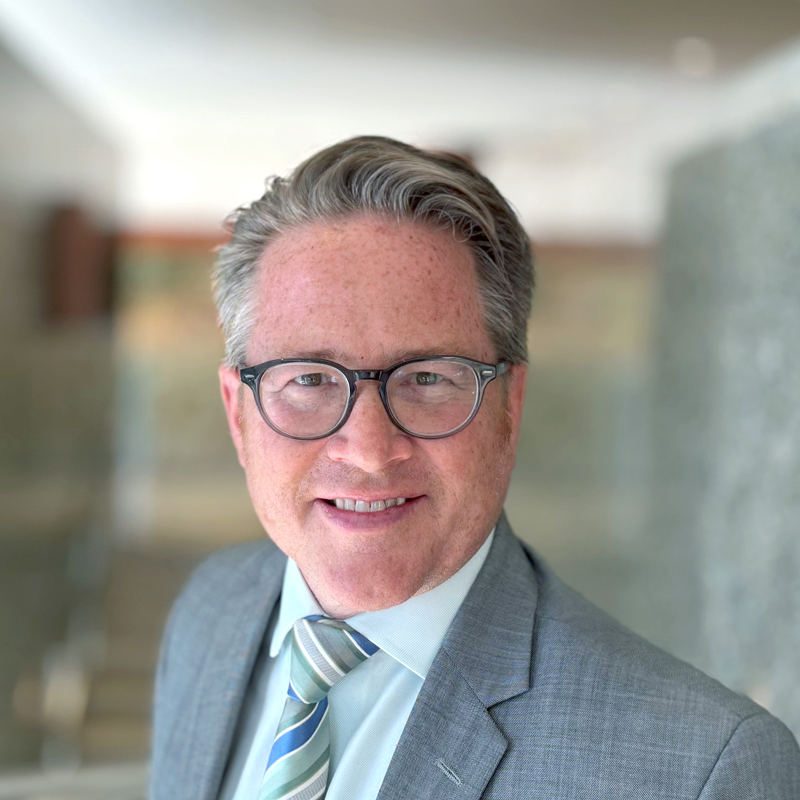 Request as a speaker
Ron Wirtz
Editor, fedgazette
Ron Wirtz is a Minneapolis Fed regional outreach director. Ron tracks current business conditions, with a focus on employment and wages, construction, real estate, consumer spending, and tourism. In this role, he networks with businesses in the Bank's six-state region and gives frequent speeches on economic conditions. Follow him on Twitter @RonWirtz.