I am woman. Hear my business roar
Sue Lindgren knows something about entrepreneurship.
"It's been in my blood my whole life," she said, and she's not kidding. It all started in the fourth grade, going door to door with her best friend selling homemade macramé plant holders, handing out business cards (thanks to dad and a photocopier) and showing off various design and beadwork options available from the factory (home, that is). The most expensive plant holder was $9.
"We made enough to make $135 each," she said.
Having started four companies (sometimes in partnership) in the Twin Cities region, she admits that being an entrepreneur is part disease. "It's insane to be an entrepreneur. You live it, breathe it, make love to it." But it's also part cure. "There's something bigger that awakens in you."
She tried doing the corporate thing right after college. "I knew immediately I didn't fit." She worked in a couple of small businesses before serendipity greeted her with an opportunity to start a training company with consultants she was working with at the time. After six years, she got out of ownership—"I burned myself out thoroughly," Lindgren said—but only temporarily.
After a stint as a manager in a recruiting firm, in 2002 she started YESS! (Your Extraordinary Success Strategies, a training and coaching business) and co-founded Ideal Coaching, Minnesota's first locally based coaching certification program. Lindgren laughed when relating how she got the resources to start up YESS! She had no financial records, sales history, not even a formal business plan.
"I walked into a bank with three bullet points," scrawled in longhand, she said. She got the line of credit "and I started making money. You know why? I had to." She laughed after noting that the business was profitable in its first year. "My accountant tells me that's good."
Ms. Boss
Lindgren was bitten by the entrepreneurial bug and never recovered, and she is representative of a steadily growing throng of women with a new title: business owner. And thanks to a number of colliding economic, demographic and social factors, women entrepreneurship appears to be a trend worth watching.
For starters, the boot-strapping, risk-taking nature of entrepreneurs owns a special place in the figurative heart of the U.S. economy. But research also shows that entrepreneurs are the literal heart—or maybe more aptly, the stem cells—of the economy, providing that initial birth of activity that grows, adapts and ultimately matures into jobs for workers and profits for the risk takers.
The burst of economic activity in the 1990s—particularly among Internet, telecom and other high-tech startups—also gave much greater profile and stature to entrepreneurship. Venture capitalists hunted the next Bill Gates, while policymakers in many states have come to see entrepreneurs as the next big economic development strategy.
Overlay on that the two-headed fact that women have steadily been increasing their presence and stature in the workplace, yet still lag considerably behind men when it comes to starting businesses. An October 2003 report by the National Women's Business Council said there "is perhaps no greater initiative a country can take to realize higher levels of entrepreneurial activity than to encourage more of its women to participate."
That's not to say women are entrepreneurially absent. Today, women own at least a 50 percent stake in some 10 million businesses, employing some 18 million people, according to the Center for Women's Business Research (CWBR).
But women entrepreneurship in its modern form is less than four decades old, springing from the social change of the 1960s and 1970s that unleashed women into the workplace and into higher education in record numbers. From that virtual flat-footed start, women have made up an incredible amount of entrepreneurial ground on their male counterparts.
From 1997 to 2002, the growth rate of women-owned businesses far surpassed that of the general economy on several important measures, according to the CWBR. The number of firms with at least 50 percent female ownership grew by 11 percent compared with 6 percent for all firms; employment in those firms rose 18 percent compared with 8 percent overall, while sales increased 32 percent compared with 24 percent overall.
That growth in women entrepreneurship "is a function of many things," said Jeanne Bailey, executive director of the International Institute for Women Entrepreneurs at the College of St. Catherine in St. Paul, Minn. Higher levels of education, as well "greater confidence, ambition and a feeling that I can do this ... a greater level of assertion" were important factors in women becoming more active entrepreneurs, according to Bailey, who was named Minnesota Women in Business Advocate of the Year in 2002.
Growth was also "a function of maturity," Bailey said. As more women gain business experience, they provide not only an example for other women to follow, but additional wisdom showing them how. As women achieve higher levels of education, become dissatisfied with the work options available in corporate America and elsewhere, and see more opportunities to be their own boss, Bailey believes the trend in women entrepreneurship "will advance more quickly."
A smaller big gap
In spite of the growth, the gap between men and women entrepreneurs is substantial. Nationwide, men own 54 percent of all privately held firms and women 28 percent, and 18 percent are equally owned partnerships, according to CWBR.
As a group, women-owned businesses are also much smaller in size. Among the top 50 privately owned companies in Minnesota, only two are majority-owned by women and both were previously owned by fathers of the current women owners. Among the state's top 25 women-owned businesses, those catching onto the bottom of the list do so with just $3 million in revenue, and just three have more than 500 workers. To crack the state's top 100 (mostly male) private companies you need to make more than $120 million, and the vast majority (86 percent) employ more than 500.
Much of that size disparity stems from the types of businesses owned by women. Nationwide, about 85 percent of female-owned businesses are sole proprietorships, compared with 68 percent for male-owned firms. Calculated as market share, women own and operate 30 percent of all sole proprietorships, but just 13 percent to 17 percent of other major ownership categories (C corporations, subchapter S corporations and partnerships), which are typically much larger.
There are size and sex differences even among sole proprietorships. In 1998, just 3 percent of women sole proprietorships had net incomes of $25,000 or more, compared with 16 percent for those operated by men. Almost 60 percent of one-woman shops had less than $10,000 in annual sales, according to a 2003 Small Business Administration (SBA) report.
Women also have much narrower representation throughout the many sectors of the economy. Among all business types, 72 percent of women's revenue comes from retail and service industries. For women-owned sole proprietorships, fully 84 percent are in services or wholesale and retail trade, and 53 percent are concentrated in 10 major businesses: The top two are direct sales (think Tupperware, Longaberger and other group-based home sales) and child day care.
Still, the SBA report noted that women-owned firms "are becoming larger and more profitable." From 1990 to 1998, the share of total receipts earned by women sole proprietorships increased from 15 percent to 18 percent, and their share of net income jumped from 17 percent to more than 21 percent.
As women-owned businesses become larger, their high prevalence in retail and service sectors starts to fade, meaning that the most successful women-owned firms have a diversity that the larger population does not. A 2003 CWBR report looked at women-owned businesses with sales over $1 million and found that they are more involved in nonretail, nontraditional types of businesses. They were less likely to be in the service sector than all women-owned businesses in general (27 percent vs. 51 percent) and more likely to be in wholesale (17 percent vs. 4 percent), construction (13 percent vs. 3 percent) and manufacturing (12 percent vs. 5 percent).
Women business owners in the district generally follow national patterns, but there are a few quirks. For example, district states have a higher rate of women-business ownership in agriculture across the board; 11 percent of women-owned businesses in South Dakota are in agriculture, compared with 4 percent nationally. Retail and service sectors make up about 72 percent of women-owned firms nationwide, but 67 percent in South Dakota and Minnesota.
Head of the class

So putting the proper economic context on women entrepreneurship requires two glasses, one half empty and one half full: Despite significant growth, true gender parity in ownership might still be a fair distance away. But certain indicators suggest that the entrepreneurial pipeline will continue to pour forth more women.
Probably no indicator of tangible skills is as important—and so obviously one-sided—as education. Over the past three decades or so, women have achieved something of an education trifecta: Today, women are more likely to graduate from high school, immediately attend college and graduate in six years or less.
A year-old report prepared for the Business Roundtable, an association of chief executive officers of leading U.S. corporations, mostly laments the stagnating levels of college education among males. But it also outlines in detail the accelerating rate of women's higher education, noting that post-secondary attainment gains "were far more pronounced among women than men." Not only has the size of the gender gaps in college enrollment and degree attainment "widened considerably over the past two decades. ... [t]here is no evidence that these gender gaps have peaked."
As recently as 1970, there were only 68 women for every 100 men in college. It's taken only three decades to almost flip that ratio on its head, thanks to the fact that more women graduate high school, they attend college at higher rates and experience lower dropout rates in college. By 1980, the rate of college enrollment among males and females had reached parity. In 2000, the state average was 128 women per 100 men.
Even more importantly, women are dominating degrees conferred. Across all degree levels, women today either easily exceed or are rapidly gaining on men in terms of degrees conferred. The graduating classes of North Dakota public colleges and universities from 2000 to 2003 were 53 percent female. In Wisconsin, women earned 57 percent of all degrees last year. In a study of students entering college from 1991 through 1993, the Minnesota Higher Education Services Office discovered that almost 20 percent more women enrolled in four-year colleges during this period, and 53.6 percent graduated within six years, compared with 49.5 percent of men. This meant that women entering college during just this three-year window earned one-third more degrees than the cohort group of men.
Today in Minnesota, science and engineering is the only general field of study where men still earn more degrees than women. Minnesota women are on par with men in natural sciences, earn slightly more business degrees and dominate the health field by a margin of 10 to one.
As recently as 1977, women earned fewer college degrees than men. By 2000, women received 135 degrees for every 100 by men, and the U.S. Department of Education expects that gap in conferred degrees to widen at every level (see chart). Nationwide, women lag men only in professional and doctorate degrees, but they've made up substantial ground in the last 25 years and continue to close the gap. For example, women have earned more professional degrees from public Wisconsin universities than men since at least 1999. Last year—for the first time ever—North Dakota awarded more degrees to women at every level, including master's, doctorate, medical and law.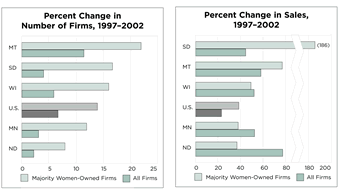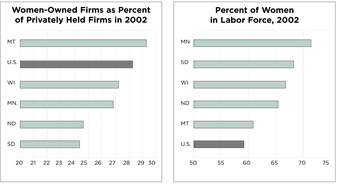 Source: Center for Women's Business Institute
Mary, you're gonna make it after all
Entrepreneurship does not necessarily depend on high levels of education, evident in that high school dropouts show fairly high levels of necessity-based entrepreneurship. But education does open certain, unique doors in a modern economy driven by innovation and knowledge.
For example, about 80 percent of the veterinary students in Minnesota are women, according to Mary Riebe, director of the Center for Women Entrepreneurs and Entrepreneurship Education at Metro State University in the Twin Cities.
"If I were a guy, I think that would matter. They're not going to be a vet. They're going to be working for a vet. And who's going to be paid more?" she said.
But there's no denying that women are still making the transition into the entrepreneurial mindset. A recent contest sponsored by the Wisconsin Department of Commerce sought proposals for new business startups. It received 234 submissions, of which only 47 were from recognizably female applicants (though a source added there were "a lot of Chris, Kerry and Pat names" that could be either male or female).
Some of that lag is easily explained—women graduates are first joining corporations and other traditional workplaces. There's also a growing chorus from women that despite major improvements, they are not particularly enamored with corporate America as a workplace, which accelerates the process to becoming an entrepreneur. A 1998 study by Catalyst, a research and advisory nonprofit, found that women who left salaried jobs to start their business did so because of lack of flexibility (51 percent), the glass ceiling (29 percent), dissatisfaction with the work environment (28 percent) and lack of challenge in previous job (22 percent).
Riebe of Metro State said there is a "brain drain of talented women" leaving corporate America. "I think women have something to prove and they're out there trying to prove it." Sue Lindgren, from YESS, said many women entrepreneurs tell her, "I feel helpless in the corporate world because it's a man's world, and I can do it my own way."
Bonnie Russ is one of eight owners (and the only woman among the four original founders) at Mahoney Ulbrich Christiansen & Russ P.A., a St. Paul, CPA firm with about 40 employees. She e-mailed, "I think women go into business to make some money, and enjoy the independence, and there is no glass ceiling when you own the company."
Pam Krank started The Credit Department Inc., a credit management outsourcing firm, in 1993 after 13 years at the credit department at 3M. She's also taught entrepreneurship classes at two Twin Cities universities. Also via e-mail, Krank said she had "a unique perspective as an owner and educator. Most women I know left corporate America to start a business. They were frustrated with the lack of leadership there, few opportunities for advancement and lack of flexibility."
As a result, the average woman entrepreneur is bringing more experience to the table. The degree to which college-educated, corporate women are turning into entrepreneurs is difficult to pin down. But CWBR research shows that women owners of newer businesses (started in the last decade) are more likely to have managerial or professional experience than women who started their businesses more than a decade ago (65 percent to 44 percent) and were also more likely to have a bachelor's degree (45 percent to 26 percent).
Find the hot spot
Where women entrepreneurship goes from here is a complex prediction. For example, one might guess that it will bloom in the coastal big cities and states where educated people tend to congregate. Instead, a CWBR report found that "hot spot" states for women entrepreneurship are clustered in the rural Western United States (Idaho, Wyoming, Utah, Nevada and Arizona)—in markets that, maybe counterintuitively, have low average wages and lower-than-average rates of professional and managerial women. These states experienced higher-than-average growth in population, businesses and economic activity, and the report suggested that women entrepreneurs were taking advantage of low labor costs and expanding markets.
But with any trend, there are subset populations, each one moving at a different pace and driven by different elements. As one might expect, women are broadening their entrepreneurial base as they gain experience as business owners.
Riebe and Metro State held a February conference in certification of women-owned businesses, a process that helps larger corporations identify and utilize women-owned businesses to meet corporate diversity goals. Among the 35 business owners in attendance, 75 percent were in nontraditional industries, Riebe said, including a package manufacturer, a packing and shipping distributor and a plastics medical device manufacturer. "Those aren't the flower shop."
From a geographic standpoint, both rural and urban areas have certain—and different—traits that are likely to encourage future entrepreneurship. With growing markets, the district's urban centers will attract women business owners. Current data are not available (though 2002 data will be soon), but the Economic Census shows that in 1997 metro areas held a small advantage over their home states in general in terms of the percentage of firms owned by women. The biggest urban-rural disparities were in the Dakotas and Montana, where percentages of women-owned firms in metro areas like Bismarck, Fargo, Rapid City, Sioux Falls and Billings were a few percentage points higher than the state average.
Like other cultural or technological innovations, there appears to be something of a lag between the entrepreneurial trends of urban and rural women. Sources in the Twin Cities, for example, generally agreed that there were substantial opportunities for women entrepreneurs there, and the most common obstacles were more of a personal variety—like lack of confidence. Rarely did they cite discrimination or lack of opportunities as something that stood in their way (see more discussion on barriers).
Diann Albers is a board member of the Minnesota chapter of National Association of Women Business Owners and was named among the "25 Women to Watch" by The Business Journal. "I am seeing businesses all over the board" in terms of different types, and "much younger women decide right from the get-go" to start a business, rather than work as an employee first, said Albers, who is CEO and majority owner of UpNorth Consulting in St. Paul, an information technology consulting firm with 20 employees and revenue in 2003 of $2 million.
Years ago, she believed women started businesses as a matter of lifestyle. "I don't see it as much anymore. I see [women entrepreneurship] more as a career decision. ... I'm hell-bent on a career and I'm going to control it."
Rural differences
Numerous sources said that women entrepreneurship is alive in more rural parts of the district.
"There's more women every year," said Mary Mathews, president Northeast Entrepreneur Fund, located in Virginia, Minn. Loan applications to the fund are going up, she said, and women are getting more approvals. From 1999 to 2001, about one-third of loans and about 25 percent of all funds were given to women, according to organizational data. For the last two years, women have received almost half of all loans made and garnered 57 percent of all funds.
Although there are exceptions, sources acknowledged that rural women entrepreneurs are still heavily represented in traditional industries like retail. "There are always some" applications for nontraditional businesses, Mathews said. "But the trend hasn't changed."
As director of the Montana Small Business Development Center (SBDC) in Great Falls, Suzanne David sees about 200 clients a year, and "about half" are women, including those partnering with a spouse or other person on a business venture. David said she hasn't seen much change in general patterns among women entrepreneurs in terms of types of businesses they create.
"They are mostly service or retail-type businesses. Primarily that's what I see." David said. The SBDC is not a lender, but a counselor and intermediary. Many clients she sees need just $15,000 to $20,000.
That's in part because rural women as a group appear to have subtly different circumstances and motivations underlying their choice to be an entrepreneur. In Montana, there's a strong tradition of women entrepreneurship in part because "Montana has a sense of, 'I can do it myself' ... they're not afraid to try stuff," said David. But she also acknowledged that "part of it could be that the state has very low wages [and] entrepreneurship offers a way to make a better living."
Often the rural entrepreneurial kick stems from necessity and lifestyle factors. In rural North Dakota, women see that "there are no jobs available so they create a job for themselves by starting a business," according to Tara Holt, director of the Center for Technology and Business/Women and Technology in Bismarck, N.D., via e-mail. Many women entrepreneurs are farm wives, and "they need more income, so they get into a part-time direct sales business like Tupperware or Mary Kay."
Holt sees "a lot of women" involved in sewing-related businesses: quilting, garment manufacturing, custom sewing, specialty fabric businesses and retail fabric stores. "Rural women can all sew, and we are encouraging them to be more creative in their approach to business," including niches in custom designing, fabric dyeing and quilting kits.
Mathews pointed out that very small firms (including male-owned) tend to make up a higher share of rural businesses in northern Minnesota counties.
"If you look at rural counties, the [small firm] numbers are through the roof," said Mathews. "I think there's just fewer opportunities for jobs elsewhere [in the region]. ... Women look at this strategy as a way to make money where you want to live."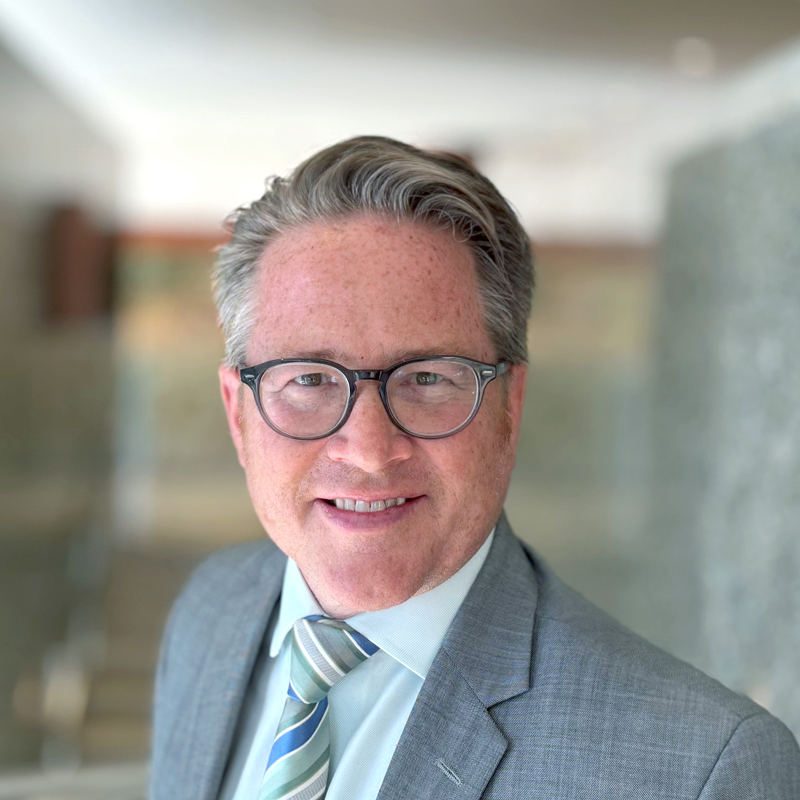 Request as a speaker
Ron Wirtz
Editor, fedgazette
Ron Wirtz is a Minneapolis Fed regional outreach director. Ron tracks current business conditions, with a focus on employment and wages, construction, real estate, consumer spending, and tourism. In this role, he networks with businesses in the Bank's six-state region and gives frequent speeches on economic conditions. Follow him on Twitter @RonWirtz.