Too much of a good thing?
With strong growth in new bank offices throughout the district, whispered opinions are gathering on an issue that can be tough to get your hands around: being "overbanked."
In Minnesota, the number of bank branches more than doubled from 1990 to 2003, prompting one banker in that state to note, "Today every market I look at seems to be overbanked. We used to joke about a gas station on every corner. Now it's a bank on every corner."
The issue is especially noticeable in Montana, mostly because the state has seen significantly faster growth in branches than in any other district state. One Montana banker, who asked not to be identified, called Bozeman "ridiculously overbanked." Good spots get quickly saturated, he said, with branches being put "in any wide spot in the road."
The source noted that a particular area along and near 19th Avenue in Bozeman has seen four or five new branches pop up in recent years. "Now what's going to happen—just watch—those four or five banks are going to be splitting [the local bank market]." In a few years, he added "you'll find one of the five is a vet clinic, one is going to be a tire store, one is going to be a drive-through pharmacy and the other two will still be standing as banks. ... The ones that survive [will be] the ones with deep pockets that can nurse it and lose money for six or seven years," waiting for competitors to fall away, the banker said.
Taken in historical and statistical context, branch growth in Montana is not particularly surprising. One of the reasons for the frenetic activity in the state is because "it pretty much was the last state in the nation" to allow full-scale branching, finally peeling back restrictions about a decade and half ago and doing so in small steps, said Chris Olson, deputy commissioner in the Montana Division of Banking and Financial Institutions.
Deregulation "has been the thing that has opened the door" to expansion in Montana, according to Bill Partain, president and CEO of First National Bank in Missoula and president of Montana Independent Bankers. Deregulation was a "very divisive" issue among Montana bankers—so much so that membership in the state's two banking associations was largely divided according to a bank's position on the deregulation issue. "There was a big fight to protect franchise lines. Older bankers worried" about control and competitiveness issues.
Once deregulation came to pass, fast growth in branches was due to "some pent-up demand," Partain said. "There's a number of banks in declining or flat economies and for any kind of growth they have to go to other areas," particularly larger, growing cities like Missoula, Bozeman, Billings and Kalispell.
Asked whether the state might be overbanked, Partain replied, "I think that's true. ... It appears that if we're not overbanked, we're at a saturation point."
But determining whether overbanking is occurring—and where—can be difficult. From a statewide perspective, Montana doesn't appear to be overbanked. On a per capita basis, the state still has many fewer bank offices than either of the Dakotas, though it does have more than Minnesota (see chart).
On a smaller, city scale, certain markets might well be seeing tougher competition than others. Bozeman, for example, boasts 16 banks in a city of just 28,000 people.
Olson, for one, was skeptical of any overbanking problem in Montana. "Really, very few branches have closed and not too many have been sold. That leads me to believe there are adequate profits" to be had by branches, at least in the near term, he said. But Olson acknowledged that with low average income in the state, banks are often competing for limited deposits—a common complaint among bankers, particularly those heading small community banks. "It takes a certain amount of money to keep a bank going."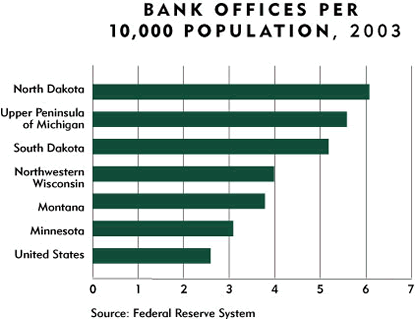 Even if some markets are overbanked, it's not exactly a problem, except for banks that can't compete on thinner margins.
"I don't think the consumer feels like overbanking is a problem. They have a lot of choices," said Rosalie Sheehy Cates of the Montana Community Development Corp. Consumers might feel a bit "bewildered" by the many bank options, she said, but that's a good problem to have.