District mid-cap stocks lower year-to-date
The Ninth District Mid-Cap Stock Index decreased 2.5 percent from January to July, but is up 3 percent compared with July 2004. The index measures changes in stock prices for a group of 32 firms with headquarters in the district. Firms in the index range from about $600 million to $4 billion in capitalization. (See the September 2004 fedgazette for more information on the index.)
Meanwhile, the Standard & Poor's MidCap 400 Index grew 5.1 percent between January and July, outpacing the district index. During 2004 the district index grew faster than the S&P 400. Among stock prices for large public companies, the S&P 500 decreased 0.7 percent from January to July.
Both the district and the S&P mid-cap indexes have outperformed the S&P 500 since January 2004. According to analysis by S&P, the mid-cap and large-cap indexes move relatively close to each other, as they overlap somewhat in regard to the capitalization size of companies. (The largest S&P MidCap 400 firm would rank 219th among S&P 500 firms.) Nevertheless, since January 2001 the mid-cap index has grown consistently faster with slightly more volatility compared with the large-cap index.
Unlike the companies in the district index, those in the S&P indexes change in part to emulate market trends in the economy. For example, the indexes currently have a higher percent of energy firms than five years ago when tech firms carried a relatively larger share of the indexes. During the past year one company on the district index was replaced when it was acquired by a nondistrict firm.
Nationally, the value of initial public offerings increased about 25 percent during the first quarter of 2005 compared with 2004, with strong activity in biotechnology and communications. In Minnesota a handful of firms have gone public so far this year, including three technology-related firms and a golf equipment retailer.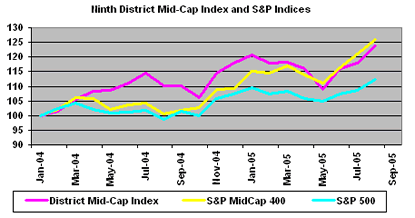 Sources: Minneapolis Star Tribune, Milwaukee Sentinel Journal,
The Business Journal, SmallCapReview.com